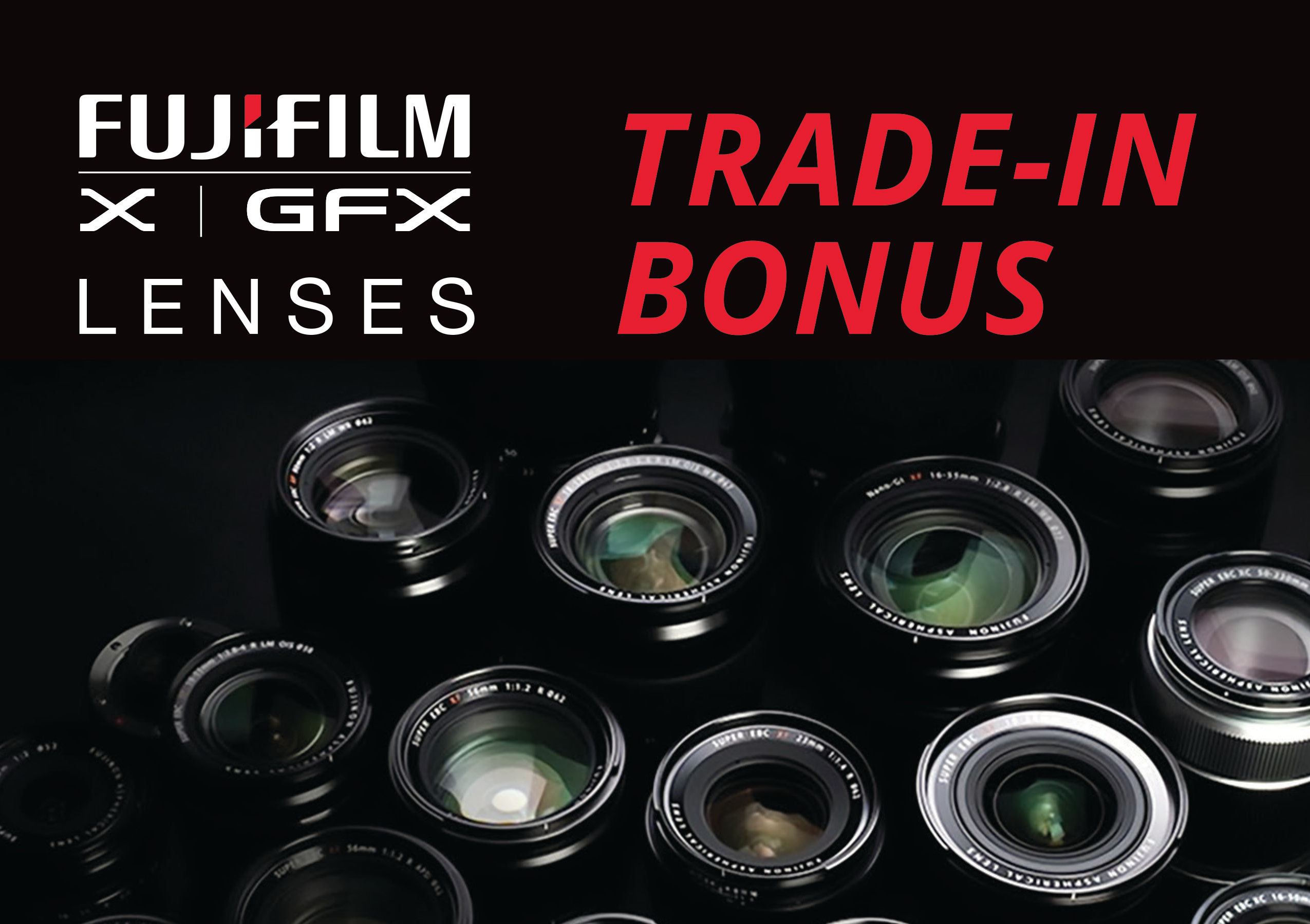 GFX Lens Trade-In Bonus
Trade-in any working interchangeable lens camera or lens (digital or film) and get up to $200 bonus towards the purchase of any eligible Fujifilm GFX interchangeable lens – plus the value of your trade-in.
Offer valid until December 31st, 2023.
Trade-In Conditions
This Promotion may be combined with other offers in effect at time of the trade-in/purchase, subject to the terms and conditions set forth below. Funding for the Promotion is as per noted below:
On qualifying trade-in transactions, Dealer shall provide consumer with a credit to be applied towards the purchase of an eligible GF series lens. The credit amount authorized per model is specified in the "Appendix A" of this bulletin.
Eligible trade-in products include any competitive product categorized as interchangeable lens camera or lens (digital or film), provided that each trade-in product must be in good, working order.
Customers may Trade in one (1) working digital interchangeable lens camera or lens (as specified herein) to purchase one (1) select new models listed herein, the specified bonus credit will be applied at the time of Final Checkout or at the cash register.
The entire trade-in transaction must be completed on the same day as the purchase of the new GF applicable lens.
If new product(s) being purchased are on backorder, they must still be paid for by the consumer in whole or in part on the same day as the consumer's used gear is traded-in for credit; the date of such trade-in must fall within the promotional dates provided by FUJIFILM Canada.
Trade-in Credit is only available as a store credit towards purchases made during the applicable Promotion as more fully described above. Trade-in credit has no cash value and may not be redeemed in any way other than as explicitly set forth herein.
Offer valid from October 30-December 31, 2023 - some exclusions may apply – see store for full details.