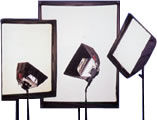 Rental ID:

R300102

• Webcode: 107988
Rental Details
24"x32", includes Lowel DP speed ring. Light not included.
Included in Rental
1

Chimera Video Pro Bank Small (24x32") Plus One with 1 Screen

1

Chimera Quartz Speedring 9500 for Lowel Dp Light - 7"
Product Highlights
Designed for use with Hot Light

Ideal for work in smaller spaces

61 x 81 cm (24 x 32")

Dimensions

Silver

Interior

Rectangle

Shape

Speedring Available Separately
Available in Calgary and Toronto
---
Buy this for: $709.99 Learn More

Chimera's Video PRO Banks are the perfect answer for controlled soft lighting on small sets, or for use as a separation light or small fill. These standard-depth banks are extremely light weight and are primarily used with single broad-beamed, open-faced instruments. Now available in 3 strips for a narrower catch light.
Product Specifications
Dimensions:
Size:

small 24x32 in. , 60x80 cm.

Weight:

1.4 lb., 0.6 kg.

Depth:

18 in., 45 cm.
Rating: Up to 1000 watts