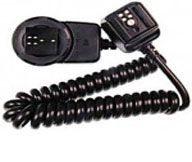 Available in Calgary and Ottawa
The Canon Off Camera Shoe Cord 2 maintains all on-camera flash functions (including E-TTL) for one Canon Speedlite used off-camera at distances up to 2 ft. (60 cm). It is compatible with all Canon EOS cameras except the 630 and RT(which require a combination of TTL Hot Shoe Adapter 3, OA-2 Off Camera Shoe Adapter & Connecting Cord 60). It is also fully functional with the combination of the T90 camera and 300TL flash(from Canon's older FD manual focus system).
If you will be attaching and detaching the Off Camera Shoe Cord 2 from a flash bracket upon a regular basis, it is advised to avoid wear upon the bottom by purchasing the optional 3298 adapter to act as a 'sacrificial foot' for the slightly delicate bottom of the Off Camera Shoe Cord 2 itself.


| | |
| --- | --- |
| Note: | Radio interference emitted by this product can exceed specified limits in the USA, Canada & Germany when used specifically with the EOS 10s. |