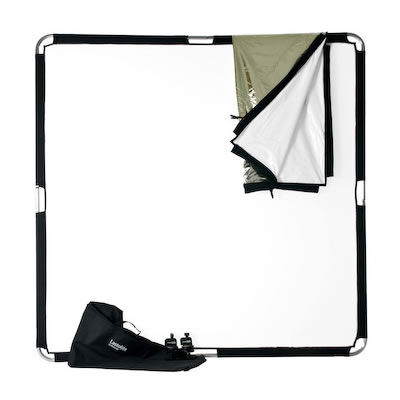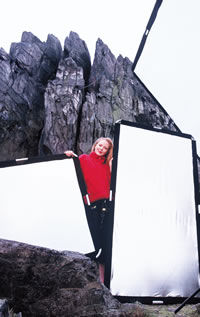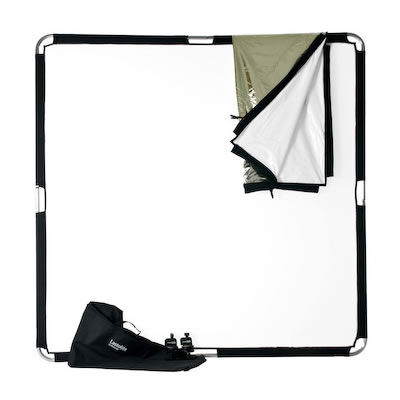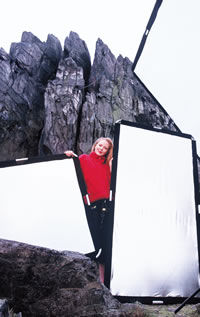 Included in Rental
1

Lastolite Skylite Large Premium Kit with Sunfire/White Panels

2

Lastolite Skylite Grip Head
Need a really big reflector or diffuser, or work outside? Or both? The Lastolite Skylite Kit is the right tool for the job. It has a strong and light aluminum frame, an over-sized griphead for quick positioning on a cinestand (sold seperately), a sunfire/white reversible reflector, a translucent diffuser, and a bag to bring it out on location.

The Skylite system is lightweight, portable, collapsible, reversible and easy to use.
Manipulating light has never been so simple with the Skylite system. Strong, yet incredibly light, Skylite's are the most versatile panel system you'll ever need.
Whether outdoors or in, the Skylite is easy to position. The high tensile aluminum frame can be broken down for ease of transport without even removing the fabric. An elastic cord (bungee cord) runs through the center of the tubes so that the tubes are not lost when disassembled. This also makes assembly very easy.
Key Features
Incredibly light but extremely strong.
Rust Resistant.
An elastic cord running through the aluminium ensures parts cannot be lost.
Skylite fabric can velcro easily into place for a taut finish.
Kit dismantles in moments without removing fabric.
What's Included
Frame
Bag
Sunfire/White Reflector
Translucent Diffuser
Griphead
Extra Griphead
Product Specifications
Detailed Specifications
Dimensions
2m x 2m (6'6" x 6'6")