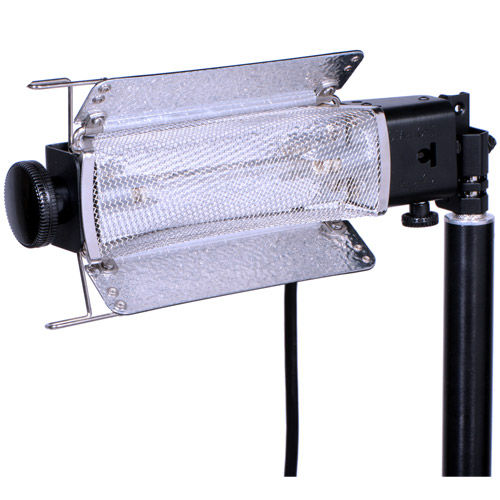 Rental Details
3 lights, 3 stands, 3 umbrellas all necessary cords, cables and transit cases.
Included in Rental
3

Lowel Tota-Light

3

Manfrotto 004 Master Stand 5/8

3

Lowel Tota-Omni 16' Cable

3

Manfrotto 307 Maxi Stacker Stand

3

Lowel Tota-Brella Standard, Silver
Product Highlights
500-750W

Power

120-220/240V AC

Power Source
The Tota-light provides good base or bounce light offering good intensity with reduced contrast. Used with its gel frame for diffusion and colour balance, it is an ideal area or soft key light for video or photo applications. Adapts to bulbs from 300 watts to 750 watts.
Compact, rugged & versatile, the broad throw Tota-light is a Lowel time honored favorite. It can be used with its umbrella or gel-frame & diffusion as a soft key, fill, or backlight. With its adjustable reflectors, it can be a smooth & even background light, or point it toward the ceiling to raise the ambient (base) light level of a room. Tota is also widely used for photographic copy work.
Multi-use, tungsten halogen source.
Adjustable reflecting doors can illuminate four walls evenly from a corner or compensate for light fall-off on vertical surfaces lit from above or below.
Key Features
Watts: 750 & 500 at 120v, 800 at 220/240v.
360º constant tension no-yoke tilting. Large, cool knobs.
Closes compactly for storage & travel.
Never operate with doors closed beyond notched safety stop.
Protective front screen must always be used.
Product Specifications
Size closed: 2" x 3" x 11" (5 x 7.6 x 27.9 cm)
Weight less cable: 1.3 lbs. (595 g)
with 16' cable: 2.25 lbs ( 1.02 kg)
Max. wattage: 750w at 120v, 800w at 220/240v
Max. amperage: 6.25 at 120v
Beam control: door angle provides verticle beam control
Fits on: studs 5/8" (1.59 cm) or smaller
Materials: primarily aluminum alloy
Cable: 16' (4.88 m) #18/3 wire
Switch: in-line