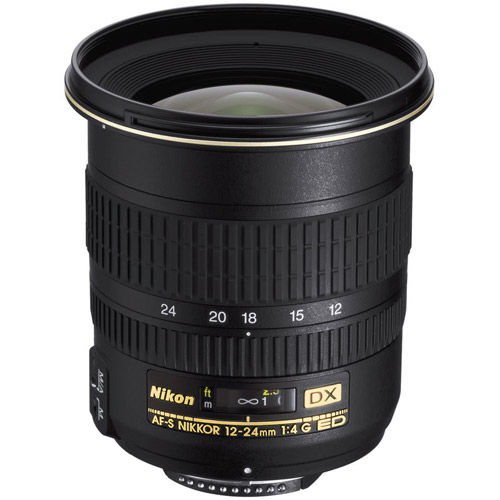 Rental ID:

R301679

• Webcode: 210311
Rental Details
angle of view: 99°-61°. minimum focus: 29cm / 11.8". Specially designed and optimized for Nikon digital SLRs
Included in Rental
1

Nikon AF-S 12-24mm f/4.0 G IF-ED DX Nikkor Wide Angle Zoom Lens

1

Nikon HB-23 Lenshood For AFS 17-35mm
Product Highlights
f/4 - f/22

Aperture Range

11/7

(Elements/Groups)

APS-C

Format

Silent Wave Motor

Autofocus Motor

Nikon F

Mount
Available in Calgary, Edmonton, Mississauga, Ottawa and Toronto
---
Buy this for: $1,449.99 Learn More

The AF-S DX Zoom-Nikkor 12-24mm f/4G IF-ED has been developed in response to the growing enthusiasm towards Nikon's D1-series and D100 digital SLR cameras, and in recognition of the market's interest in and need for wider-picture-angle high-performance optics for digital SLR photography.
Key Features:
The AF-S DX Zoom-Nikkor 12-24mm* f/4G IF-ED is the first lens in the new DX Nikkor series. It features ultra-wideangle zoom capability, ED (Extra-low Dispersion) glass and Nikon's exclusive built-in SWM (Silent Wave Motor). *2X zoom ratio and variable picture angle (angle of view) from 99° at 12mm to 61° at 24mm.
The lens is targeted at professional and advanced amateur Nikon D-SLR users who demand both the advantages of high optical performance and ultra-wideangle focal range.
Compact and lightweight, the AF-S DX Zoom-Nikkor 12-24mm f/4G IF-ED is an ultra-wideangle 2x zoom lens with focal length starting at 12mm for greater wideangle covering power.
The lens incorporates two ED (Extra-low Dispersion) glass and three aspherical lens elements in a new optical design, effectively minimizing chromatic aberration and significantly reducing distortion.
For fast, quiet Autofocus operation, the lens comes equipped with Nikon's exclusive SWM (Silent Wave Motor). And the rounded diaphragm opening makes out-of-focus elements appear more natural. This G-type Nikkor lens is designed with no aperture rings, and offers easier, virtually mistake-free operation because the aperture does not need to be set to minimum.
* It is not recommended to use DX Nikkor lenses with 35mm (135) or IX240 format.
Focal length and Picture angle
When Nikkor lenses originally designed for the 35mm (135) format are used on the Nikon digital format, photographers believe that the lens' focal length is increased by a factor of 1.5. For example, a 12-24mm lens would become a 18-36mm lens. Technically, that is not correct. In fact, there is no change of focal length as you switch the lens from one format to the other. The actual change is that the picture angle of the lens is narrowed on the digital format because the digital format is smaller in relation to the lens' image circle projected on the sensor. Focal length and reproduction ratio remain constant for the comparable viewed portions of the image. It is the picture angle that changes.
The new DX Nikkor lens' true focal length is 12-24mm with a picture angle that will vary from 99° at 12mm to 61° at 24mm.
The combination of reduced picture angle and a smaller image circle enabled the creation of the first compact, lightweight ultra-wideangle DX Nikkor lens.
What's Included
Front & Rear Caps
HB-23 Lens Hood
5-Year Warranty
Product Specifications
AF-S 12-24mm f/4.0 G IF-ED DX Nikkor Wide Angle Zoom

Focal Length

12-24mm

Maximum Aperture

f/4

Picture Angle
(Nikon DSLR)

99-61 degrees

Lens Construction

11 elements in 7 groups

Lens Drive

Silent Wave Motor

Extra Low Dispersion (ED) Lens

2 Elements

Aspherical Lens

3 Elements

Focusing

Internal Focusing (IF) Type

Minumum Shooting Distance

11.8 in

Maximum Reproduction Ratio

1/8.3

Macro

NA

Minimum F Stop

22

Aperture Blades

7 blades (rounded)

Aperture Ring

NA

Lens Hood

HB-23 (Supplied)

Filter Size

77mm

Dimensions
(Diameter x Length

Approx. 3.2 in x 3.5 in

Weight

1.07 lbs