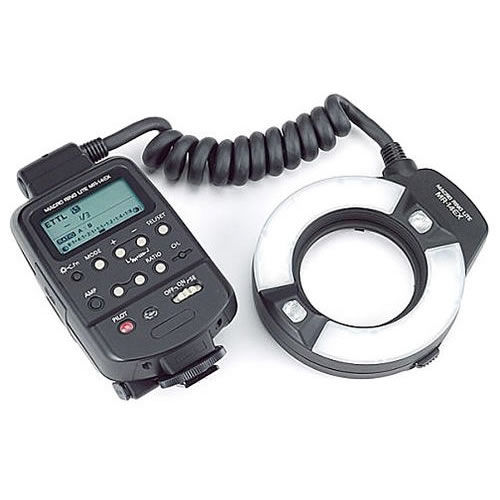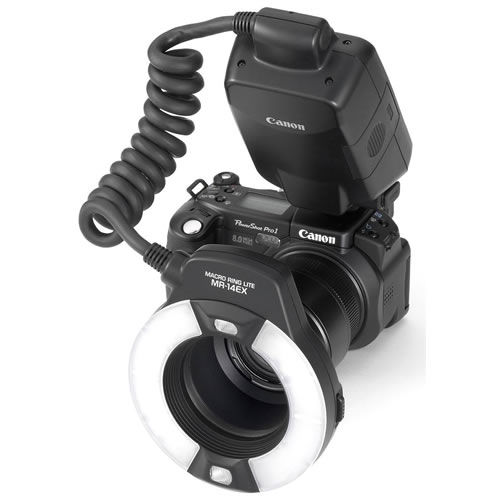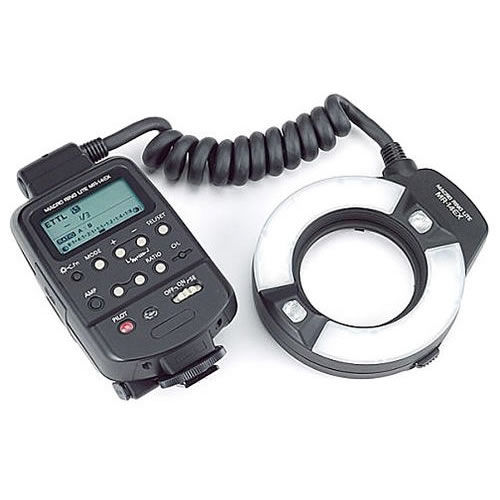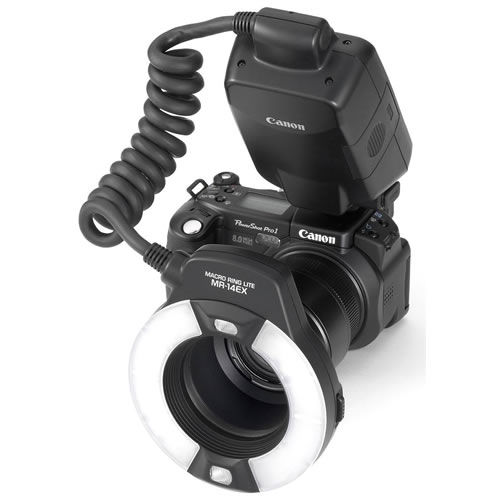 Included in Rental
1

Canon MR-14EX Macro Ring Lite

1

Canon Macrolite Adapter 72C For ML-3

1

Canon Macrolite Adapter 67C for ML3
This Ringlight for macro shooting is loaded with features and capabilities. Now with Canon's E-TTL, it takes full advantage of the flash performance of Canon E-TTL supported cameras. Twin circular flash tubes fire at even power, or can be varied over a six-stop range. One or more 550EX or 580EX Speedlites can be used as wireless slaves along with the MR-14EX. The controller unit has an illuminated, informative LCD panel. Accepts optional hi-capacity battery packs.
Key Features
Twin tubes designed for close-up photography with EF Macro lenses; Flash tubes can fire together or independently
Ratio control in manual mode: 1/1 ~ 1/64 range in 7 full steps
Supports E-TTL wireless autoflash in conjunction with one or more 550EX or 580EX flashes
Attaches EF 50mm f/2.5 Compact Macro, EF 100mm f/2.8L Macro IS (requires Macrolite Adapter #CAMLA67 - not included), EF 100mm Macro f/2.8 USM, and MP-E 65mm Macrophoto Lenses (without filters attached); can also be used with EF 180mm f/3.5L Macro USM via Macrolite Adapter 72C
Can be adapted to other popular filter sizes with appropriate Macrolite Adapters; 52mm, 58mm & 72mm
Incandescent focusing lamps and two forms of modelling flash permit preview of lighting effects
Illuminated LCD panel for easy flash settings in any lighting condition
Seven Custom Functions set on the flash LCD
Compatible with AA alkaline, lithium, Ni-Cd and Ni-MH batteries
Accepts Canon external battery packs (compact battery pack CP-E2 & transistor pack E)
Note: Compatible with PowerShot G series and Pro 1 cameras by use of apropriate Lens Adapter and Macrolite Adapter.
What's Included
Canon MR-14EX TTL Macro Ring Lite Flash

Soft case
1-year Warranty
Product Specifications
Guide No.
46
Number of Flashes
2 circular flash tubes
Focus Bulbs
Yes (plus modeling flash capability w/ E-TTL cameras)
Angle of Coverage
80° in both vertical & horizontal angles
Auto Distance Range
16.4' (based on 100/2.8 macro & ISO 100 film)
Auto f/Stops
TTL automation at all F-stops
Vari-Power
Full ~ 1/64 power
TTL Dedication
Yes
Off Camera Terminal
Possible with Off Camera Shoe Cord 2
Recycle Time
7 seconds (full power w/ alkaline batteries)
4 seconds (full power w/ Ni-Cd batteries)
Power Source
4 1.5-Volt "AA" Alkaline Batteries
Dimensions
Control unit: 2.9 x 5.0 x 3.8" (WxHxD)
Flash ring: 4.4 x 5.0 x 1.0" (WxHxD)
Weight
Control unit: 0.63 lb
Flash ring: 0.26 lb