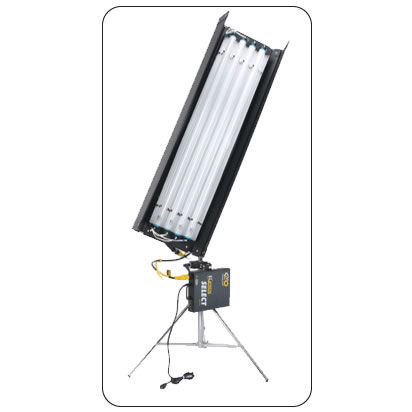 Rental ID:

R303309

• Webcode: 231738
Rental Details
includes 4ft 4bank fixture, ballast, 25ft cable, black louver and soft case. Daylight balanced light output.
Included in Rental
1

Kino Flo 4ft 4Bank Select/Ve System - 120vac w/ 4bank fFxture, Mount

1

Kino Flo 4Bank Select/Ve Ballast - 120vac

1

Kino Flo 4ft 4Bank Soft Case

1

Kino Flo 4ft 4Bank Louver-Black

1

Manfrotto D200B Black 2-«" Griphead

1

Manfrotto D500 20" Extension Arm Chrome

1

Kino Flo Twist-On Mounting Plate w/3/8" Pin

1

Kino Flo 25' 4 Bank Extension Cable for 4 Bank System

4

Kino Flo 4' Kino 800ma KF55 Safety Coated Daylight Lamp

1

Kupo KCP-200B 2.5" Grip Head-Black

1

Kupo KCP-200P 2.5" Grip Head Chrome

1

Kupo KCP-220B 20" Extension Grip Arm Black
Product Highlights
>95

CRI (Ra)

2900K - 5600K

Colour Temperature

Flicker-Free

Dimming

100-240V AC

Power Source

Kit includes LED Fixture, Louver, Ballast & Mount
Available in Toronto
---
Buy this for: $1,499.99 Learn More

The 4Bank System was designed as a softlight source that could be plugged into the wall on location. With its narrow profile and size, the 4Bank could approximate the quality of light from bounced sources without losing set space.
The first thing to note about the 4Bank System is that it consists of four components: 4Bank Fixture (fig. 1), Mounting Plate (fig. 2), Ballast (fig. 3) and Extension Cable (fig. 4). It was designed in this manner to allow the greatest flexibility when working on film production where the gaffer and DP are constantly being challenged to light unique locations and problem solve at a moment's notice.

From lighting close-ups in a restaurant location to lighting large blue and green screens, the 4ft 4Bank is the most versatile product in the Kino Flo product range and was the first product developed by Kino Flo more than 20 years ago.
The 4-Lamp Fixture
• Built-in Barndoors
• Removable Lamp Harness, Reflector and Louver
• Twist-on, locking Center Mount
• True Match® daylight and tungsten lamps
The High Output Ballast
• Select and Select/DMX
• HO/Standard switching
• Flicker-free, remote operation
• Individual lamp control
• Instant-on, dead quiet
Product Specifications
Fixture Specifications

Dimensions

52 x 13 x 3.5" w/6.5" barndoors
(132 x 33 x 9cm w/16.5cm barndoors)

Weight w/Lamps

11.5lb / 5.2Kg

Lamps

4

Lamp Type

F75 / T12
Ballast specifications

Input Voltage

120VAC 50/60Hz

Output Frequency

25kHz

Amperage

F75/4.3A, F40/3.1A,F30/2.3A

Lamp Switching

4~1/Off

Output Switching

4ft/2ft

Size

13 x 9.5 x 2.5" (33 x 24 x 6.5cm)

Weight

5lb (2.3Kg)