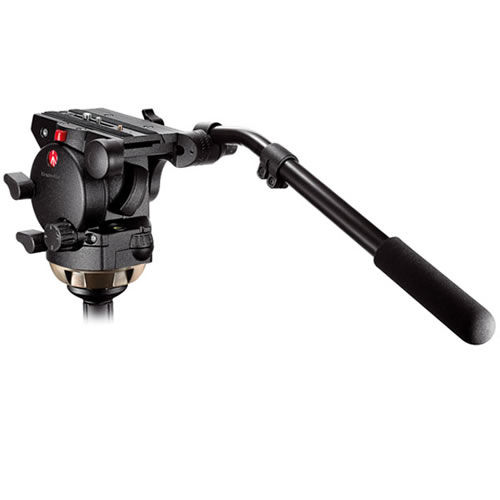 Included in Rental
1

Manfrotto 526PRO Pro Fluid Video Head

1

Manfrotto 350MVB Video Pro Tripod with 100mm Bowl & Spiked Feet

1

Manfrotto 165MV Tripod Spreader for Spiked Feet

1

Manfrotto 357PLV Video Camera Balancing Plate 1/4" & 3/8"
Product Highlights
16 kg (35.27 lbs)

Max. Load Capacity

3.60 kg (7.93 lbs)

Weight

-70° / +75°

Tilt Range

1/4-3/8''

Attachment Type

Quick Release

Aluminum

Material Construction

Level 1

Bubble Level
The 526 Pro Video head directly addresses the heavy-duty, high-end ENG and EFP video market by offering a feature-packed fluid video head that borrows all the combined benefits of our 500 series heads with the ability to support top weight loads of 16kg.
Key Features
Replaceable and removable pan arm rosette so if any damage occurs to the side castings, only a small part needs to be replaced
Large rubber padded knobs for better grip and all the controls (tilt and pan lock, tilt drag) are located on the left side so they can be easily found.
Precise fluid drag system comprised of three step settings for low, medium and high drag levels (numbered 1, 2 and 3), plus the additional no-drag setting (number 0) for such occasions as snap-pans/tilts.
Counterbalance is achieved through an adjustable spring for camera weights between 8 and 15kg.
Built-in 100mm half-ball adapts to a number of our tripods with a 100mm receiver, allowing the quick levelling of the camera with the aid of the bright levelling bubble.
Includes one pan arm and the long 357PLV plate.
Product Specifications
| | |
| --- | --- |
| weight | 3.60 kg |
| load capacity | 16.00 kg |
| panoramic rotation | 360 ° |
| minimum working temperature | -20 °C |
| maximum working temperature | 60 °C |
| working height | 15.0 cm |
| color | black |
| material | aluminum |
| independent pan lock | yes |
| tilt drag | 0 plus 3 step |
| front tilt | -70° / +75° |
| quick release | yes |
| secondary safety system | yes |
| bubble spirit level (no) | 1 |
| pan bars included (no.) | 1 |
| pan bar positions | 2 |
| plate type | 357PLV |
| attachment (bottom) | 3/8'' screw |
| attachment | 1/4" and 3/8" screws |
| pan drag | 0 plus 3 step |
| independent tilt lock | yes yes / no |
| variable balance control | yes |
| counterbalance | yes |
| additional pan handle | 519LV |
| sliding travel of plate | 80 mm |
| balance control | one fix spring adjustable from 8 to 15kg |
| head bowl | 100mm |