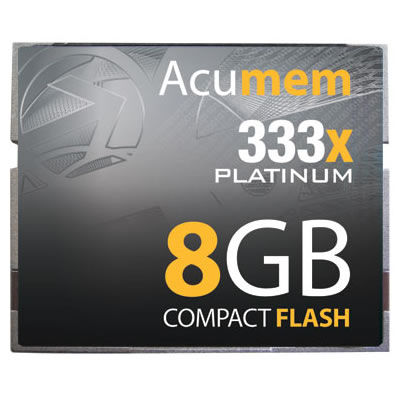 Available in Calgary and Toronto
Designed to meet the demanding requirements of the professional photographer, Acumem CF Platinum Cards are manufactured to the highest standards to efficiently capture, secure, and transfer data at a dependable fast speed.

Compact Flash or CF memory cards have become the world's most popular removable mass storage device. CompactFlash technology has enhanced the lifestyle of millions of people worldwide. CF memory Cards are designed with flash technology, and do not require a battery to retain data indefinitely. CompactFlash storage products are solid state, meaning they contain no moving parts, and provide users with much greater protection
of their data than conventional magnetic disk drives. The products that use Compact Flash Cards include digital cameras, digital music players, desktop computers, handheld PCs (HPCs), personal communicators, Palm PCs, Auto PCs, digital voice recorders and photo printers.

CF cards actually come in two different sizes:
* CF type I - 36.4 x 42.8 x 3.3mm
* CF type II - 36.4 x 42.8 x 5.0mm

The only physical difference is in the thickness of the card. All Canon EOS DSLRs can take both type I and type II cards, but some cameras can only accept type I cards. The thicker cards were originally either high capacity cards or microdrives. Today even high capacity cards are usually type I, but most microdrives are type II.


Key Features
333x PRO CF Card designed to meet the demanding speed and performance requirements of professional photographersproviding speedy capture, viewing, uploading and the transfer of large image files
FREE ARCHIVING. 50 images archived for free! Archiving ensures photos remain safe and secure (even if you lose or damage the memory card) for up to 30 years
LIFETIME WARRANTY. To ensure peace of mind, Acumem memory cards are backed by a comprehensive Lifetime Warranty
Product Specifications
Detailed Specifications
Capacity
8 GB
Transfer Speed
Up to 50MB/sec.

Form Factor
32mm x 24mm x 2.1mm
Security
n/a
Operating Temperature
-25°C to 85°C
Warranty
Lifetime Warranty