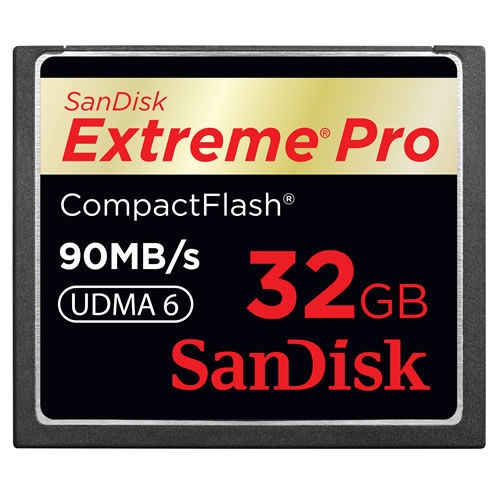 Now there's a memory card fast enough to keep up with your advanced DSLR: The SanDisk Extreme® Pro™ CompactFlash® card. With lightning-fast (up to 90 MB/s read/write) speed, you'll be able to capture more continuous burst shooting-and get the most out of your professional digital SLR camera. And with up to 32GB of storage, you'll be ready for more RAW+JPEG and high-def video.
SanDisk engineered its Power Core™ Controller to take whatever your camera's buffer can dish out. By distributing image data across the card more rapidly and efficiently, this card delivers professional performance.
Key Features
READ & WRITE PERFORMANCE: Up to 90MB/s (600x) for serious performance gains.
CAPACITIES: 16GB, 32GB, 64GB give you more room to capture RAW+JPEG, sequential bursts and high-definition video
UDMA: UDMA 6 enabled (works in all UDMA modes)
POWER CORE CONTROLLERTM & ENHANCED SUPER-PARALLEL PROCESSINGTM "ESP": Was invented by SanDisk to increase the card's performance level.
TEMPERATURE: Tested to perform from -25°C to 85°C (-13°F to 185°F)
SPECIFICATION: Meets CFA Specification Type I Card
DURABILITY: Shock protection and RTV silicone coating added inside for protection against moisture and humidity
WARRANTY: Backed by rigorous stress-testing procedures and our limited lifetime warranty.
Product Specifications
Detailed Specifications
Capacity
32GB
Write Speed
90 MB / sec
Read Speed
600x
Operating Temperature
13 - 185ºF (-25 - 85ºC)
Storage Temperature
-40 to 185ºF (-40 - 85ºC)
Dimensions
1.7 x 1.3 x 0.13" (43 x 36 x 3.3 mm)