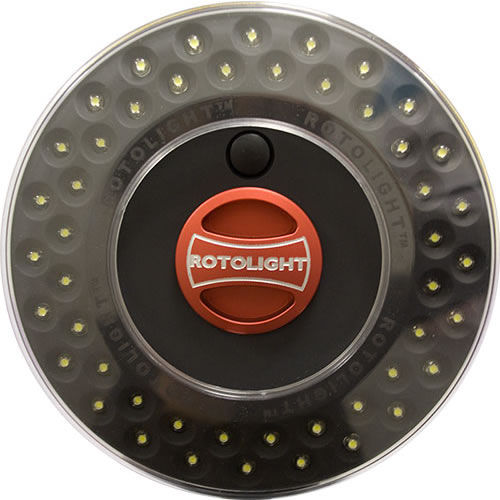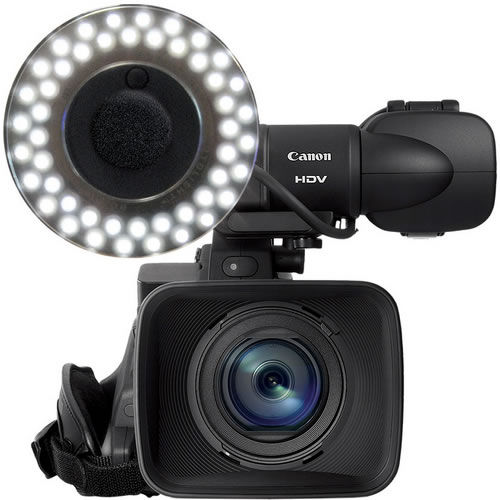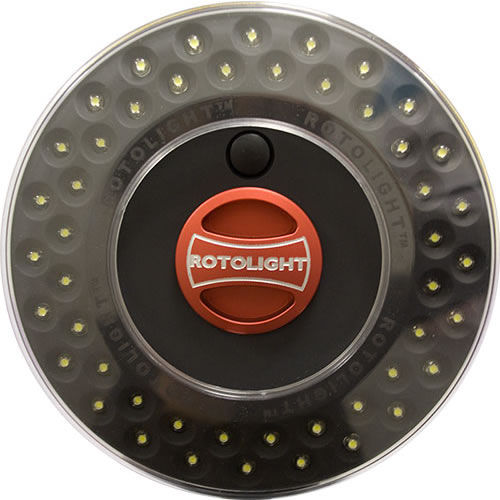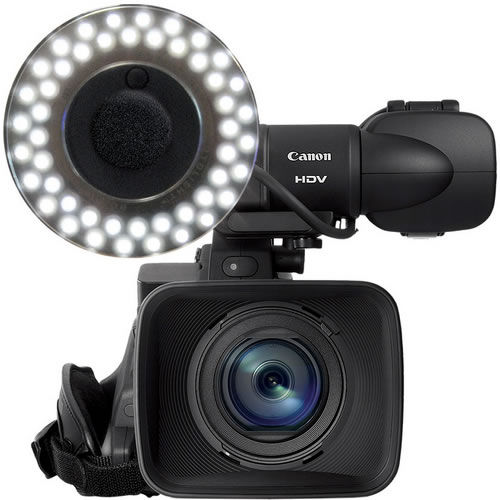 Available in Edmonton, Ottawa and Toronto
The Rotolight RL48-A Camcorder LED Light is a convenient and flexible ring light that slides onto your camcorder's on-board microphone, providing an even, shadowless 50W-equivalent light source. Using uniquely designed filters, the unit's 48 ultrabright LEDs are dimmable and offer a choice of color temperatures--3200K, 4100K, 5600K, and 6900K--helping you better match your shot's overall lighting. The 6 included filters fit conveniently inside the light's rear casing (along with the batteries), making this all-in-one kit always ready for quick deployment.

Weighing only 5 oz (142g), the light is covered with a rubberized, non-reflective coating that minimizes acoustic resonance. It's also weather-resistant, and uses 3 AA batteries to provide over 4 hours of continuous use--making it the perfect tool for documentaries, ENG applications, Steadicam rigs, and DSLR video.

This 'A' edition of the RL-48 uses top-quality Grade-A LEDs to deliver 35% more light than the original model, and adds a water-resistant switch as well as redesigned electronics and a more secure battery compartment.
Key Features
48 Ultra Bright Grade-A LEDs
Special Filter Holder
Creative and Accessory Lighting Filters by LEE Filters
Native 6900K (indirect daylight) Lighting
Perfectly calibrated operation for 5600K (Daylight); 4100K (Mixed) and 3200K (Tungsten)
Ideally suited for a variety of video and broadcast applications including film, ENG, network news, interviews and exterior event videography
Quickly deployable (in less than 5 seconds) 'on-camera' lighting system, providing self-powered and easy to use versatile illumination
Power is provided by 3 AA batteries
Using optional Rotolight Stand, the RL48-A can be easily attached to a camera's hot shoe, a boom pole, or a microphone stand, while an optional swivel mount provides 360° swivel capability--bringing new levels of versatility to your lighting.
Reviews
This music video for "Storyteller" by UK artist Sam Beeton was lit entirely with a Rotolight Interview Kit. In particular, check out sections such as 1:42-1:47 where you can very clearly see the signature Rotolight ringlight reflection in the artist's eyes.
"[T]his Rotolight interview LED light kit is absolutely gorgeous. It's such a pleasure to see and touch a product that's been put together by people who really care. Everything about it screams class, and the finishing - right down to the integrated gels is just quality. My advice - don't buy another on-camera light until you see a Rotolight for yourself . . . I haven't seen a more pleasing quality of light from any other form of camera-mounted light."
- Philip Nash
www.philipnash.co.uk
World-renowned Photographer; Beauty & Glamour Photographer of the Year - 2010; International Photographer of the Year 2010 Runner Up; Triple Finalist - Wedding Photographer of the Year; Over 40 Gold and Silver International Photography Awards
"Love it... it's absolutely remarkable. Beautifully made, simple.... The Rotolight ring light, with its supplied filters and gels, really boosts your video to professional standards."
- Jonathan Margolis
The Financial Times, "How To Spend It" Magazine - February 19, 2011

"Without knowing how the lights would act with still life, I just tossed them in like I would with normal strobes and I was very impressed with the immediate result. Although the power is a little weak when trying to use higher f/stops, if you can shoot around f/4 or below you can still get all the detail you could want in the shadows, and for my subject, these really beautiful highlights and gradations."

"I had one light on the camera with a 216 tough white over the bulbs and the other on a 30 degree angle to the product with no modifier. Results = excellent. See the photo of the Zippo lighter and judge for yourself. That image has no Photoshop other then a small curve and was taken on a [Canon] 5D MkII with a 24-70mm L series lens. Just add the Rotolights and there you go!"

"All in all, Rotolights seem to be an excellent option if you are looking to have a set of small, lightweight, powerful lights at your disposal. I would use them again for small still life and I would definitely use them if I was doing another macro video or some sort of medium-close-up shot of a person talking. Nice work Rotolight...."

- Justin Taylor, Photographer
www.justintaylorphotography.com/
"The Rotolight is a fantastic tool for using with the HD video on most [DSLRs] now. It provides a perfect backup when a fill light is needed to iron out any shadows on the face. It works best at close range, so for tight head shots and as an interview light it is perfect. Having two lights with the filters to be able to match the lighting to the ambient light is a great simple feature in a very portable and cool looking package. As far as stills go, If used in it's own right, it's power output is low but can be useful at high ISO's and/or with a very fast lens. Using the light in low light conditions such as a party and dark social occasions or at night outside, certainly helps the autofocus 'see' what you need to see, adding a useful key light on the subject and still provide a great ambient atmosphere. Used in conjunction with flash, means the flash output can be reduced a little so sharp pictures can be obtained while still giving more ambience than just flash with ambient lighting alone. Having it attached to the camera along with the flash gives the user the flexibility to switch between stills and movies easily. This will always be in my kit."
- Stephen Perry, Photographer
(Clients include Kelly Brook, The Prodigy, Jenson Button, Gordon Ramsay, Porsche, and others)
"The Rotolight Kit is versatile, easy to use and very solidly built, and stands as the most complete package in the competitive LED lighting market. For most general purpose, close up Video work it comes highly recommended... Something that deserves special mention is the build and finish quality of all aspects of the Rotolight, especially when compared to other units of equal or greater expense."

"The Rotolight is not just another LED box... [it] offers some significant benefits over such budget products, and even some over more expensive models."

"The Rotolight RL48 is one of the more innovative LED-based lighting product to be launched in recent years."

"The gels are brilliant, and on their own make the Rotolight versatile and budget friendly enough to negate savings you might make on cheaper alternatives - not to mention that very cheap lights aren't usually so well balanced, colour wise."

"Each Rotolight has a rubberized Matte Finish which is satisfying to the touch and feels anything but cheap... and the front mounted on-off switch feels as though it'd take a lifetime of use to break".
- J. G. Harding
Sound On Sound Magazine, October 2010 Issue - USA, UK and European Publications
Dead End Roads from J G Harding on Vimeo.
"My friend and bandmate Sam Russo performs his song, Dead End Roads in his home. I carried-out all audio and visual production myself.
This film supports my review of two products in Sound On Sound's Video Media section, October 2010 @ www.soundonsound.com/videomedia"

Lighting: Rotolight Interview Kit - www.rotolight.com
Grading: Magic Bullet Colorista 2 - www.redgiantsoftware.com

The film was shot using the following camera and lenses:

Canon 550D
Revuenon 55mm f1.2
Zeiss Planar T* 85mm f1.4
Chinon 28mm f2.8
Tiffen filters
What's Included
Rotolight 48LED Ring Light
Creative and Accessory Lighting Filters
3 x AA Batteries