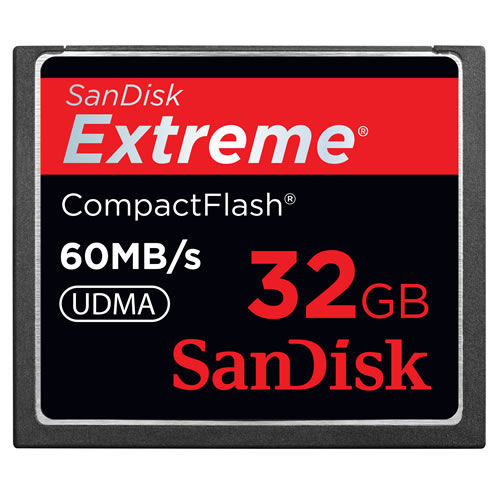 Available in Calgary, Edmonton, Ottawa and Toronto
Get exactly the shots you want with professional-grade SanDisk Extreme® CompactFlash® cards. With up to 60 MB/s read/write speeds, you'll see it takes more than a great digital SLR camera to bring your ideas to life. And with up to 32GB of space, you'll have room to capture it all in RAW+JPEG, and save the editing for later.
SanDisk engineered its Power CoreTM Controller to take whatever your camera's buffer can dish out. By distributing image data across the card more rapidly and efficiently, this card delivers professional performance.
Key Features
WRITE PERFORMANCE: Up to 60MB/s (400x)
READ PERFORMANCE: Up to 60MB/s
CAPACATITIES: 8GB, 16GB, 32GB
UDMA: UDMA 5 enabled (works in all UDMA modes)
POWER CORE CONTROLLERTM & ENHANCED SUPER-PARALLEL PROCESSINGTM "ESP": Was invented by SanDisk to increase the card's performance level
TEMPERATURE: Tested to perform from -25°C to 85°C (-13°F to 185°F)
SPECIFICATION: Meets CFA Specification Type I Card
DURABILITY: Shock protection and RTV silicone coating added inside for protection against moisture and humidity
WARRANTY: Backed by rigorous stress-testing procedures and our limited lifetime warranty? (30 years in certain countries)