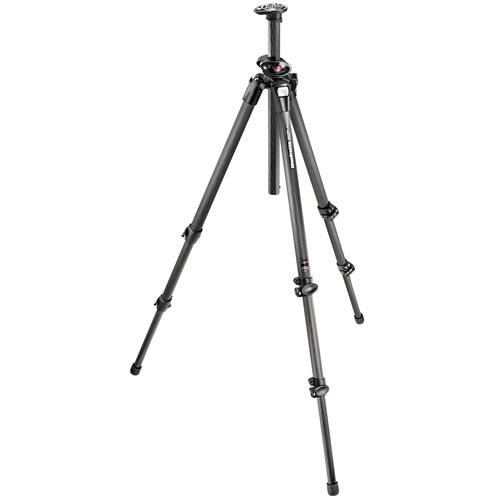 Rental Details
includes 229 3D Super-Pro head. max. load 8.0kg, min ht 6.5cm, max ht 136cm, max. ht w/column 177cm
Included in Rental
1

Manfrotto 055CXPRO3 3 Section Tripod

1

Manfrotto 229 3D Super-Pro Head
Developed to meet the needs of the most demanding professionals and photography enthusiasts who want the best performance and the highest quality, the new 055CX carbon tripods are extremely versatile and feature an eye-catching, ergonomic design. The range presents outstanding qualities in terms of height, rigidity, payload and setup speed, offering at the same time an extreme lightness thanks to the carbon fiber structure.
The PRO version is equipped with a trifaceted carbon fibre centre column, magnesium top spider die casting and integrated leveling bubble on the magnesium top plate. Also features the renowned Q90° centre column system (Quick Centre Column System) patented by Manfrotto, that allows to position the central column horizontally without having to remove the head or the column.
All locking levers and main castings have been redesigned to allow, not only for a beautiful product, but also ergonomic improvements as well as lightness and reliability.
The 055CX incorporates 100% carbon fiber tubes for the legs and the centre column (PRO versions).
By using purely carbon fiber tubes, and not mixing any other types of fiber, quality and performance is uncompromised.
High-quality "Pull-Winding" production technology has been used in order to guarantee constant high quality tube structures. The structure combines a perfect harmony between the number of layers and angle of the fiber directions to achieve an optimum balance between rigidity and compression resistance.
The 055CX incorporates the new 3-layered rounded 100% carbon fiber tubes (including the centre column on the PRO versions) for improved rigidity and lightness.
All the central castings are made out of magnesium (PRO versions) reducing the overall light weight and improving the performance of the tripod.
The new 055CX features the renowned Q90° (Quick Centre Column System). The CX PRO versions now include the new tri faceted 100% carbon fiber tube which slides easily from the vertical to the horizontal position.
The top plate has also been improved. In the PRO versions the new magnesium top plate now features a bubble to help in leveling the tripod and camera. It has also been highly refined to create an appealing design that also reduces weight.
The new ergonomic legs locking levers have been completely redesigned to improve the functionality. They are much easier to operate and are a seamless element of the tripod.
Product Specifications
Detailed Specifications
Maximum Height
175 cm / 68.9 in
Maximum height (with center column down)
140.0cm / 55.1 in
Leg Sections
3
Weight
1.65 kg / 3.64 lbs
Load Capacity
8 kg / 17.64 lbs
Minimum Height
11.5 cm / 4.52 in
Centre Column
Q90 quick centre column system
Closed Length
65 cm / 25.6 in