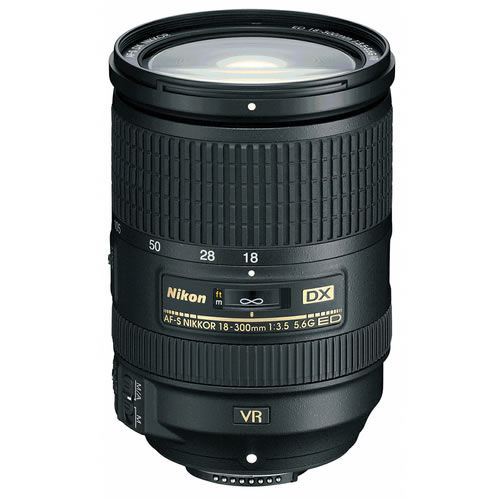 Rental Details
angle of view: 76°-5°. minimum focus: 45cm / 1.48'
Included in Rental
1

Nikon AF-S 18-300mm f/3.5-5.6 G ED DX VR II Zoom Lens

1

Nikon HB-58 Lens Hood for AF-S 18-300 VR (263748)
Building on the popularity and versatility of Nikon's telephoto zoom lens lineup, the new 18-300mm f/3.5-5.6G ED VR lens is Nikon's longest focal range lens ever with an astounding 16.7x ultra-high ratio zoom range. The DX-format 18-300mm VR lens is surprisingly compact, lightweight and covers a focal range from wide-angle 18mm to super-telephoto 300mm, equivalent to a focal length of 27mm to 450mm in FX/35mm format. At the 300mm focal length setting, the lens' large f/5.6 aperture enables photographers to shoot at faster shutter speeds with shallow depth-of-field. This new super telephoto zoom lens is ideal for takings stills when travelling and for all-around general photography including landscapes, portraits and distant subjects. The 18-300mm is excellent for recording HD video as it can be used for wide establishing shots, medium close-up shots and extreme telephoto sequences when the users want to separate the subject from the background.

The construction of the AF-S DX NIKKOR 18-300mm f/3.5-5.6G ED VR lens consists of 19 optical elements in 14 groups with three Extra-low Dispersion (ED) glass elements that effectively minimize chromatic aberration, even at the widest aperture settings, and three aspherical lens elements that virtually eliminate aberrations at wide aperture settings. The new lens also incorporates a nine-rounded blade diaphragm to help achieve a natural-looking dramatic separation between subject and background.

The AF-S DX NIKKOR 18-300mm f/3.5-5.6G ED VR also has a dedicated zoom lock switch, which secures the lens barrel at its minimum length and will prevent the lens from sliding during transportation. Additionally, the 18-300mm VR lens is ideal for capturing close-ups at great detail as it offers a 45cm minimum focusing distance at 300mm, as well as a maximum reproduction ratio of 1:3.2x.
Key Features
For DX-Format DSLRs
Wide-Angle to Telephoto 16.7x Zoom Lens
Three Aspherical Lens Elements
Three Extra-Low Dispersion Lens Elements
Nikon VR II Image Stabilization
Nikon Super Integrated Coating
Silent Wave Motor & Zoom Lock Switch
Focus to 1.48 Feet at 300mm
M/A (Manual/Auto) Focus Mode Switch
Internal Focus & Round 9-Blade Diaphragm
Versatile, Ultra-High Power 16.7x Zoom Lens
Goes from wide-angle (27mm equivalent) all the way to super-telephoto (450mm equivalent) for maximum versatility and reach.
Silent Wave Motor (SWM)
A significant innovation in AF lens technology, Nikon's Silent Wave Motor uses ultrasonic (inaudible) vibrations-rather than a gear system-to focus the lens, providing incredibly smooth, silent and precise autofocus operation.
Zoom Lock Switch
Secures the lens barrel at its minimum focal length, preventing the lens from extending during transport.
M/A (Manual/Auto) Focus Mode Switch
This NIKKOR lens features a focusing mode which allows switching from automatic to manual focusing with virtually no lag time by simply turning the focusing ring on the lens.
Nikon Super Integrated Coating (SIC)
Nikon's Super Integrated Coating enhances light transmission and offers superior color consistency and reduced flare.
Internal Focus (IF)
All internal optical movement is limited to the interior of the non-extending lens barrel, which allows for a more compact, lightweight construction - as well as a closer focusing distance.
Focus to 1.48' at 300mm
Achieve razor-sharp images as close as 1.48 ft from your subject at 300mm.
Nikon VR II (Vibration Reduction) Image Stabilization
Nikon VR II (Vibration Reduction) Image Stabilization, which is tailored to each lens, enables handheld shooting at up to four shutter speeds slower than would otherwise be possible for dramatically sharper images and HD videos - even in low light.
Rounded 9-Blade Diaphragm
The rounded 9-blade diaphragm renders a beautiful, natural background blur (Bokeh) at its wider aperture settings.
What's Included
Nikon AF-S Nikkor DX 18-300mm f/3.5-5.6G ED VR Lens
77mm Snap-On Lens Cap
CL-1120 Soft Lens Case
HB-58 Bayonet Lens Hood
LF-4 Rear Lens Cap
5-Year Canadian Warranty
Product Specifications
Detailed Specifications
Focal Length
18 - 300 mm
Comparable Focal Length: 27 - 450 mm
Aperture
Maximum: f/3.5 - 5.6
Minimum: f/22 - 32
Camera Mount Type
Nikon F (Bayonet)
Format Compatibility
Nikon DX
Angle of View
76° - 5°
Minimum Focus Distance
1.48' (0.45 m)
Magnification
16.7x
Maximum Reproduction Ratio
1:3.2 (0.15x)
Groups/Elements
14/19
Diaphragm Blades
9
Image Stabilization
Yes
VR II (Vibration Reduction) Image Stabilization
Autofocus
Yes
Filter Thread
77 mm
Dimensions (DxL)
Approx. 3.3 x 4.7" (8.38 x 11.94 cm)
Weight
1.78 lb (810 g)