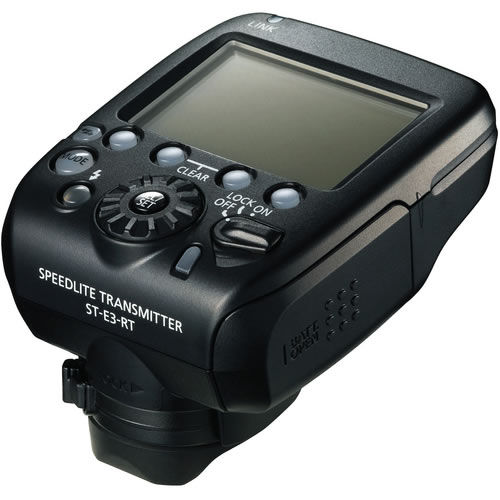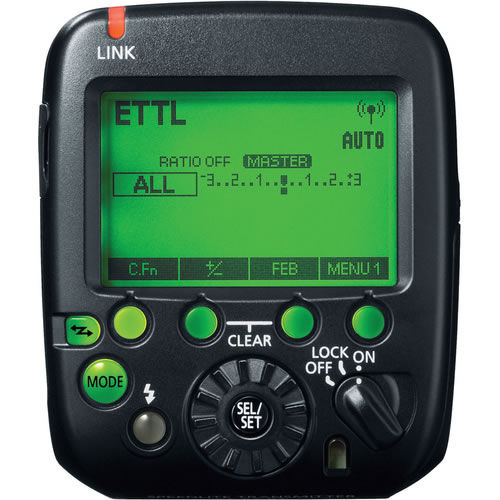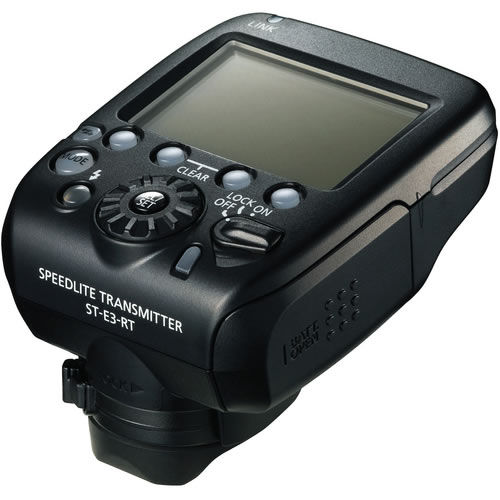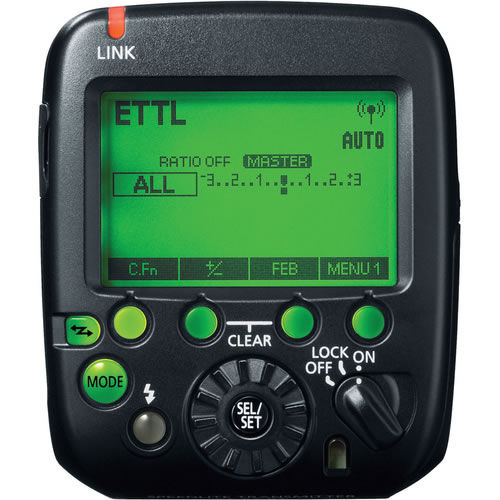 Rental ID:

R304709

• Webcode: 261864
Product Highlights
Up to 30m (98.4')

Range

15

Channels

5

Groups

HSS

Hi-Sync Mode

Canon E-TTL / E-TTL II

Compatibility

2.4 GHz

Frequency

LCD Display Screen
Available in Calgary and Mississauga
---
Buy this for: $369.99 Learn More

For sophisticated wireless flash setups, there's nothing like the new Speedlite Transmitter ST-E3-RT*. Facilitating radio controlled, two-way wireless transmission up to 98.4 feet, the ST-E3-RT represents the next generation in wireless flash systems. With operational controls similar to the new Speedlite 600EX-RT, including diverse flash metering options, and a number of flash modes, the Speedlite Transmitter ST-E3-RT makes complex lighting setups simple.
Communicating on 2.4 GHz frequencies, the Speedlite Transmitter ST-E3-RT does not have the same directional limitations of traditional wireless optical transmitters. Where other wireless signals can be interrupted by physical obstacles, radio controlled systems excel. Fifteen transmission channels are available, selectable manually or automatically, and radio transmission IDs can be set to prevent misfiring in the event of signal interference on the same channel. With a compact design and highly reliable construction, combined with a clearly laid-out information panel and buttons with back lighting and more, the Speedlite Transmitter ST-E3-RT is an indispensable tool for advanced, professional flash photography.

*Because it does not have an optical transmission function, the Speedlite Transmitter ST-E3-RT is not compatible with earlier Speedlite models such as 580EX II.
Key Features
Newly-designed wireless system uses 2-way radio wave communication for enhanced communication among master and slave units. Achieves a transmission distance of up to 98.4 ft./30 m, all at a 360 degree angle.
Up to 5 groups, or 15 individual flashes can be controlled via 1 transmitter.
Supports E-TTL II flash, manual flash, stroboscopic and auto external flash metering.
Dot matrix LCD panel displays all pertinent information simultaneously and back-lit control panel means easy operation.
8 types of custom functions, 3 types of personal functions.
Improved hot shoe contacts for more reliable information transmission and operation; compact design is approx. 2.65 (w) x 2.42 (H) x 3.05 (D) in.
What's Included
Canon Speedlite Transmitter ST-E3-RT
Soft Case
Limited Warranty
Product Specifications
Detailed Specifications
Transmitter Type
Radio transmissions wireless Speedlite transmitter
Compatible Cameras
Type A EOS cameras (E-TTL II/E-TTL autoflash)
Sync Speed
High-Speed Sync provided (EOS-1D X and EOS 5D Mark III only)
Flash Exposure Confirmation
Flash exposure confirmation lamp lights in green
* If it does not light, shooting is not performed with the standard exposure
AF Assist Beam
N/A
Transmission System
Radio Transmission
Transmission Range
Approx. 98.4 ft. (30m)
Flash Ratio Control
1:8 - 1:1 - 8:1, power 1/2-stop increments
Flash Coverage
Transmission Angle: 360° all around
Slave Operation Confirmation
Green Light
Lit: Radio Transmissions Okay

Red Light
Lit: Not Connected
Blinking: Transmission Error/ Too many units (Master units + slave units = more than 16 units)

Orange Light
Lit: Sub-master transmission
Blinking: Receiving remote release shooting, linked shooting signal
Slave Unit SE Mode Cancellation
The test flash button can be pressed to test if the slave units fire or cancel the auto power off status.
Power Source
AA/LRG Alkaline Batteries x2 (Ni-MH and Lithium batteries can also be used)

Battery Life: Approx. 10 hours continuously *When using AA/LR6 alkaline batteries used (At a room temperature +23°C/73°F).
SE Mode
Power off after 5 min. of idle operation
Dimensions
2.65 (W) x 2.42 (H) x 3.05 (D) in. / 67.4 (W) x 61.5 (H) x 77.4 (D) mm
Weight
3.9 oz. / 110g (excluding battery)