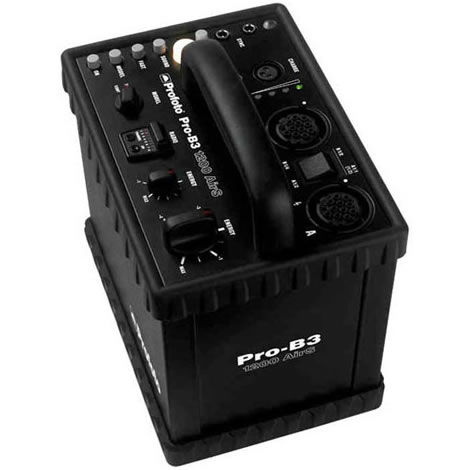 Rental Details
includes Pro-B3 AIR 1200w/s battery operated power pack, 2 Lithion Ion life battery, 2x Pro Flash head, 2x 7" grid reflector, 2x stands, charger and soft-sided transit bags
Included in Rental
1

Profoto Pro-B3 1200 AirS Battery Generator

2

Profoto LiFe Battery with Cassette

2

Profoto 7" Grid Reflector

2

Profoto ProHead Flash Head with 250 W Lamp

1

Profoto Battery Charger For Pro-7B

1

Profoto Carrying Bag for Pro-7B
The Profoto Pro-B3 1200 AirS is a newer and lighter version of the world-wide most popular, professional battery flash generator. This generator offers advanced features and an excellent performance:
Fast recycling times: 0.06-1.8 s
Short flash duration: 1/2200-1/7400 s with standard Pro-B head and ProHead
High capacity: 300 flashes at full power and more than 30.000 flashes at lowest power
Low weight: Just 8,8 kg (19 lb) incl. battery
Compact and handy: (w) 17 x (d) 24 x (h) 28 cm (6.7x9.4x11 in) incl. handle
Wide power range: 8 f-stops (1200-9 Ws)
Integrated radio sync: Profoto AirS module with 300 m operating range, sync times down to 1/1500 s - the antenna is integrated in the module
Long battery life: Advanced LiFe battery with 1200 charge cycles
Improved lamp sockets: Safe and secure connection, allowing "hot-plugging"
Bright model light: 250 W model light with standard Pro-Head´s even in battery operation
Fastest pack on the market
The Profoto Pro-B3 1200 AirS is the fastest 1200Ws pack on the market, with a recycling time between 0.06 to 1.8 s, giving up to 16 flashes/sec. Plus, the very short flash durations of the Pro-B3 make it easy to freeze movement. The Pro-B3 AirS can be used while recharging.
Smallest and lightest
Pro-B3 1200 AirS is one of the smallest and lightest 1200Ws battery generators on the market and measures only (w) 17 x (d) 24 x (h) 28 cm (6.7x9.4x11 in) incl. handle. The weight of the complete unit with battery is only 8,8 kg (19 lb). The generator offers an outstanding reliability and is easy to use.
Licensed to travel
The battery is licensed to travel and has been tested and certified according to UN manual of Test & Criteria, Part III, Sub-section 38.3, making the battery flight approved all over the world.
Product Specifications
Detailed Specifications
Energy
1200 Ws f-stop at 2 m with Magnum 50° reflector 90.3
Energy Control
Over an eight f-stop range (down to 9 Ws), in 1/10 or 1/2 step adjustments
Energy distribution
Symmetric or Asymmetric (2:1 ratio)
Recycling time
0.06-1.8 s @ full (0,9 s at 600 Ws)
Flash duration

1/2200 - 1/7400 s (with standard Pro-Head and Pro-B Head)

NOTE: ProTwin and two Pro-B3 generators on the same equivalent power give half the recycling time and shorter flash duration.

No. of flashes per charge
300 @ full > 30 000 @ min
Number of Lamp Head Sockets
2
Modeling light
Up to 250W continuous or time controlled (max 60 s)
Auto Dumping
Yes
Battery type
13.2 V, 11.5 Ah, LiFePo4
Battery charging time
5 h with Profoto Charger 2A
2.5 h with Profoto Universal Power Adapter UPA
Battery status indicator
Yes
Battery life
1 200 charge cycles 80% capacity left
Battery operating temperature range
-20 °C to +50 °C (-4 °F to +120 °F)
Battery storage temperature range
-30 °C to +0 °C (-20 °F to +140 °F)
Radio Sync
Profoto Air: range up to 300 m, channel selector on generator
Pocket Wizard: range up to 100 m, channel selector learn mode
Radio remote control
No
Size
(w) 17 x (d) 24 x (h) 28 cm (6.7 x 9.4 x 11 in) incl. handle
Weight
6.4 kg (14.1 lbs), exclusive of battery
8.8 kg (19.0 lbs), including battery
Other
Built in photocell, 2 sync socket