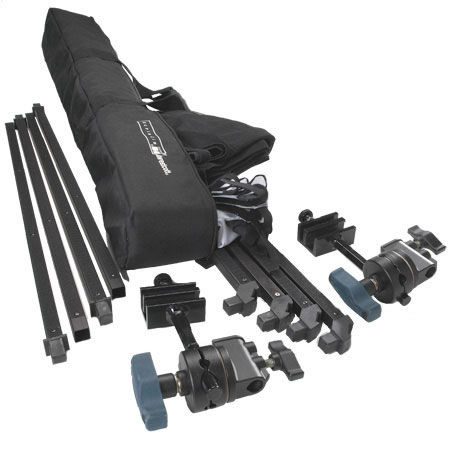 Included in Rental
1

Westcott 72" Video Broadcast Deluxe Kit with Fram, Clamps, Heads

1

Westcott Large Single 3/4 Stop Black Net

1

Westcott Scrim Jim Carry Case

4

Westcott 28" Frame pole for 72" Scrim

3

Westcott 41" Frame pole for 72" Scrim

2

Westcott Grip Head Slim Jim Accessory

2

Westcott SJ Clamp Scrim Jim Accessory

1

Westcott Large 3/4 Stop Fabric
Westcott Scrim Jim is a strong, lightweight collapsible diffusion and reflector system. Frames are made of aircraft aluminum, not plastic. This kit consists of a large 72 x 72" frame, a 3/4 Stop Diffusion and Single Black Net fabric, clamps for swivel-mounting it to 2 stands, and a carrying case. Add light stands or C Stands of your choice. Add a sandbag for outdoor use.
Key Features
Modular construction allows you to create 3 easy-to-handle frame sizes.
The modular design allows for easy portability and quick set-up and take-down.
Fabrics are of the highest quality and have Touch Fastener sewn around the perimeter for an even, taut and secure fit to the frame, even during periods of strong winds.
Many other fabrics are available, including Chroma Blue and Chroma Green.
What's Included
Large Frame 72 x 72" (1.8 x 1.8 m)
3/4 Stop Diffusion Fabric
Single Black Net Fabric
2 x Scrim Jim Clamps
Grip Heads
Kit Bag
Product Specifications
Detailed Specifications
Frame Size

72 x 72" (1.8 x 1.8 m) Aluminum



Fabric
Black Net
White Diffusion

Kit Weight

3.7 lb (1.7kg)