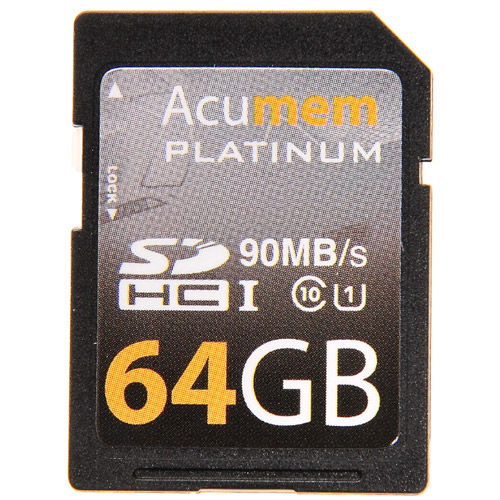 The ultimate card designed to meet the requirements of the demanding professional - SDHC Platinum delivers faster uploading speeds. For the professional whose saved images represent their livelihood, the SDHC provides the assurance that images will be stored securely, even under the most severe conditions.
Acumem SDHC PLATINUM Features
PRO Class 10 SDHC Card designed to meet the demanding speed and performance requirements of professional photographers-providing speedy capture, viewing, uploading and the transfer of large image files
FREE ARCHIVING. 50 images archived for free! Archiving ensures photos remain safe and secure (even if you lose or damage the memory card) for up to 30 years
LIFETIME WARRANTY. To ensure peace of mind, Acumem memory cards are backed by a comprehensive Lifetime Warranty
SDHC memory cards run on SD 2.00 file system and are FAT 32 file system compatible. Compared to SD cards (up to 2GB) that run on SD 1.0 and 1.1 formats and are FAT 16 file system compatible.

Class 2: minimum sustained DTS of 2MB/sec
Class 4: minimum sustained DTS of 4MB/sec
Class 6: minimum sustained DTS of 6MB/sec

SDHC Compatible SDHC cards are designed for devices that are compatible with the SDHC 2.00 specification and the FAT 32 file system. SDHC digital products can use both SD and SDHC memory cards. SD digital products can use only SD memory cards of 2GB or less.
Product Specifications
Detailed Specifications
Transfer Speed
Class 10
Security
Protect Switch
Operating Temperture
-25 Degrees C to 85 Degrees C