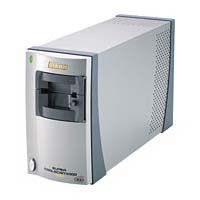 Rental Details
Comes with MacBook Pro laptop configured with drivers and software suite.
Included in Rental
1

Nikon Coolscan 5000 ED Scanner

1

Apple Power Adapter for MacBook Pro

1

Apple MacBook Pro 15.4" Intel Core 2 Duo 2.8GHZ 4GB Memory

1

Nikon SA-21 Strip Film Adapter for LS-40, LS-4000

1

Nikon MA-21 Slide Mount Adapter
The Super Coolscan 5000 ED offers 35mm and APS (IX240) film scanning at an amazing 20 seconds per image (including image transfer and display) - at 4000dpi true optical resolution. Highly accurate colour reproduction and fine detail are made possible by the 16-bit A/D converter and 16-bit output channel. The LS-5000 ED is designed primarily for business users such as professional photographers and photofinishers, who require superb image quality and high-speed scanning capability. Keen owners of 35mm and APS format cameras - advanced amateur SLR photographers, for example - will also welcome the scanner's superior speed and image quality.
Users who deal with numerous slide mounts and uncut film rolls will appreciate the increased ease of use and productivity afforded by optional accessories. By simply attaching the optional Roll Film Adapter SA-30 to the Super Coolscan 5000 ED, batch-scanning of uncut film rolls comprising up to 40 frames becomes possible. The optional Slide Feeder SF-210 lets you scan up to 50 mounted slides, giving you time-efficient scanning which slots neatly into commercial workflows. The Super Coolscan 5000 ED has the performance and efficiency to make it the ideal digital archiving solution.
The scanner's 16-bit A/D input conversion enables a significantly broader dynamic range. It also works with the 16-bit output and the Multi-sample scanning feature to reveal details hidden in shadowy and highlight portions of a scene, while virtually eliminating "noise". Newly developed high-quality 2-line CCD sensors support super-fast 20-second scanning and enhanced image quality. At the heart of the Super Coolscan 5000 ED's excellent performance are exclusive Nikon technologies. The scanner incorporates Scanner Nikkor ED (Extra-low Dispersion) glass lens elements for superior edge-to-edge sharpness, definition and contrast, as well as outstanding colour fidelity. The "cool" LED illumination is stable and precise, with no risk of heat-related damage to films. Furthermore, the LED requires neither maintenance nor warm-up time.
Ultra-fast scanning
The SUPER COOLSCAN 5000 ED features a newly-developed, low-noise 2-line CCD sensor for an amazing scanning speed of 20 seconds at 4,000 dpi -- ideal for imaging professionals and other users who value high productivity. Autofocusing speed has been reduced to a mere 4 seconds. The scanner also offers the plug-and-play USB 2.0 interface, which dramatically increases data transfer speed.
Tremendous image quality
The SUPER COOLSCAN 5000 ED's 4,000-dpi true optical resolution and 16-bit A/D converter enable the reproduction of stunning images in vibrant color and astonishing detail -- even in darker portions of scenes. Nikon's exclusive Scanner Nikkor ED lens elements are superior in edge-to-edge sharpness, definition and contrast, as well as color registration, saturation and accuracy. The low-heat, highly accurate LED light source further ensures stability in color characteristics and faithful overall reproduction.
Unmatched image restoration functions
Scan Image Enhancer
The Scan Image Enhancer function automatically adjusts brightness and color saturation, producing images with optimal contrast.
Digital ICE4 Advanced™
Digital ICE4 Advanced™ is an impressive suite of four image correction technologies. Digital ICE™ works with LED illumination to remove surface dust and scratches without altering image composition. Digital ROC™ automatically rebuilds and restores deteriorated color values for faithfully rendered images. Digital GEM™ reduces the effects of film grain, producing sharp, clear images without clumping or graininess. The newly added Digital DEE™ uses exposure compensation to help reveal details that may be hidden in shadowy or highlighted portions of scenes.
Quality accessories enhance scanning versatility and efficiency
Nikon offers a variety of optional holders and adapters to augment productivity. Attaching the SLIDE FEEDER SF-210, for example, lets you batch-scan as many as 50 mounted slides based on settings made prior to scanning. The ROLL FILM ADAPTER SA-30 enables the batch scanning of an uncut film roll of up to 40 frames.