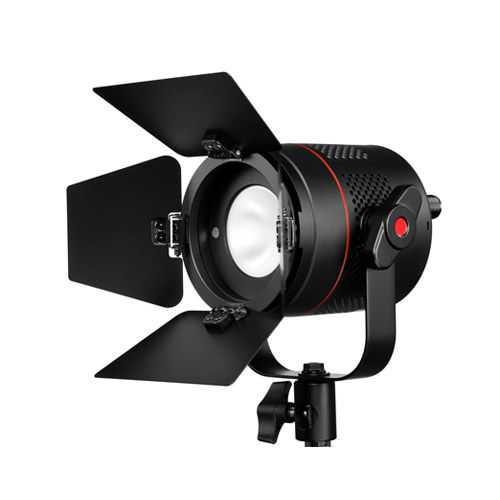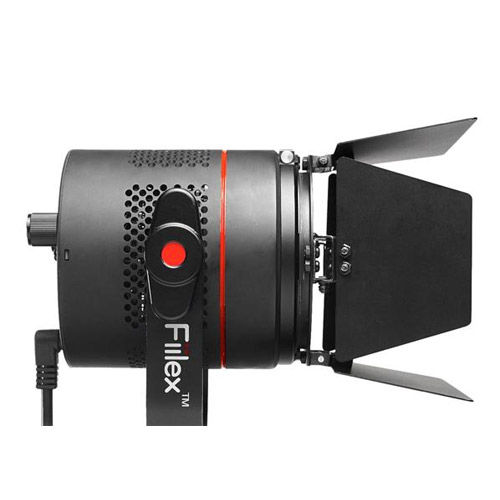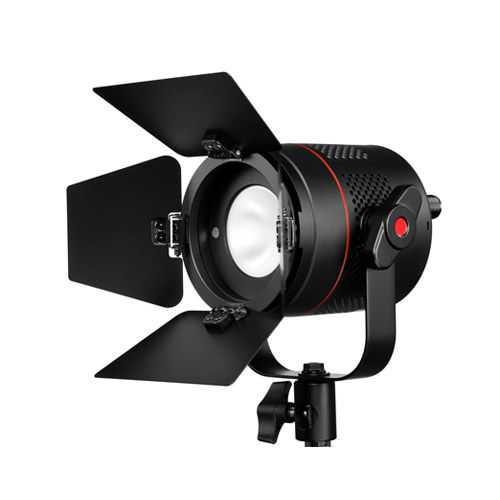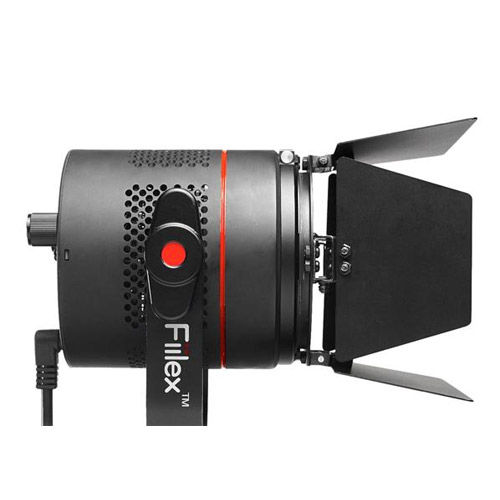 Included in Rental
1

Fiilex P360 LED Light with Barn Door 3000-5600K Flicker Free

1

Fiilex Barndoor for P360, P360EX, and P200

1

Fiilex P360 AC power supply
Product Highlights
101.6 mm (4") Dia. LED Light

≥93

CRI (Ra)

3000K - 5600K

Colour Temperature

100-0%

Flicker-Free Dimming

90W

Power

12 to 28 V DC, 100-240V AC, 50/60Hz, (In) 24V DC

Power Source

Flood 65°

Beam Angle

Includes Barndoor & AC/DC Power Adapter

IP24

Weatherproof
The Fiilex P360 incorporates a 90-watt platform that makes the unit one of the highest powered LED continuous light sources for its size of (4" x 4.7") and weight (1.6lbs). With DiCon's patented Dense Matrix LED, the array places 50 diodes into a space smaller than a dime, with a glass optic in front of the array to emulate a single point light source.
Fiilex P360 from Fiilex LED on Vimeo.
Full Spectrum Color Tuning
The P360 has the ability to smoothly tune the spectrum of light producing any color temperature of white light with an unbelievably high CRI.
Ultra Efficient Light Source
The P360 draws only 90 watts, a fraction of comparable tungsten or HMI light sources. Can you imagine never having to change a light bulb again or at least for the next 10 to 15 years?
Compact, Lightweight, Easy for Travel.
Weighing in at 1.6lbs, the P360 is one of the lightest and most powerful light sources you can use. The 12-28V DC power input allows the P360 to be used with all major battery brands within the motion picture industry.
FEATURES
Dimming (0%, 10 -100%)
Tunable CCT (3000 - 5600K)
Full Spectrum Light Quality - No Spikes
Single Point Dense Matrix LED Light Source
High CRI (>90) at any Color Temperature
Flicker Free at any Frame Rate
Lightweight, Compact, Easy for Travel
Low Power Consumption and Cool to Touch
Compatible with Broadcast Batteries
2 Year Warranty
APPLICATIONS
Location Lighting
Event Lighting
Still Photography
Chroma Key
What's Included
(1) P360 Light Head
(1) Barndoor
(1) AC/DC Power Adapter
(1) User Manual
Product Specifications
Detailed Specifications
Size (without Barndoor)
4" (Diameter) x 4.7" (Length)
Weight (Include Yoke)
1.6 lb / 0.74 kg
LED
Dense Matrix LED
Thermal Design
Advanced Vapor Cooling System
CCT
3000K to 5600 K Continuous Tuning
CRI
>90 to 95
Power Consumption
90W Max.
Input
12 to 28 V DC
AC Adaptor
100-240V AC, 50 / 60Hz (In) / 24V DC , 90W max. (Out)
Operating Temperature
0 - 40° C / 32° - 104°F