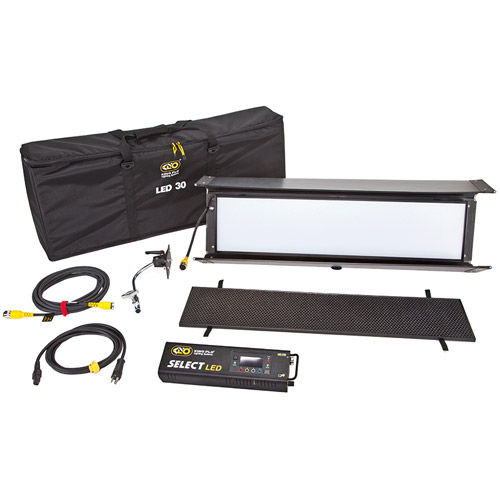 Included in Rental
1

Kino Flo Select LED 30 DMX

1

Kino Flo Soft Case for LED 30 DMX

1

Kino Flo 41K Mount w/ Baby Receiver

1

Kino Flo Select LED 150 DMX Controller

1

Kino Flo 25' Select LED Extension Cable

1

Kino Flo Select LED 30 Louver/HP, 90
Product Highlights
>95

CRI (Ra)

2700K - 6500K

Colour Temperature

100-1%

Flicker-Free Dimming

24V DC, 100-240V AC

Power Source

Kit includes LED Fixture, Louver, Controller, Mount & Case
Kino Flo Select 30 DMX Kit
With fixture, louver, controller, mount, extension and soft case
The Select LED's have the versatility and unique features which make it the perfect imaging tool for use in any studio production or on location. The detachable controller can operate the fixtures remotely with a 25ft (*m) extension cable. For further flexibility, the controller can be attached to the back of the fixture or mounted onto a stand using the ballast mount (MTP-BAL)) accessory. Slim in profile at only 3 inches, the portable lightweight fixture can be rigged in tight places or screwed onto a wall or ceiling through its eyelets.
Select LED Features
Five Kelvin presets
Dial-in color temperature control between 2700-6500K
Can use preset buttons to store custom Kelvin settings
Light levels do not change when selecting Kelvin settings
Color-correct with high color rendering index (CRI 95)
Universal Input 100VAC-240VAC or 24VDC
Energy efficient, draws 1.3A, 120VAC and 7A, 240VDC
Flicker-free, dead quiet operation
Full range onboard and DMX dimming
DMX wireles link (Lumen Radio)
DMX Auto Terminate
Green/Magenta control
No color shift while dimming
Remote fixture with built-in barndoors
Fixture includes 90° Honeycomb Louver
Honeycomb louver also available in 60°
Removable Center Mount
Mounts to stand, light enough to be hand-held
The Select LED lights include dial-in variable color temperature control, full-range dimming and programmable 2700K to 6500K presets. The Select LED's soft white light is flicker-free and does not shift color temperature when dimmed. Light levels are consistent throughout the Kelvin range.
In addition, Kino Flo introduces a Green/Magenta control to match the spectral sensitive curves of the most popular cameras and other light sources. With built-in DMX and Lumen Radio® receivers, the Select LED's can be controlled by DMX and/or wireless DMX. Wireless capability eliminates the need for DMX cables. Rounding out the Select LED's attributes is the ability to run on universal input from 100-240VAC, or 24VDC with as little 1.3A, 120VAC.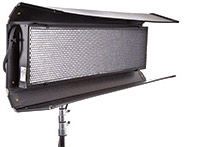 Select LED Fixture
Built-in Barndoors
Removable Honeycomb Louver
Twist-on, locking Center Mount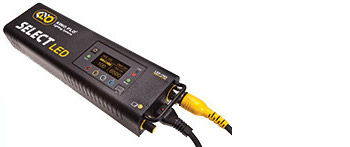 LED Controller
Kelvin presets & custom settings, 2700K-6500K
Universal input 100VAC-240VAC
Remote Controller
Manual & DMX Dimming w/ Auto Terminate
DMX wireless (Lumen Radio)
Green/Magenta control
Flicker-free, dead quiet operation
What's Included
Select 30 Fixture
150 LED Controller
Mount with Baby Receiver Curve (16mm)
Extension (25')
Soft Case
Product Specifications
Select 30 DMX

Kelvin Range
2700~6500
Dimming Range
100% ~ 1%
Dimensions
103 x 33 x 9 cm w/ 16.5 cm barndoors (40.5 x 13 x 3.5" w/ 6.5" barndoors)
Weight
5 kg (12 lbs)
LED Controller

Controller
LED-150X
Input Voltage VAC
100~240VAC
50/60Hz, 150W
Amperage VAC
1.3A
Input Voltage VDC
18~36VDC,
150W
Amperage @ 24VDC
7.0A
Kelvin Range
2700 ~ 6500
Dimming Range
100% ~ 1%
Dimensions
37 x 10 x 7.6cm (14.5 x 4 x 3")
Weight
2 kg (4 lbs)