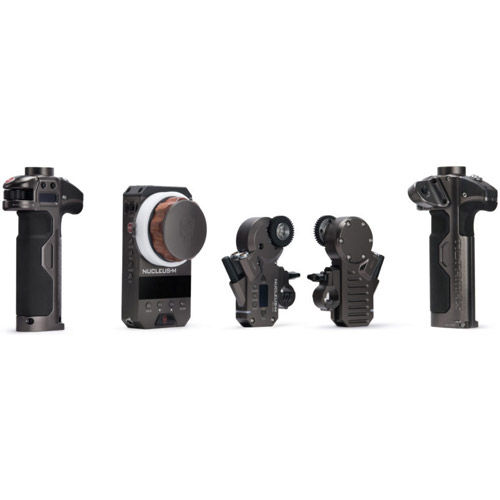 Rental ID:

R306098

• Webcode: 420349
Rental Details
NOTE: V-MOUNT BATTERY NOT INCLUDED
Included in Rental
1

TILTA Nucleus-M Wireless FollowFocus

2

TILTA Nucleus Wireless Motor

1

TILTA Right Wireless Handle

1

TILTA Left Wireless Handle

1

TILTA Nucleus Waterproof Safety Case

1

TILTA Nucleus-M Battery Charger

4

TILTA Follow Focus Marking Disk

2

TILTA Handle to Gimbal Bar Adaptor

2

TILTA Handle to Rosette Adaptor

1

TILTA FIZ Unit Lanyard

2

TILTA Motor Rod Clamp Adaptor

1

TILTA 7-Pin Connection Cable 18cm

1

TILTA 7-Pin Connection Cable 29cm

1

TILTA 74cm P-TAP Power Cable

6

Zhiyun-Tech IMR 18650 2000 mAh Battery
Product Highlights
Ideal for Gimbals/Shoulder Mounts & Drone Shoots

Enables Full Control of Focus, Iris & Zoom on Cine Lenses

8.2 x 3.4 x 11.4 cm (3.2 x 1.3 x 4.5")

Dimensions

Aluminum/Steel/Plastic/Rubber

Material Construction

0.44 kg (0.97 lbs)

Weight
Available in Toronto
---
Buy this for: $1,649.99 Learn More

The Nucleus-M is a revolutionary wireless follow focus system.
Have full control of focus, iris, and zoom on Cine lenses or compatible "cine-moded" DSLR lenses. Ideal for 3-axis gimbals, shoulder mounts systems, and drone shoots.
The Nucleus-M is a wireless 3 Channel system.
Connections between the FIZ hand unit and the two hand grips to the motors are completely wireless. Each motor has a built-in MDR unit, saving space and setup time. A single motor can be powered directly from the camera's battery though a 7-Pin to P-TAP cable then daisy chained via 7-Pin to 7-Pin cable to run additional motors. There is no limit on the amount of motors an operator can attach per channel.
* Batteries are not included. Please see EBL 18650
Key Features:
The FIZ hand unit and two handle grips have a wireless range of 1000 feet.
The signal from the FIZ hand unit can be upgraded to 1 1/4 miles.
Both hand grips and FIZ hand unit run off (2) 18650 batteries. (Batteries are NOT included.)
When fully charged the batteries in the hand grips can last up to 2 days.
The batteries in the FIZ unit can last up to 10 hours.
FIZ hand unit is capable of controlling 3 channels – focus, zoom, and iris as well as overriding the hand grips.
0.8 mod, 35-tooth, 32 pitch gear with a face width of 10mm
Motors can calibrate on lenses without hard stops – such as photo-lens with follow focus gears.
Motors fit standard 15mm and 19mm Rods
Ideal for Gimbal, Drone, and Shoulder-mounted setups
What's Included
Wireless FIZ Hand Unit
2x Brushless Wireless Motors with 19mm Rod Support and 15mm Rod Bushings
Wireless Handle Left (Focus)
Wireless Handle Right (Iris, Zoom)
4x Follow Focus marking disks
7-Pin to 740mm P-TAP Motor Power Cable
296mm 7-Pin to 7-Pin Straight Motor Connection Cable
180mm 7-Pin to 7-Pin Right Angle (90 degree) Motor Connection Cable
18650 4 Slot Battery Charger
2x Handle to Arri Standard Rosette Adapter
2x Handle to Gimbal Bar Adapter (Compatible with 25mm/30mm Diameter)
Wireless FIZ Hand Unit Strap
Hard Shell Waterproof Safety Case
* Batteries are not included.
Product Specifications
Nucleus-M: Wireless Follow Focus System

Material
Aluminum-Alloy
Stainless Steel
ABS Plastic
Rubber
Brazilian Rosewood
Weight

FIZ Hand Unit (with focus disk but no batteries): 0.972 lbs
FIZ Hand Unit (with focus disk and batteries): 1.164 lbs

Right Handle Grip (no batteries or adapters): 0.582 lbs
Left Handle Grip (no batteries or adapters): 0.529 lbs

Arri Rosette Male to Handle Grip Adapter: 0.161 lbs
25mm/30mm Gimbal to Handle Grip Adapter: 0.099 lbs

Motor (no rail adapter): 0.419 lbs
Motor with 15mm rail adapter: 0.496 lbs
Motor with 19mm rail adapter: 0.487 lbs

Motor Dimensions

Length/Height: 4 1/2" Inches

Width: 2 3/4" (motor plus rail adapter)
Width: 2 5/8" (ports to tip of gear)
Width: 3 2/8" (end to end furthest points)

Depth: 5/8" (rail mount section)
Depth: 3/4" (base section)
Depth: 1 3/8" (motor section)