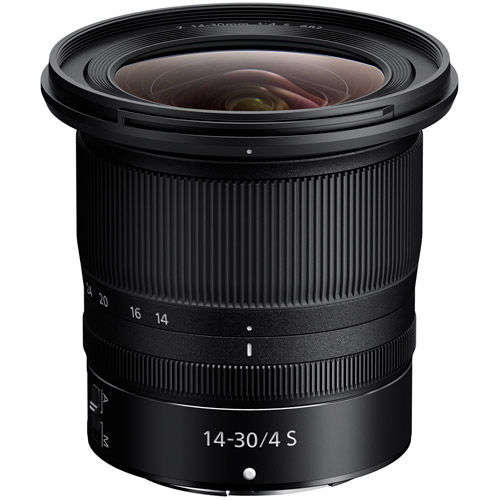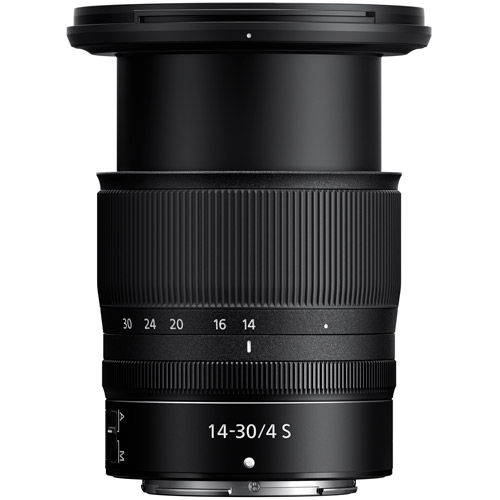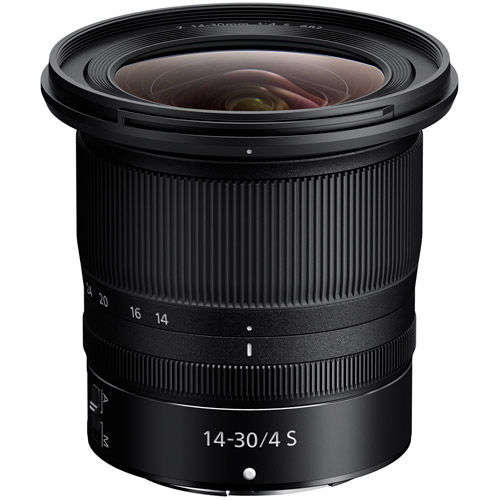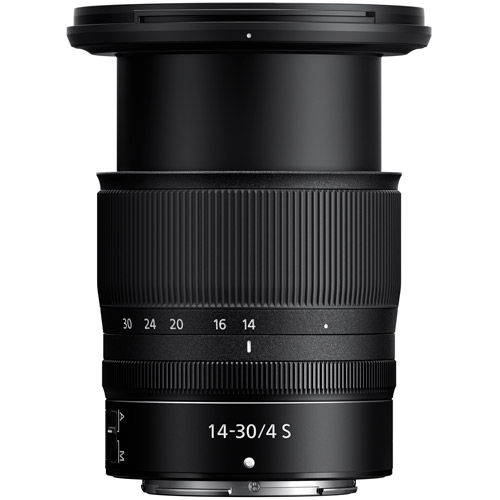 Rental ID:

R306576

• Webcode: 429680
Included in Rental
1

Nikon NIKKOR Z 14-30mm f/4.0 S Lens

1

Nikon HB-86 Bayonet Lens Hood
Product Highlights
f4 - f22

Aperture Range

14/12

Elements/Groups

Full-Frame

Format

7

Aperture Blades

STM

AF Motor

82mm

Front Diameter

Nikon Z

Mount
Available in Toronto
---
Buy this for: $1,499.99 Learn More

World's first 14mm filter-attachable lens
A next-generation ultra-wide angle zoom
The ultra-wide zoom. A travel and landscape photographers' go-to lens for establishing a sense of place and pushing perspective. Capable of scenic photography that's consistently sharp throughout the entire frame. Video so clean and smooth it rivals real life and elevates the look and feel of camera movement. And for the first time in a full-frame ultra-wide lens, the creative and practical flexibility of attachable filters. The possibilities are as wide-reaching as the 14-30mm field of view. This is a lens that embodies the spirit of Z.
Perspective that awakens the imagination.
Breakthrough performance and capabilities
A compact 14 to 30mm zoom range with a fixed f/4 aperture and outstanding image quality. Experience edge-to-edge sharpness even when shooting wide open. Shoot stills or video in near-silence. This is an essential lens for travel, adventure, events, video and everything in between.
Superior optical performance
Impressive aberration correction—virtually zero flare, ghosting, coma or chromatic, spherical and axial aberration, even at the far edges of the frame. Plus dirt, dust and water-repelling safeguards.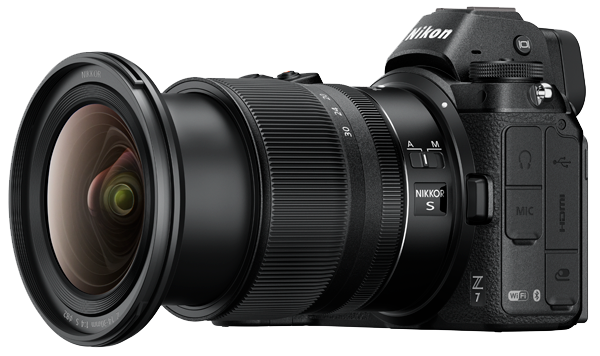 A small lens for big ideas
14-30mm full-frame perspective
Smoothly go from an ultra-wide 14mm view to a more natural perspective of 30mm. Capture subjects less than a foot away with fully-immersive backgrounds and expansive vistas with detail and sharpness from corner to far-reaching corner. The NIKKOR Z 14-30mm f/4 S is perfect for adding depth and drama to stills and video and its outstanding portability makes it an ideal partner for compact Z series cameras.
Set the Scene
An essential video lens
Create beautifully detailed establishing shots that draw the viewer in. Focus as close as approx. 11 inches for story-telling context in wide, tight interiors. This is an indispensable lens with an essential angle of view for serious videographers and filmmakers. The NIKKOR Z 14-30mm f/4 S's small, agile design feels as at home in a hand as it does in a rig. Either way, Z's advanced 5-axis VR and additional electronic VR image stabilization effectively eliminate unwanted camera shake and vibration. The new quiet stepping motor ensures smooth, clean focusing; focus breathing has been virtually eliminated for a consistent view as you zoom in or out.
Customizable Control Ring
Can be used for manual focusing (default), aperture control (great for iris transitions during video recording) or exposure compensation.
Dust and Drip Resistant
Extensively sealed to keep dust and moisture out, especially around all moving parts of the lens barrel, for worry-free durability.
Dual Detect 5 Axis VR
Uses the Z cameras' superior in-camera image stabilization system for up to 5 stops of pitch, roll, yaw, X and Y shake correction. Additional electronic VR (e-VR) during video capture.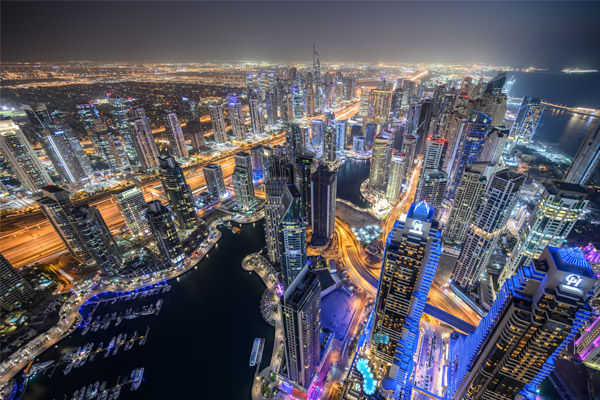 Fixed f/4 Aperture
The large-diameter Z Mount gathers more light, especially at the frame edges. Shoot wide open while maintaining high image quality across the entire zoom range without affecting exposure. The 14-30mm f/4 exemplifies what's possible with NIKKOR Z lenses.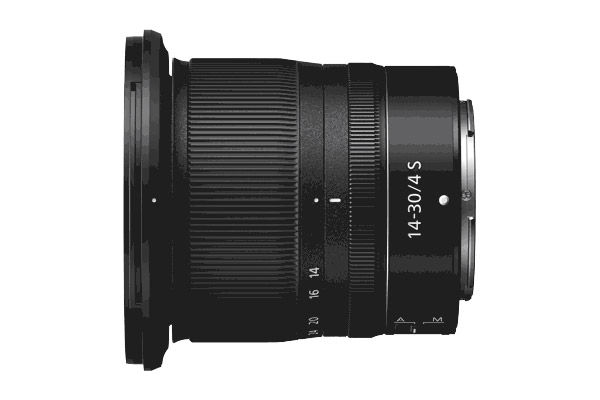 Space-Saving Design
A retractable lens mechanism collapses the lens down to a mere 3.5 inches and locks it in place for safe and minimal packing.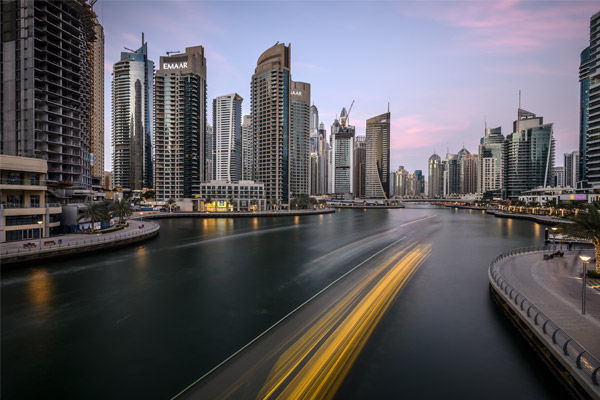 Smooth, Quiet Autofocus
Nikon's Stepping Motor (STM) provides smooth, fast and quiet autofocusing. Where camera noise is an issue—weddings, ceremonies and in video production—STM is a silent partner.
World's first* 14mm filter-attachable lens
The NIKKOR Z 14-30mm f/4 S's front lens element is nearly flat, making it the first filter-attachable 14mm full frame NIKKOR lens. This advancement in optical design makes it possible to add an 82mm circular polarizer to dramatically reduce reflections for the purpose of enhancing colors and increasing contrast. Add a neutral-density filter to reduce light intensity and decrease shutter speed—perfect for emphasizing motion blur or for video applications where large apertures need to be used in daylight.

*Among FX-format (full-frame) compatible interchangeable lenses for digital cameras, available as of January 8, 2019. Based on Nikon research.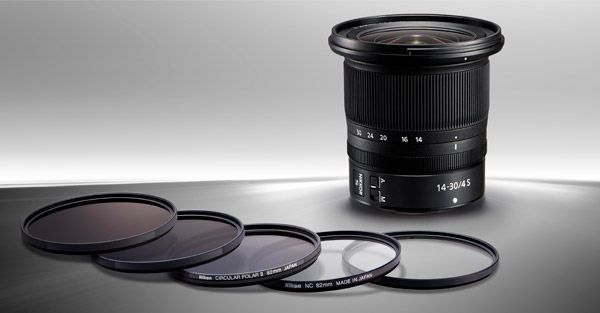 Technology
Stepping Motor

NIKKOR Z lenses use a stepping motor for fast, accurate, smooth, quiet autofocus with reduced wobbling. This quiet drive system makes the lenses ideal for use when shooting video.


ED (Extra-Low Dispersion) Glass

An optical glass developed by Nikon that is used with normal optical glass in telephoto lenses to obtain optimum correction of chromatic aberrations.


Aspherical Lens

A lens with a curved, non-spherical surface. Used to reduce aberrations and enable a more compact lens size. Aspherical lenses minimize coma and other types of lens aberrations, even when used at the widest aperture. They are particularly useful in correcting distortion in wide-angle lenses and help contribute to a lighter, more compact design by reducing the number of standard (spherical) elements necessary. Aspherical lens elements correct these distortions by continuously changing the refractive index from the center of the lens.


Nano Crystal Coat

An anti-reflective coating developed by Nikon that virtually eliminates internal lens element reflections across a wide range of wavelengths. Nano Crystal Coat solves ghost effects caused by red light and effectively reduces ghost and flare caused by light entering the lens diagonally.


Electromagnetic Diaphragm Mechanism

An electromagnetic diaphragm mechanism in the lens barrel provides highly accurate electronic diaphragm or aperture blade control when using auto exposure during continuous shooting. With conventional D/G type lenses, the diaphragm blades are operated by mechanical linkage levers.


IF Lens

A NIKKOR lens in which only the internal lens group shifts during focusing. Thus, IF NIKKORS do not change in size during AF operation, allowing for compact, lightweight lenses capable of closer focusing distances. These lenses will be designated with the abbreviation IF on the lens barrel.


Fluorine Coat

Photographers need gear that can withstand the elements. Nikon's fluorine coat effectively repels dust, water droplets, grease or dirt, ensuring easy removal even when they adhere to the lens surface. Nikon's fluorine coat endures a high frequency of lens surface wiping and its anti-reflective effect also contributes to the capture of clear images.


Super Integrated Coating

Nikon Super Integrated Coating is Nikon's term for its multilayer coating of the optical elements in NIKKOR lenses.
The front line of an imaging revolution
Next-generation Z design and optics
Z lenses, perfectly matched to Z camera bodies, are designed with a sense of consistency that combines reliability and beauty with next-dimension optical performance for freedom in image creation.
What's Included
NIKKOR Z 14-30mm f/4 S
LC-82B 82mm Snap-On Front Lens Cap
LF-N1 Rear Lens Cap
HB-86 Bayonet Lens Hood
CL-C1 Lens Case
Product Specifications
NIKKOR Z 14-30mm f/4.0 S Lens

Mount Type
Nikon Z Mount
Focal Length Range
14 - 30mm
Zoom Ratio
2.1x
Maximum Aperture
f/ 4
Minimum Aperture
f/ 22
Format
FX
Angle of View
Maximum Angle of View (DX-format)90°
Minimum Angle of View (DX-format)50°

Maximum Angle of View (FX-format)114°
Minimum Angle of View (FX-format)72°
Maximum Reproduction Ratio
0.16x
Lens Elements/Groups
14/12
Compatible Formats
FX
DX
Diaphragm Blades
7
Distance Information
Visible in EVF with manual focusing
Nano Crystal Coat
Yes
ED Glass Elements
4
Aspherical Elements
4
Fluorine Coat
Yes
Super Integrated Coating
Yes
Autofocus
Yes
AF Actuator
STM
Internal Focusing
Yes
Minimum Focus Distance
11 in. (0.28 m.) from focal plane at all zoom positions
Focus Mode
Autofocus
Manual
E-type
Yes
Filter Size
82mm
Accepts Filter Type
Screw in

Approx. Dimensions
(Diameter x Length)

89 x 85mm (3.5 x 3.3")
Distance from camera lens mount flange when lens is retracted
Based on CIPA guidelines
Approx. Weight
485 g (17.1 oz.)
Based on CIPA guidelines
Lens Type
Zoom