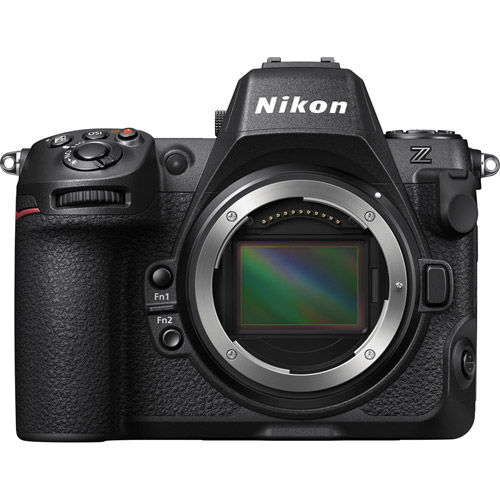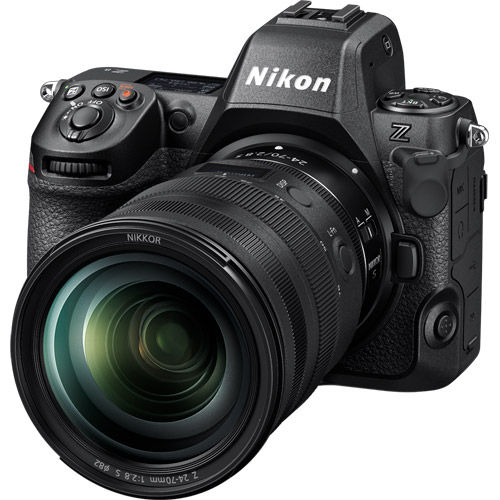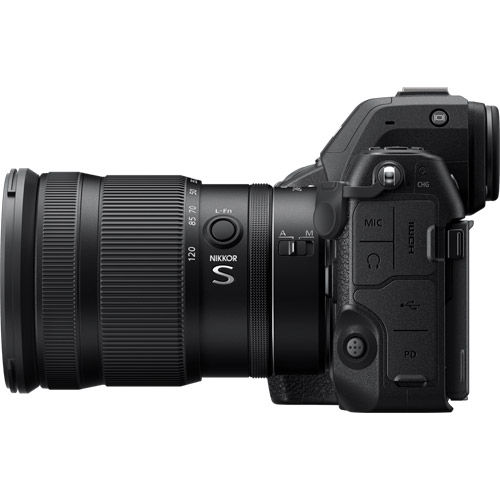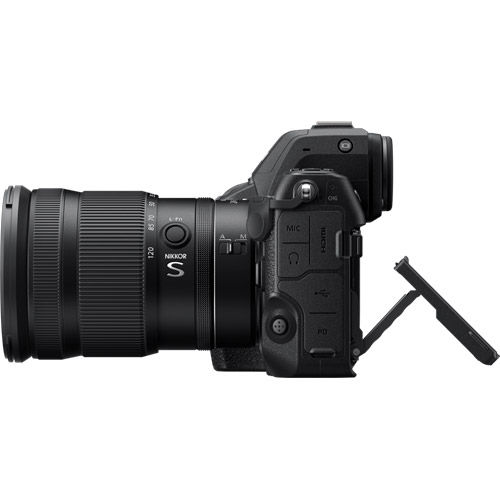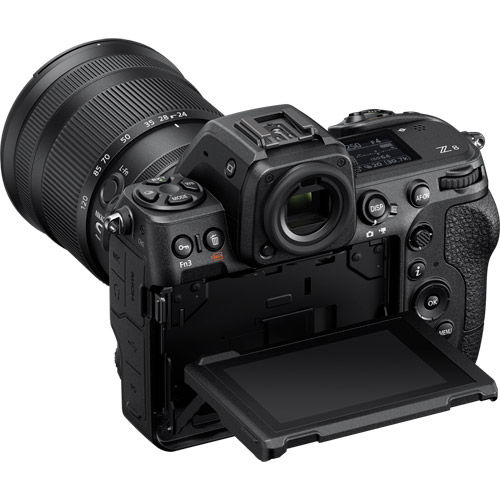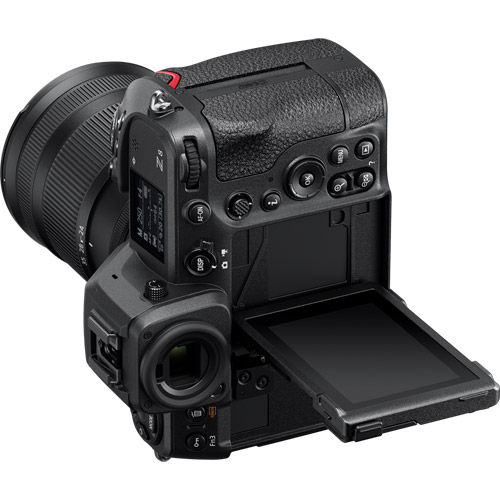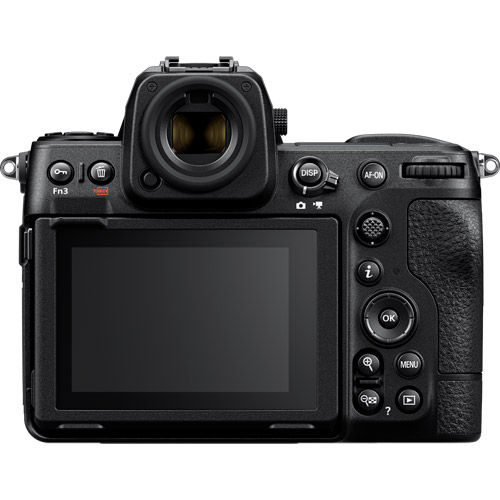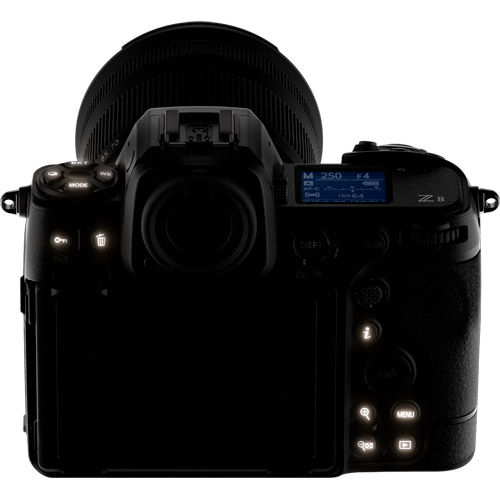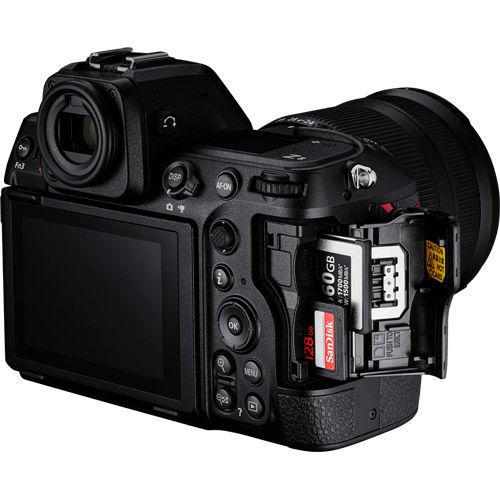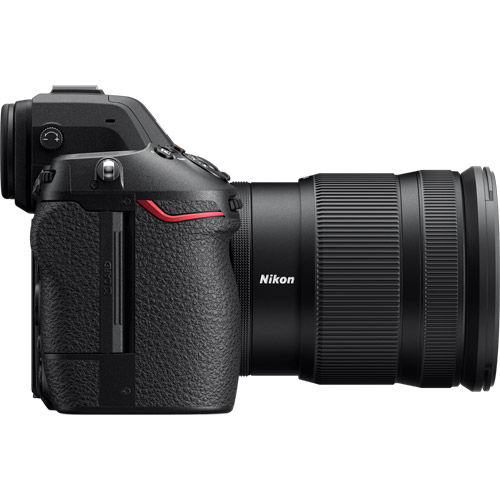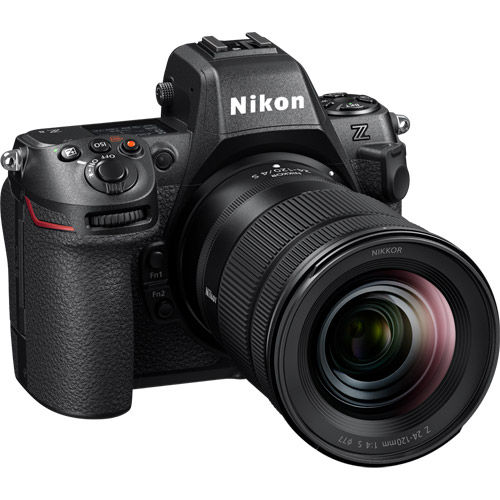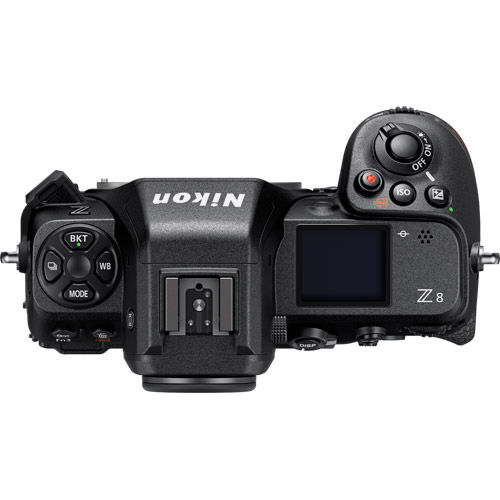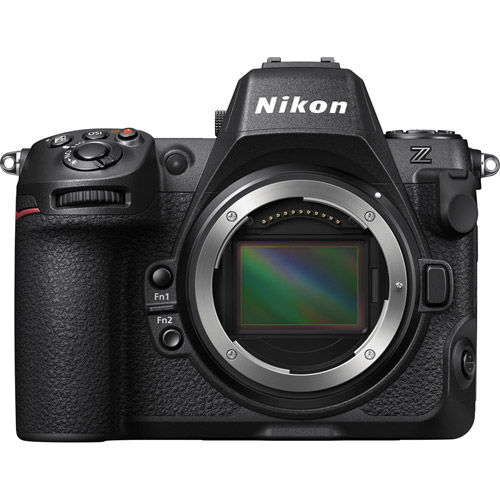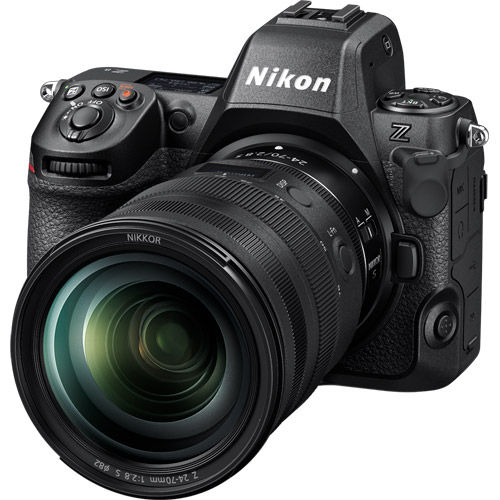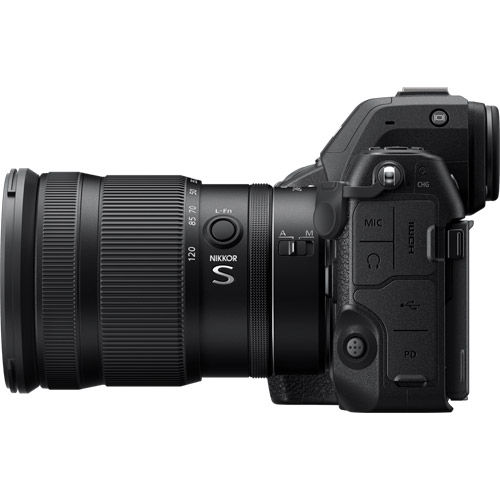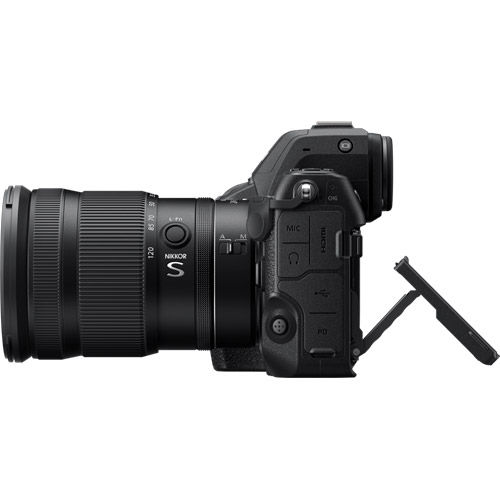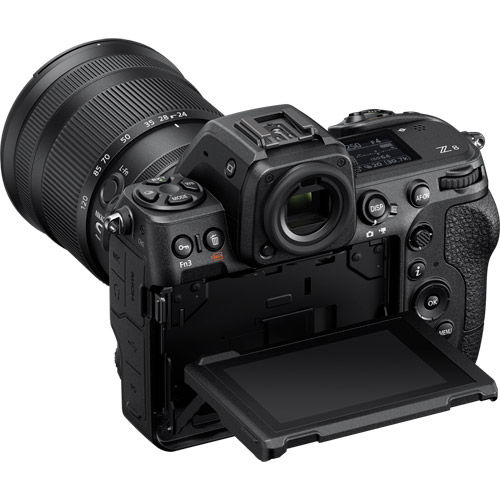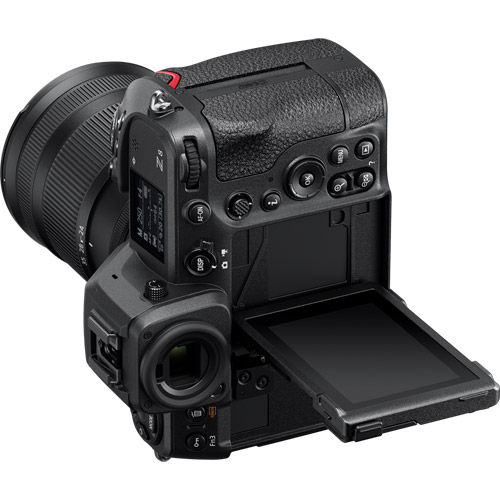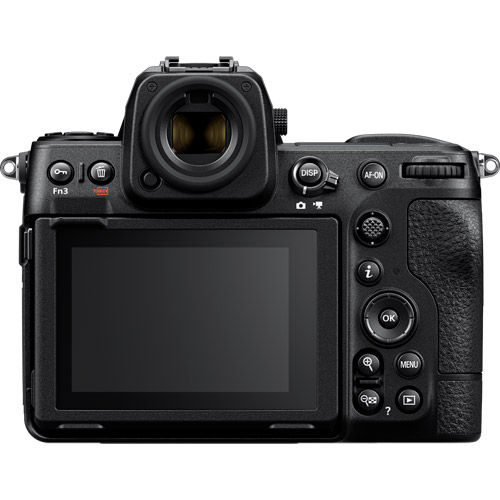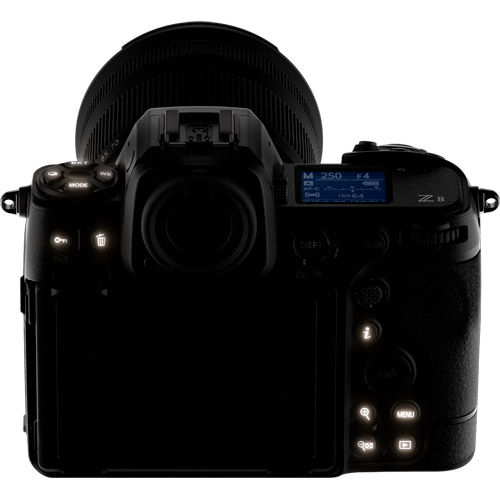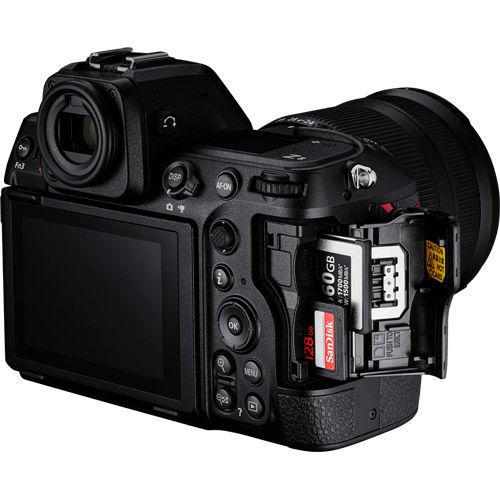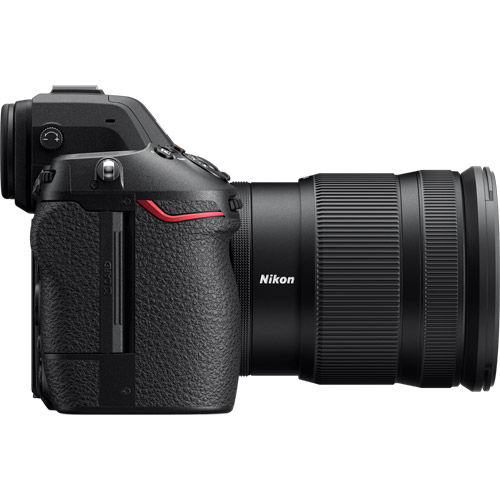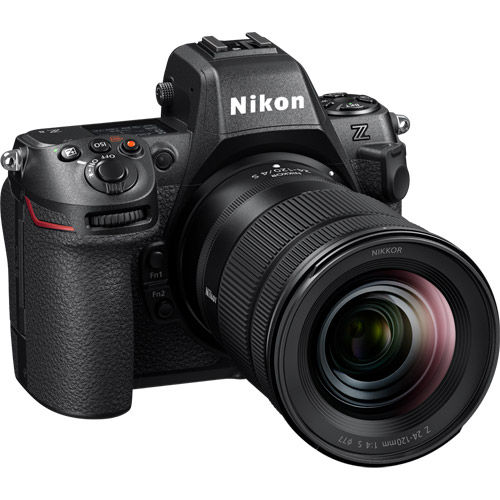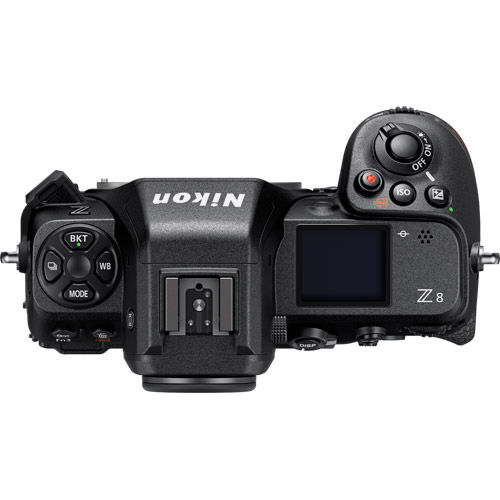 Rental ID:

R306806

• Webcode: 458592
Included in Rental
1

Nikon Z8 Mirrorless Body

1

Nikon MH-25a Replacement Quick Charger for EN-EL15

1

Cables 3' USB 3.0 A Male to C Male Cable - TechCraft

1

Wacom USB-C to USB-C

2

Nikon EN-EL15C Rechargeable Battery for Z5, Z7 & Z6

1

Nikon FTZ II Mount Adapter
Product Highlights
45.7MP

Stacked CMOS Sensor

Full-Frame

Format

20 fps (Raw) / 30 fps (JPEG)

Continuous Shooting

ISO 64 - 25,600

Extendable to 32 - 102,400

8K UHD (7680×4320) @30p

Video Recording

Hybrid AF

Autofocus

Vertical/Horizontal Tilting LCD

Touchscreen
Available in Calgary, Mississauga, Ottawa and Toronto
---
Buy this for: $4,999.00 Learn More

Z 8
READY. ACTION.
The Ultimate Hybrid Camera
Powerful performance. Professional build. Compact, lightweight handling. A dream camera for videos and stills.
The ultimate hybrid camera. Powerful video and still photography capabilities. Video features include 12-bit 8K/60p and 4K/120p RAW plus 10-bit ProRes 422 HQ internal video recording; Photography features include a 45.7MP stacked CMOS sensor, a silent, vibration-free electronic shutter, 120 fps burst shooting and a blackout-free viewfinder. Fast, accurate AF with subject detection powered by deep learning. Professional build and operation. Smart connectivity. All in a brilliant compact, lightweight modular design.
* Lens pictured not included.
Compact follow-up to Z 9
30% smaller than Z 9
True successor to D850
15% smaller than D850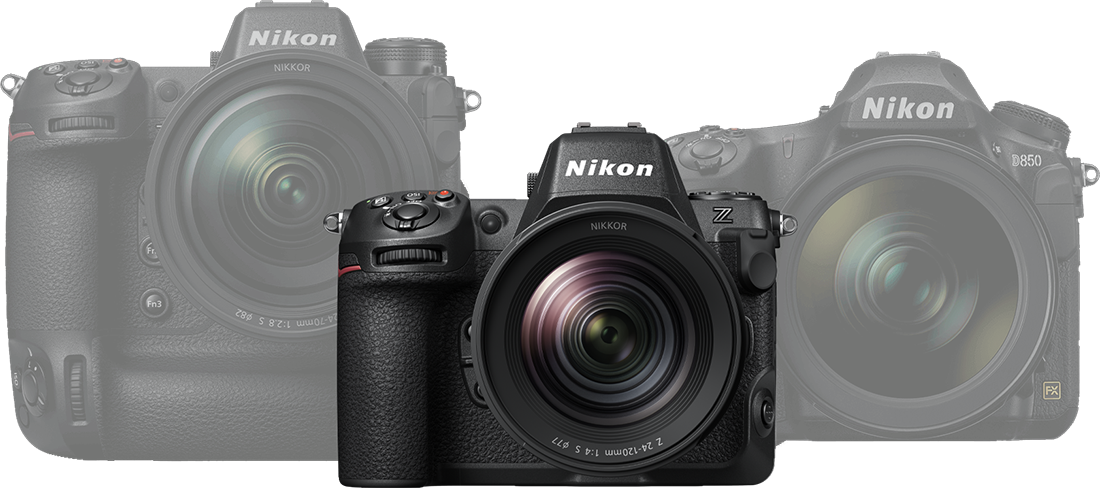 Packed with Z 9 flagship technology
Captivating
45.7MP stills with beautiful colours.

All in one
Unrivaled in-camera 8K UHD video capabilities.

Fast
Burst speeds up to 120 fps for stills.

Powerful
Nikon's most advanced image processing engine.
Unmatched
All-electronic shutter with the world's least rolling shutter distortion.

Intelligent
Autofocus with subject detection developed from deep learning.

Advanced
Real-Live Viewfinder with zero blackout.
Video
A powerhouse for video
Internal 8K/60p and 4K/120p video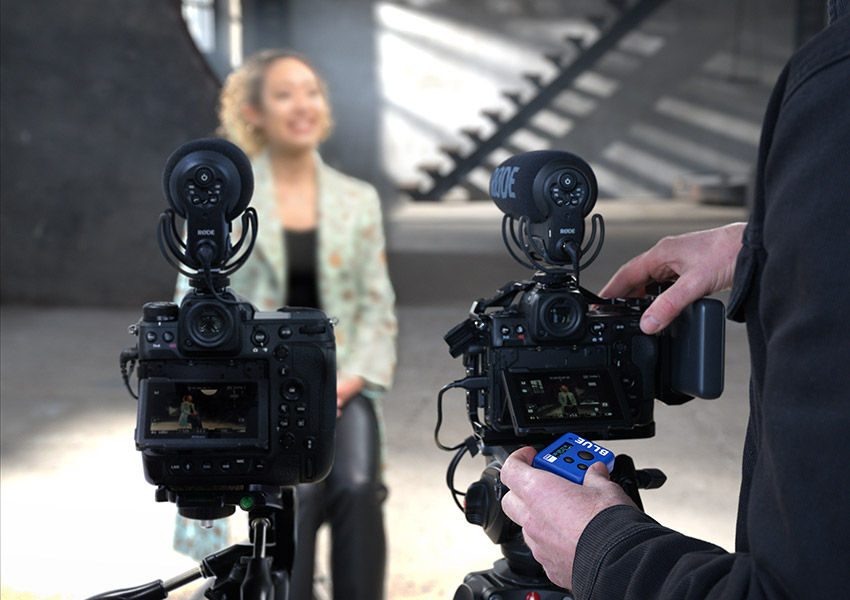 12-bit N-RAW | Up to 8K/60p and 4K/120p.
All the depth and detail of 12-bit RAW in a file half the size of ProRes RAW HQ files.
12-bit ProRes RAW HQ | Up tp 4K/60p
A professional go-to for its flexibility, consistency and practicality when editing footage taken by different types of cameras all using this codec.
10-bit ProRes 422 HQ | Up to 4K/60p
An industry standard for its rich depth and detail, easy grading and flexibility to edit on-the-go from a laptop.
Full HD Proxy Files
Simultaneously created in-camera when shooting in ProRes RAW and N-RAW, making editing footage a quicker and smoother process.
N-Log Profile
Utilizes extensive colour depth and dynamic range to give more control over the look of your final footage.
Agile. Modular.
Compact & Lightweight
Hold the camera more comfortably and move around more smoothly. Take advantage of a lighter camera system when shooting on a gimbal, with fewer cables and less setup time.
Pro Audio
Capture 24 bit linear PCM sound right to the memory card alongside your footage. Compatible with professional XLR microphones using Tascam's digital adapter CA-XLR2d-AN (sold separately).
Photo
A dream for photography
45.7MP stills, more flexible than ever
RAW | 14-bit
Capture the full dynamic range, colour and image information captured by the Z 8's exceptional 45.7MP full-frame sensor.
High Efficiency | RAW 14-bit
Retain the outstanding image quality of traditional RAW with approximately 1/3 smaller file size.
HEIF | 10-bit
Richer tonal gradation than JPEG with increased luminance at a comparable file size. Great for stills and creating 8K HLG time-lapse videos in-camera.
JPEG | 8-bit
Applies all of the camera settings to the file for smaller file sizes and quick, easy use.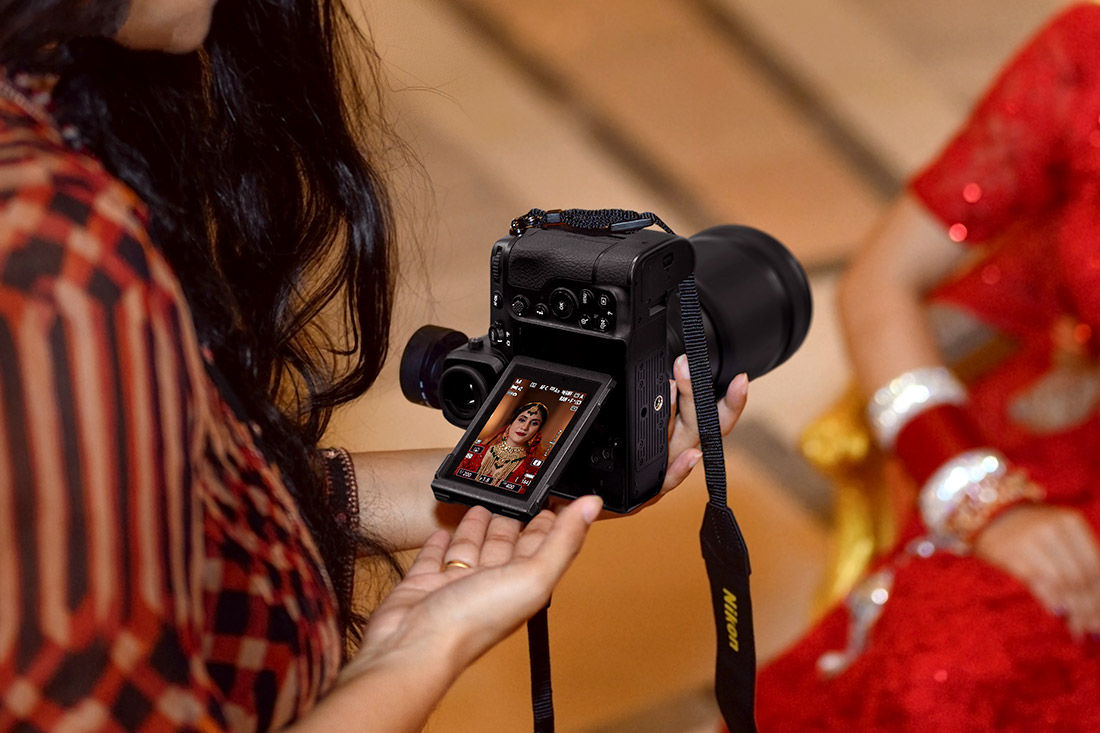 Blazing fast frame rates
With unrivaled burst speeds and a seemingly bottomless buffer the Z 8 gives you the edge when photographing birds, sports, weddings and once-in-a-lifetime moments.
20 fps | RAW and JPEG

30 fps | JPEG Fine

60 fps | JPEG Normal DX Crop Mode

120 fps | 11MP JPEG
All-electronic shutter with no moving parts.
Performs at lighting-fast speeds with no vibration, noise or wear and tear and virtually no rolling shutter distortion.
Recover the shots you missed with Pre-Release Capture.
The Z 8 can record the moments before and after you actually press the shutter release button, saving shots that would otherwise have been missed.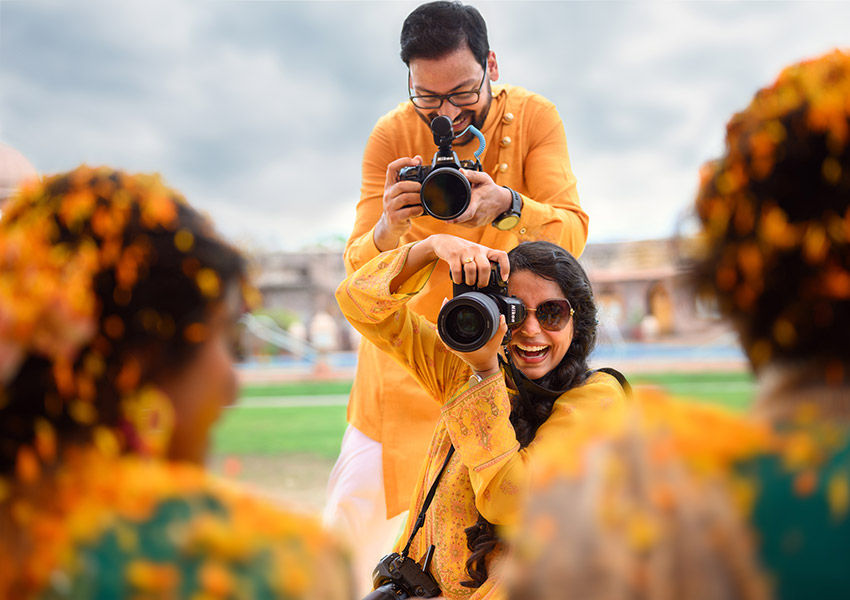 Beautiful portraits made easy
Skin Softening
Easily make skin look its best while keeping eyes and hair tack-sharp. Works for up to 3 subjects in a shot.
Portrait Impression Balance
Simple, precise control over the hues and brightness, all optimized for skin tones.
Improved White Balance
Manual adjustments are faster and more intuitive, and Auto WB has been optimized for human subjects.


Taking a shot in the dark is no longer a shot in the dark
Illuminated Buttons
Major buttons are softly illuminated for easier operation in the dark.
Image Frame Display
Easily confirm your composition with a thin line indicating the image frame.
Viewfinder Brightness
Optimize the brightness of the EVF with Lo1 or Lo2 to reduce eye strain.
Warm Display Colours
Preserve your night vision with warm red menu tones and reduced brightness.
Starlight View
AF detection range expands to -9.0 EV* and display optimizes for confirming of point light sources.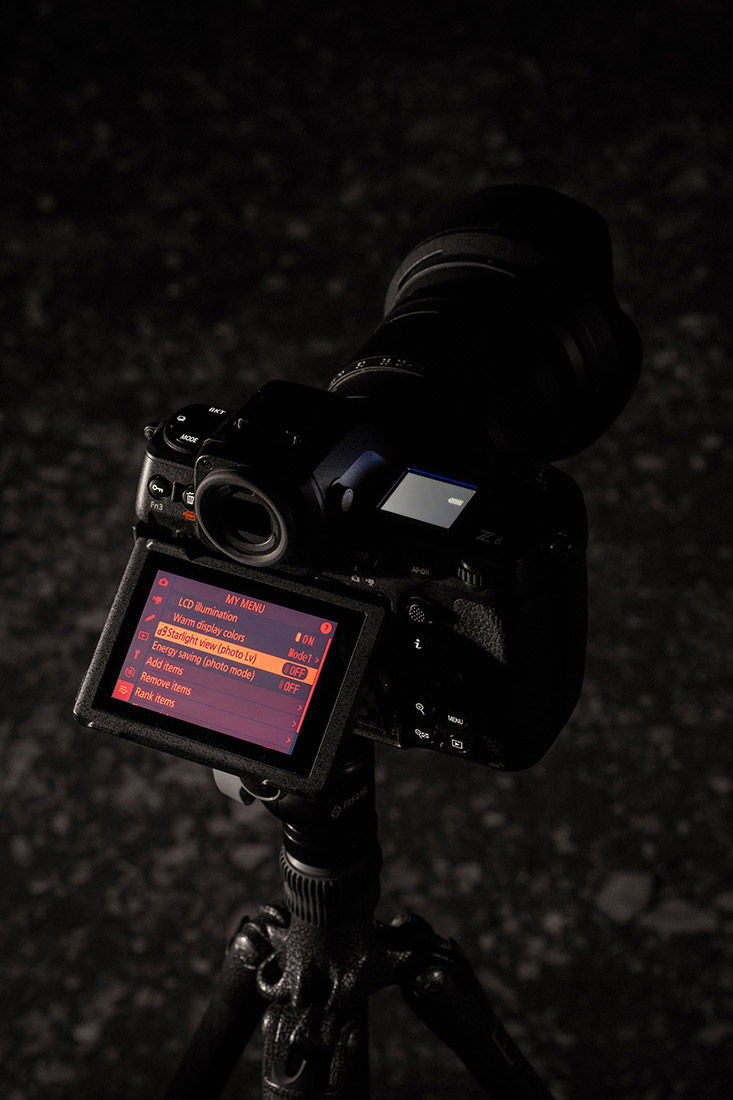 Creativity, built right in
Creative Picture Controls

Motion Blend
Interval Shooting

900-sec. Long Exposure
Focus Shift Photography

Multiple Exposure Mode
Autofocus
Fast, accurate autofocus
Nikon's most advanced autofocus system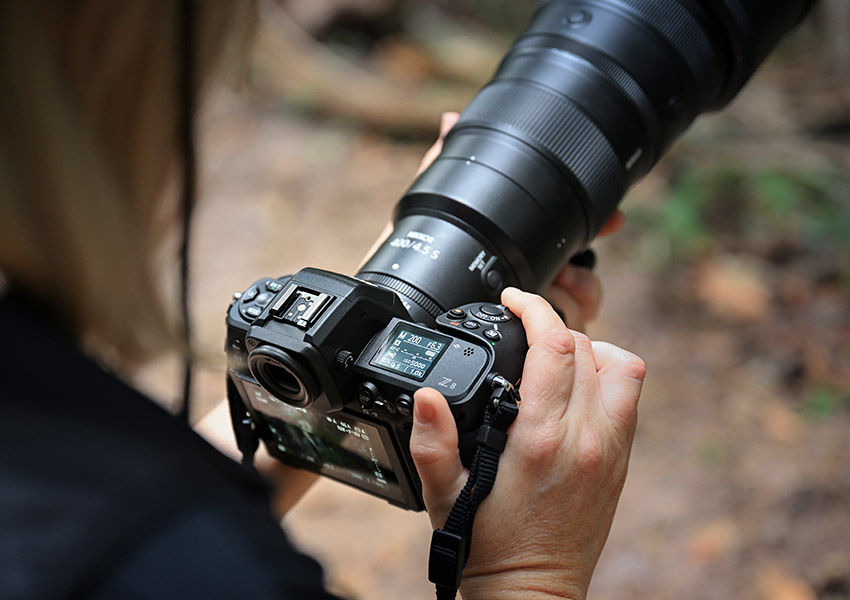 Eye AF for Videos and Stills
Lock on to the eyes of people, pets and birds, even when they're small in the frame, covered by hair, glasses or goggles, right-side up or upside down.
Custom Focus Areas
Wide-area AF offers 20 custom options for defining your focus area.* Ensure the bride and groom are in sharp focus, even when wedding guests are in the foreground.
Enhanced Low-light Focusing
Subject detection and AF work all the way down to -6.5 EV. Activate Starlight Mode, and focus all the way down to -9 EV.
Sophisticated AF algorithm
Developed using deep learning technology.

Performs in extreme low light
Focus all the way down to -9.0 EV.

Combines subject detection and 3D tracking
Follows the fastest, most erratic subjects.

Detects and tracks more subjects than any other mirrorless system
People, cats, dogs, birds, airplanes, motorbikes, vehicles, bicycles and trains.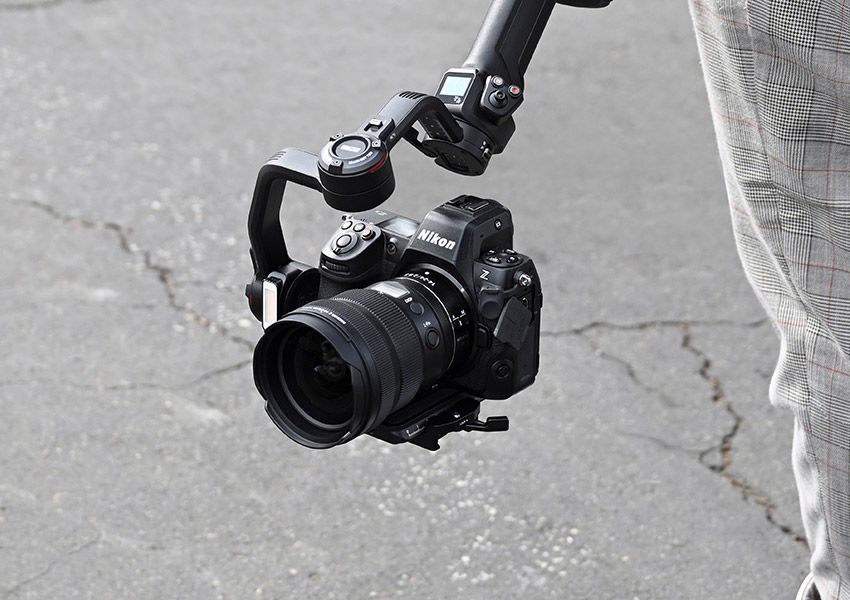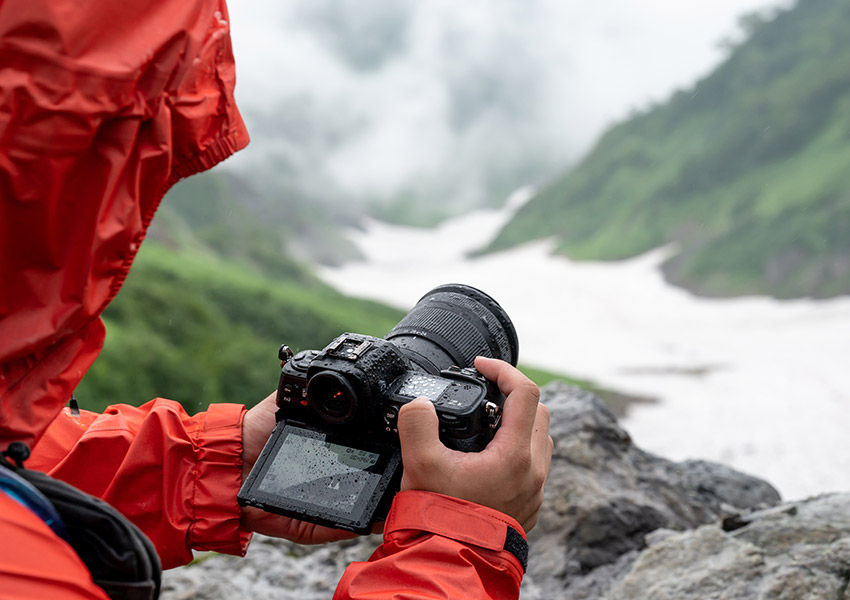 Fast, convenient connectivity
Wi-Fi
Wirelessly transfer images to your smartphone, computer or even an FTP server.
Bluetooth
Remotely control the Z 8 from a smartphone, sync timecodes among compatible devices and more.
Full-Size HDMI
Output clean, full resolution footage straight to an external monitor or capture device

Pro workflow
Two USB Type C Ports
One USB data connector (SuperSpeed USB) for file transfers and connecting accessories, another dedicated for charging and providing constant power.

Network Menu
Dedicated tab giving you quick access to key settings.

1000BASE-T Wired-LAN
The USB Type C data connector port supports IEEE 802.3ab gigabit Ethernet with a compatible adapter.

2.4GHz and 5GHz Wi-Fi
Upload images to a secure FTP server straight from the camera.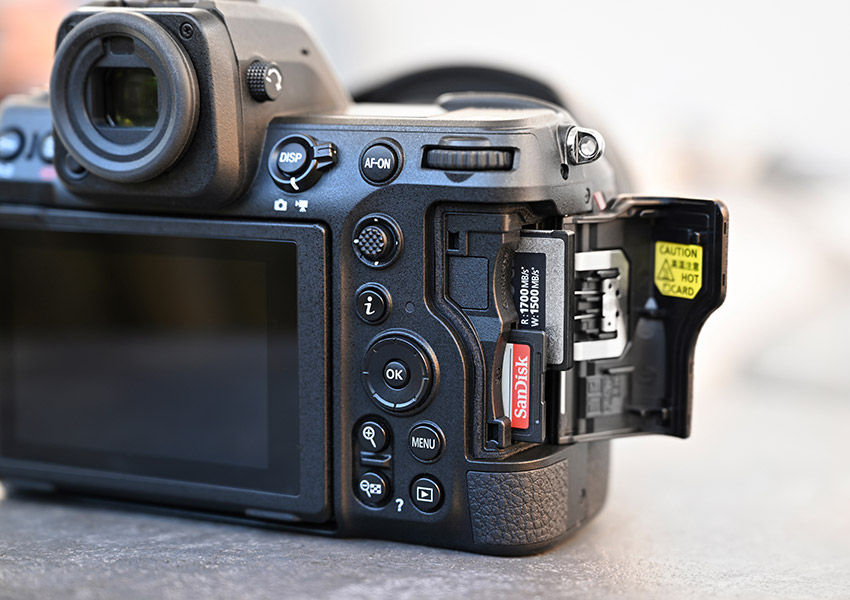 Eco-friendly Seerebo® Carbon Fiber

Magnesium Alloy

Sensor Shield

Premium Weather Sealing

Real-Live Viewfinder

Dual Card Slots

4-Axis Tilting Touchscreen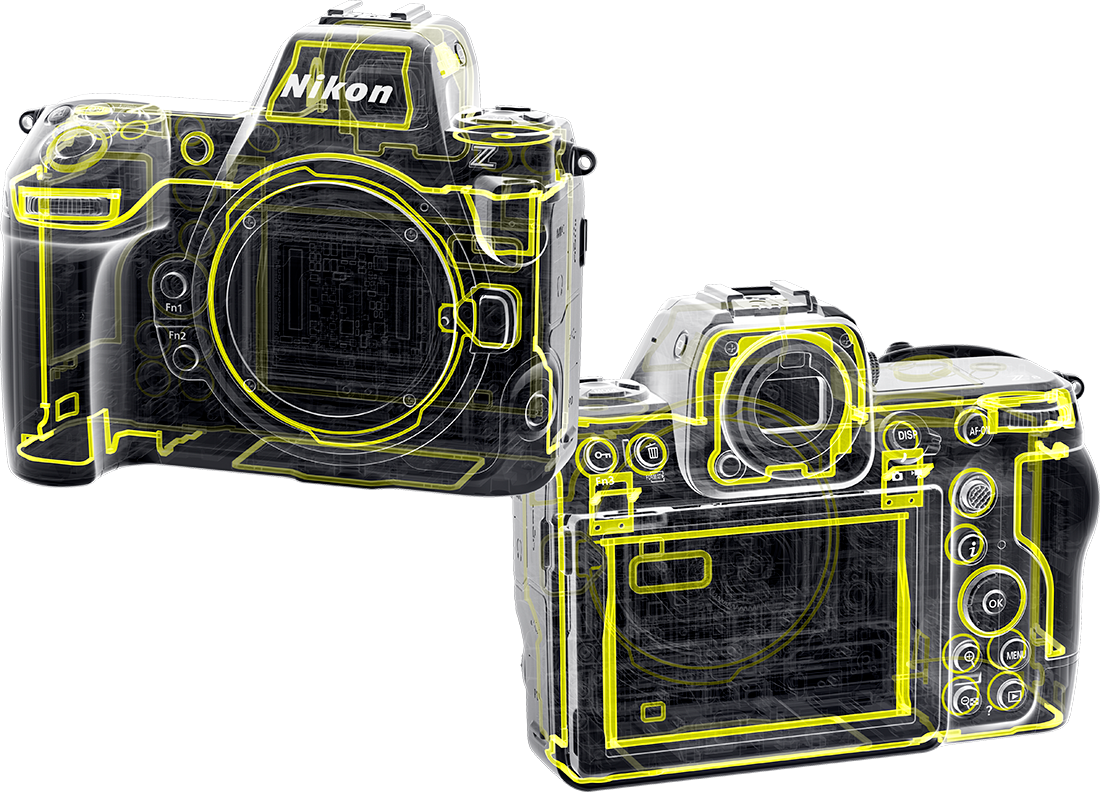 What's Included
Z 8 Camera Body
BF-N1 Body Cap
DK-33 Rubber Eyecup
AN-DC26 Camera Strap
EN-EL15c Rechargeable Lithium-ion Battery
MH-25a Battery Charger
BS-1 Accessory Shoe Cover
UC-E24 USB Cable
HDMI/USB Cable Clip
Product Specifications
Z 8

Type

Type
Digital camera with support for interchangeable lenses
Lens Mount
Nikon Z mount

Image Sensor

Effective Pixels
45.7 million
Sensor Size
23.9 x 35.9 mm
Image Sensor Format
FX
Image Sensor Type
Stacked CMOS sensor
Total Pixels
52.37 million
Dust-Reduction System
Image Dust Off reference data (NX Studio software required)
Image Area (pixels)
FX-format
(L) 8,256 x 5,504
(M) 6,192 x 4,128
(S) 4,128 x 2,752

DX-format
(L) 5,392 x 3,592
(M) 4,032 x 2,688
(S) 2,704 x 1,792

1:1 (24 x 24)
(L) 5,504 x 5,504
(M) 4,128 x 4,128
(S) 2,752 x 2,752

16:9 (36 x 20)
(L) 8,256 x 4,640
(M) 6,192 x 3,480
(S) 4,128 x 2,320

File System

File Format Still Images
JPEG:
JPEG-Baseline compliant with fine (approx. 1:4), normal (approx. 1:8), or basic (approx. 1:16) compression; size-priority and optimal-quality compression available

NEF (RAW) + JPEG:
Single photograph recorded in both NEF (RAW) and JPEG formats

NEF (RAW):
14 bit with lossless, high-efficiency*, or high-efficiency compression

HEIF:
Supports fine (approx. 1:4), normal (approx. 1:8), or basic (approx. 1:16) compression; size-priority and optimal-quality compression available

NEF (RAW)+HEIF:
Single photograph recorded in both NEF (RAW) and HEIF formats
Storage Media
SD (Secure Digital) and UHS-II compliant SDHC and SDXC memory cards
CFexpress (Type B)
XQD Type Memory
File System
DCF 2.0
Exif 2.32
MPEG‑A
MIAF

Viewfinder

Viewfinder
1.27-cm/0.5-in. approx. 3690k-dot (Quad VGA) OLED electronic viewfinder with color balance and auto and 18-level manual brightness controls, and support for high frame rates
Viewfinder Frame Coverage
Approx. 100% horizontal
100% vertical
Viewfinder Magnification
Approx. 0.8x (50 mm lens at infinity, −1.0 m −1)
Viewfinder Eyepoint
23mm (-1.0 m-1; from rearmost surface of viewfinder eyepiece lens)
Viewfinder Diopter Adjustment
−4 – +3 m−1
Eye Sensor
Automatically switches between monitor and viewfinder displays

Shutter

Shutter Type
Electronic shutter with shutter sound and sensor shield
Shutter Speed
1/32000 to 30 sec. (choose from step sizes of 1/3, 1/2 and 1 EV, extendable to 900 sec. in mode M), bulb, time, X200
Flash Sync Speed
Up to: X=1/200 sec. to 1/250 sec.; synchronizes with shutter at 1/200 sec. or slower; Auto FP High-Speed sync supported

Exposure

Exposure Metering System
TTL metering using camera image sensor
Metering Range
-3 to +17 EV
Exposure Compensation
'-5 to +5 EV in increments of 1/3 or 1/2 EV available in modes P, S, A, and M
Exposure Lock
Luminosity locked at detected value
Picture Control
Auto
Flat
Landscape
Monochrome
Neutral
Portrait
Standard
Vivid
Creative Picture Controls: (Dream, Morning, Pop, Sunday, Somber, Dramatic, Silence, Bleached, Melancholic, Pure, Denim, Toy, Sepia, Blue, Red, Pink, Charcoal, Graphite, Binary, Carbon)
Selected Picture Control can be modified
Storage for custom Picture Controls
Note: Choice of Picture Controls is restricted to Standard, Monochrome, and Flat when HLG is selected for tone mode during still photography.
Multiple Exposure
Add
Average
Lighten
Darken

Sensitivity

ISO Sensitivity
ISO 64–25600 in step sizes of 1/3 and 1 EV
can also be set to approx. 0.3, 0.7, or 1 EV (ISO 32 equivalent) below ISO 64 or to approx. 0.3, 0.7, 1, or 2 EV (ISO 102400 equivalent) above ISO 25600; auto ISO sensitivity control available
Note: ISO sensitivity is limited to 400–25600 when HLG is selected for tone mode.
Active D-Lighting
Can be selected from:
Auto
Extra high 2
Extra high 1
Extra High
High
Normal
Low
Off
Active D-Lighting Bracketing
Yes

Focus/Autofocus

Autofocus System
Hybrid phase-detection/contrast AF with AF assist
Detection Range
-7 to +19 EV (-9 to +19 EV with starlight view Detection range (ISO 100, f/1.2 lens, 20 °C/68 °F using single servo AF (AF-S)
Lens Servo
Autofocus (AF): Single-servo AF (AF-S); continuous-servo AF (AF-C); full-time AF (AF-F; available only in video mode); predictive focus tracking Manual focus (M): Electronic rangefinder can be used
Focus Point
493 (single-point AF)
Number of focus points available in photo mode with single point AF selected for AF-area mode and FX selected for image area
AF-Area Mode
Pinpoint
Single-Point
Wide-area AF (S)
Wide-area AF (L)
Wide-area AF (L-people)
Wide-area AF (L-animals)
Auto-area AF
Auto-area AF (people)
Auto-area AF (animals)
Dynamic-area (S)
Dynamic-area (M)
Dynamic-area (L)
3D-tracking
Subject-tracking AF
Pinpoint and Dynamic-area AF (S, M, L), 3D-tracking available in photo mode only
3D-tracking available in video mode only
Subject-tracking AF available in video mode only
Wide-area AF (C1)
Wide-area AF (C2)
Focus Lock
Focus can be locked by pressing shutter-release button halfway (single-servo AF) or by pressing center of sub-selector
Vibration Reduction
5-axis image sensor shift

Flash

Flash Control
TTL: i-TTL flash control; i-TTL balanced fill-flash is used with matrix, center-weighted, and highlight-weighted metering, standard i-TTL fill-flash with spot metering
Flash Sync Modes
Front-curtain sync
Rear-curtain sync
Red-eye reduction
Red-eye reduction with slow sync
Slow sync
Off
Flash Compensation
-3 to +1 EV in increments of 1/3 or 1/2 EV available in modes P, S, A, and M
Flash-ready Indicator
Lights when built-in flash or optional flash unit is fully charged; flashes as underexposure warning after flash is fired at full output
Accessory Shoe
Accessory ShoeISO 518 hot-shoe with sync and data contacts and safety lock
Nikon Creative Lighting System (CLS)
i-TTL flash control, radio-controlled Advanced Wireless Lighting, optical Advanced Wireless Lighting, modeling illumination, FV lock, Colour Information Communication, Auto FP High-Speed Sync, unified flash control
Flash Sync Terminal
Yes

White Balance

White Balance
Auto (3 types)
Choose colour temperature (2500 K–10,000 K)
Cloudy
Direct sunlight
Flash
Fluorescent (3 types)
Incandescent
Natural light auto
Preset manual (up to 6 values can be stored), all except choose color temperature with fine-tuning
Shade
White Balance Bracketing
Exposure and/or flash, white balance, and ADL

Movie

Movie Metering
TTL exposure metering using main image sensor
Movie Maximum Recording Time
2 hours 5 minutes
Movie File Format
MOV
MP4
NEV
Movie Video Compression
N-RAW (12 bit)
Apple ProRes RAW HQ (12 bit)
Apple ProRes 422 HQ (10 bit), H.265/HEVC (8 bit/10 bit), H.264/AVC (8 bit)
Movie Audio Recording Format
Linear PCM
AAC
Linear PCM (48 KHz, 24 bit, for videos recorded in NEV or MOV format) or AAC (48 KHz, 16 bit, for videos recorded in MP4 format)
Movie Frame size (pixels) and frame rate (RAW Video)
FX 8256 x 4644 /60p/50p/30p/25p/24p
* Actual frame rates for 120p, 100p, 60p, 50p, 30p, 25p, and 24p are 119.88, 100, 59.94, 50, 29.97, 25, and 23.976 fps respectively
5392 x 3032: 60p/50p/30p/25p/24p
4128 x 2322: 120p/100p/60p/50p/30p/25p/24p
3840 x 2160: 120p/100p/60p/50p
Movie
8K UHD 7,680×4,320 / 30p (progressive)
8K UHD 7,680×4,320 /25p/24p
4K UHD 3,840 × 2,160 /120p/100p/60p50p/30p/25p/24p
Full HD 1,920x1,080 /120p/100p/60p/50p/30p/25p/24p
Actual frame rates for 120p, 100p, 60p, 50p, 30p, 25p, and 24p are 119.88, 100, 59.94, 50, 29.97, 25, and 23.976 fps respectively
Movie Audio
Built-in stereo or external microphone with attenuator option; sensitivity can be adjusted
Movie ISO
Mode M: Manual selection (ISO 64 to 25600; choose from step sizes of 1/3 and 1 EV); with additional options available equivalent to approximately 0.3, 0.7, 1, or 2 EV (ISO 102400 equivalent) above ISO 25600
Modes P, S, A: Auto ISO sensitivity control (ISO 64 to Hi 2.0) with selectable upper limit
Note: ISO sensitivity is limited to 400 to 25600 when HLG is selected for tone mode.
Movie Active D-Lighting
Can be selected from:
Extra High
High
Normal
Low
Off
Time Code
Yes
Movie Log Gamma Output
When using memory card in Z 8 and NOT using external recorder
N-Log or HLG videos are recorded to "memory card"
When NOT using memory card in Z 8 and using external recorder
N-Log or HLG video are recorded to "external recorder via HDMI-output"
When using both memory card in Z 8 and external recorder
N-Log or HLG video are recorded to both "memory card" and "external recorder via HDMI-output"
However, If you select 8K30p/25p/24p or 4K120p/100p, the recording frame size for HDMI-output is change to FHD
For example, if you select 8K30p, memory card is 8K30p and HDMI-output is FHD30p; If you select 4K60p, memory card is 4K60p and HDMI-output is 4K60p.
Movie e-VR
Yes
Movie HDMI Output
Yes
Movie Focus Peaking
Yes
Movie Highlight Display (Zebras)
Yes
Time Lapse Movie
Yes
AF for Movie
Yes

Monitor

Monitor Size
3.2 in. diagonal
Monitor Resolution
2100 k dots
Monitor Type
Vertically and horizontally tilting TFT touch-sensitive LCD

Playback

Playback Functions
Auto Image Rotation
Full-frame and Thumbnail (4, 9, or 72 images)
Highlights
Histogram Display
Location Data Display
Photo Information
Picture Rating
Playback with Playback Zoom
Playback Zoom Cropping
Slide Shows
Voice memo input and playback
IPTC information embedding and display
Filtered playback
Skip to first shot in series
Series playback
Save consecutive frames
Motion blend
Voice Memo Function
Yes

Interface

Interface
Audio Input: Stereo mini-pin jack (3.5 mm diameter; plug-in power supported)
Audio Output: Stereo mini-pin jack (3.5 mm diameter)
Type A HDMI connector
10 pin remote terminal: Built-in
USB: Type C USB connectors
USB data connector (SuperSpeed USB) x1
USB Power Delivery connector x1
Wi-Fi Functionality
Standards: IEEE 802.11b/g/n/a/ac
Standards: IEEE 802.11b/g/n/a/ac (Europe, U.S.A., Canada, Mexico)
Standards: IEEE 802.11b/g/n/a (other countries in the Americas)
2412–2462 MHz (channel 11) and 5180–5825 MHz (U.S.A., Canada, Mexico)
2412–2462 MHz (channel 11) and 5180–5805 MHz (other countries in the Americas)
Operating frequency: 2412–2462 MHz (channel 11) and 5180–5805 MHz (other countries in the Americas)
Operating frequency: 2412–2462 MHz (channel 11) and 5180–5825 MHz (U.S.A., Canada, Mexico)
Authentication: Open system, WPA2-PSK, WPA3-SAE
U.S.A., Canada, and Mexico: 2412 to 2462 MHz (channel 11) and 5180 to 5825 MHz (5180 to 5240 MHz, 5500 to 5580 MHz, 5660 to 5700 MHz, and 5745 to 5825 MHz)
Other countries in the Americas: 2412 to 2462 MHz (channel 11) and 5180 to 5805 MHz (5180 to 5240 MHz and 5745 to 5805 MHz)
Maximum output power (EIRP):
2.4 GHz band: 1.4 dBm
5 GHz band (5180 to 5320 MHz): 10.8 dBm
5 GHz band (5500 to 5825 MHz): 7.8 dBm
Smart Device App Connectivity
SnapBridge
Bluetooth
Communication protocols: Bluetooth Specification
Version 5.0
Operating frequency: Bluetooth: 2402–2480 MHz
Bluetooth Low Energy: 2402–2480 MHz
Maximum output power (EIRP)
Bluetooth: -4.1 dBm
Bluetooth Low Energy: -5.6 dBm
GPS
Via the SnapBridge app

Menus

Supported Languages
English
French
Spanish

Power

Battery / Batteries
One EN-EL15c rechargeable Li-ion battery
EN‑EL15b and EN‑EL15a batteries can be used in place of the EN‑EL15c. Note, however, that fewer pictures can be taken on a single charge than with the EN‑EL15c. EH‑7P charging AC adapters and EH‑8P AC adapters can be used to charge EN‑EL15c and EN‑EL15b batteries only.
Battery Life (shots per charge)
[Viewfinder only] selected for monitor mode with: [ON] selected for [Energy saving (photo mode)] in the setup menu: Approx. 340 shots
[Viewfinder only] selected for monitor mode with: [OFF] selected for [Energy saving (photo mode)] in the setup menu: Approx. 330 shots
[Monitor only] selected for monitor mode with: [ON] selected for [Energy saving (photo mode)] in the setup menu: Approx. 370 shots
[Monitor only] selected for monitor mode with: [OFF] selected for [Energy saving (photo mode)] in the setup menu: Approx. 340 shots
Photo Mode (Burst Photography): Number of Shots: Approx. 2280 shots
Movies: [Viewfinder only] selected for monitor mode: Approx. 85 minutes
[Monitor only] selected for monitor mode: Approx. 85 minutes
AC Adapter
EH-7P charging AC adapter (available separately)
EH-5c/EH-5b AC adapter (requires EP-5B power connector, available separately)
EH‑8P Charging AC adapter; requires UC‑E25 USB cable (available separately)
Battery Charger
MH-25A Battery Charger

Physical Specs

Tripod Socket
Tripod Socket1/4 in. (ISO 1222)
Operating Environment
Temperature: −10 °C–40 °C (+14 °F–104 °F)
Less than 85% (no condensation)
Dimensions
(Width x Height x Depth)
144 x 118.5 x 83 mm (5.7 x 4.7 x 3.3")
Weight
910 g (32.1 oz.)