Let the Sunshine In
After another long, cold Canadian winter, there's nothing more inspiring than the arrival of spring. It's the perfect time for photographers to step outside and start shooting again. And if you're in the market for new equipment, be sure to check out the latest Sony gear – with select items on sale at Vistek to help you spring into the fresh new season.

Sale runs from May 3rd - 30th
---
Gain control of expressive freedom
With outstanding imaging capability and high-speed performance contained in a compact body, the α7 III gives you the power, precision, and flexibility to capture once-in-a-lifetime moments just as you like.
An entirely renewed image sensor and image processing system further enhance image quality. Improved overall AF performance, high-speed continuous shooting of up to 10fps, 4K movie recording capability, and operability that has been dramatically upgraded from the α7 II allow you to capture more decisive moments.
|
Buy Now
The α9 features the world's first full-frame stacked CMOS sensor, 24.2 MP2 resolution. Plus, it offers continuous shooting at up to 20fps, 693 point focal plane phase detection AF points with 60 AF/AE tracking calculations per second, silent vibration-free shooting, and more.
|
Buy Now
The α7R III packs pro-style operability into a strong, compact body to give you greater flexibility to take brilliant shots in any situation. With such high power, precision, and potential at your command, you can capture once-in-a-lifetime experiences.
|
Buy Now
If you've ever dreamed of owning one camera that offers photo and video at its best – this would be the time to stand up and rejoice. Because your dream camera is here – the Sony a7R II.
|
Buy Now
Offering ultra-high sensitivity and wide dynamic range across the entire ISO range plus 5-axis image stabilization for greater shooting control – from the brightest of mornings to the darkest of nights.
|
Buy Now
G-Master Lens Series
Designed to meet the most uncompromising quality standards to deliver the highest possible performance and exceptional bokeh, the spectacular G-Master series is Sony's premium-level set of full-frame E-mount lenses.
Full Frame Lens Series
A full-frame camera deserves a full-frame lens to maximize optical excellence and image quality. With its ever-growing lineup of full-frame lenses, Sony has something to optimize every mode of photography.
Lightweight, Compact Mirrorless
Fine detail, minimal noise and exceptional image quality are the hallmarks of Sony's small but powerful, easy-to-use compact mirrorless cameras.
Despite its compact size and light weight, the α6400 delivers speedy performance and a range of features you'd expect from a full-frame model. Whether you're taking still shots or movies, creative compositions or everyday selfie shots, you'll enjoy beautiful images that you'll want to share, on the go.
|
Buy Now
The a6000 is a super-compact mirrorless camera that's about half the size and weight of a typical DSLR, yet it has the same size APS-C sensor as most DSLRs. The interchangeable lenses and E-mount system make the a6000 more versatile than almost any other camera on the market.
*Sale ends May 16th
|
Buy Now
Sony SEL 16mm f/2.8 E-Mount Lens
Stylishly designed to match α NEX cameras, the SEL16F28 is an exceptionally portable and versatile lens that's perfect for both photos and video. This bright lens (16mm focal length, f/2.8 maximum aperture) offers a big, 24mm (35mm equivalent) wide angle and 83° field of view for outstanding low-light performance.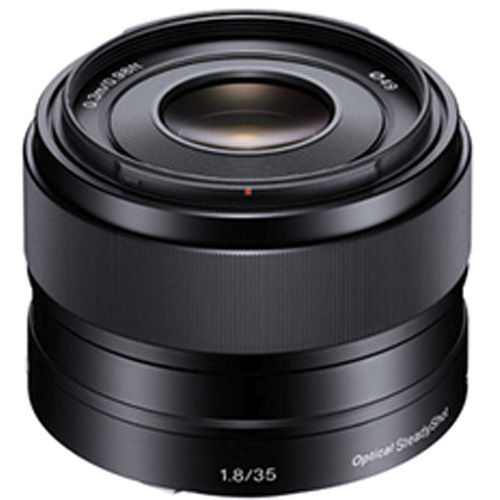 Sony SEL 35mm f/1.8 E-Mount Lens
The full-frame equivalent focal length is 52.5mm, providing "normal" perspective–similar to that experienced with the naked eye. The angle of view is suitable for an extremely wide range of subjects while the large f/1.8 maximum aperture is bright enough to allow hand-held shooting in low ligh.
From the Cyber-Shot Series
These feature-packed and powerful point-and-shoot models remain popular favourites among photographers who value ease of use and love great, sharp shots.
The world's smallest camera with 24–720 mm zoom, the HX99 goes wherever the action is. With its ZEISS® Vario-Sonnar T* 24–720 mm1 lens and high-level features like Fast Intelligent AF and responsive Eye AF, it delivers remarkable performance in any setting.
|
Buy Now
Astounding functionality meets exquisite image quality in the supremely compact RX100 III. Whenever photo opportunities arise, you can slip it from your pocket to enjoy a captivating 24mm wide-angle perspective, bright telephoto shooting at F2.8, ultra-high sensitivity in dimly lit environments, high-resolution viewfinder framing and exceptionally clear movie recording.
|
Buy Now
This camera inherits the RX100 series' renowned 1.0-type image sensor, and advances with blazing-fast 0.05-second autofocus, 315 focal plane phase-detection AF points, continuous shooting up to 24fps with AF/AE tracking, as well as outstanding 4K movie capabilities.
|
Buy Now
Top-speed AF meets super zoom range. Ultra-fast AF response, (0.03 s) up to 24fps with AF/AE-tracking continuous shooting, 24–600 mm F2.4–4 lens and Exmor RS™ sensor, all in one camera.
|
Buy Now
Accessories and Extras
Always leave room in your camera bag for essential extras, like batteries and memory cards. And consider adding accessories that give you greater control over the shooting experience – you'll wonder how you ever managed without them.
VG-C3EM body design makes it almost equally easy to control the camera in vertical and horizontal positions, thanks to keys and controls that are nearly the same as those on the back of the camera body. For example, the vertical grip provides a Multi Selector for fast selection of an AF point.
|
Buy Now