A game changer! Introducing the Canon EOS R5
The new EOS R5 full-frame mirrorless camera currently under development will fully leverage the advantages of the EOS R System, helping to produce a camera that features high-speed continuous shooting and 8K video recording. Furthermore, the camera will provide photographers with more efficient workflows thanks to improved transmission functionality, operability and reliability. These enhancements, along with many others, will help to further elevate and solidify the EOS Series concept of "Speed, Comfort and High-Image-Quality.
Key Features
A newly developed CMOS sensor
high-speed continuous shooting up to approximately 20 frames-per-second
8K video capture capability
Improved transmission functionality, operability and reliability
The first Canon camera equipped with IBIS
If you want to be notified when this is available, just fill out the form below!
Estimated Release Date and Price have not been announced.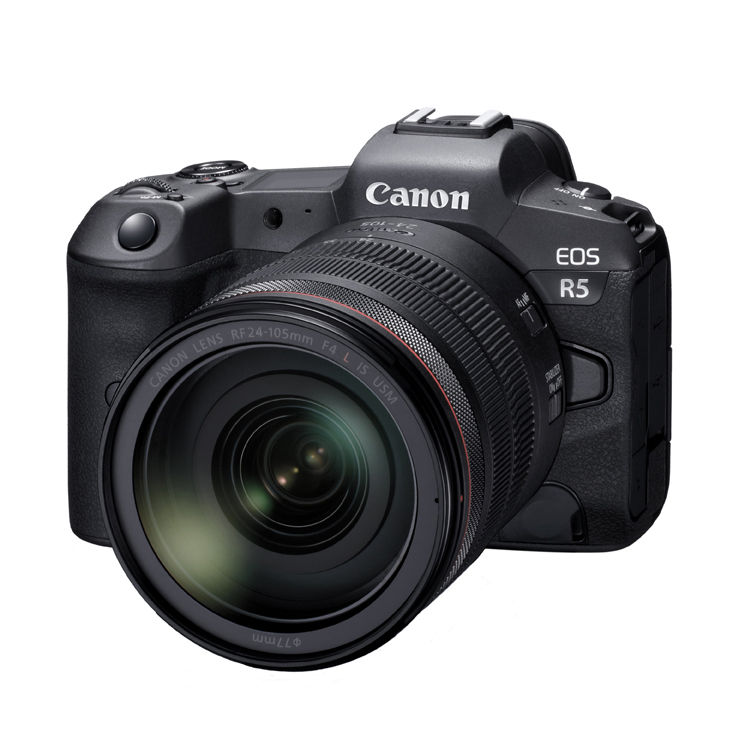 Get more info as it comes out, set up a demo, or inquire about leasing options.
We are just as excited about this camera as you are, let's keep in touch.
Canon Announces the Development of the Company's Most Advanced Full-Frame Mirrorless Camera Ever – The EOS R5
The Company will Also Develop Seven RF Lenses and Two RF Lens Extenders in 2020 BRAMPTON, ON., FEBRUARY 12, 2020 - Canon Canada Inc., a leader in digital imaging solutions, today announced that its parent company, Canon Inc., is developing the highly anticipated Canon EOS R5 full-frame mirrorless camera. The camera will feature a newly designed CMOS sensor and new image processor, along with new state-of-the-art optical technologies the company has been able to cultivate through its long history of groundbreaking camera and digital imaging solutions development. In addition, Canon plans to release seven RF lenses and two RF lens extenders that are currently in development. These new photography tools will help to continue to strengthen the EOS R system and cement the RF mount as an industry leader.
---
The EOS R System was initially developed to provide engineers with the ability to design lenses that were previously thought to be impossible to create. The wide lens mount diameter, shorter back focus, and high-speed system for transmitting data between camera and lens have resulted in an imaging system that delivers higher image quality and greater ease-of-use than ever before.
---
Canon's EOS R5, the first of the next generation of full-frame mirrorless cameras planned for EOS R System, will include a newly developed CMOS sensor. The new sensor will enable enhanced features such as high-speed continuous shooting up to approximately 20 frames-persecond (FPS) when using the silent shutter and up to approximately 12 FPS when using the mechanical shutter – a feature that professional sports and wildlife photographers will find to be extremely impactful on their ability to capture fast-moving subjects. From a video perspective, the camera's 8K video capture capability will prepare videographers for the future of moviemaking, allowing for even higher-quality 4K productions, in addition to the ability to extract high-resolution still images from the video footage. The EOS R5 will be the first Canon camera equipped with IBIS (In Body Image Stabilization) and when used in conjunction with the extremely effective in-lens stabilization (IS), will allow photographers to handhold the camera in light levels not previously imagined. Additionally, the camera will also feature dual-card slots and will support the automatic transfer of image files from the device to the new image.canon cloud platform.
---
Alongside the EOS R5, Canon is also developing seven RF lenses and two RF lens extenders scheduled for release during 2020, including the RF 100-500mm F4.5-7.1 L IS USM, Extender RF 1.4x and Extender RF 2x.
A preview of the EOS R5 will be on display at the 2020 WPPI Show (February 25-27) in Las Vegas.
Advanced Full-Frame CMOS Sensor
Canon has developed an entirely new CMOS image sensor for the EOS R5. Image quality is at the heart of the EOS R System and the EOS R5 is set to raise the bar in high level still and video capture empowered by this new CMOS sensor and the new DIGIC processor.
High-Speed Shooting up to 20 fps
The EOS R5 can capture fast moving subjects in high speed burst. At up to 12fps with mechanical shutter and up to 20fps with silent shutter, the EOS R5 can capture the split-second details between a subject's movement.
Astonishing Autofocus and
Subject Detection
The EOS R5 brings subject detection to a new level – Utilizing Canon's Dual Pixel CMOS AF Technology, the EOS R5 will be capable of making Ultra-High-Speed Autofocus calculations to match its immensely powerful High-Speed Shooting capability of 20 fps. Subject detection adopted from the Live View AF tracking system in the EOS-1D X Mark III brings Face, Head and even Eye tracking when People detection is set, providing ease and accuracy when capturing stills or video. Detection of Animals will also be possible for the first time in a Canon camera, effectively tracking the whole body, face, or eye of cats, dogs, or birds for speed and precision.
Larger Than Life 8K Video
Canon revolutionized the video industry with the introduction of the EOS 5D Mark II which provided solutions for what was previously seen as improbable - the EOS R5 will again push the boundaries of what filmmakers can do compared to current DSLR and Mirrorless cameras. With Internal, uncropped 8K video shooting at up to 29.97fps, and 4K video shooting at up to 119.9fps, in 4:2:2 10-bit (H.265) Canon Log, and Dual Pixel CMOS AF available in all 8K and 4K modes, image makers worldwide will be able to tell their stories in larger-than-life resolutions. Additional new features include: Internally recorded and uncropped 8K RAW Recording up to 29.97 fps with Dual Pixel CMOS AF, and HDR-PQ Recording (H.265) capability.
Dual Card Slots
Whether you are recording everyday images, an important photo shoot or recording 8K video, a super high-speed CFexpress card slot plus a UHS-II SD card slot are at your disposal.
In-Body Image Stabilization
Canon's first camera to incorporate 5-axis IBIS (In-Body Image Stabilization), the EOS R5 will not only enhance the ability to shoot still images at slower shutter speeds but it will also help reduce camera shake when shooting movies. Additionally, the EOS R5's IBIS will work in combination with Optical Image Stabilization found in many Canon RF and EF lenses.
Convenience in a Cloud
With the creative process being just as important as image capture, the EOS R5 will support automatic transfer of still image and video files from the device to the new image.canon cloud platform. New workflows will be possible through the automatic download and backup of data to your Mac/PC, or automatic transfer of data to external services such as Google Drive and Flickr*. For more information, visit image.canon.
*Starting in June, image.canon will expand both of its partnerships with Google to include original quality backup with Google Photos™ via Google One™, a membership plan for expanded storage, as well as Adobe® Creative Cloud® (membership plan)
Sales, Events and more every Week!
Events by world-renowned photographers and filmmakers. New product launches and time limited promotions. The chance to win great prizes and save on your favourite brands! Read more.