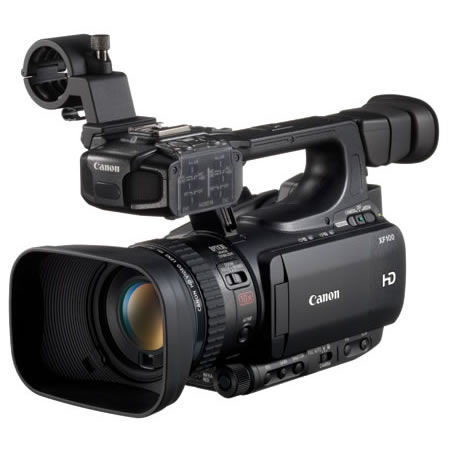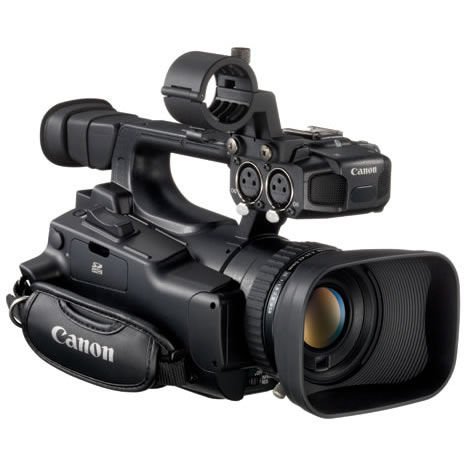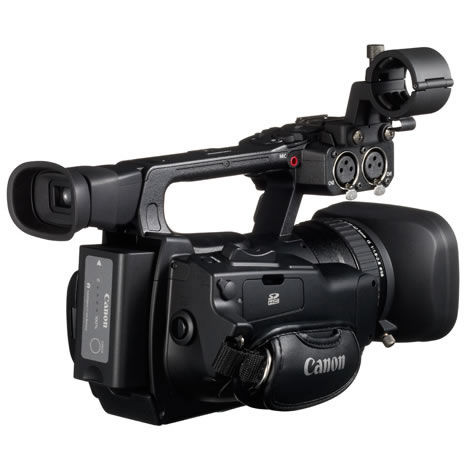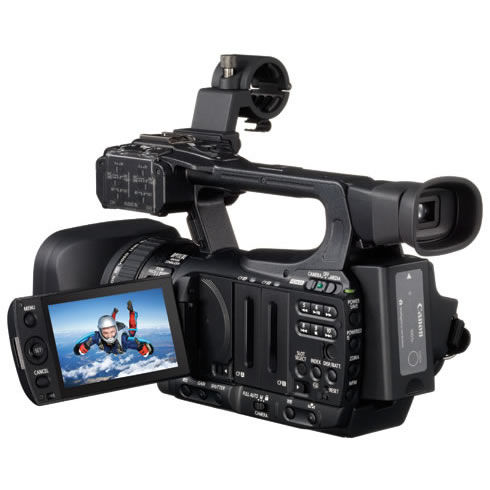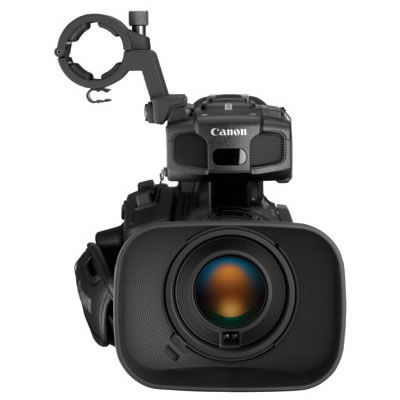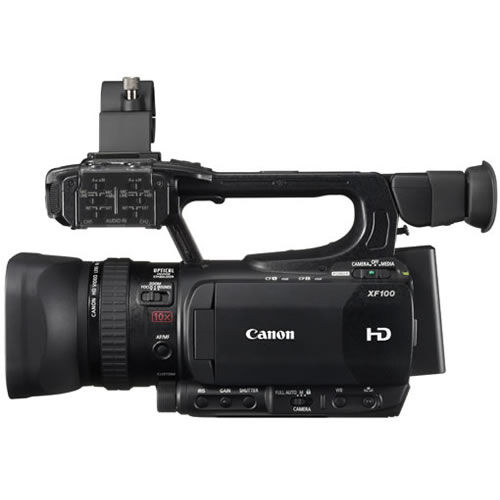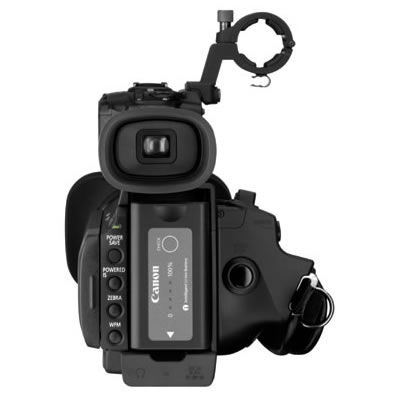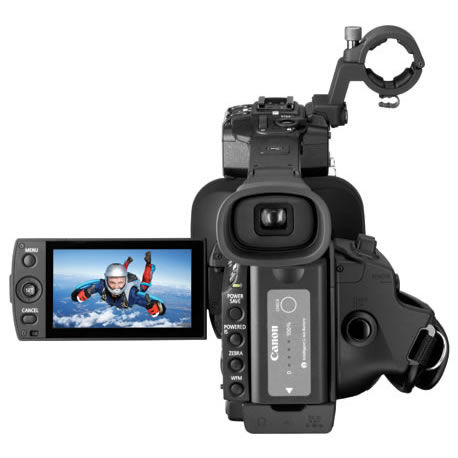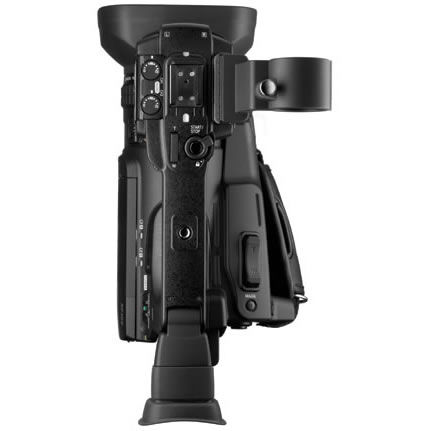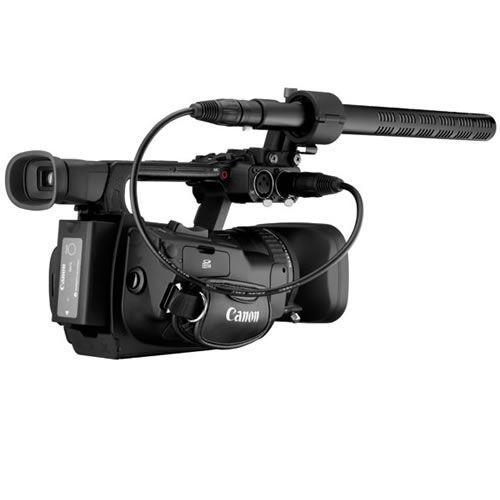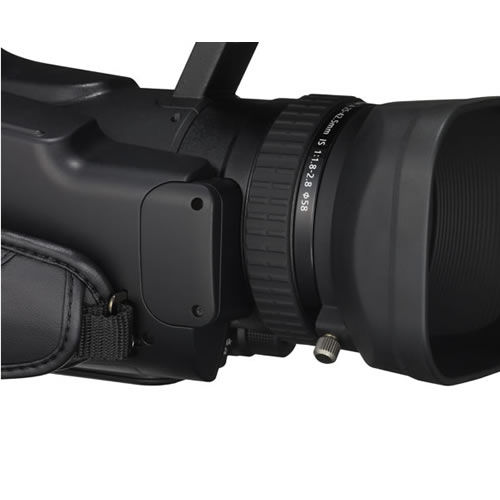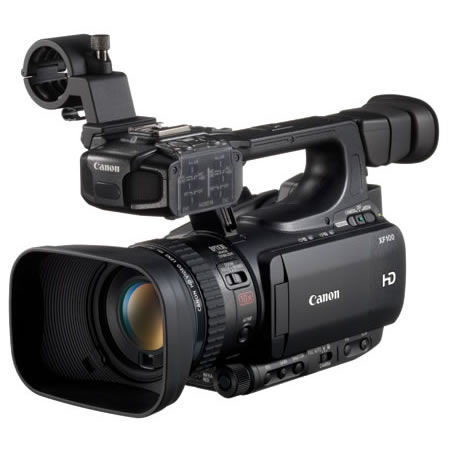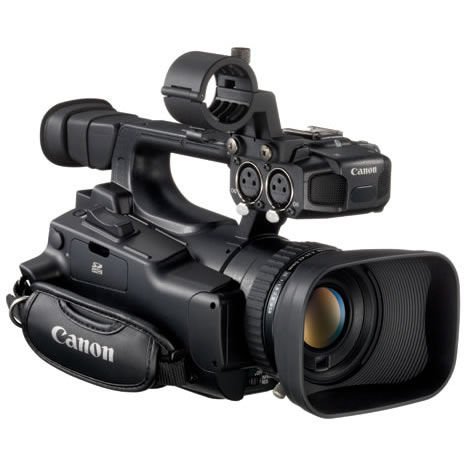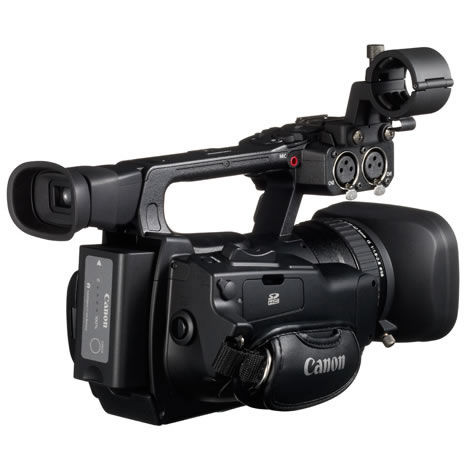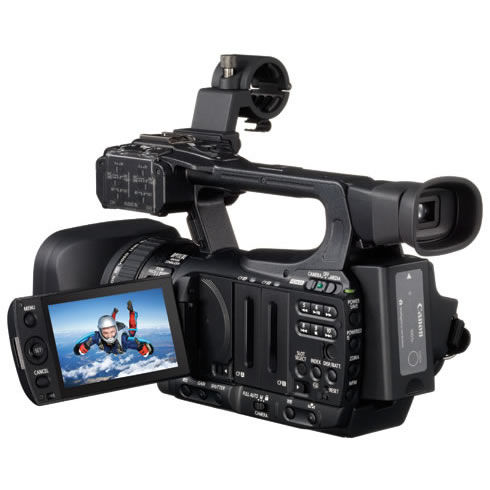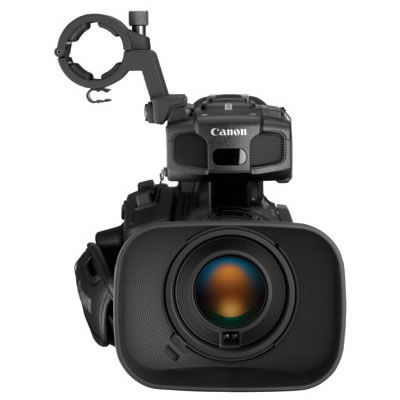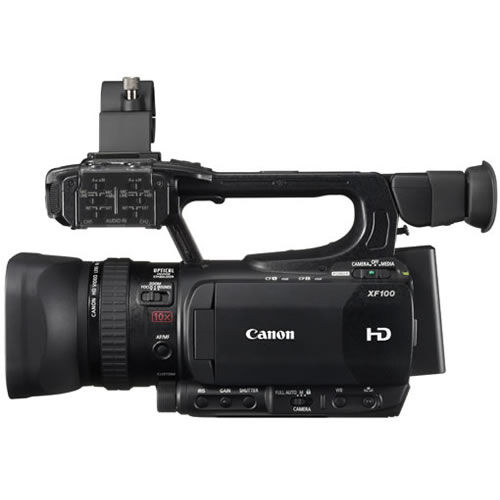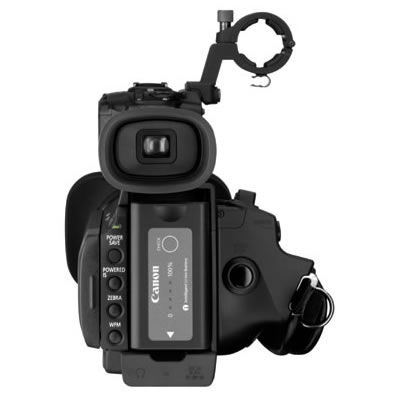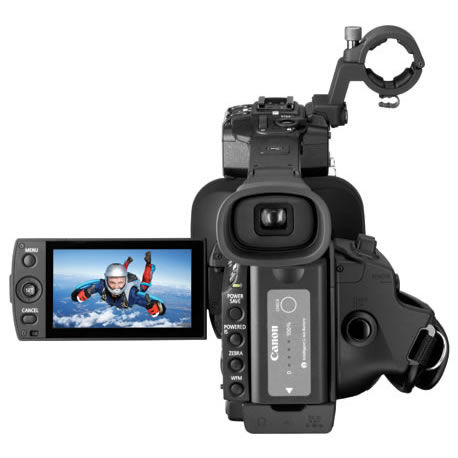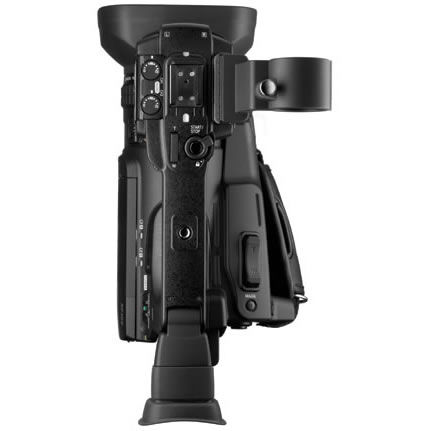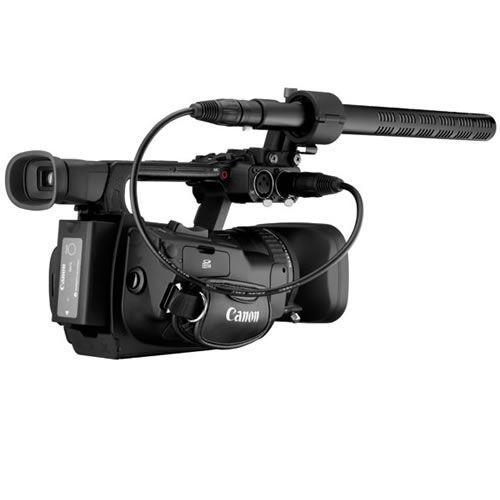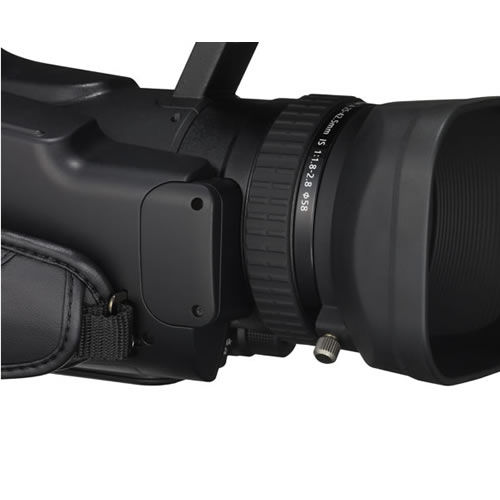 Webcode:

254261

• Mfr: 4888B001
Product Highlights
1/3" CMOS Sensor, 50Mbps MPEG-2 Recording, 4:2:2 Colour Sampling, 60p/60i, 30p, 24p, MXF File Format, Dual CF Card Slots, 10x HD Zoom Lens, Multiple Bit Rates & Resolutions, and Dual XLR Inputs.
This item is unavailble
This page is here for your reference.
Compact in size, lightweight and fully featured, the Canon XF100 Professional Camcorder can be tailored to fit a wide range of individual needs. While sharing many of the capabilities of the Canon XF305 and XF300 Professional Camcorders, including the Canon XF Codec and Compact Flash (CF) recording, the XF100 offers some exciting new features of its own.
Key Features
1/3" CMOS Sensor
50Mbps MPEG-2 Recording
4:2:2 Colour Sampling
60p/60i, 30p, 24p
MXF File Format
Dual CF Card Slots
10x HD Zoom Lens
Multiple Bit Rates & Resolutions
Dual XLR Inputs
MPEG-2 4:2:2 50Mbps Codec (Canon XF Codec)
MPEG-2 compression is both highly reliable and versatile. Developed by the Moving Pictures Expert Group (MPEG), it is one of the most widely used compression schemes in the industry for camera acquisition, over the air broadcast, cable and satellite TV. Canon's adaptation of MPEG-2 for the XF100 Professional Camcorder, named the Canon XF Codec, ensures the widest compatibility with existing industry infrastructure and non-linear editing (NLE) systems. As well, by using an MXF file wrapper, video and audio can be wrapped in a single file along with important metadata.

The XF100 supports the highest HD quality with Full HD 1920x1080 resolution, up to a 50Mbps bit rate and 4:2:2 colour sampling. 4:2:2 colour sampling provides twice the colour resolution of HDV and other codecs that use 4:2:0 colour sampling.
4:2:2 provides ultra-fine transitions in tone and colour and maintains the highest quality image for use in post production processes such as chroma keying, colour grading, advanced compositing and effects. The codec's 50Mbps constant bit rate provides the bandwidth needed to capture the XF100's superior resolution and colour in spectacular detail.
Record to affordable Compact Flash Cards
Unlike other camcorders which use proprietary memory systems, the XF100 Professional Camcorder records to cost-effective Compact Flash (CF) cards. The camcorder features two CF card slots and offers versatile recording functions including:
Relay recording
When one CF card becomes full, the camcorder automatically switches video recording to the other CF card.
Hot swapping
Media can be replaced without turning off the camcorder. And while recording, the other card can be removed without interruption.
File copy and backup
Files may be copied from one card to the next – ideal for backing up when on location.
Pre Record
Perfect for news crews and live event shooters, the camcorder continuously buffers approximately three seconds of video in memory. When the Record button is pressed, recording begins and the contents of buffer memory are added, so you never miss an important shot.
Double Slot Recording
For safety and convenience, the Double Slot Recording feature allows you to record simultaneously to each of the two CF cards, providing an instant backup for your footage.
File-based recording facilitates workflow by reducing transfer times when moving video to non-linear editing (NLE) systems. Additionally, metadata can be input at image acquisition and imagery may be reviewed immediately after recording to ensure every shot is captured and logged correctly.
Major NLE Software Compatibility
Canon's XF Codec is supported by the industry's leading manufacturers: Adobe, Apple, Avid and Grass Valley. This ensures the widest compatibility with existing infrastructure and non-linear editing (NLE) software.
Genuine Canon 10x HD Video Lens
Canon's optical expertise is clearly seen in the XF100's Genuine Canon 10x HD Video Lens. It delivers flexibility in image capture with a zoom range of 30.4 – 304mm (35mm equivalent). Power zoom is available in Constant and Variable settings in 3 modes, Fast (approx. 1.9 – 60 seconds), Normal (approx. 3.0 – 180 seconds) and Slow (approx. 4.0 – 285 seconds). To provide added control, there are 16 predefined steps in Constant mode and rocker switch pressure sensitive or control ring speed management in Variable mode.

For enhanced versatility the XF100 offers a built-in gradation type neutral density (ND) filter (approximately 1/8), as well as an eight blade metal aperture iris. A customizable manual control ring allows users to assign focus, zoom, or iris. These functions are easily selected through a switch on the lens barrel. Additionally, a custom dial is available which allows the iris to be controlled.
SuperRange Optical Image Stabilizer
The XF100 also incorporates a SuperRange Optical Image Stabilization system (lens shift) with four modes: Standard, Powered, Dynamic and Off.
Standard: Lens shift is controlled so that the maximum compensation angle is constant from wide angle through telephoto.
Powered: Vibration is suppressed at the telephoto end of the range, where shake is most apparent due to high magnification.
Dynamic: Stabilization changes throughout the zoom range to minimize more pronounced shaking. This is especially useful at wide-angle focal lengths when walking.
Instant AF
When shooting high definition video, sharp focus becomes more critical than ever. Canon's proprietary Instant AF system combines an external AF sensor with Canon's legendary auto focus system for fast and accurate focus. Together, the two sensors reduce focusing time - even in low-light, low contrast, or high brightness situations - and improve focusing performance on difficult subjects.

The XF100 gives you a choice of five AF modes for different shooting applications:
Instant AF changes focus as rapidly as possible, for those applications in which quick focus is more important than other considerations - for example, in news gathering or documentary work.
Medium AF changes focus at a speed which is softer and smoother than Instant AF, but faster than would likely be possible manually.
Normal AF changes focus at a speed that appears natural and doesn't distract the viewer.
Face AF tracks focus on faces when present. The user selects the face to be tracked. Face AF has the ability to track even if the subject face is in profile. If the chosen tracked face is not present in a shot, the subject in the center of the screen will automatically be brought into focus.
Face Only AF automatically tracks the chosen tracked face in focus but, should that face leave the scene, will reset focus to manual mode.
Minimum Object Distance
When shooting with the XF100, the minimum focus distance is 20mm (0.78 inches) at Macro and maintains 60cm (1.97 feet) throughout the entire zoom range. This allows excellent versatility in a wide range of shooting situations.
8-Blade Iris
In contrast to a typical 6-blade iris, the XF100's 8-blade iris captures extraordinarily smooth out-of-focus 'bokeh' for a more attractive image effect. The additional blades also reduce diffraction of light passing through the iris, allowing for the use of smaller apertures while maintaining image quality.

The Digital Teleconverter extends the reach of the optical zoom, and is selectable by 1.5x, 3x and 6x. This feature is ideal when extreme telephoto shooting is needed such as in sports and wildlife, as well as surveillance applications for law enforcement and the military.
Canon Native 1920 x 1080 CMOS Image Sensor
Newly designed and manufactured exclusively by Canon, the XF100 Professional Camcorder incorporates a native 1/3-inch, 1920 x 1080 CMOS Image Sensor, delivering superb Full HD video recording with minimal noise. The high sensitivity and wide dynamic range of this sensor are what demanding users expect from Canon. Slow and fast motion shooting is supported for greater flexibility in creative choice and its compactness contributes greatly to the small, super handy size of the XF100 and its outstanding usability in the field.
Multiple Recording Bit Rates, Resolutions, and Variable Frame Rates
Multiple recording modes, resolutions and frame rates make the XF100 Professional Camcorder creatively flexible and able to work in virtually any production environment. From the highest quality 50Mbps Full HD to the HDV compatible 25Mbps, users will find the camcorder capable of taking on any job.
Variable Frame Rates
The XF100 Professional Camcorder offers a full range of selectable frame rates. You can choose between 60i, 60p, 30p and 24p settings to achieve just the look you want.
60p Frame Rate (Available in 720p Mode Only)
In addition to the standard interlaced frame rate of 60i, the XF100 is able to capture at 60p. 60p is rapidly becoming the standard for fast-action sports.
30p Frame Rate
30p is the ideal frame rate for video viewed on the Internet. It is also an excellent choice for frame grabbing during playback.
24p Frame Rate
24p matches the frame rate of a traditional film camera giving the same cadence and temporal motion needed for a "film look."
Optional 50i/50p/25p Frame Rate Upgrade
For added versatility, the XF100 can be customized to record in both 60i/50i, 60p/50p, and 24p/25p (this optional upgrade must be performed by a Canon Factory Service Center)
Slow Motion & Fast Motion
Slow and Fast Motion Modes allow the XF100 to record a different frame rate than the playback frame rate, resulting in either a fast or slow motion effect during playback. Since the camera is recording real frames and modifying the playback rate, there is no quality loss and maximum image quality is maintained. In 1080 mode, fast motion is supported up to 2.5x the normal rate and as slow as 1/2.5x. In 720 mode, fast motion is supported up to 5x the normal rate and as slow as 1/1.25x.
Interval Recording
With this feature, users can program the camera to record a specified number of frames at specified intervals. The technique can be used to observe natural phenomena over extended periods, making it ideal for time-lapse applications. The interval can be set in 25 levels ranging from 1 second to 10 minutes.

60i/30p: Selectable between 1, 3, 6 and 9 frames
24p/60p: Selectable between 2, 6 and 12 frames
Frame Recording
This setting allows a specified number of frames to be recorded – ideal for projects such as clay animation.

60i/30p: Selectable between 1, 3, 6 and 9 frames
24p/60p: Selectable between 2, 6 and 12 frames
Canon DIGIC DV III Image Processor
The XF100 Professional Camcorder features Canon's powerful DIGIC DV III Image Processor, which provides enhanced shading, life-like tonal gradations, new custom picture settings and lower power consumption. DIGIC DV III is also the high-speed engine which powers Genuine Canon Face Detection. On-the-go videographers will appreciate the ability to track one subject in a crowd of people.
Built-in 3-D Assist Features
The XF100 has the ability to be paired with another XF100 or XF105 camcorder to provide true stereoscopic 3-D recording. It offers several features to assist with 3-D production.

OIS Lens Shift aids in optically aligning the two camcorders. A focal length guide displays the zoom position of each camera in relation to each other and calibrates the zoom distance. The XF100's compact size provides an alternative to large 3-D rigs allowing 3-D crews to work more quickly and efficiently, while providing the needed features to capture exceptional 3-D imagery.
Infrared Recording
The XF100 Professional Camcorder features an Infrared Mode allowing users to capture video in conditions with little to no ambient light, a situation which would make other camcorders useless. During infrared capture, the infrared cutoff filter is removed from the optical path. Combined with a specially designed lens coating, infrared light is able to pass through to the image sensor. Additionally, the XF100 features an infrared emitter with a diffuser to shoot pleasing infrared imagery even in complete darkness. For the nature videographers or law enforcement users, the benefits of a compact, high performance camcorder for shooting in such conditions is obvious. Without the need to add lights, the shooter may remain hidden from their subjects. Also, the XF100 gives the option of recording in green or white light mode.
Brilliant Ergonomics
The XF100 is designed as an ultra-compact camcorder without compromising on features and usability. Its small size makes this camcorder ideal in situations where every inch and ounce count, such as flying to location or going on expedition. It offers amazing image quality yet can easily be placed in the back of a car or carried in a backpack making the XF100 the perfect camera to go anywhere, anytime on a moment's notice.
Large, 3.5-inch, 920,000 Dot LCD Monitor and EVF
3.5-inch, 920,000 Dot LCD Monitor
A 3.5-inch, 920,000 Dot LCD monitor provides an ample, accurate area for critical focus confirmation and approximately 100% field of view. The display opens on the left side of the camera body.
EVF
The XF100 Professional Camcorder features a 0.24-inch, 260,000 Dot colour EVF and approximately 100% field of view coverage for comfortable viewing and accurate judgment of composition. Brightness, contrast, colour and backlight are adjustable. The angle of the viewfinder is adjustable up and down through 68º for additional user comfort and when using the LCD display for monitoring.
Focus Assist Functions
Edge Monitor Focus Assist System
With Canon's new Edge Monitor Focus Assist system, a red and green monitor is shown at the bottom of the LCD Display and three red focus check areas are shown across the display. The green waveform shows overall focus of the image, while the red waveform shows the focus status of the focus check boxes. Through this dynamic focus feedback, the user can intuitively tune focus in a scene and quickly change the zone of focus.
Peaking/Magnify
Two peaking modes and a magnify focus assist function are available in standby and record mode (LCD monitor and EVF), making it extremely easy for the XF100 operator to check and confirm critical focus.
Exceptional Customization
Users of the XF100 Professional Camcorder have full manual control of all camera functions to adapt to both technical and artistic challenges when shooting. For maximum customization, users have access to Custom Picture Settings, Custom Functions and Custom Display Options to tailor the camera to their creative and production needs. Any combination of these items can be saved to an SD memory card for easy setup and matching of multiple XF100 and XF100 camcorders.
Custom Picture Settings
You can manually set an extensive variety of image quality adjustments and store them as 9 different presets in the camera. Up to 20 may be saved to an SD card. The adjustments include: Gamma, Black Level, Black Gamma, Low Key Saturation, Knee, Sharpness, Noise Reduction, Skin Detail, Selective Noise Reduction, colour Matrix, White Balance, colour Correction and Setup Level.
Custom Functions
The XF100's operation can be further fine-tuned through the use of Custom Functions. This allows the camcorder to truly match your shooting style. A total of 15 unique items can be adjusted including: Shockless Gain, Shockless White Balance, AE Response, Iris Limit, Iris Ring Direction, Focus Ring Control and Character Record.

As well, for quick access to commonly used functions, the XF100 features 10 customizable control buttons.
Custom Display
The Custom Display function lets you set 32 display items to create a custom LCD/EVF to suit your specific needs. Items that can be selected include: Zoom Position, Audio Level, Remaining Record Time, Exposure, Object Distance, Time Code and more.
Workflow
Smooth and efficient workflow is an essential part of the production process. Canon's XF Codec is supported by the industry's leading manufacturers: Adobe, Apple, Avid and Grass Valley. This ensures the widest compatibility with existing infrastructure and non-linear editing (NLE) software.
Compact Flash Cards
Understanding that accessibility to media is an important part of any file-based workflow, the Canon XF100 Professional Camcorder records to cost-effective Compact Flash (CF) cards, not proprietary media.
MXF Wrapper
The XF100 uses Material Exchange Format (MXF) for its file structure -an internationally standardized container format for the exchange of video and audio material. Using the MXF format, video and audio can be wrapped into a single file along with important metadata. With MXF, the XF100 will not only benefit from the highest level of compatibility with NLE systems, but also with high-end network systems used by many networks and production studios.
Bundled Canon XF Utility Software
Compatible for use on both Mac and Windows platforms, Canon's XF Utility software provides a simplified first step in the process of managing and playing back your clips.

Additionally, the software can manage lists of clips in a number of display formats, as well as tag, add and edit metadata. It also serves as an efficient means of backing up media.
Audio System
The utmost in flexibility has been built into the XF100 Professional Camcorder. It has an incorporated stereo microphone, as well as two XLR audio inputs with +48V phantom power and a 3.5mm microphone input terminal. The built-in microphone provides exceptional audio in fast-paced situations while the XLR inputs and microphone input terminal provide connectivity to external microphones. In addition the XLR inputs allow the use of other professional audio devices. If you choose, the built-in microphone and an external microphone can be used simultaneously.

Audio is recorded in 16-bit PCM format at 48 kHz for amazing quality and fidelity. And both the built-in microphone and XLR inputs have the option for automatic or full manual gain control. To prevent variations in the recorded audio level, the dials can be locked by closing the audio panel cover.
Connectivity
Not only does the XF100 Professional Camcorder provide the professional user with complete control over the image, it also provides complete creative freedom when it comes to inputs and outputs including:
HDMI Output
Component Video Output
Composite Video Output (3.5mm Terminal)
USB 2.0 Hi-Speed Terminal
Remote Control Terminal (compatible with LANC protocol)
What's Included
XF100 Camcorder with Lens Cap
Lens Hood
Battery Pack BP-92
Compact Power Adapter CA-930
DC Cable DC-930
Wireless Controller WL-D6000
Shoulder Strap SS-1200
Microphone Holder Unit
Component Cable CTC-100/S
Canon XF Utilities Disc
Product Specifications
XF100 HD Camcorder w/10x HD Lens

Image Device
1/3" CMOS Sensor
2.37MP (2.07MP effective)
Lens
10x HD Zoom
4.25-42.5mm (30.4-304mm, 35mm equivalent)
f/1.8-2.8
58mm Filter Diameter
Horizontal Resolution
900 TV lines or more
Focusing System
TVAF plus External Phase Difference Metering Sensor
Autofocus (Instant AF, Medium AF, Normal AF, Face AF, Face Only AF), Manual, Full Manual
Minimum Illumination
4.5 lux (full AUTO mode, 1/60 shutter speed, +24dB gain)
1.6 lux (Manual mode, 1/4 shutter speed, +33dB gain)
Built-in Filters
Neutral Density (Auto or Off)
Minimum Focus Distance
20mm (wide macro), 60cm (entire zoom range)
Video Recording System
Compression: MPEG-2 Long GOP
Colour Space: 4:2:2 (at 50Mbps recording)
File Format: MXF

Recording Modes:
50Mbps (CBR) 4:2:2, 1920x1080, (60i/30p/24p),
1280x720 (60p/30p/24p)
35Mbps (VBR) 4:2:0, 1920x1080 (60i/30p/24p),
1280x720 (60p/30p/24p)
25Mbps (CBR) 4:2:0, 1440x1080 (60i/30p/24p)
Audio Recording Format
2-Channel, PCM digital recording, 16-Bit; 48kHz
Frame Rates
60i, 60p (720p mode only), 30p, 24p
**(50i, 50p and 25p optional upgrade available through Canon Factory Service Center)
Image Stabilization
SuperRange Optical (Lens Shift) 4 modes: Standard, Powered, Dynamic, Off
LCD Monitor
3.5" Colour, approx. 920,000 dots
Viewfinder
0.24" Colour, approx. 260,000 dots
Microphone
Stereo electret condenser microphone
Memory Card Slot
CF Card: 2 Slots (movie files only)
SD Card: Still images, Custom Picture Data, Clip Metadata, Custom Settings
Shutter Speed
Max 1/2000
White Balance
Auto, Manual, Custom (2000K - 15000K in 100K increments), Daylight, Tungsten
Gain Selection
Not specified by manufacturer
Maximum Recording Time
64GB Compact Flash (CF) card
(Greater capacity is possible when two cards are used.)
25Mbps: 310 minutes
35Mbps: 225 minutes
50Mbps: 160 minutes
Input and Output Connectors
Component (x1 Output)
Composite: 3.5mm A/V (x1 Output), BNC (x1 Output)
HDMI: HDMI (x1 Output)
Mic/Line: XLR 3-pin (x2 Input)
USB: Mini-B USB 2.0
Headphone: 3.5mm Mini
Remote Control Terminal: LANC
Power Requirements
7.4VDC (Battery Pack)
Power Consumption
Not specified by manufacturer
Operating Temperature
32-104°F (0-40°C), 85% relative humidity
Dimensions (WxHxD)
4.8 x 5.8 x 9.8" (12.1 x 14.8 x 25 cm)
Weight
2.2 lbs (1kg) - not including battery, memory card, lens hood, mic holder
Canon XF100 HD Camcorder w/10x HD Lens
Looking for a personal touch? Not sure if you are choosing the right product? Our staff is here to help.
We want to make sure you get the right product for your needs.
Our staff will help you understand the options available so you can be confident in your purchase.
As the country's leading Professional Imaging retailer, Vistek is in the perfect position to ensure you make the right choice.
Contact us today for a personal touch.