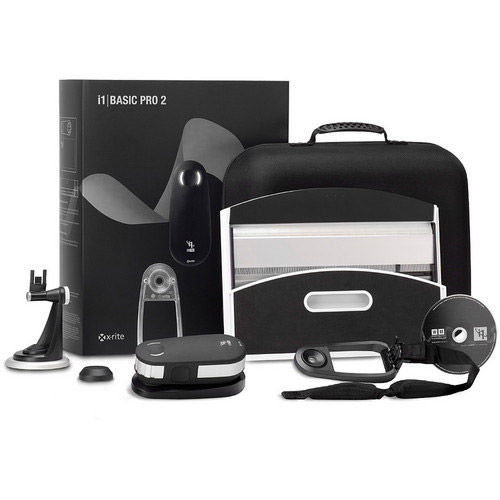 Webcode:

262528

• Mfr: EO2BAS
Product Highlights
With i1Basic Pro 2 you can quickly and easily create custom monitor and projector profiles that ensure the colors you view are true, verify soft proofs and print quality with built-in Quality Assurance (QA) tools, and easily capture and manage spot colors
This item is unavailable
This page is here for your reference.
i1Basic Pro 2 combines world-class hardware and software to deliver the ultimate professional level color management for imaging pros.
NEW i1Pro 2 Spectrophotometer. The most accurate and forward thinking profiling device available today – bringing a new level of accuracy, reliability, versatility and ease of use, it delivers an expanded professional-level feature set including the latest developments in ISO standardization.
i1Profiler Software for Monitors and Projectors. The latest release of i1Profiler software features basic and advanced modes for professionally calibrated and profiled monitors and projectors, including new presets for video production workflows. Also includes display and printer quality assurance functions.
PANTONE® Color Manager. Easily capture and manage spot colors, and keep your PANTONE libraries up to date with this color palette creation and swatch bridging software.
Features
i1Basic Pro 2 is designed for imaging professionals who rely on accurate color for their monitors and projectors, who want to track and verify monitor and print quality, and capture spot color measurement. i1Basic Pro 2 includes:
The extraordinary new i1Pro 2 Spectrophotometer
The latest release of i1Profiler Software
PANTONE Color Manager Software
All-new, more robust i1 accessories: Ambient Light Measurement Head, Monitor Holder, Scanning Ruler, Backup Board, Spot Color Positioning Target, Soft Carrying Case
i1PRO 2 DEVICE
The most accurate, versatile and reliable profiling device available today
Built upon the success of X-Rite's i1Pro spectrophotometer as the de facto industry standard for more than a decade, i1Pro 2 features the next generation of our industry-leading technology delivering increased accuracy, ease of use and an expanded professional-level feature set including the latest developments in ISO standardization.
Highlights:
New illuminant design allows for 3 standard measurement conditions (ISO 13655 M0: Tungsten; ISO 13655 M1: D50; ISO 13655 M2: UV Cut) plus Optical Brightener Compensation (OBC) without changing filters or needing a second instrument and ensures your investment well into the future.
Enhanced Optical Brightener Compensation allows for the most accurate profiling for today's enhanced range of substrates. Now users can predict what colors printed on optically brightened paper will look like under both standard and specific light conditions using a single hand-held device.
Positioning Detection Sensor provides a more robust scanning experience even on special substrates and low-resolution printers. It allows for the measurement of smaller patch sizes (as low as 7mm) in manual mode saving time and money on consumables and enabling dual measurement workflows for OBC, M1 and M2.
New Status LED guides users through the measurement process and provides feedback on device status, improving the user experience and saving time.
New Design Ergonomics throughout allows for greater usability, flexibility, cleaning, protection, and storage of the precision i1Pro 2 device, assuring the highest level of reliability and productivity.
Better temperature stability and higher brightness levels improve emissive measurement, resulting in the best possible calibration and profiling of monitors and projectors.
All new diagnostics and self-correction features
Built-in wavelength calibration technology allows for self-diagnosis of optical grating in relation to sensor during white calibration (with automatic correction and notifications) eliminating worry about your device's measurement accuracy.
Maintaining and protecting the device (and investment) is easier than ever
Self-cleanable aperture protection glass and calibration white tile cover provides additional built-in protection from dust and dirt keeping your device working at top performance at all times.
XRGA equipped
i1Pro 2 is equipped with the X-Rite Graphic Arts Standard (XRGA) to make it quicker and easier for companies and professionals involved in digital production printing to adhere to ISO standards and have confidence that data sent or received from all links in the supply chain is reliable and repeatable.
i1PROFILER SOFTWARE
i1Profiler, based upon X-Rite's i1Prism color engine, offers an unprecedented level of flexibility and features a number of unique color management capabilities adding power and control in creating professional quality profiles. You can choose between a 'basic', wizard-driven interface; or an 'advanced', user-driven interface to create high quality, precise, custom color profiles for monitors and projectors.
i1Profiler unique capabilities include:
Calibrate and profile all modern laptop and desktop display technologies
Create highest quality professional color profiles for projectors
Optimize profiles based on ambient light
Quality assurance for soft proofing on monitors and verifying output quality on printers
i1Profiler specific capabilities include:
Monitor
Utilize presets for video production workflows
Create profiles for any ambient light condition for optimal viewing of color critical work
Unlimited gamma, white point, and luminance settings (also measure other displays or light sources and use as targets)
Workgroup match utilizing reference profiles to match all monitors
Gray balance optimization for more neutral and better defined grays, in any lighting condition
Chromatic adaptation formula for a closer visual match of different monitors (or of different settings on one monitor) with different white points
X-Rite's Automatic Display Calibration (ADC) to automatically control and adjust display hardware settings
Digital Projector
Build an accurate on-screen profile in just a few minutes – just as easy as building a monitor profile
Takes room conditions into consideration when creating profile – projected colors, screen color and room lighting
Quality Assurance (QA)
Display quality assurance function to check soft proofing
Printer quality assurance function to check print quality using ISO 12647-7 compliant media wedges (IDEAlliance Digital Control Strip, Fogra Media Wedge, Japan Color Control Strip).
What's Included
i1Pro 2 spectrophotometer (measurement device)
calibration plate
ambient light measurement head
monitor holder
positioning target
scanning ruler
backup board
USB cable
i1Profiler v1.x software for monitors
PANTONE Color Manager software and soft-sided storage case
Product Specifications
Spectral Engine
Technology
i1® technology with built-in wavelengths check
Spectral analyzer
Holographic diffraction grating with 128-pixel diode array
Spectral Range
380 - 730 nm
Physical sampling interval
3.5 nm
Optical resolution
10 nm
Spectral reporting
380 ... 730 nm in 10 nm steps
Measurement Frequency in scanning mode
200 measurements per second
Optics
Measurement geometry
45°/0° ring illumination optics, ISO 13655:2009
Measurement aperture
4.5 mm (0.18") diameter (effective measurement aperture during scanning is depending on the patch size and measurement speed)
Illumination Spot Size
3.5 mm (0.14")
Light source
Gas filled tungsten (illuminant type A) and UV LED
REFLECTANCE MEASUREMENT
Data Format
Spectral Reflectance [dimensionless]
Measurement Conditions
UV included - ISO 13655:2009 measurement condition M0
D50 - ISO 13655:2009 measurement condition M1
UV excluded Filter - ISO 13655:2009 measurement condition M2
OBC
Optical Brightener Compensation (OBC) with i1Profiler software
Calibration
Manual on external ceramic white reference
Measurement Background
white, ISO 13655:2009; for measurements on backup board
Minimal Media Thickness
3 mm (0.12") on backup board
Minimal Patch Size in Scanning Mode
7 x 10 mm (0.28" x 0.39") (Width x Height) with sensor ruler 10 x 10 mm (0.39" x 0.39") (Width x Height) without sensor ruler
Inter-instrument agreement
0.4 ?E94* average, 1.0 ?E94* max. (deviation from X-Rite manufacturing standard at a temperature of 23ºC (73.4ºF) on 12 BCRA tiles (D50, 2º))
Short-term repeatability
0.1 ?E94* on white (D50,2°, mean of 10 measurements every 3 seconds on white)
EMISSIVE MEASUREMENT
Data format
Spectral radiance (mW/nm/m2 /sr); Luminance Y (cd/m2)
Measurement range
0.2 - 1200 cd/m2 on a typical LCD-Monitor
Short-term repeatability
x,y: +/- 0.002 typical (5000°K, 80 cd/m2
AMBIENT LIGHT MEASUREMENT
Data Format
spectral irradiance [mW/nm/m2], illuminance [lux]
Type
Cosine-corrected diffuse light measurement head
INTERFACE
Interface
USB 1.1
Power supply
Device powered by USB. No additional charger or battery required. USB 1.1 high power device.
Physical dimensions
i1Pro device
Length 155 mm, width 66 mm, height 67 mm (6.1" x 2.6" x 2.6")
i1 Ruler
Length 337 mm , width 102 mm (13.3" x 4.0")
i1 Backup Board
355 mm x 265 mm (14.0" x 10.4") folded or 355 mm x 400 mm (14.0" x 15.7") unfolded
Weight i1Pro device
245 g (8.6 oz)
X-Rite i1Basic Pro 2
Looking for a personal touch? Not sure if you are choosing the right product? Our staff is here to help.
We want to make sure you get the right product for your needs.
Our staff will help you understand the options available so you can be confident in your purchase.
As the country's leading Professional Imaging retailer, Vistek is in the perfect position to ensure you make the right choice.
Contact us today for a personal touch.