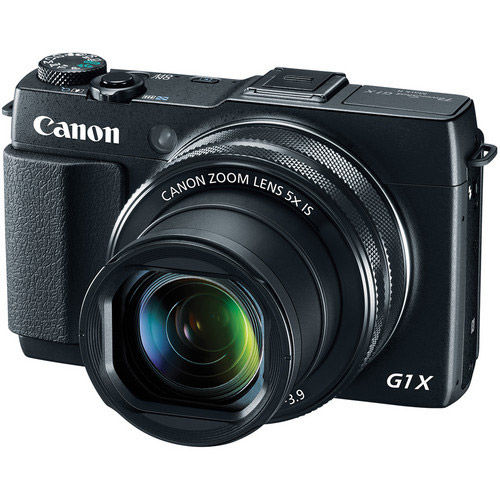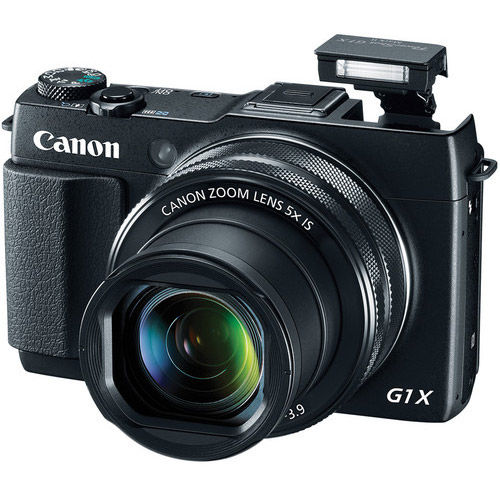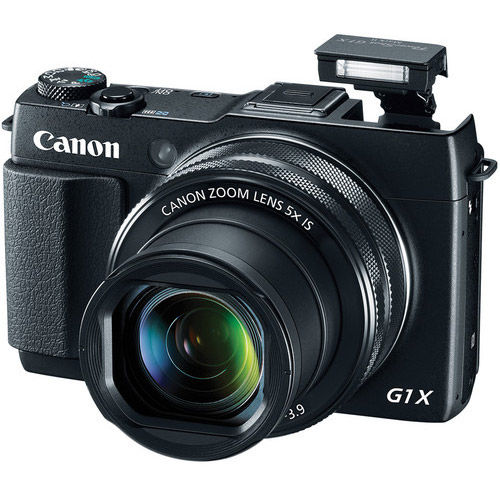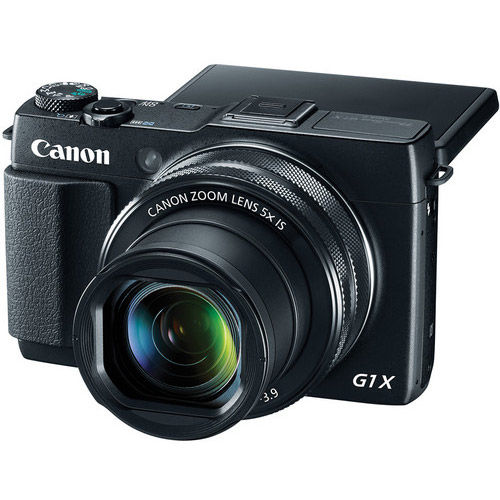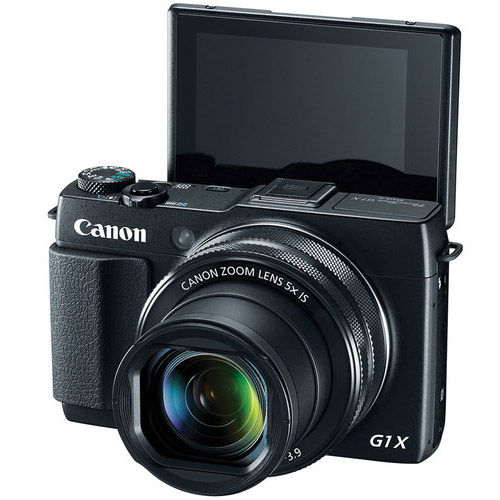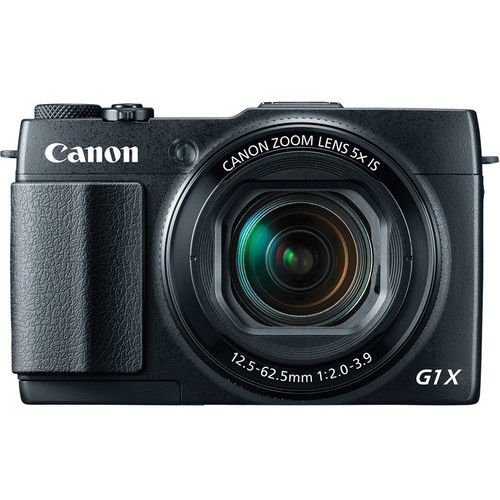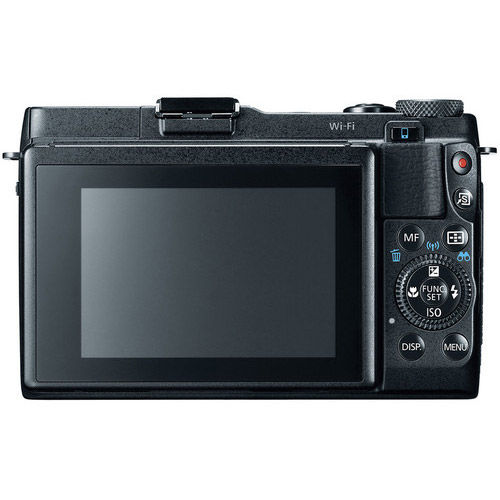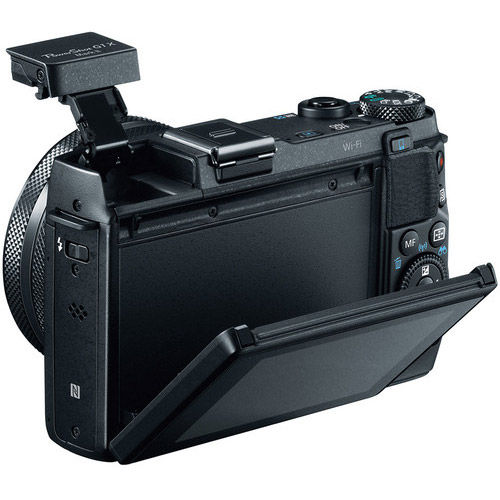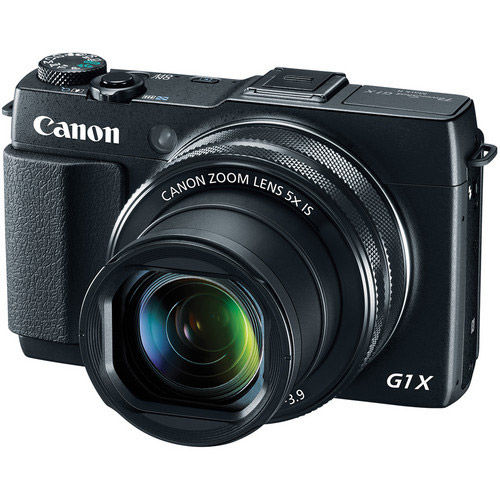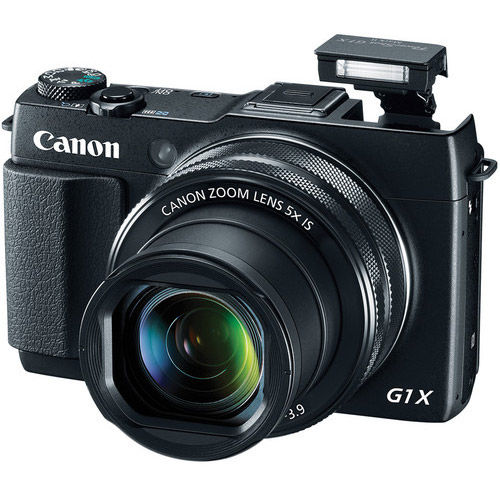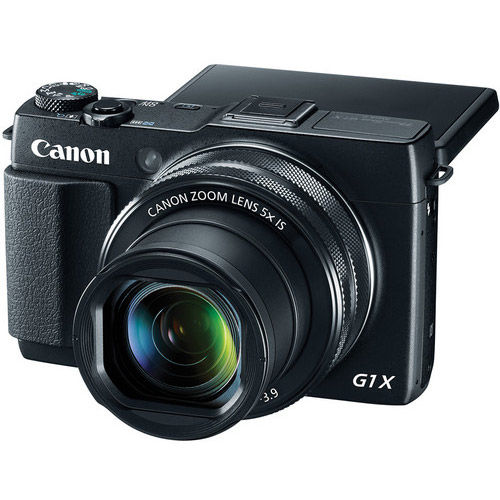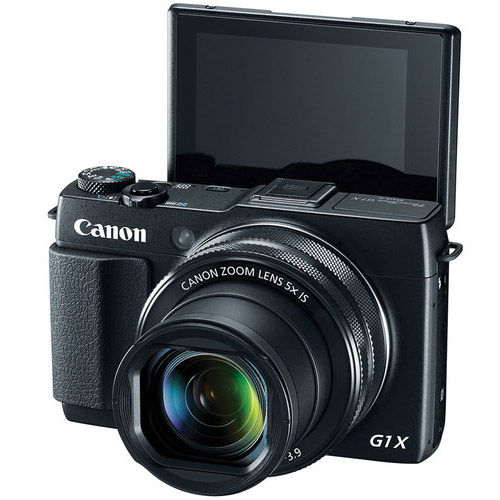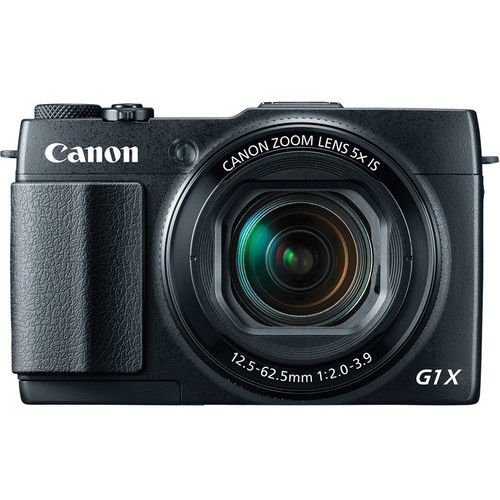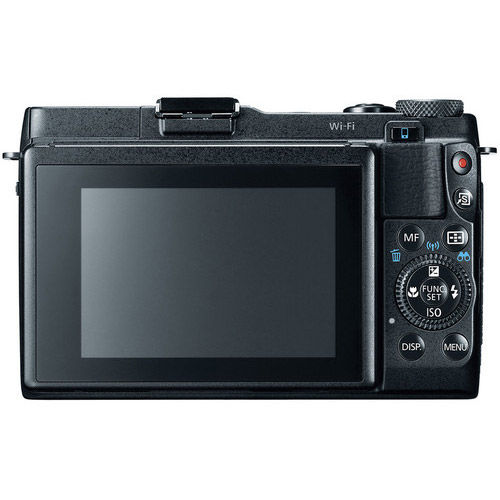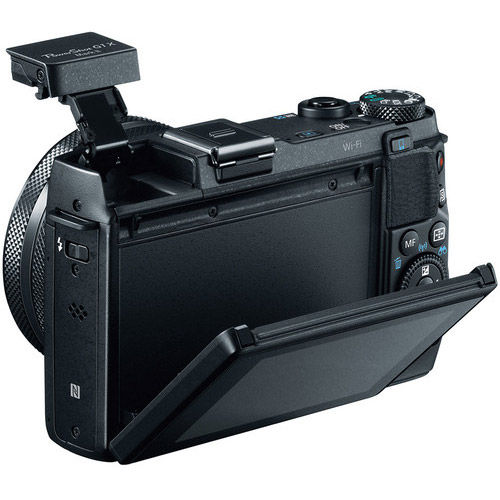 Webcode:

273666

• Mfr: 9167B001
Product Highlights
12.8MP High-Sensitivity 1.5" CMOS Sensor, DIGIC 6 Image Processor, Canon 5x Optical Zoom Lens, 24-120mm f/2-3.9 (35mm Equivalent), 3.0" 1,040k-Dot Tilting Touchscreen LCD, Full HD 1080p Video Recording at 30 fps
This item is unavailble
This page is here for your reference.
The Mark of PowerShot Excellence
The all-new PowerShot flagship, the PowerShot G1 X Mark II raises performance and quality to new heights in a compact, brilliant design.
Featuring a huge, 1.5-inch 12.8 Megapixel High-Sensitivity CMOS sensor, a powerful DIGIC 6 Image Processor and an all-new 5x wide-angle optical zoom lens with Optical Image Stabilizer and a circular, 9-blade aperture for stunning blurred backgrounds, the PowerShot G1 X Mark II delivers the outstanding image quality you would expect with a digital SLR camera but in a portable, Wi-Fi® and NFC enabled package. It can capture 14-bit RAW plus JPEG images, features a staggering 31 focus points for speedy and accurate AF, a capacitive 3.0-inch tilt-type touch panel LCD and has newly developed Dual Control Rings on the lens barrel for fast control of exposure and focus. An optional high-resolution electronic viewfinder adds to the camera's professional feel and functionality. Whether being used as a companion to an EOS digital SLR or as a standalone camera, the PowerShot G1 X Mark II has the power to handle most any photographic situation it encounters.
Key Features:
1.5-inch, 12.8 Megapixel High-Sensitivity CMOS Sensor
DIGIC 6 Image Processor
HS SYSTEM
5x Optical Zoom plus a new f/2.0 – f/3.9, 24mm Wide-Angle lens with Optical Image Stabilizer
Optical Image Stabilizer
Built-in Wi-Fi
Optimal Image Capture in a Compact Camera
Canon 1.5-inch, 12.8 Megapixel High-Sensitivity CMOS Sensor
Almost as large as the APS-C CMOS sensor found in many EOS digital SLRs, and bigger than those found in 4/3 system cameras, the PowerShot G1 X Mark II's sensor sets the standard for sensitivity and resolving power in compact cameras. Each cell area is 4.5x the size of those found in 1/1.7 type sensors and is thus able to capture more light at the pixel level. This means better detail, even at higher ISOs, with minimal noise and distortion and, thanks to the sensor's wide cell pitch, breathtaking dynamic range. The PowerShot G1 X Mark II camera natively captures images in the 3:2 aspect ratio, which is the same as Canon EOS SLR cameras. The PowerShot G1 X Mark II also features a new Aspect Ratio function, enabling RAW image capture in both 3:2 and 4:3 aspect ratios while maintaining the same angle of view.
Canon DIGIC 6 Image Processor
The PowerShot G1 X Mark II camera is equipped with the very latest Canon proprietary processor, the DIGIC 6 Image Processor, which makes several important advancements to image quality both in stills and video. Improved light sensitivity allows for higher resolution with less noise when shooting in dark conditions, and Dynamic IS now detects and compensates for tilt and parallel movement (shift blur) to create video that's exceptionally free of distortion. The DIGIC 6 Image Processor also enhances the performance capabilities of the PowerShot G1 X Mark II, powering full resolution high-speed continuous still shooting and the advanced Star shooting modes. Video recording has also been improved with MP4 recording for better compatibility with mobile devices and tablets. Highly compressed MP4 video not only preserves space on your memory card but also improves playback on mobile devices. Plus, with MF Peaking possible thanks to the new processor, you'll have a pro-level focusing tool at your disposal.
Canon HS SYSTEM
The Canon HS SYSTEM lets you take bright, clear photos in an even wider range of shooting situations. Beautiful low-light shots are possible with minimal noise and maximum detail in highlight and shadow areas. The system is the result of two technologies in the PowerShot G1 X Mark II: the amazing 1.5-inch High-Sensitivity CMOS imaging sensor, which is able to capture more light; and the DIGIC 6 Image Processor, which actively reduces noise at high ISO speeds and processes images at high speed, even at full resolution. Thus, the Canon HS SYSTEM allows you to use higher shutter speeds to capture clearer images with reduced noise and blur in more situations.
Wide, Bright and Fast Optics For Superior Image Capture
5x Optical Zoom plus a new f/2.0 – f/3.9, 24mm Wide-Angle lens with Optical Image Stabilizer
Developed specifically for the PowerShot G1 X Mark II, this large aperture lens offers the highest specifications for any camera in this class, and incorporates dramatic improvements on all fronts based upon the feedback of PowerShot G1 X users. It offers a 5x zoom factor with a 24–120mm equivalent range that's perfect for any number of shooting scenarios, and it has an incredibly bright aperture value of f/2.0 at wide angle and f/3.9 fully zoomed. It has a newly designed inner focusing system which enables fast AF speed with minimal lens movement, a reduced focusing distance of 5cm, features 14 elements in 11 groups and has a 9-blade aperture diaphragm for beautiful background blur. Engineered to perform and deliver gorgeous images every time, it's the perfect lens for the PowerShot G1 X Mark II camera's amazing sensor. And, in response to the overwhelming requests from PowerShot G1 X users, it has an integral lens cap.
Optical Image Stabilizer
Handheld shooting can often lead to camera shake, making photos and videos blurry. Canon's Optical Image Stabilizer is a sophisticated system that uses lens-shift technology to correct for unwanted camera movement. It makes handheld photography more practical in more shooting situations, providing excellent image quality in many difficult situations: outdoors at dusk, inside without a flash, and even at the telephoto end of the zoom range without a tripod. For still photos, it enables shooting at slower shutter speeds, accommodating more low-light shooting situations than ever before without having to boost ISO sensitivity. With camera shake and vibration reduced, you get a sharper, steadier image. And because it is an optical system, there is none of the image degradation typical with electronic image stabilizers.
Share Images and Video Wherever and Whenever
Built-in Wi-Fi®
The PowerShot G1 X Mark II is equipped with built-in Wi-Fi® technology for convenient sharing and transferring of your still images and video. Easily post your images to social networking and media sites – Facebook®, Twitter®, YouTube™, Flickr® and now Google Drive™ – through CANON iMAGE GATEWAY# directly from your PowerShot camera, or save them to the online photo album to share anytime, anywhere. The camera can also connect directly to both iOS® and Android™ devices*, and upload images via the free Canon CameraWindow app** without a computer. You can control the destination of your uploads to share with everyone or to selected groups, and even add comments. Sharing video is also easy with the PowerShot G1 X Mark II, which records video using the MP4 format with minimal file size. Enhanced Wi-Fi® makes posting in real time possible, so you can keep everyone up to date with amazing photos and video even as events unfold. The built-in Wi-Fi® technology on the PowerShot G1 X Mark II also allows you to transfer images to other Wi-Fi® equipped PowerShot cameras or print your photos directly to a PictBridge (Wireless LAN) certified printer.

One-touch connection to your mobile device or computer is also made possible on the PowerShot G1 X Mark II with the camera's dedicated Mobile Device Connect Button. You can choose to transfer images to your smartphone or tablet for immediate sharing with the CameraWindow app**, or to your computer on the same network with Image Sync to make saving and organizing your images easier. When the camera finds a linked computer on the same wireless network, images are sent directly to it. Otherwise, images are temporarily stored on CANON iMAGE GATEWAY# then transferred once a connection is made, eliminating the need for cables.
Remote Shooting
With the built-in Wi-Fi® on the PowerShot G1 X Mark II, you can use your smartphone or tablet* to remotely control the camera. Simply connect wirelessly to your device and access the free Canon CameraWindow app**. Your device will show a live image of the camera's capture for easy composition – perfect for wildlife and nighttime shots, group photos and all kinds of situations. The camera's versatile zoom, flash, self-timer and shutter are all under your control, with images being saved to your camera as usual.

* Compatible with iOS versions 6.0/6.1/7.0, Android smartphone versions 2.3.3/4.0/4.1/4.2/4.3 and Android tablet versions 4.0/4.1/4.2/4.3. Data charges may apply.
** This software enables you to upload images to social network services. Before uploading images, please be aware that image files may contain privacy related information such as people and places. If necessary, please delete such information. Canon does not obtain, collect or use such images or any information included in such images through this software.
# One-time registration is required on CANON iMAGE GATEWAY online photo album.
Simply Tap to Connect
Built-in NFC (Near Field Communication)
The PowerShot G1 X Mark II camera supports NFC (Near Field Communication) technology, eliminating the need to find and open the Canon CameraWindow app* on your mobile device. Simply touch the NFC icon on your camera to your compatible Android device**, and the CameraWindow app will launch automatically for remote shooting and quick, easy sharing of your images. Built-in NFC technology also makes it simpler to install the app. If the app hasn't been installed yet, once you touch the devices together for the first time, the download screen will display automatically.

* This software enables you to upload images to social network services. Before uploading images, please be aware that image files may contain privacy related information such as people and places. If necessary, please delete such information. Canon does not obtain, collect or use such images or any information included in such images through this software.
** Compatible with Android devices version 4.0 or later.
Memorable Moments in Spectacular Full HD
Canon Full HD Video Advantage
Preserving your important memories and creative film clips in stunning quality is easy with Full HD recording on the PowerShot G1 X Mark II camera and its dedicated movie button. With the camera's advanced DIGIC 6 Image Processor, the camera records Full HD video in MP4 that is breathtaking even when played back on a large-screen HDTV via the camera's HDMI output. Video is recorded at 30 frames per second* with stereo sound and because clips are recorded in MP4, you can fit more on a single memory card. The smaller file size also makes it easier to download to a computer and share with family and friends.

Additionally, the PowerShot G1 X Mark II also records video in the Apple iFrame® format, which is a computer-friendly standard that speeds up importing and editing of videos. It keeps file sizes small, making it more convenient to upload or e-mail high-quality videos. The iFrame format enjoys native support in compatible Mac and Windows video applications, making it unnecessary to perform time-consuming and often quality-degrading conversions.

* Actual frame rate is 29.97 fps.
Adjustable Performance At Your Fingertips
Bright, Capacitive 3.0-inch Tilt-type Touch Panel LCD
The PowerShot G1 X Mark II features an entirely new 1.04 million pixel capacitive screen that can tilt up 180 degrees and down 45 degrees for flexible shooting in any number of situations and angles. Touch-sensitive, it delivers intuitive touch panel operation and review. Menu and quick control settings can be accessed, and focus point and shutter release can be activated with the touch of a fingertip using Touch AF. Displaying fine detail, it's the perfect screen for composing and reviewing images. The screen is designed so that reflections are minimized and colors are realistically reproduced, and the display can be viewed, without glare, from any number of angles. And because the aspect ratio of recording has been set to 3:2, the aspect ratio of the LCD monitor has also been set to 3:2.
More Control In Hand
Dual Control Rings
The PowerShot G1 X Mark II camera's lens features two control rings on the lens barrel designed to enhance operability with quick, intuitive customizable functions. The inner ring is stepped and can be directed to set aperture value, shutter speed and exposure compensation. The outer, continuous ring has an easily recognizable different texture and makes fine tune adjustments simple, even enabling full-time manual focus that operates similarly to the focus rings found on typical SLR lenses. Working in tandem with the PowerShot G1 X Mark II camera's rear-mounted control dial, virtually every shooting function can be accessed and customized to any photographer's favorite specifications.
9-Blade Aperture
Thanks to the combination of its large sensor and large aperture lens, the PowerShot G1 X Mark II can easily be directed to capture images with great or very shallow depth-of-field. And thanks to the PowerShot G1 X Mark II's new 9-blade aperture diaphragm, blurred areas are particularly gorgeous, with subtle detail and blurred forms that appear almost completely circular.
Continuous Shooting Gives You Exactly the Shot You Want
Full Resolution Continuous Shooting and High Speed AF
Powered by the DIGIC 6 Image Processor, the PowerShot G1 X Mark II camera gives you a seamless, pro-like continuous shooting experience that's fully available in P, Tv, Av, M and Auto modes. Shooting and processing are now performed in tandem, eliminating buffering time to deliver high shooting speeds. With the significantly higher AF speed due to the newly improved Canon 1.5-inch CMOS sensor, streamlined processing also makes the camera's High Speed AF the fastest in Canon compact camera history, achieving focus nearly the instant the camera is aimed. With no separate mode setting and no reduction in image quality, you can freeze brilliant action shots with ease.
EOS-level Creative Control
Shooting and Recording Modes Including 14-bit RAW + JPEG
The PowerShot G1 X Mark II offers a host of shooting and recording modes ranging from fully automatic to fully manual, plus Full HD movies and full-resolution high speed continuous shooting. The camera recognizes 58 shooting situations, automatically optimizing settings for achieving the highest quality shots on the go. Alternatively, you can exert complete creative control over the look and feel of your images. 14-bit signal processing, just as in EOS-series cameras, gives images notably rich detail and smooth gradation, and RAW images are available in a choice of 3:2 or 4:3 aspect ratios. Compared with 12-bit processing, 14-bit offers a 4x increase in RAW data for a visible impact, giving images rich detail in both highlights and shadows as well as smoother, more natural tonal gradation for outstanding image quality.
Capture the Night Sky Like Never Before
Star Shooting Modes
Starry skies were formerly out of reach to all but experienced SLR camera users, but star shooting modes on the PowerShot G1 X Mark II camera make these wonderfully impressive images accessible to all. With just a tripod and simple settings, you can capture exquisite Star Nightscapes, Star Trails, Star Time-Lapse Movies and Star Portrait. The new Star Portrait mode, which consecutively takes two shots of the subject plus one of the night sky and then merges them into a single image, enables beautiful portraits with a starry background. The modes can be performed fully automatic or with manual controls for extra versatility. Support functions including Night Display, Color Adjustment and Star Emphasis make any starry sky easier to capture.
Easily Attached, Essential Performance
Optional Electronic Viewfinder EVF-DC1
New for the PowerShot G1 X Mark II, the optional Electronic Viewfinder EVF-DC1 offers a high-resolution view and displays all shooting information in a brilliant and easily attached accessory. Mounted on the accessory shoe, the electronic viewfinder has a high eyepoint – perfect for those wearing glasses – and has a high precision XGA resolution LCD with 2.36 Million dots and displays the exact information found on the camera's LCD screen. It offers a dioptric adjustment range of -3.0 to +1.0 and can tilt up to 90°, helping to enable steady shooting even on an angle. The camera can be directed to switch automatically between the LCD and the viewfinder with an eyepiece sensor, or can be set manually with a dedicated button. Brightness can be set independently from the camera's screen, perfect for discreet operation.

The PowerShot G1 X Mark II is also compatible with an optional customizable grip*, perfect for photographers with particularly large or small hands.
* Custom Grip GR-DC1A will be available exclusively on the Canon Online Store.
Additional Features:
31 AF points
With 31 easily selectable focus points arranged in an expanded, wide pattern across the image plane, the PowerShot G1 X Mark II focuses with admirable speed and precision. With smaller focus frame sizes, AiAF focus is more accurate, and with an expanded focus area, the camera has the ability to track focus, accurately and quickly, even when subjects are off center. The PowerShot G1 X Mark II also supports 1-point and Touch AF.
New Selectable Multiple Aspect Ratio
Whereas the original PowerShot G1 X was only able to record RAW images in the 4:3 aspect ratio, the PowerShot G1 X Mark II is equipped with a new Aspect Ratio Function that can switch between 3:2 and 4:3 aspect ratios. When shooting in ratios of 3:2 and 16:9, the PowerShot G1 X Mark II will record a RAW file in a 3:2 ratio, and when shooting in 4:3, 1:1 and 4:5, the camera will record a RAW in 4:3.
Intelligent IS
It's easy to capture clear, steady images with the PowerShot G1 X Mark II, even in low light without using a tripod. That's because the camera is equipped with Canon's innovative Intelligent IS. The system automatically analyzes camera movement and applies the best shake correction method for the shooting situation – allowing you to focus on framing and capturing your shot. For stills, the system selects from Normal IS, Panning IS, Macro (Hybrid) IS and Tripod modes. When shooting video, the system selects from Dynamic IS, Powered IS, Macro (Hybrid) IS and active Tripod IS modes. New icons clearly mark the image stabilization mode, whether you're shooting still images or video.
Compatible with Canon Speedlite flashes
The PowerShot G1 X Mark II digital camera gives you access to exciting EOS accessories including all of the Canon Speedlite flashes, long revered by professional photographers. The high output of Speedlite flashes brings out the depth and texture of your images in full, natural beauty. The ultra-lightweight Canon Speedlite 270EX II is a compact, high-performance flash unit that's fun and easy to use, with adjustable illumination angle and guide number; the versatile Speedlite 320EX features an LED light on the front of the flash body that can be used to illuminate nearby subjects in dim light, ideal for shooting video.
High Dynamic Range scene mode
Shooting in high contrast environments can often result in photos with overexposed and underexposed sections. In order to tackle this problem, Canon developed the High Dynamic Range shooting mode to make shooting even more intuitive. Under High Dynamic Range the camera will shoot three different exposures in succession (underexposed, overexposed and normal) and then merge them into a single image. Underexposed areas are combined with the overexposed and vice versa, resulting in an evenly detailed image with flattering shadows and highlights. The PowerShot G1 X Mark II allows you to use this mode without a tripod and features four sub-modes in addition to Natural – Art Standard, Art Vivid, Art Bold and Art Embossed – which provide striking effects that add to the creativity of your compositions.
What's Included
PowerShot G1 X Mark II
Battery Pack NB-12L
Battery Charger CB-2LG
Neck Strap NS-DC11
Product Specifications
Camera
Pixels
Actual: 15 Megapixel
Effective: 12.8 Megapixel
Sensor
1.5" (18.7 x 12.5 mm) CMOS
Bit Depth
14-bit
File Formats
Still Images: JPEG, RAW
Movies: MP4, MPEG-4 AVC/H.264
Audio: AAC LC
Max Resolution
4352 x 2904
Aspect Ratio
1:1, 3:2, 4:3, 4:5, 16:9
Image Stabilization
Optical
Optics
Lens
14 elements in 11 groups
EFL: 12.5-62.5 mm (35 mm equivalent: 24-120 mm)
Aperture: f/2 (W) - 3.9 (T)
Zoom
Optical: 5x
Digital: 4x
Focus Range
Wide: 1.97" (5 cm) - Infinity
Telephoto: 1.31' (40 cm) - Infinity
Wide Macro: 1.97" (5 cm) - 1.64' (50 cm)
Quick: 4.92' (1.5 m) - 65.62' (20 m)
Exposure Control
ISO Sensitivity
Auto, 100-12800
Shutter
1 - 1/4000 sec
15 - 1/4000 sec in Shutter Priority Mode
60 - 1/4000 sec in Manual Mode
Exposure Metering
Center-weighted, Evaluative, Spot
Exposure Modes
Modes: Aperture Priority, Auto, C1, C2, Creative Filters, Creative Shot, Custom, Hybrid Auto, Manual, Movie, Program, SCN, Scene Modes, Shutter Priority
Compensation: -3 EV to +3 EV (in 1/3 EV steps)
Shooting Modes
Auto
Background Defocus
Face Self-Timer
Fireworks
Fish-Eye Effect
HDR
Handheld Night Scene
Miniature Effect
Monochrome
Natural
Nostalgic
Portrait
Poster Effect
Retro
Smart Shutter
Smile
Snow
Soft Focus
Special
Standard
Star
Star Nightscape
Star Portrait
Star Time-Lapse Movie
Star Trails
Super Vivid
Toy Camera Effect
Underwater
Wink Self-Timer
iFrame Movie
White Balance Modes
Auto, Cloudy, Custom 1, Custom 2, Daylight, Flash, Fluorescent, Fluorescent H, Multi-Area White Balance, Shade, Tungsten, Underwater
Burst Rate
Up to 5.2 fps at 12.8 MP
Up to 3.1 fps at 12.8 MP
Up to 3.0 fps at 12.8 MP
Self Timer
10 Sec, 2 Sec
Remote Control
RS60-E3 (Optional)
Flash
Flash Modes
Auto
Flash On
Off
Slow Sync
Built-in Flash
Yes
Maximum Effective Flash Range
Wide: 1.64 - 22.31' (0.5 - 6.8 m)
Telephoto: 4.59 - 11.48' (1.4 - 3.5 m)
External Flash Connection
Hot Shoe
Memory
Memory Card Type
SD
SDHC
SDXC
Recording
Video Recording
Yes, NTSC/PAL
Resolution
1920 x 1080: 30 fps, 15 fps
1280 x 720: 30 fps, 6 fps, 3 fps, 1.5 fps
640 x 480: 30 fps, 6 fps, 3 fps, 1.5 fps
Video
Audio Recording
Built-in Mic: With Video, Stereo
Viewfinder/Display
Screen
3.0" LCD Rear Touch Screen Tilt (1,040,000 pixels)
Screen Coverage
100%
Connectivity/System Requirements
Connectivity
HDMI D (Micro), USB 2.0
Wi-Fi
Yes built-in
Environmental
Operating/Storage Temperature
Operating
32 to 104°F (0 to 40°C)
Humidity: 10 - 90%
Power
Battery
1x NB-12L Rechargeable Lithium-Ion Battery Pack, 3.6VDC, 1910mAh
AC Power Adapter
ACK-DC100 (Optional)
Physical
Dimensions (WxHxD)
4.6 x 2.9 x 2.6" / 116.3 x 74.0 x 66.2 mm
Weight
1.22 lb / 553 g CIPA standard
Canon Powershot G1X Mark II
Looking for a personal touch? Not sure if you are choosing the right product? Our staff is here to help.
We want to make sure you get the right product for your needs.
Our staff will help you understand the options available so you can be confident in your purchase.
As the country's leading Professional Imaging retailer, Vistek is in the perfect position to ensure you make the right choice.
Contact us today for a personal touch.