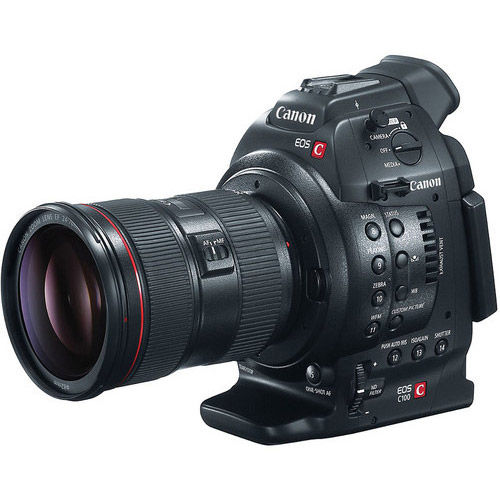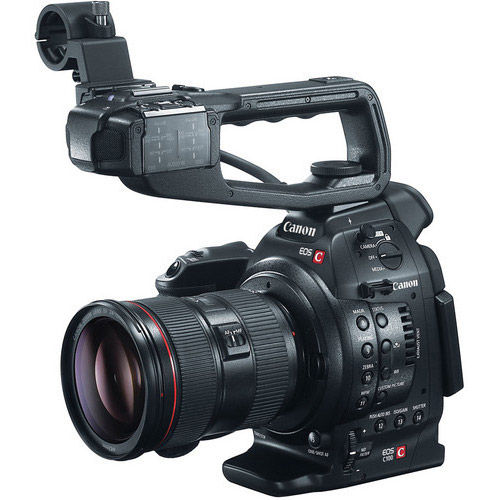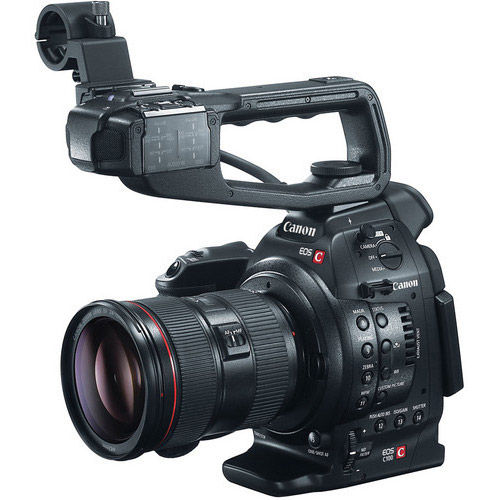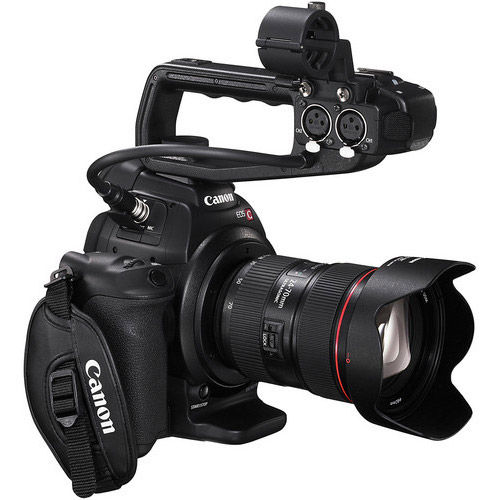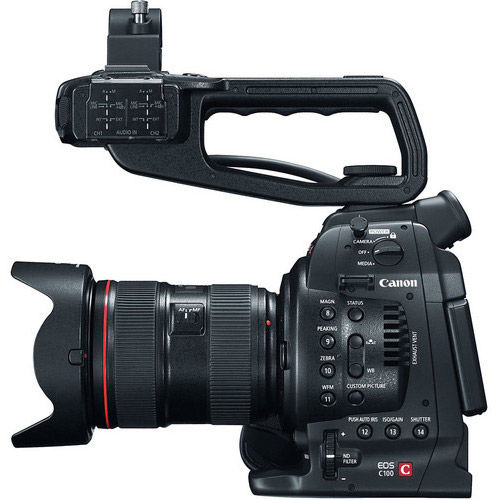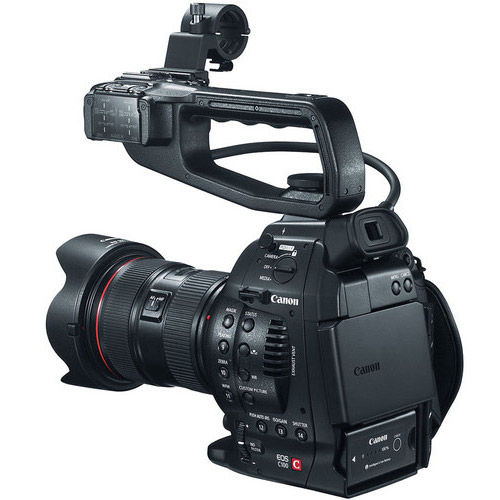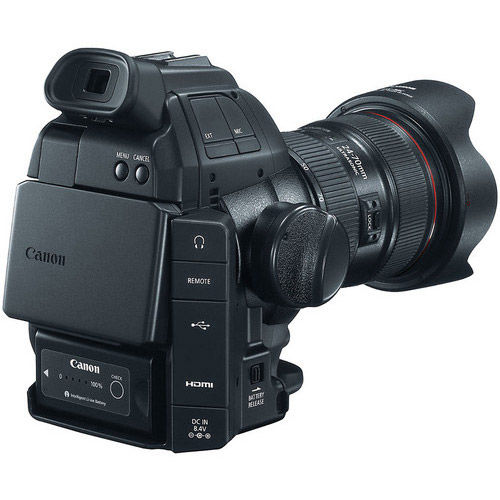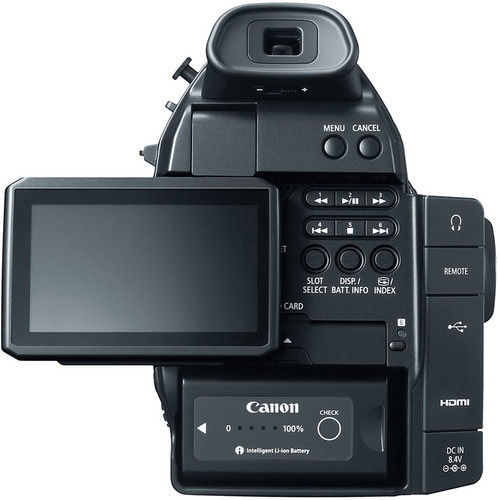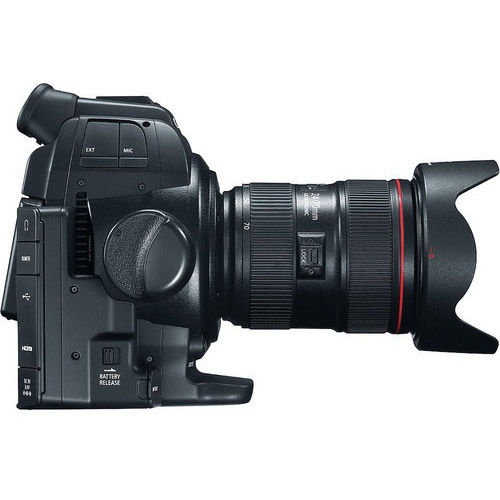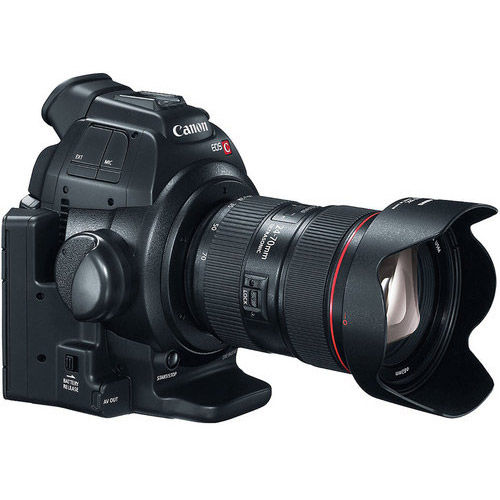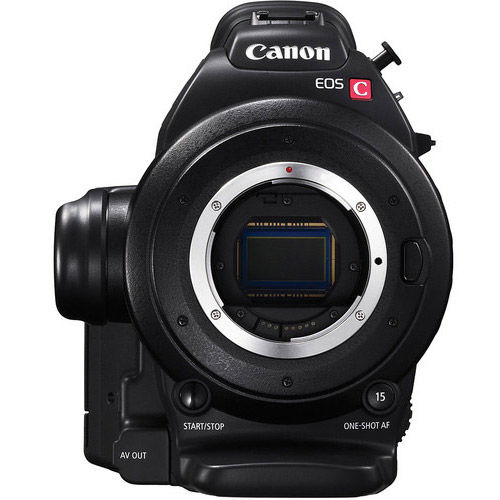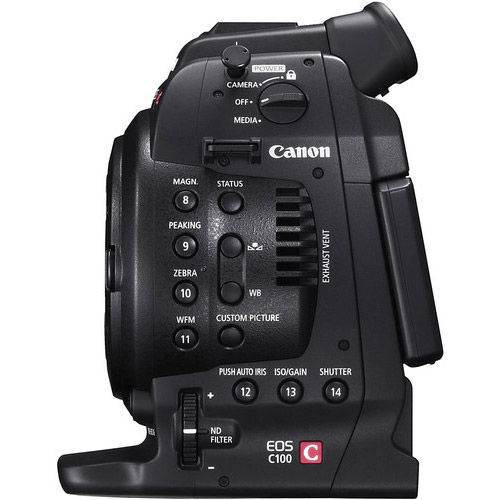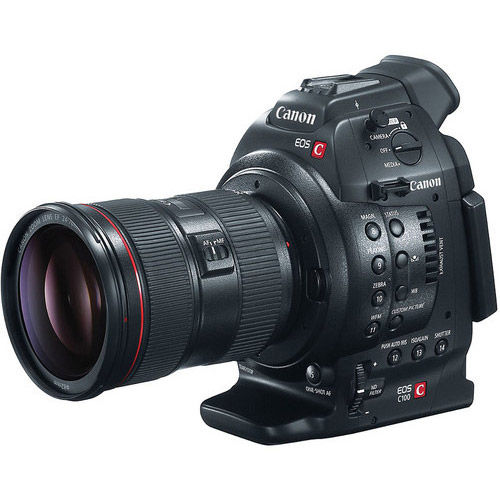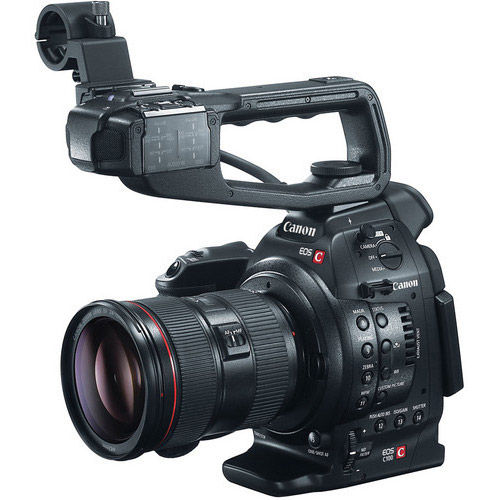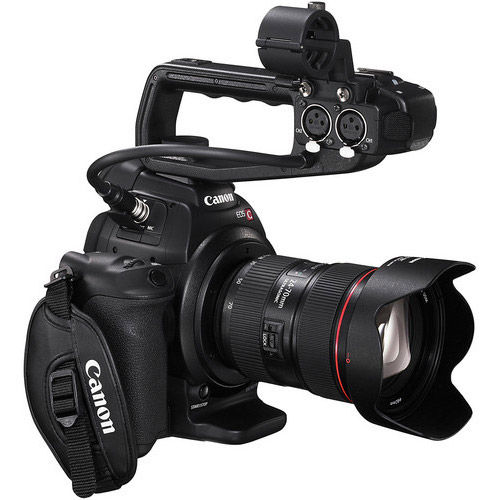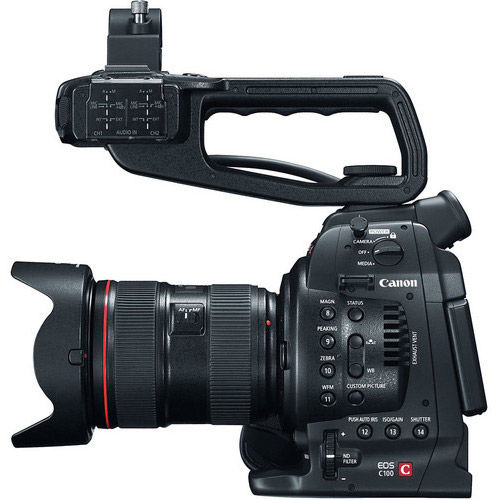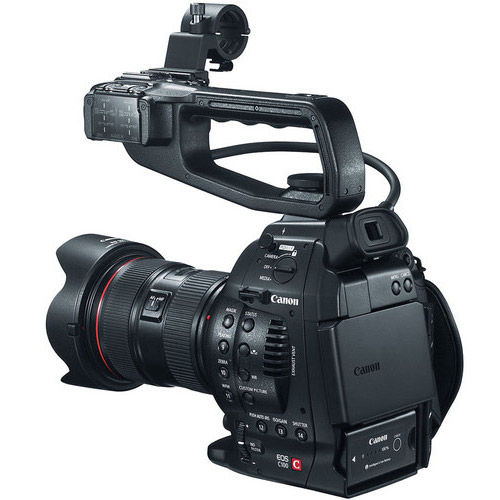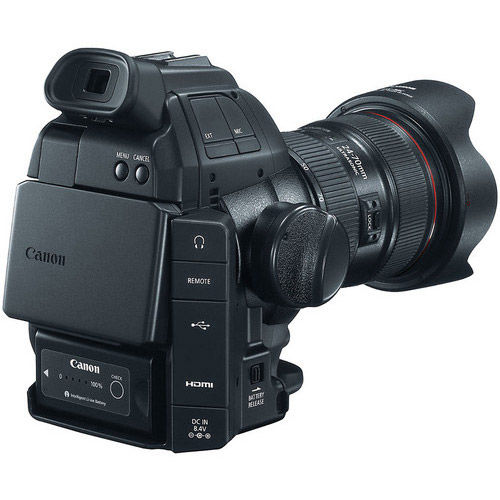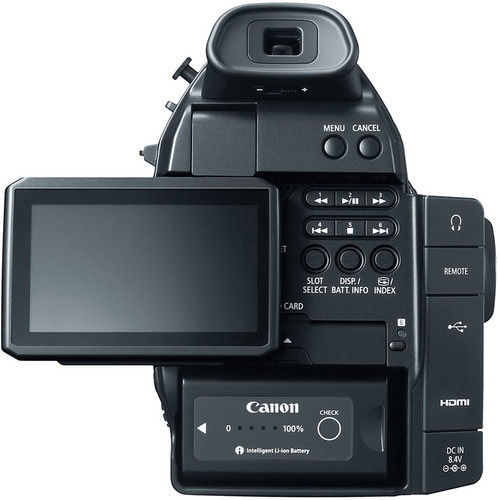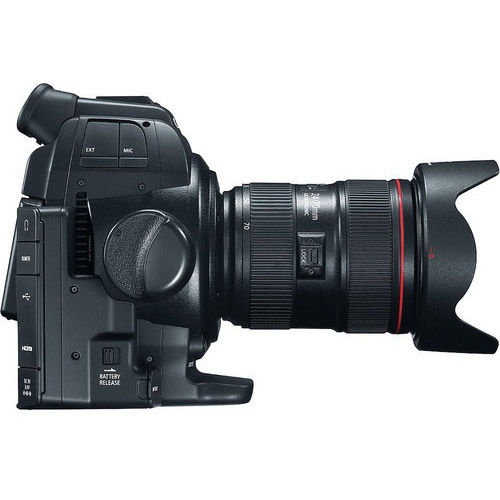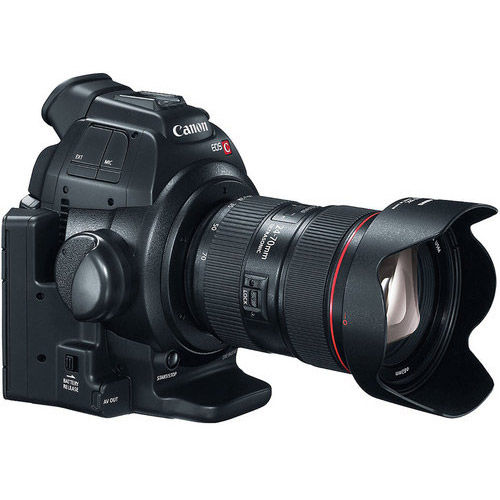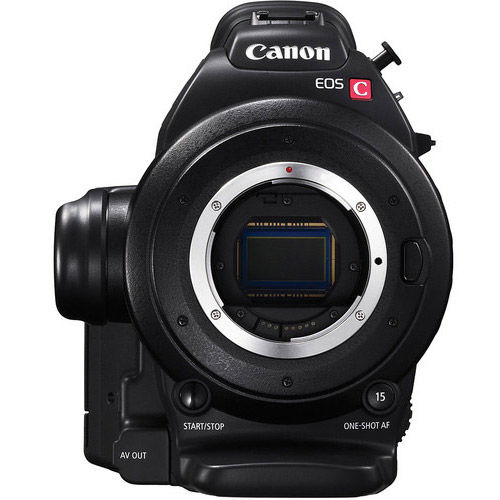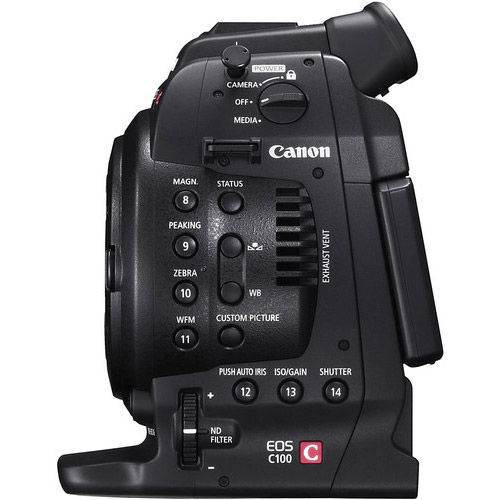 Webcode:

274206

• Mfr: 7428B002
Product Highlights
Super 35mm CMOS Sensor; DIGIC DV III Processor; Exceptional Low Light Sensitivity and Wide Dynamic Range; Log Gamma and Wide DR Gamma; Multiple Recording Modes and Frame Rates; Full Manual Control and Focusing Aids;
This item is unavailable
This page is here for your reference.
Please note: Includes Camera Body Only
Leave No Story Untold.
The Canon EOS C100 Digital Video Camera is the latest addition to the Cinema EOS family, bringing together the renowned technology of Canon CMOS sensors, DIGIC DV III Image Processor, and EF lens compatibility in a smaller, lighter body. Modular and compatible with a host of Canon and third-party accessories, the EOS C100 brings true cinema quality to independent event videographers and video production organizations.
The EOS C100 sports the Super 35mm Canon CMOS Sensor and Canon DIGIC DV III Image Processor of the C300 and records at 24Mbps using an AVCHD codec for easy integration in existing production workflows. Operability and customization make the EOS C100 an ideal camera for one-person operation while providing expanded professional capabilities such as HDMI output with embedded Time Code, support for external recorders, remote operation, and complete manual control over both video and audio recording. Pair the powerful and portable EOS C100 with the full range of Canon EF, EF-S and EF Cinema lenses, from fish-eye to macro to super telephoto, and make this expanded vista your new starting point on your cinematic adventure.
Key Features
New Canon Super 35mm CMOS Sensor
Canon DIGIC DV III Image Processor
Exceptional Low Light Sensitivity and Wide Dynamic Range
Canon Log Gamma and Wide DR Gamma
Multiple Recording Modes and Frame Rates
Full Manual Control and Focusing Aids
Compact and Ergonomic Design
One-Shot AF and Push Auto Iris
High Resolution EVF and Integrated LCD Display
Removeable Hand Grip with XLR Inputs and Built-in Stereo Microphone
AVCHD File Based Recording to SD Cards
HDMI Out with Time Code
Remote Terminal
Canon Super 35mm CMOS Sensor
The EOS C100 is equipped with the advanced 16:9 Super 35mm Canon CMOS sensor. The large sensor format opens up cinematic vistas and permits a shallow depth-of-field for arresting images. The 8.3 megapixel sensor and its fine pixel pitch permit greater sensitivity in low light while minimizing noise. The EOS C100 captures Red, Green, and Blue channels independently for Full HD 1920x1080 video. The resulting picture features the color and image quality of a three-chip camera with a single sensor. The optimized pixel count allows the camera to avoid additive processing as a result of skipping lines during capture; sensor sensitivity is maintained and aliasing or other degradation of the image is prevented.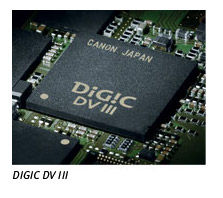 Canon DIGIC DV III Image Processor
Designed and built by Canon for the highest quality HD RGB processing, the DIGIC DV III Image Processor uses proprietary circuits and architecture to deliver exceptional image quality at the highest speeds, with low power consumption and minimal heat output. It processes the RGB image data—originating from the single CMOS sensor of the camera—into three channels (Red, Blue and Green) to maintain the rich resolution and clean color fidelity formerly possible only in three-chip sensor designs.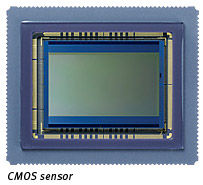 Exceptional Low Light Sensitivity and Wide Dynamic Range
The EOS C100 incorporates the first Canon CMOS sensor designed specifically for high frame rate motion pictures, offering not only high resolution and shallow depth-of-field but also high sensitivity with low noise. Working together, Canon's Super 35mm sensor and DIGIC DV III Image Processor achieve a remarkably high signal-to-noise ratio that enables recordings with great detail and dynamic range even in minimal light. Users will appreciate the new camera's 12 stops of dynamic range at all ISO speed settings from 320 to 20,000.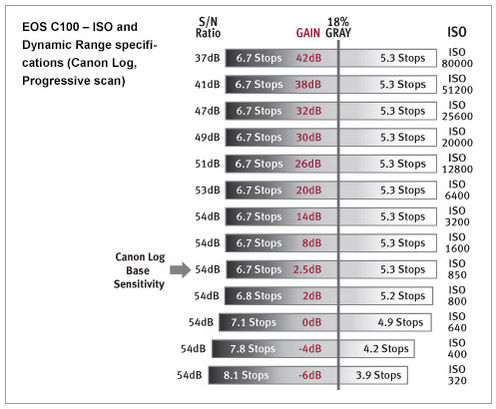 Canon Log Gamma and Wide DR Gamma
Canon Log Gamma preserves shadow and highlight detail for maximum editing and grading in post-production without degrading image quality; contrast and sharpness are subdued with characteristics similar to negative film. Canon Log Gamma emphasizes rich gradients from mid-range to highlights and realizes 12-stops of Dynamic Range (DR). At ISO850, Canon Log Gamma enables 5.3 stops of latitude above optimal exposure (and 6.7 stops below), broadening the available dynamic range in color grading.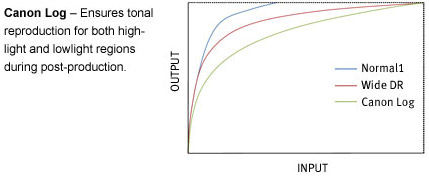 Wide DR Gamma is based on Rec. 709 and is optimized for monitor output or situations requiring less color grading in post-production. Wide DR Gamma exhibits high dynamic range, suppressing brightness while maintaining seamless gradations. A wide dynamic range of 800% preserves latitude for post-production work, but Wide DR Gamma is designed for perfect color "out-of-the-box."
Multiple Recording Modes and Frame Rates
The EOS C100 supports shooting AVCHD bit rates up to 24Mbps (LPCM) at a maximum resolution of Full HD, 1920x1080. Frame rates of 60i, PF30, PF24, 24p, 50i, and 25p are all available for any number of production workflows. In addition, the 60i frame rate offers reduced rolling shutter artifacts for cleaner, more realistic images. The EOS C100 supports relay recording of long takes between dual SD cards or can write video to both cards for redundancy in the event of SD card failure. Pre REC mode buffers approximately 3 seconds before the tally light activates, instilling confidence that you have captured your take as you planned it.
Full Manual Control and Focusing Aids
The EOS C100 offers complete manual control of each aspect of the recording process. Create and recall custom picture settings, camera functions, and display options. Built-in ND filters expand control over exposure, depth-of-field, and motion capture. Manual control of video and audio capture gives you the power to fully control what you capture.

The EOS C100 is equipped with several powerful and intuitive focusing aids in both the EVF and LCD monitor that make it easy to confirm critical focus distance; Peaking Modes and Magnify Focus Modes are available while in standby or while recording. The EOS C100 also features the Edge Monitor Display on the LCD Monitor; green waveforms display the overall focus of the scene and red waveforms provide focus feedback of the three focus check boxes visible on the LCD monitor.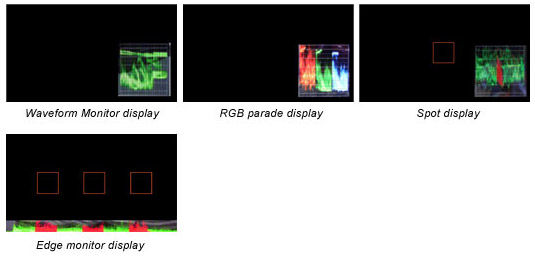 Compact and Ergonomic Design
The EOS C100 is designed with the single user in mind. It is 85% smaller than the Canon C300, 410 grams lighter, and it is based on a mobile core design that allows additional accessories to be attached depending on the situation. Strip the EOS C100 down for a "run-and-gun" style, or complement the camera with the full range of camera-mounted accessories. With a compact body, you can shoot dual-camera 3D without an outsized and cumbersome rig. Its light weight reduces user fatigue and allows even elaborate rigging systems to be mobile enough for a "crew of one." The removable accessory hand grip rotates 360 degrees for comfortable shooting positions, while customizable hardware buttons allow the EOS C100 to fit your own personal shooting preferences.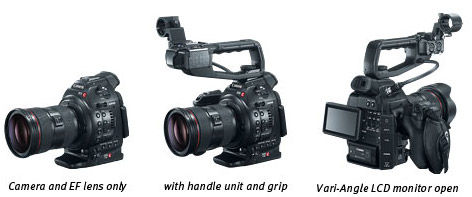 One-Shot AF and Push Auto Iris
One-Shot AF assists in focusing adjustment with a dedicated button. Focus status is confirmed on the viewfinder and monitor.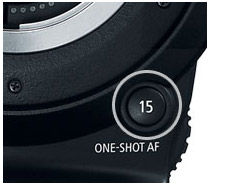 Push Auto Iris automatically adjusts the aperture of the lens to quickly and easily maintain proper exposure, even in situations where lighting changes frequently. Run-and-Gun videographers and documentary filmmakers will appreciate the ability to start rolling without a protracted routine to establish optimum exposure values.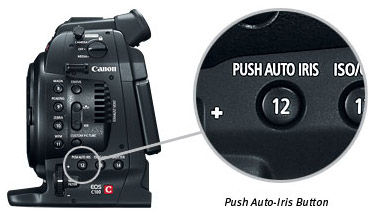 High Resolution EVF and Integrated LCD Display
Accurately assess focus, composition, and exposure with the 1.56 million dot-equivalent .24" Electronic Viewfinder with 100% coverage. The built-in 3.5-inch 920k dot LCD tilts 100 degrees for flexibility when composing tough perspective shots and rotates 180 degrees to protect the screen when not in use. Use the LCD display to review footage or to view the EOS C100's waveform monitor.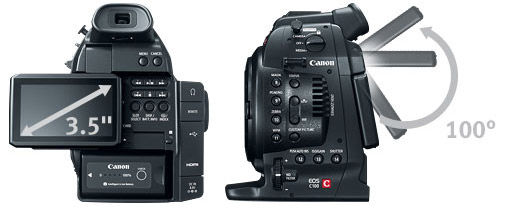 Removable Hand Grip with XLR Inputs and Built-in Stereo Microphone
The EOS C100 accepts a removable hand grip unit with built-in tally lights, stereo microphone, and dual XLR audio inputs for stereo recording. Audio is captured in 16-bit 48 kHz linear PCM format and each channel allows for independent gain adjustment. Attach a second microphone in the integrated mount, or power a wide range of audio capture devices with the dual XLR inputs with phantom power supply.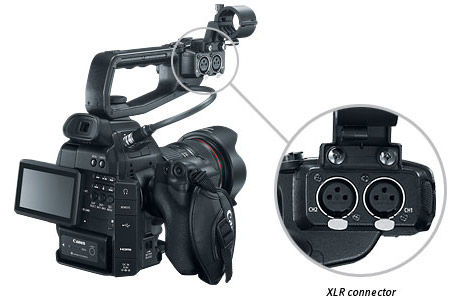 AVCHD File Based Recording to SD Cards
EOS C100 records video to SD cards using AVCHD, a high-efficiency codec that has quickly become the standard in both the professional and consumer video markets. Maximum bit-rate is 24Mbps. Video files greater than 2GB are split into multiple files while recording, which are automatically joined together upon import using Canon Data Import. AVCHD video is widely supported across NLE systems and is the standard codec for Blu-Ray. The EOS C100 supports a variety of output media.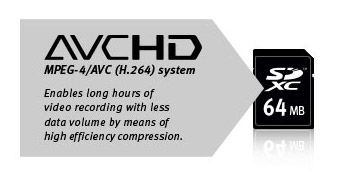 HDMI Out With Time Code
In addition to recording to SD cards, the EOS C100 can output video via HDMI to an external display for monitoring purposes or to a separate, dedicated recorder. Time Code is superimposed on data output via HDMI, making it easy to sync additional video or audio to your footage in post-production.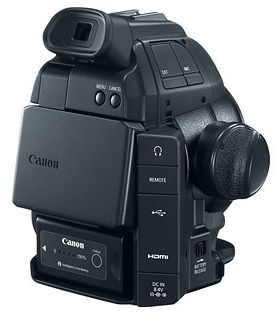 Remote Terminal
Remotely control the EOS C100 via its LANC-compatible remote terminal. Remote operation allows for single-person operation even in creative rigging situations.
New Upgrade offers Enhanced Autofocusing Capability
The upgrade provides a new Continuous AF (Autofocus) Function for all autofocus Lenses, using Dual Pixel CMOS AF technology. A new AF Lock setting also lets you change the image framing while holding the desired focus. These critical focusing capabilities are designed to help reduce out of focus video while providing for smooth focus transitions and assist users when operating with small crews.
How Does Dual Pixel CMOS AF Work?
The EOS C100 camera with Dual Pixel CMOS AF technology features a CMOS sensor that consists of an array of pixels that each feature two separate photodiodes. By continuously comparing their outputs during AF mode, phase-difference autofocus helps ensure non-blurred images and smooth focus transitions even when the talent and/or camera are moving. The new feature places a high priority on maintaining sharp focus while, providing a natural, smooth autofocus movement with select Canon EF lenses – including newer-generation STM lenses – which offer even smoother and quieter operation.
Dual Pixel CMOS AF Benefits
Fast, Smooth AF During Video Capture
A modified EOS C100 camera's set-up menu offers two options for "AF Mode" – One-Shot AF and Continuous Autofocus. The AF Lock function can optionally be set to one of the camera's assignable buttons. During shooting, you simply press this button to lock the focus preventing the camera from refocusing, and then press it again to re-enable continuous AF.

The Dual Pixel CMOS AF technology helps provide smooth and consistent autofocus, so that focus transitions are natural looking and that subjects can remain focused even as they move. The compatibility of Dual Pixel CMOS AF with Canon EF autofocus lenses combines outstanding optical tools with a wide range of creative options.

By using the Contrast AF system to supplement the EOS C100 camera's new Dual Pixel CMOS AF the camera can determine which direction to initially drive the lens helping to result in reduced focused hunting.
Faster One-Shot AF Mode
The combination of Contrast AF and Dual Pixel CMOS AF helps ensure that the EOS C100 camera's autofocus system initially drives the lens in the correct direction resulting in faster focus up acquisition. The upgraded EOS C100 camera will focus twice as fast as an unmodified camera, with a more natural look with no focus overshooting. Because the current One-Shot AF mode uses only Contrast AF, movements can sometimes be jerky with overshoot errors.
What's Included
EOS C100 DAF Body
Handle unit
Battery Pack BP-955 (also available as optional accessory)
Battery Charger CG-930
Compact Power Adapter CA-930 (also available as optional accessory)
Thumb rest
Tripod base
AC Cable
DC Cable (for CA-930)
Shoulder Strap SS-1200
Data Import Utility Ver. 1.0
Limited Warranty
Product Specifications
Detailed Specifications

Image Sensor

Sensor Type: CMOS sensor (single-panel) equivalent to Super 35mm
Sensor Size: 24.6 x 13.8 (28.2 mm diagonal); 6.4 ?m cell pitch
Scanning System: Progressive
Number of Sensors: 1
Filter: RGB Primary Color Filter (Bayer Array)
Imaging Processor: DIGIC DV III

Effective Pixels

Approx. 8.29 megapixels (3840 x 2160)

Total Pixels

Approx. 9.84 megapixels (4206 x 2340)

Recording/Codec

Signal System: NTSC and PAL
Compression: MPEG-4 AVC/H.264
Color Space: 4:2:0
Maximum Bit Rate: 24Mbps
Canon Log Gamma: Available
File Format: AVCHD

Recording Options

Mode

Resolution

Frame Rate

24 Mbps LPCM

1920 x1080

60i/PF30/PF24/24p
50i/PF25

24 Mbps

1920 x1080

60i/PF30/PF24/24p
50i/PF25

17 Mbps

1920 x1080

60i/PF30/PF24/24p
50i/PF25

7 Mbps

1440 x1080

60i/PF30/PF24/24p
50i/PF25

Max. Movie Recording Time

(1) Recording media: SD/SDHC/SDXC card
(2) Number of slots: 2
Note: Movie and photo recording is enabled. Also, custom pictures (20 files) and settings of data such as menus can be recorded.
Recording media operation results: A list of cards that can be used for recording will be provided separately.
Clips of 59.94 Hz and 50.00 Hz modes cannot be stored together on a single media device.
The maximum continuous recording time is 12 hours. When this time has elapsed, recording will stop automatically. When continuous recording is performed, data is divided up in 2 GB files. When 50 files are recorded for 1 clip, recording will stop automatically.

Recording bit rate (Variable Bit Rate)

1920 x 1080 recording

1440 x 1080 recording

Memory capacity

24 Mbps (*1)

17 Mbps

7 Mbps

2GB

10 minutes

15 minutes

35 minutes

4GB

20 minutes

30 minutes

1 hour 10 minutes

6GB

30 minutes

45 minutes

1 hour 45 minutes

8GB

40 minutes

1 hour 00 minutes

2 hours 20 minutes

12GB

1 hour 5 minutes

1 hour 30 minutes

3 hours 35 minutes

16GB

1 hour 25 minutes

2 hours 05 minutes

4 hours 45 minutes

32GB

2 hours 55 minutes

4 hours 10 minutes

9 hours 35 minutes

64GB

5 hours 55 minutes

8 hours 20 minutes

19 hours 10 minutes

(*1) Same for 24 Mbps LPCM recording.
Note: If recording is performed continuously for 12 hours, recording will stop automatically. The recording will not be started automatically.

Audio

24 Mbps Mode: Linear PCM; 2-Channel; 16-Bit; 48 kHz
All Other Modes: Dolby Digital AC3
Built-in Microphone: L/R
External Audio Inputs: 2 - XLR inputs (Auto and Manual level settings)
External microphone terminal: (3.5 mm diameter)
Recording Channel Selection:
This is used to set the allocation of the audio channels:
CH1/CH2: The CH1 signals are allocated to the L output channel, and the CH2 signals are allocated to the R output channel.
CH1/CH1: The CH1 signals are allocated to the L output channel, and the CH1 signals are allocated to the R output channel.
CH2/CH2: The CH2 signals are allocated to the L output channel, and the CH2 signals are allocated to the R output channel.
ALL CH/ALL CH: Signals obtained by mixing the CH1 and CH2 signals are allocated to the L and R output channels.
XLR Mic Trimming: Available; -12dB, -6 dB, 0dB, +6dB or +12 dB
Recording Level Adjustment Range: - Infinity to +18dB
Phantom Power: Available; +48V
Headphone Adjustment: 16 Settings; Volume is muted at lowest setting
1KHz Tone: Available: Available; -12, -18, or -20 dB

Lens

Interchangeable: EF mount for compatibility EF, EF-S and EOS Cinema lens systems (non-PL).

Focusing System

Manual; One-Shot AF
Autofocus system is available; AF is dependent on interchangeable lenses

Max. Shutter Speed

1/2000 sec.

ISO Range

320 to 20,000 in 1-step and 1/3-step increments

ND Filter Settings

Mechanical ND filter system with option of clear, 2, 4, and 6 stops

White Balance

AWB, Kelvin setting (setting range: 2000K to 15000K), daylight, tungsten, set A, set B

Frame Rate

NTSC: 60i, 30p, 24p
PAL: 50i, 25p

Minimum Illumination

59.94 Hz: 0.3 lux
50 Hz: 0.25 lux

Illumination Correction

Available

Genlock Terminal

N/A

HD/SD-SDI Terminal

N/A

Timecode Terminals

N/A

Viewfinder

0.24-inch (0.61 cm diagonal) color wide-screen LCD with 16:9 aspect ratio
Equivalent to approx. 1.555 million dots (960 x RGB x 540), 100% field of view ratio

LCD Screen (Monitor Unit)

3.5-inch (8.8 cm diagonal) color wide-screen LCD with 16:9 aspect ratio
Equivalent to approx. 922,000 dots (640 x RGB x 480), 100% field of view ratio

Microphone

Stereo (electret condenser microphone)

Recording Media

SD Card x2 (Video, Still Images (JPEG), Custom Picture Data*, Clip
Metadata, and menu settings); SD/SDHC/SDXC Supported; MMC Cards are not supported

*Custom Picture Data and settings is not compatible with data from others Canon models

USB Terminal

mini-B, Hi-Speed USB

Video Terminal

3.5 mm 4-pole mini jack out only

Audio Terminal

2 - Balanced 3-pin XLR (Mic Level, Mic Level with phantom power and Line Level) in Handle unit

HDMI Terminal

Yes (Type A) Time code can be superimposed

AV Mini-terminal/Headphone Terminal

3.5mm stereo mini-jack

WFT Terminal

N/A

Power Supply (rated)

7.4 V DC (battery pack: BP-955), 8.4 V DC (DC IN)

Operating Temperature Range

Performance requirements: 0°C to 40°C, 85% (relative humidity)
Operating requirements: 0°C to 45°C, 60% (relative humidity)

Dimensions (W x H x D)

C100 (Body plus Thumb Rest):
Approx. 5.3 x 6.7 x 5.1 in (135 x 170 x 129 mm)

C100 (Body plus Grip):
Approx. 7.2 x 6.7 x 5.1 in (182 x 170 x 129 mm)

C100 (Body plus Thumb Rest plus handle):
Approx. 5.6 x 11.1 x 9.3 in (142 x 281 x 236 mm)

C100 (Body plus Grip plus handle):
Approx. 7.2 x 11.1 x 9.3 in (182 x 281 x 236 mm)

Weight

Main Unit:
C100 Body: Approx. TBA lb. / TBA g

Grip: Approx. 8.1 oz. / 230 g
Handle Unit: Approx. TBA oz. / TBA g
BP-955 Battery: 7.8 oz / 220g
SD Cards x 2: 0.14 oz / 4g
Canon EOS C100 DAF
Looking for a personal touch? Not sure if you are choosing the right product? Our staff is here to help.
We want to make sure you get the right product for your needs.
Our staff will help you understand the options available so you can be confident in your purchase.
As the country's leading Professional Imaging retailer, Vistek is in the perfect position to ensure you make the right choice.
Contact us today for a personal touch.