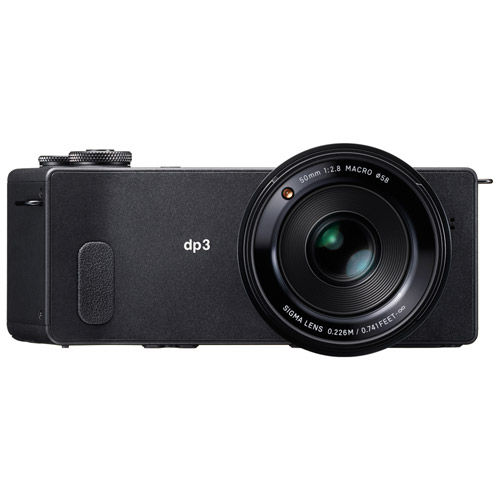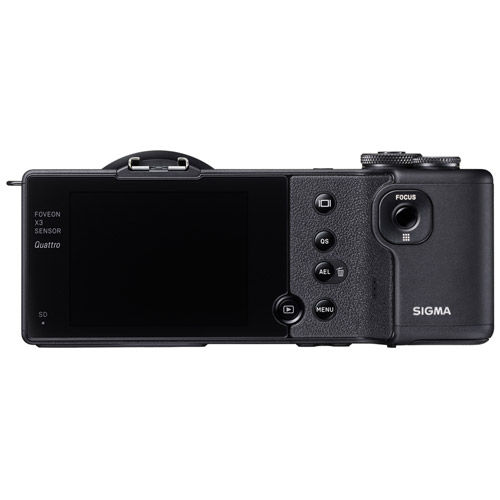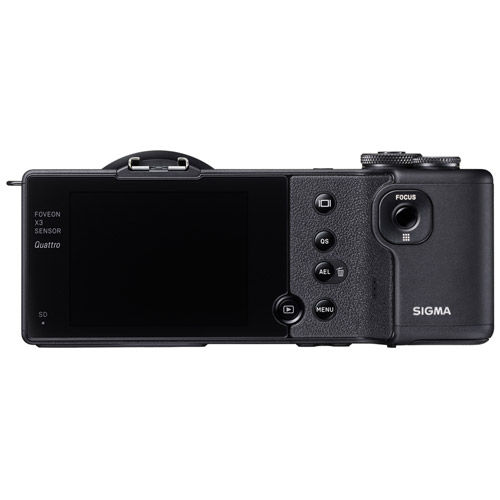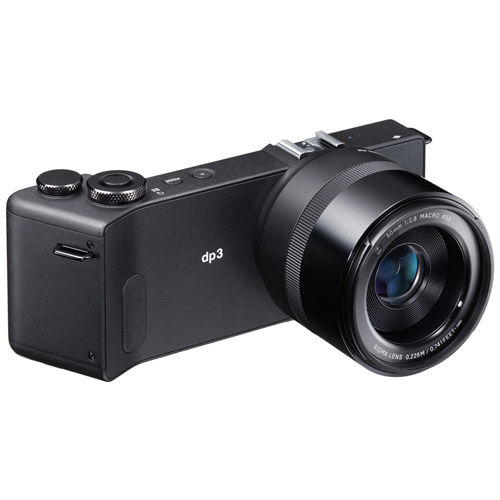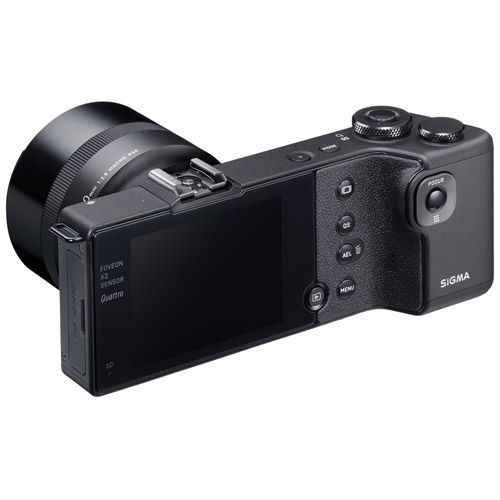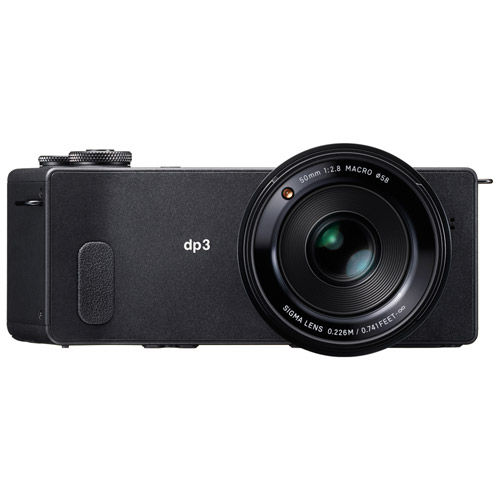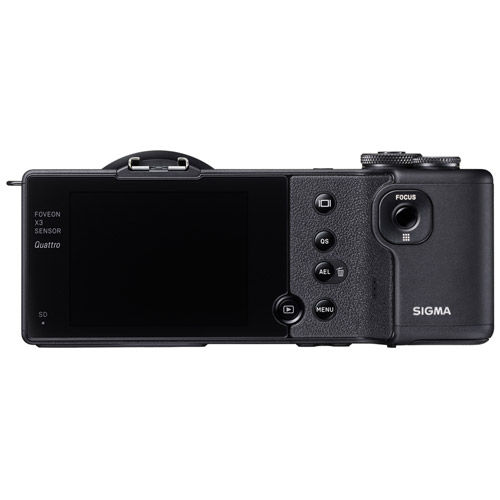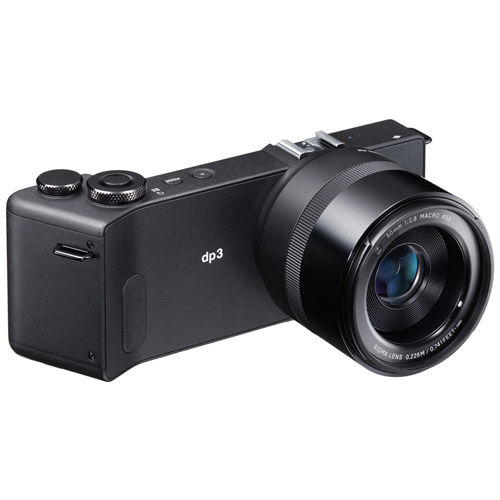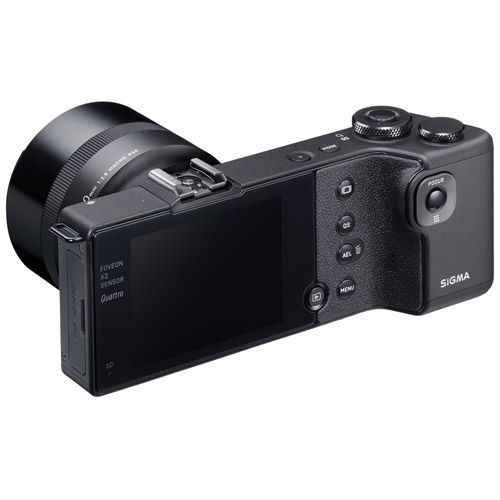 Product Highlights
29 MP

Foveon X3 CMOS Sensor

ISO 100-6400

Sensitivity

5424 x 3616

Max Resolution

16 x 6.6 x 10 cm (6.4 x 2.6 x 4")

Dimensions

Magnesium

Material Construction

0.465 kg (1.02 lbs)

Weight
Web Availability:
Special Order
This product will be Special Ordered just for you from the manufacturer. We do not stock this item due to its uniqueness or import schedule. Special Order items are Final Sale, see our Return Policy for details.
Vistek Locations
Toronto Special Order
Ottawa Special Order
Mississauga Special Order
Calgary Special Order
Edmonton Special Order
Please call and verify availability at the store as stock changes daily.
The world's only image capture system to use vertical colour separation technology.
Leveraging the light absorption characteristics of silicon, the sensor comprises three layers of photodiodes, each at a different depth within the silicon and each corresponding to a different RGB color. Since it is the only sensor to use this superior vertical color separation technology, it is also the world's only direct image sensor. The Foveon direct image sensor captures color vertically, recording hue, value, and chroma accurately and completely for each pixel, enabling the expression of rich gradation and tone. Moreover, there is no low-pass filter needed to correct the interference caused by a color filter array, unlike the data from other sensors, which requires artificial interpolation to "fill in" missing colors. The data from the Foveon direct image sensor is complete with light and color information for every single pixel.
Features
Manual Focus
Manual Focus is available for use when autofocus or focus lock is not desired. It is possible to use the focus ring for focusing just like an SLR camera. It is also possible to magnify the display to ensure precise focusing.
14-bit RAW data
RAW data records information of light captured by the Quattro sensor. 14-bit (16384 tones) signal processing is incorporated when the analog output signal is transformed to a digital signal, achieving photography data with excellent tones and smooth gradation of subjects. RAW data incorporates lossless compression that prevents data from degradation. By processing images using SIGMA Photo Pro, it is possible to create images with natural balance like no other.
Newly developed Foveon X3 Quattro direct image sensor
The SIGMA dp3 Quattro incorporates a newly developed Foveon X3 direct image sensor (generation name: "Quattro"). The new sensor structure features a pixel ratio of 1:1:4 from the bottom, middle to top layer. The Foveon X3 Quattro direct image sensor is able to detect a broad range of light wavelengths. While the top layer captures both brightness and color information, the middle and bottom layers with their larger surface area capture color information only. During the image data processing stage, the brightness data captured in the top layer is applied to the top, middle, and bottom layers, resulting in brightness and color data for each individual pixel. Retaining the principle of the three-layer structure where colors are divided vertically, by applying the brightness data captured in the top layer to the layers below, high resolution and high-speed for broad data processing required are achieved.
RAW processing inside the camera body
RAW data (X3F file) taken with the SIGMA dp3 Quattro can be processed and saved as a JPEG inside the camera body without using a PC. Exposure correction, white balance, color mode and aspect ratio can be adjusted by checking them on the LCD monitor.
SUPER HIGH size with 39 megapixel high resolution
The SIGMA dp3 Quattro has High size and Low size to select from depending on the purpose of the photography. High size gets the best performance out of the image sensor both with RAW data and JPEG and Low size focuses more on the number of images that can be recorded. With both of the sizes, simultaneous recording of RAW and JPEG is possible. Moreover, for JPEG recording, SUPER HIGH, suitable for larger prints, or SUPER LOW, suitable for SNS uploads, can also be selected to accommodate photographers' various needs.
Equivalent to 39 megapixel high resolution
A conventional color sensor captures resolution information through green megapixels, which means the information it can contain is only 50% of the whole pixels. On the other hand, the new Quattro sensor captures resolution information with the whole top layer. It holds twice as much resolution compared to conventional color sensors. 19.6 megapixel resolution information of the top layer achieves high resolution equivalent to 39 megapixels.
Capable of 7 frames continuous shooting
A large volume buffer memory enables the camera to capture up to 7 RAW images per sequence in continuous shooting mode in High size. Using high speed data transfer and processing, the SIGMA dp3 Quattro features a continuous shooting speed of up to 3.7 frames per second. In addition, depending on the situation, it is possible to capture up to 4.5 frames per second and up to 12 images per sequence in continuous shooting mode in Low size.
Aspect Ratio
The aspect ratio of 3:2 is set as standard however 6 different aspect ratios are available including 1:1, 21:9, similar to those of wide screens used in cinemas, as well as 7:6, similar to those of 6x7 cameras, depending on your photography needs. Images recorded as RAW format can be changed to different ratios in SIGMA Photo Pro.
TRUE III image processing engine
The new dp series cameras feature the newly developed TRUE (Three-layer Responsive Ultimate Engine) III. This image processing engine has evolved in pace with our Foveon direct image sensor and incorporates all of the image processing expertise we have developed over the years. Thanks to new refinements, it is the ideal engine for processing the rich and complex image data produced by the new-generation Foveon X3 Quattro direct image sensor. Our proprietary algorithm makes possible ultrafast processing of an immense volume of image data without any deterioration of the final images. The result is high-definition, 3D-like photographs with outstandingly rich color detail.
Electric Level
An electric level that is useful in determining composition can be displayed. The camera's horizontal and vertical directions are displayed while shooting.
10 White Balance options
In addition to the Auto (Default) option that allows the camera to automatically determine the appropriate white balance adjustments, Auto (Lighting Source Priority) option is incorporated. This option allows the camera to adjust white balance while valuing the color and atmosphere of light source. 10 options are available and it is also possible to adjust white balance based on the image incorporated, and to set the amount of color temperature (Kelvin). Moreover, each white balance mode can be fine-tuned, enabling detailed correction of white balance and creative work with a filter effect.
High performance 50mm F2.8 lens
The lens incorporates a Special Low Dispersion (SLD) glass element and a glass mold aspherical lens to minimize every type of optical aberration. The superior telecentric optical design improves image quality throughout the frame and maximizes the sensor's ability by passing on information about subjects to the sensor. The lens has a minimum focusing distance of 22.6cm (8.9") and a maximum magnification ratio of 1:3, which can offer quality macro shooting.
More preset Colour Mode options
Colour Mode can adjust rendering and contrast to best suit each photography scene. With the SIGMA dp3 Quattro, 4 preset Color Modes are added including "Cinema", which reduces saturation and emphasizes shadows to recreate an image like in a cinema and "Sunset Red" which emphasizes red colour rendering, and expresses the scenes, such as sunsets, more impressively. True artistic expression has become easier than ever.
Monochrome options
With Filtering Effect contrast can be changed as if the images are taken using a color filter for black and white photography, and with Toning Effect color tones can be adjusted according to preferences such as WARM, COLD and SEPIA, so that photographers can create more impressive image of subjects.
Magnesium Body
A solid and lightweight magnesium alloy is incorporated in the exterior. With rigidity and strength, the body is highly reliable and superior as a tool for photography.
Overexposure Correction
Blown-out highlights caused by overexposure can be corrected, based on the gradation information obtained through the arrangement of pixels on the sensor, to minimize loss of detail. In addition, by utilizing that gradation information, it is possible to expand the dynamic range while processing RAW files.
Quick Set Menu
The Quick Set (QS) Menu which consists of the 8 most commonly used functions such as ISO and White Balance can be easily displayed by pressing the QS button. Using the Selector, the Front Dial and the Rear Dial, change of the settings can be made in no time. It allows photographers to change the menu content and the order depending on their preferences.
ISO Sensitivity can be set by 1/3 Step
ISO sensitivity can be set from ISO 100 to ISO 6400. By setting the range to 1/3 EV steps from the default 1 EV steps, it is possible to set the sensitivity to ISO 125 or ISO 160. ISO AUTO, where the camera automatically sets the ISO sensitivity according to brightness of the shooting environment, enables you to set the upper limit and lower limit depending on your shooting style.
Auto Focus
The SIGMA dp3 Quattro features a "9 point select mode" which can select the desired focusing point from 9 different frames and "Free move mode" which can move the desired point as you like. "Face Detection AF" prioritizes focus on the face of the subject when detected by the sensor. Moreover "AF Limit Mode" which adjusts the range of auto focusing and "Speed Priority AF" which offers faster focus adjustment by stopping the live view can be selected to increase the speed of the auto focusing. By selecting "AF+MF mode", the focus can be adjusted manually after verifying the AF by rotating the focus ring. The SIGMA dp3 Quattro has an AF auxiliary light inside, which enables auto focus shooting in a low light environment.
Exclusive Sigma Photo Pro software
SIGMA Photo Pro software makes possible to process RAW data instinctively. With an easy operation like moving sliders left and right while looking at the photographed image, your desired expression can be achieved. By changing modes, this software helps produce the stunning tones and gradation for which the Foveon X3 Quattro sensor is famed. In addition, the software also makes possible monochrome photographs of impressive depth.
Large, highly visible 3.0" TFT colour LCD Monitor
The SIGMA dp3 Quattro features a 3.0 inch TFT colour monitor which ensures great visibility even outside in the daytime. This approximately 920,000 pixel resolution LCD monitor benefits from a wide viewing angle, making it easy to capture detail and to check focusing and composition.
SD card
The SIGMA dp3 Quattro adopts the SD Card (SD, SDHC, SDXC compatible) which is compact and easy to carry. Moreover, since it is compatible with SDHC and SDXC's UHS-I standard, large volume data can also be recorded with high speed.
Hot Shoe
The SIGMA dp3 Quattro is equipped with a hot shoe, allowing use of the dedicated external flashgun EF-140S (optional) as well as SIGMA electronic flashguns for SD series such as EF-610 DG Super (optional) and EF-610 DG ST (optional).
Dedicated lens hood
The dedicated bayonet lens hood LH4-01 (optional) can be attached to block out extraneous light. Moreover, the extension hood can also be added to ensure an even greater shading effect.
Copyright information can be attached
"Photographer" and "Copyright" information can be saved in the Exif data when shooting. Respectively, it is possible to enter up to 48 single-byte characters and symbols each in "Photographer" and "Copyright". The attached information can be checked on the Copyright Information screen and in the "Image Information Window" in SIGMA Photo Pro and other software compatible with Exif data.
What's Included
Sigma dp3 Quattro Digital Camera
2 x BP-51 Lithium-Ion Battery Pack (7.2V, 1200mAh)
BC-51 Battery Charger
Battery Charger Cable
Strap
Lens Cap
Hot Shoe Cover
USB Cable
Product Specifications
Image Sensor
Foveon X3 Direct Image Sensor (CMOS)
Image Sensor Size
23.5×15.7mm
Color Photo Detectors
Total Pixels: Approx.33MP
Effective Pixels: Approx.29MP T (Top):5,424×3,616 / M (Middle):2,712×1,808 / B (Bottom):2,712×1,808
File Size

RAW
HIGH
T:5,424×3,616 / M:2,712×1,808 / B:2,712×1,808
LOW
T:2,704×1,808 / M:2,704×1,808 / B:2,704×1,808
JPEG
[21:9]
SUPER-HIGH
7,680×3,296
HIGH
5,424×2,328
LOW
2,704×1,160
S-LO
1,920×816
[16:9]
SUPER-HIGH
7,680×4,320
HIGH
5,424×3,048
LOW
2,704×1,520
S-LO
1,920×1,080
[3:2]
SUPER-HIGH
7,680×5,120
HIGH
5,424×3,616
LOW
2,704×1,808
S-LO
1,920×1,280
[4:3]
SUPER-HIGH
6,816×5,120
HIGH
4,816×3,616
LOW
2,400×1,808
S-LO
1,696×1,280
[7:6]
SUPER-HIGH
6,352×5,120
HIGH
4,480×3,616
LOW
2,224×1,808
S-LO
1,584×1,280
[1:1]
SUPER-HIGH
5,120×5,120
HIGH
3,616×3,616
LOW
1,808×1,808
S-LO
1,280×1,280

Aspect Ratio
21:9, 16:9, 3:2, 4:3, 7:6, 1:1
Focal Length
50mm
35mm Equivalent Focal Length
Approx.75mm
Lens F number
F2.8~F16
Number of Diaphragm Blades
7 Blades
Lens Construction
10 Elements in 8 Groups
Shooting Range
22.6cm~∞, LIMIT Mode (It is possible to choose Macro, Portrait and Scenery.)
Maximum Magnification Shooting
1:3
Storage Media
SD Card, SDHC Card, SDXC Card
File Format
Lossless compression RAW data (14-bit), JPEG (Exif2.3), RAW+JPEG
JPEG Image Quality
FINE?NORMAL?BASIC
ISO Sensitivity
ISO100~ISO6400 (1/3 steps for appropriate sensitivity), AUTO: High limit, low limit setting is possible between ISO100~ISO6400. When using with flash, it changes depending on the low limit setting.
White Balance
10 types (Auto, Auto (Lighting Source Priority), Daylight, Shade, Overcast, Incandescent, Fluorescent, Color Temperature, Flash, Custom)
Color Mode
11 types (Standard, Vivid, Neutral, Portrait, Landscape, Cinema, Sunset Red, Forest Green, FOV Classic Blue, FOV Classic Yellow, Monochrome)
Auto Focus Type
Contrast Detection Type
AF Point
9 points select mode, Free move mode (It is possible to change the size of Focus Frame to Spot, Regular and Large.) Face Detection AF mode
Focus Lock
Shutter release halfway-down position (AF lock can be done by AE lock button from menu setting)
Manual Focus
Focus Ring Type
Metering Systems
Evaluative Metering, Center-Weighted Average Metering, Spot Metering
Exposure Control System
(P) Program AE (Program Shift is possible), (S) Shutter Speed Priority AE, (A) Aperture Priority AE, (M) Manual
Exposure Compensation
±3EV (1/3 stop increments)
AE Lock
AE lock button
Auto Bracketing
Appropriate, under, over; 1/3EV steps up to ±3EV for appropriate exposure
Shutter Speed
1/2000* - 30sec. (*Depending on the aperture value, shutter speed changes)
Drive Modes
Single, Continuous, Self Timer (2sec. /10sec.) Interval timer
LCD Monitor Type
TFT color LCD monitor
Monitor Size
3.0 inches
LCD Pixels
Approx. 920,000 Pixels
LCD Monitor Language
English/ Japanese/ German/ French/ Spanish/Italian/ Chinese (Simplified)/ Chinese (Traditional)/ Korean/ Russian/ Nederlands/ Polski/ Português/ Dansk/ Svenska/ Norsk/ Suomi
Interfaces
USB / Cable Release Switch
Power
Li-ion Battery Pack BP-51, Battery Charger BC-51, AC Adapter SAC-6 (with DC Connector CN-21) (Optional)
Battery Life
Approx. 200 (+25?)
Dimensions
161.4mm/6.4"(W), 67mm/2.6"(H), 101.8mm/4.0 "(D)
Weight
465g/ 16.4 oz. (without battery and memory card)
Accessories
Lens Cap (on the camera) / Hot shoe cover (on the camera) / Strap / Li-ion Battery BP-51 (2 pieces) / Battery Charger BC-51 / Battery Charger Cable / USB Cable / Instruction Manual
Sigma DP3 Quattro w/ 50mm f/2.8 Lens
Looking for a personal touch? Not sure if you are choosing the right product? Our staff is here to help.
We want to make sure you get the right product for your needs.
Our staff will help you understand the options available so you can be confident in your purchase.
As the country's leading Professional Imaging retailer, Vistek is in the perfect position to ensure you make the right choice.
Contact us today for a personal touch.