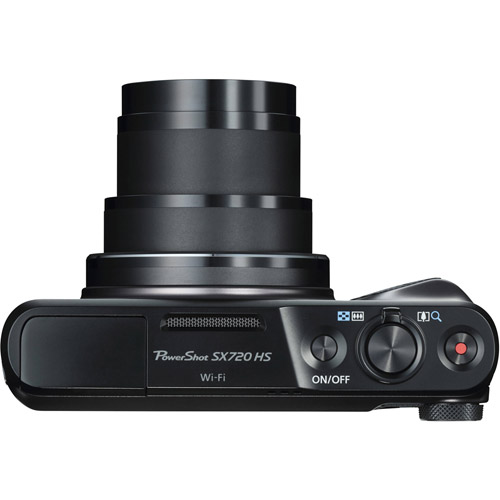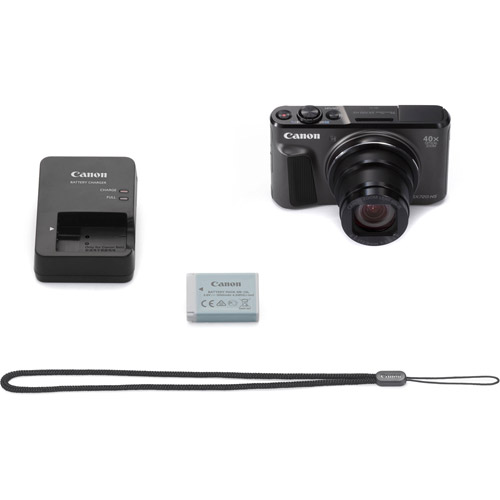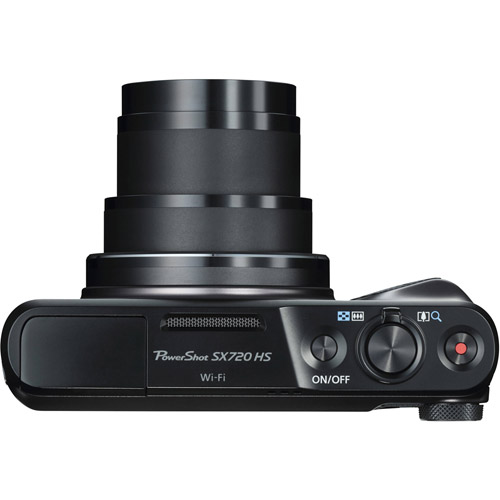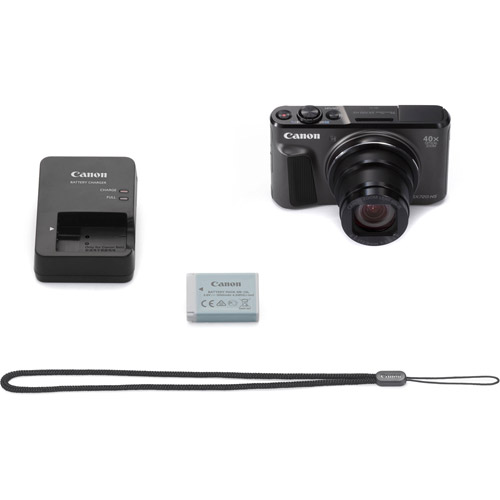 Webcode:

403405

• Mfr: 1070C016
Product Highlights
Versatile 40x Optical Zoom (24-960mm) means you can capture close-up portraits of your family, landmarks in the distance and virtually everything in between.
This item is unavailble
This page is here for your reference.
Canon PowerShot SX720 HS
Long Zoom Camera
Family vacations, parties, and special moments - the PowerShot SX720 HS camera is ready for it all.
Its fantastically versatile 40x Optical Zoom (24-960mm) means you can capture close-up portraits of your family, landmarks in the distance and virtually everything in between. While you're away, keep those at home updated on your travels by sharing your shots with the PowerShot SX720 HS's built-in Wi-Fi®* and NFC** connectivity. Your memories are precious, so whether you're snapping a picture of the sunset, capturing fun outings with friends or shooting a home movie to treasure for a lifetime, a 20.3 Megapixel CMOS sensor and the DIGIC 6 Image Processor combine to bring you stunning images and spectacular 1080p Full HD video. At the end of each day, you can enjoy your Story Highlights as the PowerShot SX720 HS automatically compiles your images and video into a mini highlight reel complete with music and effects. All these features and more are beautifully packaged in a slim design, resulting in a camera ideal for travelers, families and anyone who wants to capture the important moments in life.
Optimize image stabilization for virtually shake-free images.
40x Optical Zoom (24–960mm)

With the PowerShot SX720 HS camera in hand, you'll be impressed at the zooming capabilities of this slim, compact digital camera. The amazing 40x Optical Zoom lens is newly designed, packing high zoom power into a slim design to get you down on the field, high atop a skyscraper, deep into a landscape and much more. The camera's advanced technology helps ensure that images and videos are captured in outstanding quality, with Intelligent IS that chooses the stabilization method that matches the shooting conditions, so images are virtually shake-free in a wide variety of situations.
Intelligent IS

Intelligent IS analyzes camera movement and applies a suitable shake correction method for the shooting situation. For stills, the system selects from Normal IS, Panning IS, Macro (Hybrid) IS and Tripod modes. When shooting video, the system selects from Dynamic IS, Powered IS, Macro (Hybrid) IS and Active Tripod IS modes. With Intelligent IS, you can concentrate on image capture, letting the camera make effective IS settings to help capture a steady image.
Deliver outstanding image quality even in low light.
20.3 Megapixel High-Sensitivity CMOS Sensor
The PowerShot SX720 HS camera employs a 20.3 Megapixel* High-Sensitivity CMOS sensor, which delivers powerful imaging performance and is optimized for use in compact cameras. Utilizing a sophisticated light-capturing design, it provides high sensitivity for high ISO capture with reduced noise. It's also incredibly fast, capable of rapidly capturing and moving image data to the processor, as well as enabling fast continuous shooting and fast autofocus.
DIGIC 6 Image Processor
The PowerShot SX720 HS camera is equipped with the DIGIC 6 Image Processor, which helps boost image quality in both stills and video. Improved light sensitivity allows for higher resolution with less noise when shooting in dark conditions, and Dynamic IS detects and compensates for tilt and parallel movement (shift blur) to help create video that's virtually free of distortion. The processor also enhances the performance capabilities of the PowerShot SX720 HS camera, enabling high-speed, high-quality continuous still image shooting at up to 5.9 frames per second. And video recording is impressive as ever, as the DIGIC 6 Image Processor enables Full HD at 60p, as well as MP4 recording. Highly compressed MP4 video not only preserves space on your memory card but also improves playback on compatible mobile devices. Plus, with MF Peaking, made possible thanks to the DIGIC 6 Image Processor, you'll have a pro-level focusing tool at your disposal.
Easy sharing and transferring of images and videos.
Built-in Wi-Fi® Technology Makes Sharing Quick and Easy

Built-in Wi-Fi® technology allows for on-the-go convenience when you want to share your photos and videos with friends and family. Easily post your images to select social networking and media sites – Facebook®, Twitter®, YouTube™, Flickr®, and Google Drive™ – through CANON iMAGE GATEWAY* directly from your PowerShot SX720 HS camera, or save them to the online photo album to share anytime, anywhere. The camera can also connect directly to both compatible iOS® and Android™ devices**, and upload images via the free Canon Camera Connect app** without a computer. You can control the destination of your uploads to share with everyone or to select groups, and even add comments. Sharing video is also easy with Wi-Fi® equipped PowerShot cameras, which record video using the easy-to-share MP4 format. Wi-Fi® capability makes posting in real time possible, so you can keep everyone up to date with photos and video even as events unfold. Wi-Fi® technology also allows you to transfer images to other Wi-Fi® equipped PowerShot cameras or print your photos directly to a PictBridge (Wireless LAN) certified printer. Thanks to the newly added Wi-Fi Button, you can now connect in both Shooting mode and Playback mode for quick and easy operation. You can even turn on the camera and connect at the same time with just one press of the button, helping you get right to sharing and managing your files when you like.
Built-in NFC (Near Field Communication) Technology

PowerShot digital cameras with built-in NFC (Near Field Communication) technology provide fast connectivity with a single tap. Simply touch the NFC icon on your camera to your compatible Android™ device***, and the Camera Connect app will launch automatically for quick, easy sharing of your images. Built-in NFC technology also makes it simpler to install the app. If the app hasn't been installed yet, once you touch the devices together for the first time, the download screen will display automatically. Simply touch the camera against an NFC-equipped device with the Canon Camera Connect app** installed, and a Wi-Fi® connection is established – no camera operations required. Even if your camera is off, NFC turns the camera on and establishes the connection (confirming the camera's nickname and privacy settings before the first connection is required).
Image Sync Function

In addition to wirelessly transferring photos and videos through CANON iMAGE GATEWAY* to your computer, you can now view and download them from your compatible smartphone.**** Take them where you like, when you like, and use your familiar smartphone operations to view and share them.
Remote Shooting with the Camera Connect App

With the built-in Wi-Fi® on the PowerShot SX720 HS camera, you can use your compatible smartphone or tablet** to remotely control the camera. Simply connect wirelessly to your device and access the free Canon Camera Connect app**. Your device will show a live image of the camera's capture – ideal for a commemorative group photo, wildlife shots and all kinds of situations. The camera's versatile 40x Optical Zoom, flash, self-timer and shutter are all under your control, with images being saved to your camera as usual.
Capture spectacular 1080p Full HD video at 60p with stereo sound.
The PowerShot SX720 HS camera is designed to make beautiful, creative video capture easy and fun. Image quality is luminous and lifelike in 1080p Full HD, with selectable frame rates of 60p, 30p and 24p to match the situation and end use. MP4 format, ideal for sharing and playing on mobile devices, is also available. Dynamic IS offers 5-axis image stabilization that can correct strong camera shake that can occur when you shoot while running or walking backward.
Large 3.0-inch LCD
Easy viewing even from a wide angle
The large, 3.0-inch high-resolution LCD screen makes it easy to both frame and review your shots. A resolution of approximately 922,000 dots helps make even small details clear, and images are viewable even from a wide angle, so showing others what you've captured is easy, too.
Zoom Framing Assist
With its 40x Optical Zoom lens, the PowerShot SX720 HS camera has the telephoto reach to capture subjects a long distance away. At maximum telephoto, however, it can be challenging to track a moving subject. The Zoom Framing Assist seek function makes it much easier to use the camera's powerful zoom lens. When you press and hold the Zoom Framing Assist button, the camera will automatically zoom out to include a wider angle of view, enabling you to easily locate your moving subject. Once you find it, releasing the button will cause the lens to return to its original zoom position, intelligently keeping the subject in focus until you're ready to shoot and capture the perfect close-up moment. You can even make zoom adjustments while the button is pressed, with an animated assist frame that makes viewing easy. When the button is released, the lens will return to the adjusted zoom position.
Zoom Framing Assist offers a seek assist function that detects when you're panning (for instance, to search for the location of a soccer player) and automatically zooms out to help; stop panning, and the zoom returns to its original position. Zoom Framing Assist keeps your subject's face the same size in your frame no matter how they move. Tap the Zoom Framing Assist function button to detect your subject's face. As your subject retreats and advances the camera automatically zooms in and out so their face remains the same size. It's especially useful for capturing the expressions of fast-moving children. The feature has been further enhanced by letting you choose the subject's size: choices include face, upper body, whole body, manual or off for superior assistance and control. And, for even more convenience, all Zoom Framing Assist functions are also available when shooting video.
Story Highlights
Automatically compile images and videos from a certain day or event into a mini highlight reel with music and effects.
View your still images and video* as a fun short story with the Story Highlights feature on the PowerShot SX720 HS camera. Improved for convenience, you can choose to have the camera create this reel automatically by using advanced algorithms to classify your images according to date, event or people, then compiling a short video of approximately three minutes** with suitable background music and color effects applied. You can also customize your Story Highlights reel for a fun, unique video. Story Highlights BGM lets you add background music (choose from three pre-loaded songs) to the clips that Story Highlights automatically generates, for a new level of emotive expression. It's all done in camera, without the need for any additional software. Easily access and enjoy your Story Highlights – simply press the Story Highlights button to start creating your highlight album. The Story Highlights album can be saved to the camera's memory card for quick replay and also shared using the PowerShot SX720 HS camera's built-in Wi-Fi® technology.
Creative Shot Mode
uses composition, colour and lighting from your original image to create unique images with an artistic flair.
Not only is the PowerShot SX720 HS camera a stylish powerhouse, the camera also enables you to easily create artistic images with Creative Shot mode. In Creative Shot mode, the camera captures the original composition, automatically produces and saves five additional copies of the image and uses advanced Canon technologies to apply any of 46 filter options based on the individual scene, subject and exposure. Filter choices are grouped into Retro, Monochrome, Special and Natural categories to make exploring the world of artistic photography fun and easy, or you can simply select Auto to access the full range of effects. With Creative Shot mode, the result can lead to stunning artistic photos that are ideal for sharing.
What's Included
PowerShot SX720 HS
Battery Pack NB-13L
Battery Charger CB-2LH
Wrist Strap WS-800

(USB Interface Cable and Digital Camera Solution CD-ROM are not included.)
Product Specifications
PowerShot SX 720 HS

Image Capture Device

Type
20.3 Megapixel*, 1/2.3-inch CCD
* Image processing may cause a decrease in the number of pixels.
Total Pixels
Approx. 21.1 Megapixels
Effective Pixels
Approx. 20.3 Megapixels

Lens

Focal Length

4.3 (W) - 172.0 (T) mm
(35mm film equivalent: 24-960mm)

Optical Zoom
40x
Digital Zoom
4.0x
Focusing Range
Normal: 2.0 in. (5.0cm) - infinity (W), 6.6 ft. (2.0m) - infinity (T)
Auto/Manual: 0.4 in. (1.0cm) - infinity (W), 6.6 ft. (2.0m) - infinity (T)
Macro: 0.4 in. - 1.6 ft. (1-50cm) (W)
Autofocus System
TTL Autofocus, Manual Focus

Viewfinders

Optical Viewfinder
N/A
LCD Monitor
3.0-inch TFT Color LCD with wide viewing angle (4:3)
LCD Pixels
Approx. 922,000 dots
LCD Coverage
Approx. 100%

Aperture & Shutter

Maximum Aperture
f/3.3 (W), f/6.9 (T)
Shutter Speed
1 - 1/3200 sec.
15 - 1/3200 sec. (in Tv and M Modes)

Exposure Control

Sensitivity
Auto, ISO 80-3200
Light Metering Method
Evaluative, Center Weighted Average, Spot
Exposure Control Method
Manual Exposure, Program Shift, Safety Shift, AE Lock
Exposure Compensation
Still Images: ±2 stops in 1/3-stop increments

White Balance

White Balance Control
Auto, Daylight, Cloudy, Tungsten, Fluorescent, Fluorescent H, Custom

Flash

Built-in Flash
Auto, On, Slow Synchro, Off
Flash Range
1.6-13.0 ft. (W), 6.6 ft. (T)50.0cm - 4.0m (W), 2.0m (T)
Flash Exposure Compensation
±2 stops in 1/3 increments

Shooting

Shooting Modes
M, Av, Tv, P, Live View Control, Hybrid Auto, Auto, Creative Shot, Sports, Portrait, Smile, Wink Self-Timer, Face Self-Timer, Handheld Night Scene, Low Light, Fish-eye Effect, Miniature Effect, Toy Camera Effect, Soft Focus, Monochrome, Super Vivid, Poster Effect, Fireworks, Standard (Movie), Short Clip, iFrame Movie
Photo Effects
My Colors Off, Vivid, Neutral, Sepia, Black & White, Positive Film, Lighter Skin Tone, Darker Skin Tone, Vivid Blue, Vivid Green, Vivid Red, Custom Color
Self Timer
Off / 2 sec. / 10 sec. / Custom
Wireless Control
Built-in Wi-Fi™ and NFC
Continuous Shooting

Normal Continuous Shooting in Auto/P modes: Approx. 5.9 shots/sec.
Continuous Shooting AF in P mode: Approx. 4.6 shots/sec.
Continuous Shooting LV in P mode: Approx. 4.6 shots/sec.

* Under lighting conditions where flash does not fire automatically.
* Excluding RAW and RAW+JPEG.
* Until memory card becomes full.

Image Storage

Storage Media
SD/SDHC/SDXC and UHS-I Memory Cards
File Format
Design rule for Camera File system (DCF) compliant; DPOF (Version 1.1) compatible
Image Recording Format
Fine / Superfine
JPEG Compression Mode

Still Image:
Exif 2.3 JPEG

Video:
MP4 (Image data: MPEG-4 AVC/H.264

Audio data:
MPEG-4 AAC-LC (Stereo))

Number of Recording Pixels
Approx. Number of Shots Recordable to 16GB Memory Card
Note: SF=Superfine, F=Fine

Time of Recordable Movies

Movie data

Total Movie Time Recordable to Memory Card• The values in the table are based on Canon measurement conditions and may change depending on the subject, memory card and camera settings.

• After Low-level formatting.*1 Using an SD Speed Class 10 / UHS-I compatible memory card
• Recording stops automatically once the file size reaches 4 GB or the memory card becomes full.
• Recording may stop unexpectedly if a memory card with a low Speed Class is used.

Playback

Playback Modes File
Smart Shuffle, Group Playback, List/Play Digest Movies, Story Highlights, Print, Protect, Favorites, Erase, Slideshow, Rotate, Album Playback, Play Creative Shot Movies, Short Clip Mix, i-Contrast, Resize, Cropping, Red-Eye Correction, My Colors, Face ID Info, Photobook Set-up, Image Transition Effect, Index Effect, Scroll Display, Group Images, Auto Rotate, Resume

Interfaces

Video Out
HDMI (Type D)
Audio Out
Stereo
Others
Hi-Speed USB (Micro); direct connection to Canon SELPHY, PIXMA Photo Printers & PictBridge compatible printers
Power Source
Battery Pack NB-13L
Shooting Capacity

Approx. 250 Shots
Approx. 355 Shots in ECO Mode

Video Recording Time: Approx. 50 min.

Playback Time
Approx. 5 hours

Physical Specs

Operating Temperature
0-40°C (32-104°F)
Operating Humidity
10 - 90%
Dimensions (WxHxD)
110 x 64 x 36 mm (4.3 x 2.5 x 1.4")
Weight
270 g (0.52 oz) (CIPA standard)
245 g (8.64 oz) (Body only)

Languages

Languages Provided
English, German, French, Dutch, Danish, Finnish, Italian, Norwegian, Swedish, Spanish, Simplified/Traditional Chinese, Japanese, Russian, Portuguese, Korean, Greek, Polish, Czech, Hungarian, Turkish, Thai, Arabic, Romanian, Ukrainian, Farsi, Hindi, Malaysian, Indonesian, Vietnamese
Canon PowerShot SX 720 HS with Black Case
Looking for a personal touch? Not sure if you are choosing the right product? Our staff is here to help.
We want to make sure you get the right product for your needs.
Our staff will help you understand the options available so you can be confident in your purchase.
As the country's leading Professional Imaging retailer, Vistek is in the perfect position to ensure you make the right choice.
Contact us today for a personal touch.