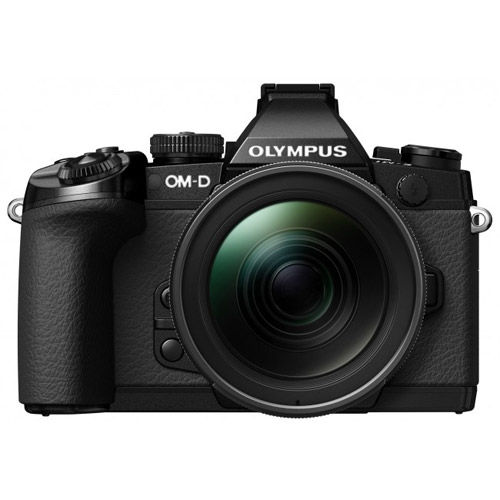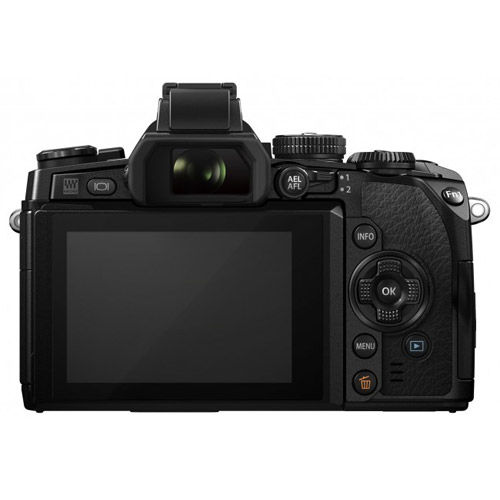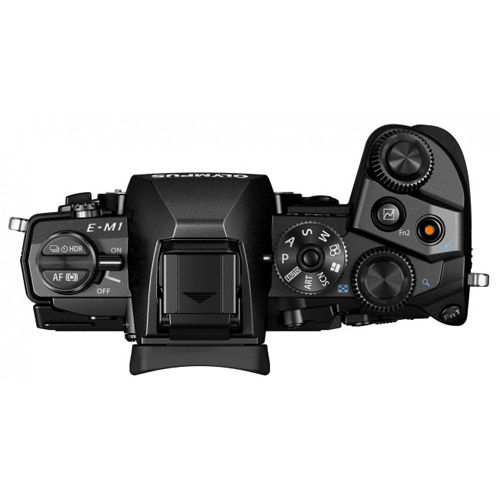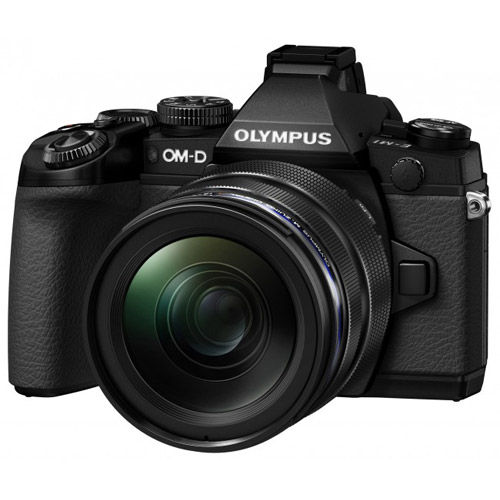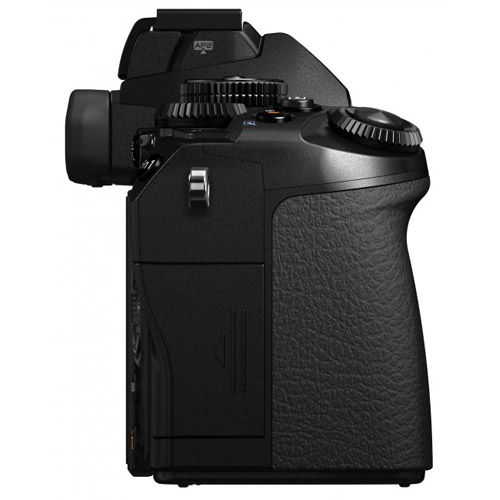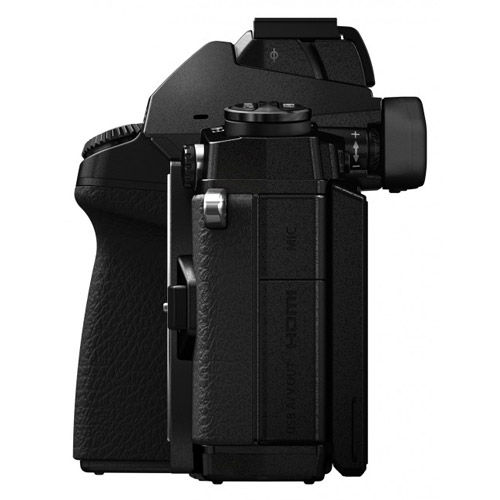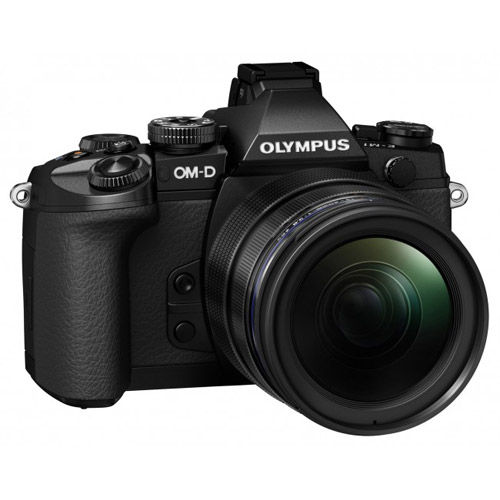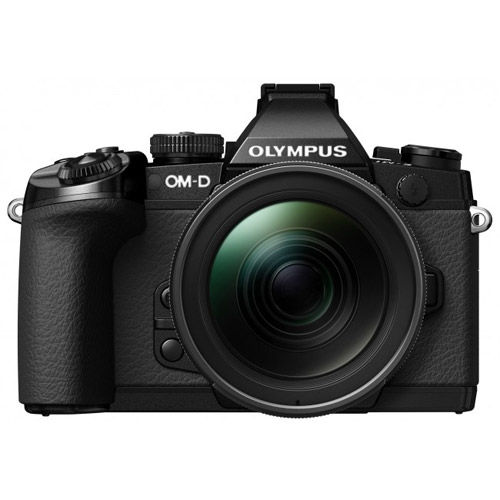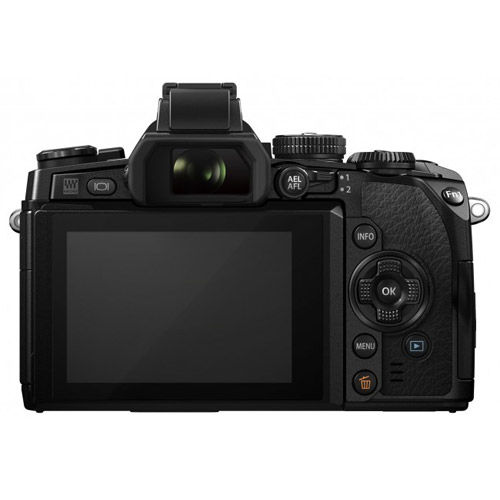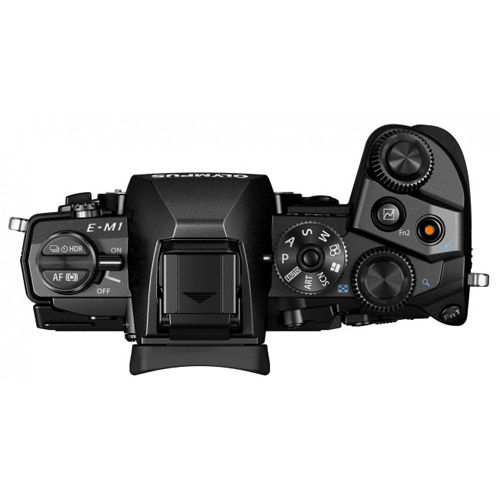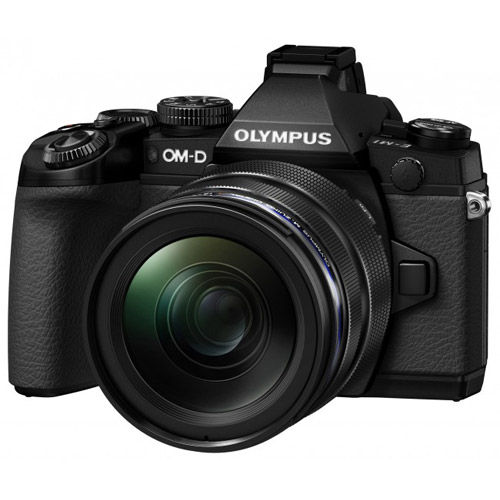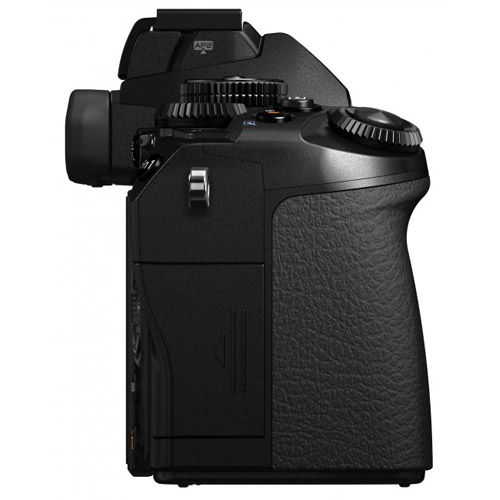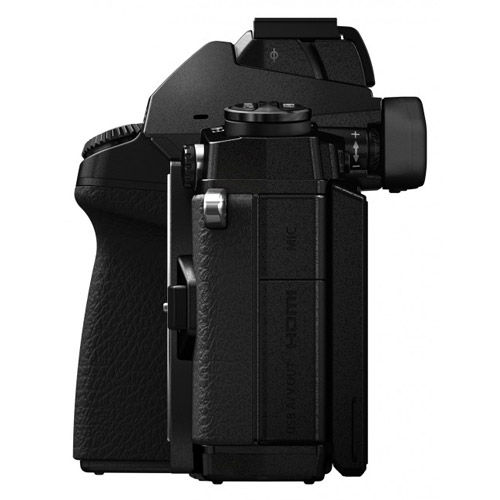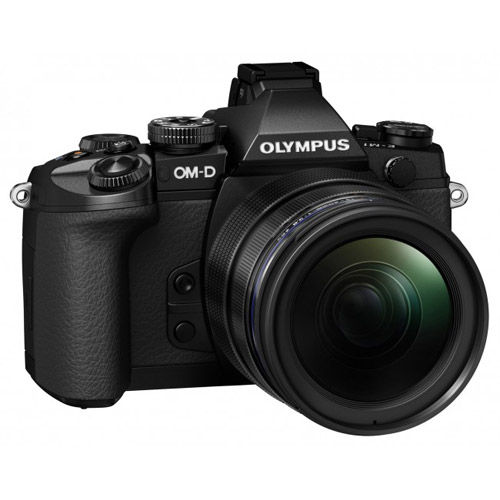 Demo Details
Item Condition: Excellent Condition
Warranty: Full manufacture warranty.
Accessories: Everything that comes with original Box
Demo item may not be exactly as shown.
Check Demo Details for more information.
Product Highlights
16.3MP Live MOS Sensor, TruePic VII Image Processor, Micro Four Thirds System, FAST Dual Phase- & Contrast-Detection AF, Interactive 2,360k-Dot EVF, 3.0" 1,037k-Dot Tilting LCD Touchscreen, 5-Axis Image Stabilization with IS Auto, Built-In Wireless
Vistek Locations
Please call and verify availability at the store as stock changes daily.
Miles Ahead of the Technology Curve
Get a grip on the OM-D E-M1 and experience this extraordinary photographic tool. Full magnesium alloy body construction, an intuitive control layout, an interactive electronic viewfinder…we could go on and on. In fact, we will. So many incredible features, it's miles ahead of the technology curve.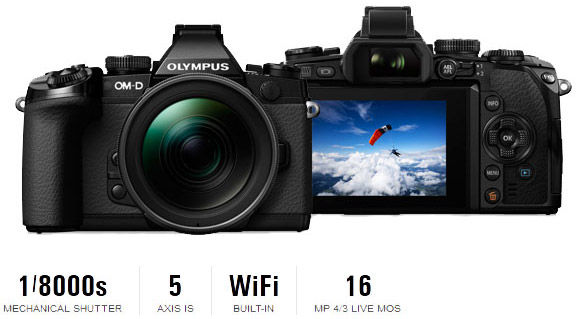 Design Sophistication
Details, details. All part of the revolutionary design elements that make this the perfect camera for professionals and serious photo enthusiasts alike. Discover the handsomely crafted finishes, unprecedented creative controls and so much more. A level of design sotphistication that will send your imagination into overdrive.
Features
Incredible Speed
Stay on the leading edge of the imaging technology curve with the new OM-D E-M1. With its new 16MP Live MOS Image Sensor, Dual Autofocus – combining Contrast and on-chip Phase Detection AF, 1/8000s mechanical shutter and 10fps sequential shooting, you will never miss a shot.
Revolutionary Design
Embodying the revolutionary design elements that will send your imagination into overdrive. Dust, Splash, Freezeproof, full magnesium alloy construction, an intuitive dial and control layout with customizable direct control buttons, and an interactive "all-control" electronic viewfinder, in a portable, light weight body.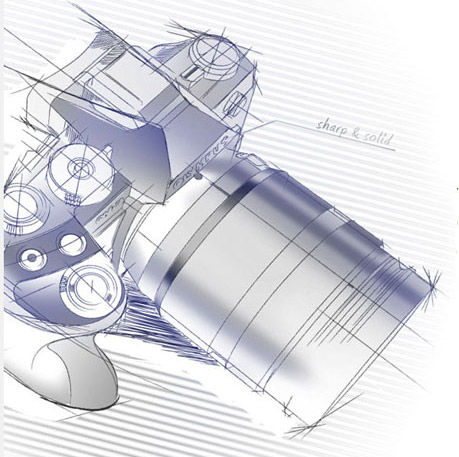 Powerful Versatility
The OM-D E-M1 is surrounded by an entire 'system' of lenses and accessories to support any photography pursuit. Choose from 32 Olympus Lenses and 57 Lenses from all of the Four Thirds consortium members. You'll also find a new battery grip, wirelessly controlled flashes and more.

Professional Image Quality
Features such as the newly designed TruePic™ VII Image Processor, allowing for enhanced performance and operational speed, as well as In-Body 5-Axis Image Stabilization with IS Auto combine to create one extraordinary photographic tool for professionals and serious photo enthusiasts alike.
Sample Images: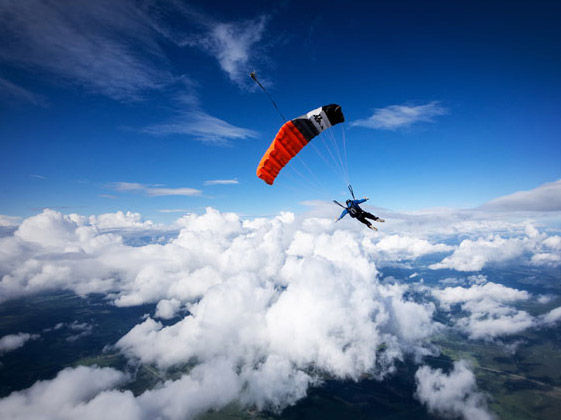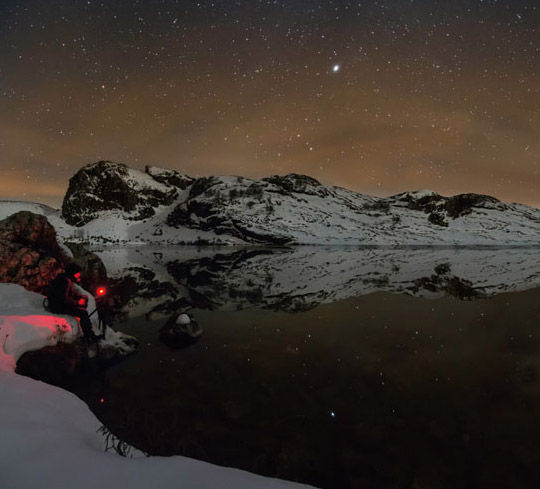 Built In Wireless
The OM-D E-M1 is equipped with a built-in Wi-Fi function. When using the Olympus Image Share (O.I. Share) application, the remote function lets you fully control the camera's shutter speed, aperture, ISO, Live Bulb shooting and more all from your smart-device. Images can easily be shared, and location information obtained with a smart-device can be added to images.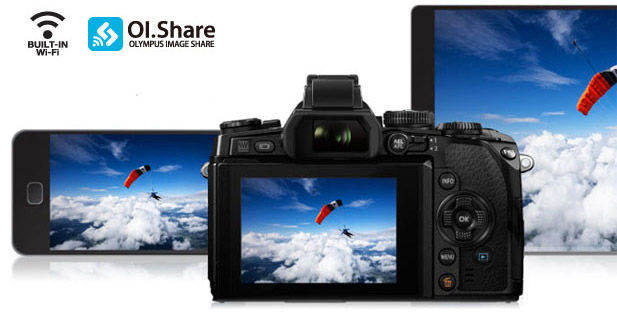 In-Camera Creativity
With 12 in-camera Art Filters, Full HD Video Recording, Interval Shooting, Time Lapse Video, and more; normal, everyday scenes can be enhanced in various ways to express your creativity. And with new features such as Color Creator and HDR shooting, you have the ability to expand photographic possibilities.
Product Specifications
Detailed Specifications
Focusing System
AF system
High-speed imager AF (Contrast detection / On-Chip Phase-difference detection)
Focus mode
Single AF (S-AF) / Continuous AF (C-AF) / Manual Focus (MF) / S-AF + MF / AF tracking (C-AF + TR)
Full-time AF
Available
Magnified frame AF
Selectable from over 800 AF points
Enlarged view check by magnify button (available with old lenses*)
Magnification x5, x7, x10(Default), x14 selectable
* lenses without data communication
Face detection AF / Eye detection AF
Available / Available
Eye Detection AF mode: Off / Nearer-eye priority / Right-eye priority / Left-eye priority
Focusing point / Focusing point selection mode
81-area multiple AF (Contrast detection AF), 37-area multiple AF (Phase-difference detection AF)
All target, Group target area (3x3-area),
Single target(Standard Target Size/Small Target Size)
AF illuminator
Available
Manual focus assist
* Customize function
Live view image is magnified when the focus ring is rotated. (at S-AF+MF or MF mode)
Peaking function
Available (White edge type, Black edge type)
AF tracking
Yes
Shutter
Shutter type
Computerized focal-plane, high-speed, mechanical shutter
Shutter speed
1/8000 - 60 sec. (1/3, 1/2, or 1EV steps selectable)
Bulb/Time: default setting 8min. (1/2/4/8/15/20/25/30 min. selectable)
Drive
Sequential shooting maximum speed
[Sequential shooting H mode]* 10.0 fps * in case of "I.S. Off"
* including AF tracking (C-AF + TR)
* Focus and exposure are fixed at the values for the first shot.
[Sequential shooting L mode] 6.5 fps* in case of "I.S. OFF".
* including C-AF
* When using the M.ZUIKO DIGITAL ED 12-50mm f3.5-6.3 EZ, M.ZUIKO DIGITAL ED 12-40mm f2.8PRO.
Max. recordable pictures
[RAW] Max. 50 frames (in seq. shooting L), Max.41 frames (in seq. shooting H)
on sequential shooting *
[JPEG] Max. Card Full frames (in seq. shooting L), Max. 95 frames ( in seq. shooting H)
* When using the M.ZUIKO DIGITAL ED 12-50mm f3.5-6.3 EZ.
* With TOSHIBA SDHC UHS-I card, based on Olympus in-house measurement conditions.
Self-timer
Operation time: 12 sec., 2 sec.,custom (Waiting time 1-30sec.,Shooting interval 0.5/1/2/3sec.,Number of shots 1-10)
Wireless remote control
Not Available
General
Product Type
Micro Four Thirds interchangeable lens system camera
Memory
SD Memory Card*1 (SDHC, SDXC, UHS-I , compatible, Eye-Fi Card compatible*2 )
*1: Class 6 or higher is recommended for Movie shooting.
*2: Not compatible with Endless mode.
Lens mount
Micro Four Thirds Mount
Dimensions / Weight
Dimensions
130.4mm (W)× 93.5mm (H) × 63.1mm (D)
5.1" (W) x 3.7" (H) x 2.5" (D)
[CIPA guideline compliant, excluding protrusions]
Weight
[CIPA guideline compliant,
with BLN-1 battery and Memory card]
Approx. 497g/17.5oz(1.1lbs)

[body only]
Approx. 443g/15.6oz(0.98lbs)
Body Construction
Outer Material
Metal
Inner Frame
Magnesium Alloy
Ruggedness
Freezeproof
Yes
Dustproof
Yes
Splash proof
Yes
Operating Environment
Temperature
-10 ~ +40? (operation) / -20 ~ +60? (storage)
+14 ~ +104 °F
Humidity
30 - 90% (operation) / 10 - 90% (storage)
-4 ~ +140 °F
Viewfinder
Finder type
Eye-level electronic viewfinder, approx. 2.36M-dot resolution
Field of view / Viewfinder magnification
Approx. 100% / Approx. 1.30x*1 - 1.48x*2 (-1m-1, 50mm lens, Infinity)
*1: at Finder Style 1, 2 (aspect 4:3)
*2: at Finder Style 3 (aspect 4:3)
Image Display Lag Time
29 milli seconds
Eye point / Diopter adjustment range
Approx. 21mm (-1m-1, Distance from rear lens surface) / -4 ~ +2m-1
Preview
Available with Live Preview function button
Displayed Grid
Off / Normal Grid / Golden Grid / Scale / Diagonal / Movie Grid selectable
Level Gauge
2-axis level gauge; horizontal /vertical
One Touch Tele-Converter
2x magnification
Finder Style
Selectable from 3 types
Brightness / Color temperature control
Available/Available
Eyecup
Optional eyecup EP-13 is available.
Rear Monitor
Screen size
3.0-inch / 7.6-cm
Monitor type
Tilt Touch Wide LCD with approx. 1037K dots resolution
*8: Approx.1037k dots, Touch control in electrostatic capacitance Type
Touch control
Touch shutter release, Touch enlargement, Touch Live Guide, AF area selection, AF area enlargement, Frame advance/backward, Enlargement playback, Touch Super Control Panel, Touch Art Filter menu,Wi-Fi function
Tilting angle
Upward tilting angle: up to 80 degrees / Downward tilting angle: up to 50 degrees
Brightness / Color temperature control
±7 levels / ±7 levels
Color tone select
Vivid / Natural
Live View
Live view
Approx. 100% field of view,
Exposure compensation preview, WB adjustment preview,
Gradation auto preview, Face detection preview (up to 8 faces),
Grid line, Histogram, Magnification display (x5/x7/x10/x14), Normal, Highlight & Shadow, Level Gauge, Off
Type
Image Sensor type
Field of view
Approx. 100%
Display Mode
Normal Mode, Histogram Mode, Level gauge, Highlight and shadow, Off
Magnification Ratio
x5, x7, x10 (Default), x14
Monitor information
Aperture value, Shutter speed, Auto Bracket, AE Lock, AF mode, IS, Shooting Mode, Battery Check, Myset, Internal Temperature Warning, Face / Eye Detection, Histogram, Number of storable still pictures, Record mode, ISO, Sequential shooting, Self-timer, White Balance, Metering Mode, AF confirmation mark, Exposure Compensation Value, Spot metering Area Flash Mode, Flash Status, Flash intensity Control, Super FP, Focal length, Tone control, Eye-Fi condition, Digital teleconverter, Battery check
Display of Face Detection
Max 8 frames of face detection can be displayed
Live View Close Up Mode
Available at HDR1 and HDR2 shooting
Flash

Flash intensity control method
TTL Auto, Auto*, Manual, super FP*(FP-TTL AUTO, FP-MANUAL)
* Available on the external flash
Bundled flash*
TTL flash,GN=7(ISO100·m) / GN=10 (ISO200·m)
* Attach it on the hot shoe and connect it to the accessory port 2. Available on FL-LM1/2.
Flash mode
Flash Auto, Redeye, Fill-in, Flash Off, Red-eye Slow sync.(1st curtain), Slow sync.(1st curtain), Slow sync.(2nd curtain), Manual 1/1 FULL 1/64
Synchronization speed
1/320sec. or less*
* It depends on flash models or flash mode
FL-LM1/2: 1/320 sec., Other: 1/250 sec.,
Super FP: 1/125-1/8000 sec.
Flash intensity control
Up to ±3 EV in 0.3, 0.5, 1 EV steps selectable
Compatible external flash
FL-50R, FL-36R, FL-20, FL-14, FL-300R, FL-600R
Colour Temperature
5500±400°
External Flash control mode
TTL Auto, Auto, Manual, FP-TTL-AUTO, FP-MANUAL
Wireless Flash Control
Compatible external flash
FL-50R, FL-36R, FL-300R, FL-600R
Control method
Triggered and controlled by built-in flash
(Olympus Wireless RC Flash system compatible)
External Flash intensity type
TTL Auto, Auto, Manual, FP-TTL-AUTO, FP-MANUAL
Channel No.
4 channels
Group No.
4 groups (External flash 3 groups + a bundled flash*)
* Available on FL-LM1/2 / FL-600R
Sensor
Product type
4/3 Live MOS Sensor
Number of pixels / Aspect ratio
Number of effective pixels: Approx. 16.3 million pixels
Total number of pixels: Approx. 16.8 million pixels
Aspect ratio: 1.33 (4:3)
Dust reduction
Supersonic Wave Filter (dust reduction system for image sensor)
Filter array
Primary color filter (RGB)
*Uses information communicated from the lens such as aperture setting and optical characteristics to optimize the final image.
Image Processor
TruePic™ VII
Image Stabilization
System Type
Built-in (Image sensor shift type for movie & still, 5-axis* image stabilization)
* yaw/pitch/vertical shift/horizontal shift/rolling
Mode
4 modes (S-I.S.AUTO,S-I.S.1, S-I.S.2, S-I.S.3), OFF
IS for finder image
Available (by half-pressing the shutter button or enlargeing operation)
Focal length setting
Available
Lens IS Mode
Available
Available manual focal length setting
Input focal length : 8, 10, 12, 15,16, 18, 21, 24, 28, 30, 35, 40, 48, 50, 55, 65, 70, 75, 80, 85, 90, 100, 105, 120, 135, 150, 180, 200, 210, 250, 300, 350, 400, 500, 600, 800, 1000
Stabilization performance
4 EV steps*
* Based on CIPA measurement conditions.
Exposure Control (Still)
Metering system
Digital ESP metering (324-area multi pattern metering), Center weighted average metering, Spot metering, Spot metering with highlight control, Spot metering with shadow control
Metering range
EV -2 - 20 (at normal temperature, 17mm f2.8, ISO 100)
Exposure mode
i Auto, P: Program AE (Program shift can be performed), A: Aperture priority AE, S: Shutter priority AE, M: Manual, Bulb, Time, Scene select AE, Art Filter, Underwater wide / macro*
* Selectable from menu as a function on Fn-1/Rec button
Scene select AE
Portrait, e-Portrait, Landscape, Landscape + Portrait, Sport, Night, Night + Portrait, Children, High Key, Low Key, DIS mode, Macro, Nature Macro, Candle, Sunset, Documents, Panorama, Fireworks, Beach & Snow, Fisheye Conv., Wide Conv., Macro Conv., 3D*
*3D lens(H-FT012 by Panasonic) only, still only
ISO sensitivity
AUTO ISO L - 1600 (Default), upper limit customize available 200 - 25600, Manual ISO L - 200 - 25600, 1/3 or 1 EV steps selectable
Exposure compensation
±5 EV in 1/3, 1/2, 1 EV steps selectable
AE lock
Locked at 1st release of shutter button (can be set to Fn1/Rec button)
Metering standard value adjustment
1/6 EV step, +/- 1EV range
Noise Filter
at High ISO setting
Off, Low, Standard, High
Noise Reduction
at Slow shutter speed
Off, On, Auto
On : effective when shutter speed is slower than 1 sec.
Auto : effective when shutter speed is slower than 4 sec. (at ISO 200 or higher) or 8 sec. (at lower than ISO200)
Recording (Still)
Recording format
DCF, DPOF compatible / Exif, PRINT Image Matching III,
MPO compatible
File format
RAW (12-bit lossless compression), JPEG, RAW+JPEG, MPO(3D still)
Recording image size
[RAW] 4608 x 3456 pixels
[JPEG] 4608 x 3456 pixels - 640 x 480 pixels
File size
RAW: 4608(H)x3456(V) (approx. 1/1.5 lossless compressed) Approx. 17MB
Set1(LF): 4608(H)x3456(V) (1/4 compressed) Approx. 7.5MB
Set2(LN): 4608(H)x3456(V) (1/8 compressed) Approx. 3.5MB
Set3(MN): 2560(H)x1920(V) (1/8 compressed) Approx. 1.1MB
Set4(SN): 1280(H)x980(V) (1/8 compressed) Approx. 0.4MB"
Built-In WI-FI
GPS function
Available (Aquire the position information from smartphone with GPS function)
Wireless shooting function
iAUTO, P, A, S, M, live valve / time support. Aperture, shutter speed, exposure compensation, ISO speed, WB, continuous shooting setting possible.
Remote live view, remote REC VIEW, wireless touch AF shutter, Shutter timer (countdown with sound), remote power OFF
Image Share Function
Reserve the picture which will be transdered to smartphone. (Max 4 smart device connections) can transfer image; (except MPO) PEG, only MOV.
Smart & Easy Connection
Smart & Easy connection by QR code.
Picture Mode
Mode
i-Enhance, Vivid, Natural, Muted, Portrait, Monotone, Custom, e-Portarait, Color Creator, Art Filters
Gradation
Auto, Normal, High Key, Low Key [except Art Flters]
Adjustment parameter
4 levels (Auto, Normal, High key, Low key)
Filter effect (B&W filter)
Neutral, Yellow, Orange, Red, Green for Monotone
Picture tone
Neutral, Sepia, Blue, Purple, Green for Monotone
HDR
HDR(Auto composite)
HDR1,HDR2
* Available with P, A, S and M mode.
* Takes 4 pictures at differnt exposures composite into a high contrast image.
Bracketing for HDR postprocess
3 or 5 frames in 2.0/3.0EV steps selectable, 7 frames in 2.0EV steps selectable.
* HDR picture can not be made by this function.
* HDR function can be called by Fn-button.
Bracketing
Exposure bracketing
2, 3 or 5 frames in 0.3/0.7/1.0EV steps selectable, 7 frames in 0.3/0.7EV steps selectable
ISO bracketing
3 frames in 0.3/0.7/1.0EV steps selectable
White balance bracketing
White balance bracketing
Flash bracketing
3 frames in 0.3/0.7/1.0EV step selectable
Art Filter bracketing
i-Enhance, Vivid, Natural, Muted, Portrait, Monotone, Custom, Art Filters selectable
Art Filter
Mode (Variation / Effect)
Pop Art (I, II / a.b.c.d.e)
Soft Focus ( - / c.e)
Pale & Light Color (I, II / a.b.c.d)
Light Tone ( - / d)
Grainy Film (I, II / b.c.d.f.g)
Pin Hole (I, II, III / d.)
Diorama ( - / d.)
Cross Proscess (I, II / b.c.d.)
Gentle Sepia ( - / a.b.c.d.)
Dramatic Tone (I / b.c.d.e) (II / b.c.d.e.f.g)
Key Line (I, II / a.b.c.d.e.)
WaterColor (I, II / a.c.d.)
Art Effect
a. Soft Focus Effect
b. Pin-Hole Effect
c. White Edge Effect
d. Frame Effect
e. Star Light Effect
f. Defocus Efeect
g. B&W Effect (Yellow, Orange, Red, Green)
h. Picture Tone (Sepia, Blue, Purple, Green)
White Balance
White balance mode
Auto WB, 7 Preset WBs, 2 Capture WBs, Custom WB(Kelvin setting)
White balance compensation
±7 steps in each A-B/G-M axis * Except for Custom WB
Preset white balance
7 preset WBs (3000K - 7500K)
- Sunny(5300K), Shadow(7500K), Cloudy(6000K), Incandescent(3000K), Fluorescent(4000K), Underwater, WB Flash(5500K)
CWB (Kelvin setting)
1 setting can be registered at Kelvin temperature, 2000K to 14000K.
Capture white balance
2 custom settings can be registered
Colour Mode
Colour matrix
sRGB, Adobe RGB
Recording (Video)
Recording format
MOV(MPEG-4AVC/H.264) , AVI(Motion JPEG)
Movie Mode
[MOV]
Full HD: 1920(H)x1080(V), 30p(29.97 Recording
24Mbps(Fine) / 16Mbps Normal) : Aspect 16:9
HD: 1280(H)x720(V), 30p(29.97 Recording
12Mbps(Fine) / 8Mbps Normal) : Aspect 16:9
[AVI Motion JPEG]
HD: 1280(H)x720(V), 30fps *20, Aspect 16:9
SD: 640(H)x480(V), 30fps *20, Aspect 4:3
*20 : Except for some of the Art Filters
Maximum Recording Time
[MOV]
Full HD : Approx. 29min(Normal) / Approx. 22min(Fine)
HD : Approx. 29min(Normal) / Approx. 29min(Fine)
[AVI]
HD : Approx. 7min*21 / SD : Approx. 14min*21
*21 : Except for some of the Art Filters
Movie Function
Movie Effect* : One shot echo / Multi echo / Art fade *Default ON
Art Filter Movie, Aperture priority Movie, Shutter Priority Movie, Manual Shooting Movie
Movie Tele-converter
×4* Avairable on Movie effect mode
TimeLapse Movie
Available AVI Motion JPEG 1280×720,10fps)
IS for Movie
Built in (Image sensor shift type image stabilization)
M-IS.ON,off, Panasonic OIS lens priority
AE Lock
Available
Exposure control - Movie
P: Program AE, A: Aperture priority AE, S: Shutter speed priority AE, M: Manual, Art Filter
* S mode and M mode: Shutter speed is limited in less than 1/30 sec.
Compression ratio
Motion-JPEG Format: 1/12(HD), 1/8(SD)
File size
MOV Format: Max 4GB
Motion-JPEG Format: Max 2GB
Recording (Sound)
Recording format
Wave Format (Stereo linear PCM/16-bit, Sampling frequency 48kHz)
Microphone/Speaker
Stereo/Mono
Microphone function
Wind Noise Reduction, Recording Volume
Audio dubbing possible for still pictures (up to 30 sec.)
Maximum Recording Time
Picture with Sound: 30sec.
Movie: depend on Movie Recording Time
Playback
Playback mode
Single-frame, Information display, Index display (4/9/25/100 frames), Calendar, Enlargement (2x - 14x), Movie (with sound, FF/REW/Pause), Picture rotation (auto), Slideshow *(with BGM/BGM+Sound/Sound)
* Slideshow : Still/Movie/Still+Movie, When a camera is connected to HDTV with HDMI cable, 2 new slideshow effect can be selectable.(Still) 1 BGM replaceable. Auto angle correction
Information display
Histogram (independent luminance / RGB available), Highlight/Shadow point warning, AF frame, Photographic information, OFF
Menu
Languages
34 languages selectable:
English, French, German, Spanish, Italian, Japanese, Korean, Traditional Chinese, Simplified Chinese, Russian, Czech, Dutch, Danish, Polish, Portuguese, Swedish, Norwegian, Finnish, Croat, Slovenian, Hungarian, Greek, Slovakian, Turkish, Latvian, Estonian, Lithuanian, Ukrainian, Serbian, Bulgarian, Rumanian, Indonesian, Malay, Thai
Reset & custom setting
My mode
4 settings recordable / Available on allocating to mode dial.
Image Editing
Editing function
RAW development, Gradation auto, Monochrome, Sepia, Red-eye fix, Saturation, Resize (1280x960, 640x480, 320x240), Trimming, Aspect, e-Portrait, Image Overlay, Postrecording
RAW picture editing
RAW development based on settings of the camera(including Art Filter,ART-BKT)
Detail edit acceptable. (Preview, Memory of 2 setting, re-development)
JPEG editing
Shadow adjustment, Red-eye fix, Cropping, Aspect, Black&White, Sepia, Saturation, Resize, e-portrait
Image Overlay
Up to 3 RAW images
Erasing function
Single frame, All, Selected frames (from Index)
Protect function
Single frame, Selected frames, Release protect (Single/All selected)
Input/Output
USB/AV/Remote controller connector
Dedicated multi-connector [USB: USB2.0 Hi-Speed, Video: NTSC/PAL selectable, Optional Remote cable RM-UC1 can be used.]
HDMI connector
Micro HDMI (Type-D)
Flash attachment
Hot shoe
Accessory Port 2
Dedicated multi-connector [Available for VF-2/VF-3/VF-4, SEMA-1, MAL-1 and PP-1.]
Wireless LAN
-
MIC. Input Jack
φ 3.5 stereo mini jack
PC interface
USB2.0 Hi-Speed
TV interface
HDMI (HD/Stereo Sound), VIDEO-OUT(SD/Mono Sound)
DC-in
-
Power Requirements
Battery
BLN-1 Li-ion battery (included)
Power battery holder
-
AC adaptor
-
Sleep mode
Available (1/3/5 min. off selectable)
Number of recordable pictures
Approx. 350 shots [IS ON, CIPA test standard]
(with BLN-1 and TOSHIBA super high-speed Class 6 SDHC 4GB card)
Olympus OM-D E-M1 Black Body
Looking for a personal touch? Not sure if you are choosing the right product? Our staff is here to help.
We want to make sure you get the right product for your needs.
Our staff will help you understand the options available so you can be confident in your purchase.
As the country's leading Professional Imaging retailer, Vistek is in the perfect position to ensure you make the right choice.
Contact us today for a personal touch.