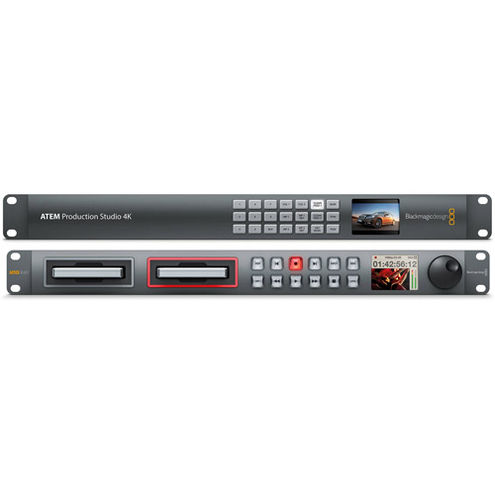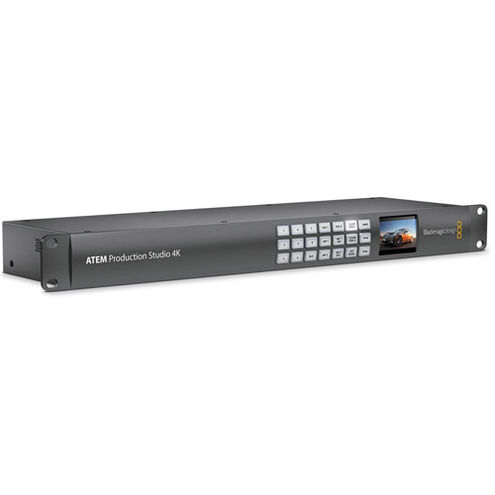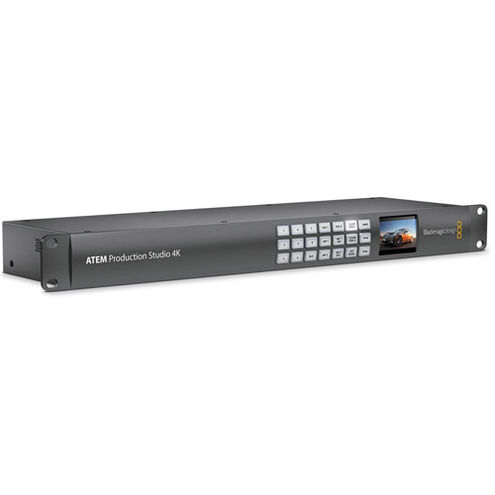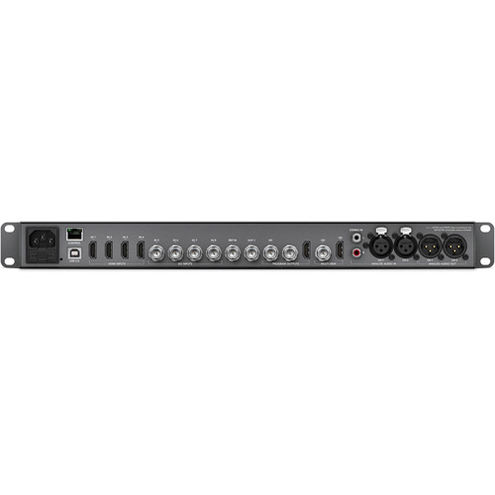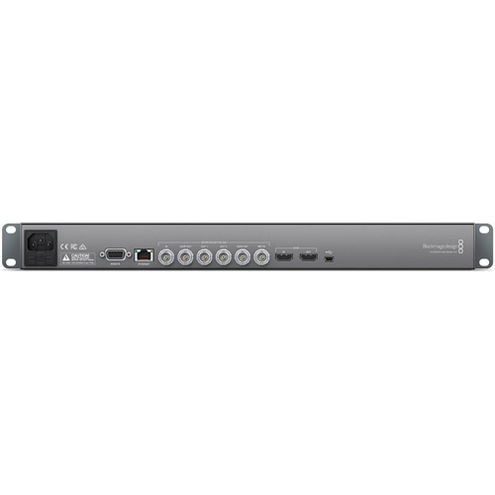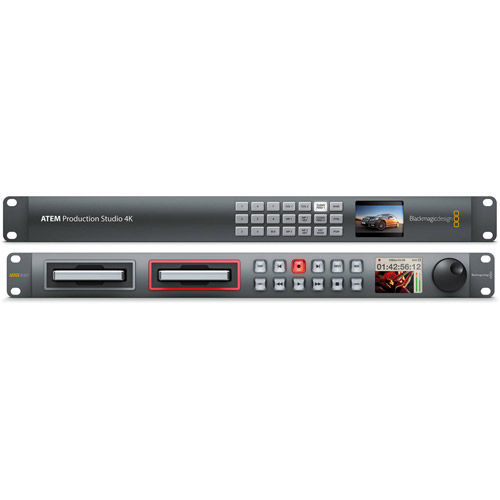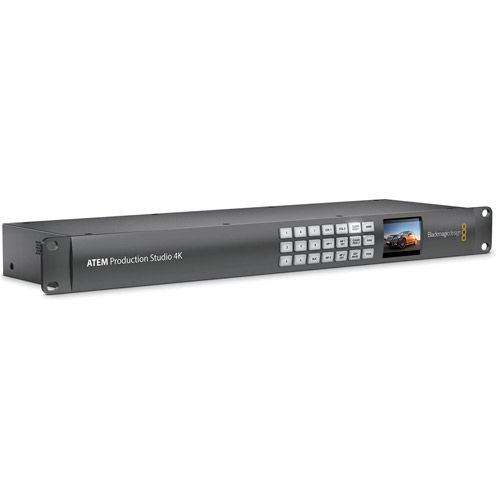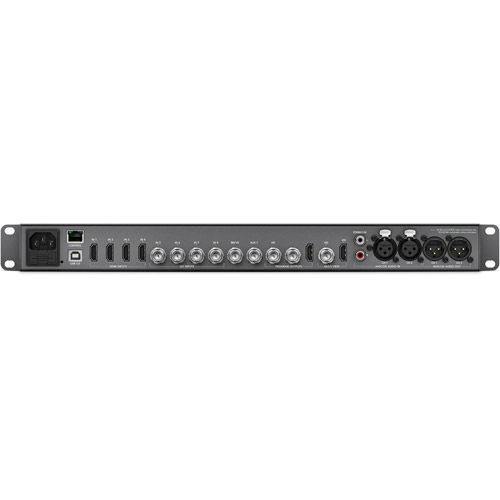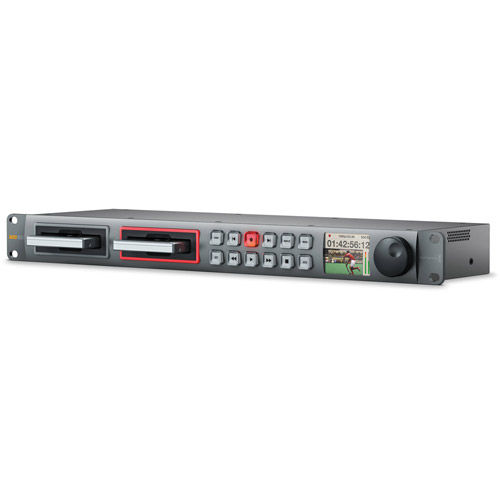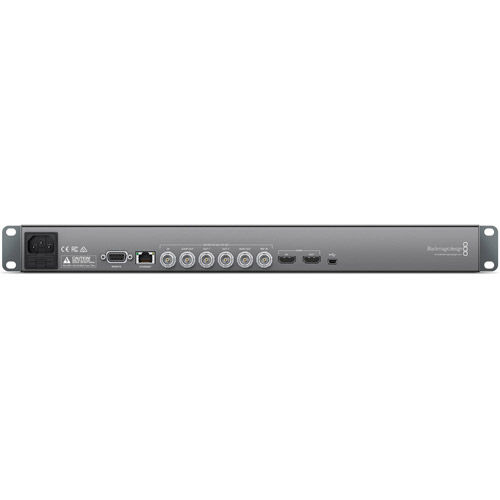 Product Highlights
SD/HD/UHD/4K

Supported Formats

8x

Video Inputs

2x XLR & 2x RCA

Audio Inputs

6x

Video Outputs

2x XLR Program

Audio Outputs

1x

SDI Aux. Bus Output

1x 10 Views

Multi-Viewer Output

3x Patterns, 1x Up Stream Keyers, 2x Down Stream Keys, 1x Chroma Keyer & 3x Linear/Luma Keyers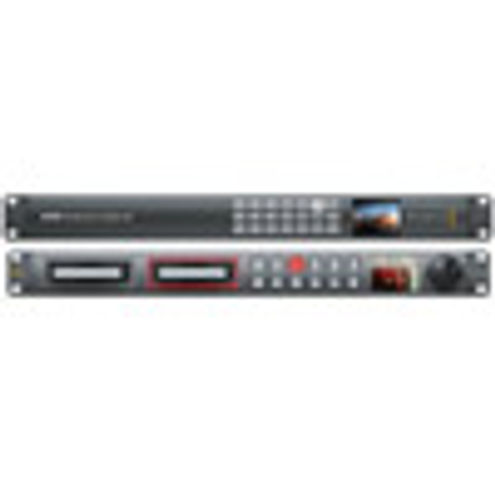 Blackmagic Design ATEM Production Studio 4K w/ HyperDeck Studio 4K 12G
Blackmagic Design ATEM Production Studio 4K w/ H...
Vistek Locations
Toronto Available for Order
Ottawa Available for Order
Mississauga Available for Order
Calgary Available for Order
Edmonton Available for Order
Please call and verify availability at the store as stock changes daily.
ATEM Production Studio 4K
With HyperDeck Studio 12G
The World's Most Advanced Live Production Switchers
Create stunning multi camera live production with the world's most advanced production switchers! ATEM switches between SD, HD or Ultra HD video standards so you can form exciting live production with a wide range of video sources such as cameras, disk recorders and slide shows or animation from computers. You get powerful features such as chroma key, creative transitions, media pool, downstream keyers, audio mixer, multi view and more! The more advanced models include features such as up to 20 SDI inputs, SuperSource multi-layer engine, full motion DVE, stinger transitions, larger media pool with full motion clips and up to an incredible 6 auxiliary outputs.
Advanced Live Production
Creative features with advanced technology
Take your live production beyond broadcast quality! ATEM Production Studio 4K has all the features you need for the most innovative live concerts, sporting events, theater productions, conferences and more! When you're doing live events with super large high resolution screens, then simply switch your ATEM Production Studio 4K to Ultra HD for incredible quality. Many live events now use massive high resolution LED screens and projectors and now you can drive those screens in full resolution.
Innovative Design
Elegant machined metal design in a super compact size
ATEM Production Studio 4K switchers feature an elegant machined aluminum front panel with dedicated buttons to let you switch auxiliary outputs. You can use the built in video screen to monitor auxiliary outputs or as technical monitoring to help during set up! You get the highest quality video and audio connections that switch virtually all SD, 720p HD, 1080i HD, 1080p HD and Ultra HD formats, plus built in multi voltage power supplies so you can take your switcher anywhere in the world.
Powerful Software and Hardware Control
Get innovative software control or choose a hardware panel
ATEM live production switchers have the widest range of control options! You get full switcher control from any laptop or desktop computer with the included ATEM software control panel for both Mac and Windows. For demanding live production environments you can add a hardware based ATEM 1 M/E or 2 M/E Broadcast Panel featuring the highest quality buttons, knobs and faders for even faster switching! You also get an SDK for custom control. Only ATEM gives you such a wide range of control options.

Highest Quality Connections
Connect to SDI and HDMI equipment in SD, HD and Ultra HD
Inputs
ATEM Production Studio includes advanced 6G-SDI and HDMI 4K inputs that are SD, HD or Ultra HD switchable so you can connect to virtually anything! Every input supports embedded audio mixing and features a frame resynchronizer so you can use sources without genlock such as consumer HDMI cameras or even computers for live PowerPoint™ presentations! You also get 2 balanced XLR audio inputs for connecting professional mixers and a HiFi audio input for consumer equipment like an iPod®.
Outputs
Get all the outputs you need to record your video master and to broadcast your program to the audience at the event! ATEM includes program and down converted program outputs plus auxiliary outputs allowing clean feeds, perfect for connecting to giant outdoor LED screens, projectors, disk recorders, monitors and broadcast decks! The multi view outputs are 1080i HD so you can use any TV or monitor. You also get a balanced XLR output of your audio mix, which is also embedded into all video outputs.
Multi View Monitoring
Use a single screen for all your monitoring
ATEM's built in multi view lets you monitor the switcher's video inputs on a single SDI monitor or regular HDMI TV! Multi view outputs in regular 1080i HD, so even if your broadcast is in SD or Ultra HD you can still use a standard TV for monitoring! You can customize the multi view layout and also add custom labels. Multi view makes it easy to watch your program, preview, and live sources all simultaneously on a single monitor and you can even choose from 4 different screen layouts.
Creative Transitions
Get dozens of exciting effects and transitions
ATEM includes a huge range of real time high quality transitions that are available in all SD, HD or Ultra HD resolutions! Use mixes, dips, wipes and more for amazing broadcast quality live switching! Every transition is instantly available and you get full control of the transition type, pattern, length and other attributes. Create a customized 'on air' looks using the large choice of wipe patterns. The ATEM 1 M/E and 2 M/E Production Studio 4K models also include animated stingers and DVE transitions.
Digital Video Effects
Position, resize, rotate and scale in real time
The advanced ATEM 1 M/E and 2 M/E Production Studio 4K models include a powerful digital video effects processor. Use this amazing high quality DVE to position, resize, rotate and scale live video all in real time. Create professional picture-in-picture effects with customizable 3D borders, shadows and lighting. Add dynamic DVE transitions to your production with squeeze, push, swoosh and spin effects that displace your live video revealing the next source. You can even use the DVE for graphic wipe transitions.
SuperSource
Add multi box compositions quickly and easily with ATEM SuperSource! Available on the ATEM 2 M/E Production Studio 4K, you get a completely separate 5 layer switcher with the power of 4 picture in picture DVEs and 4 keyers that you can assign to any ATEM video input! Imagine using SuperSource for multi camera interviews or picture in picture production while leaving all your M/Es, keyers and DVE completely free for other tasks. SuperSource compositions can also be quickly saved and recalled in an instant.
Dual Media Players
Large graphics memory
ATEM production switchers include media pool memory that lets you download still frames and graphics for keying using the two built in media players. All popular image formats are supported, or you can direct download from Photoshop CC with the included plug-in. The ATEM Production Studio 4K supports 20 Ultra HD RGBA still frame graphics, while the ATEM 1 M/E and 2 M/E Production Studio 4K models support 32 Ultra HD RGBA still frame graphics and 180 frames of real time Ultra HD video or 720 frames of real time 1080 HD video.
Powerful Keyers
Exciting multi layer effects
ATEM includes amazing quality keying! Get powerful upstream keyers with luminance, linear, pattern and chroma keying that can handle everything from green screen shots to graphics and multi layer special effects. You also get 2 independent downstream keyers for logos, titles and other 'on air' graphics. The advanced ATEM 1 M/E and 2 M/E Production Studio 4K models include 4 upstream keyers for a massive 6 total independent keyers, allowing you to build exciting effects of up to 8 real time layers.
Power Macros
The fastest way to set up and automatically trigger events
To automate complex sequences of precisely timed actions on your ATEM switcher, you can now create powerful shortcuts called macros. Record a sequence of transitions between video sources, including key effects, audio mixer adjustments, camera control settings and more using the ATEM software or hardware control panel. Macros are saved as XML files that can even be edited with a standard text editor so you can combine them together to build sophisticated sequences that would be impossible to execute manually during a live production! That means you can create unique looks for your programs that can be recalled instantly, copied between switchers and used over and over again.
Amazing Ultra HD
Massive 3840 x 2160 video resolution
The ATEM Production Studio 4K is the world's first Ultra HD live production switcher! Ultra HD operates at 4 times the resolution of 1080 HD video with a massive 3840 x 2160 frame size! The entire switcher can be set to Ultra HD and all media players, downstream keyers, upstream keyers, transitions, DVE and color generators operate in native Ultra HD. Even if you're working in SD or HD now, your ATEM Production Studio 4K switcher is always ready for Ultra HD whenever you need it.
6G-SDI Flexibility
The flexibility to work in SD, HD or Ultra HD
All switchers support 6G-SDI so you can work in the highest quality Ultra HD, and because the SDI connections are regular BNC connectors, you can also select the switcher to any format and simply plug into your SD or HD equipment. 6G-SDI supports any SDI format from SD, HD up to Ultra HD 2160p30. That means 6G-SDI gives you compatibility to work in any format, plus you can switch to Ultra HD for incredible quality that's 4 times the resolution of HD! Work in SD, 720p, 1080i or 1080p up to 60fps as well as Ultra HD up to 30 fps all on the one switcher.

HyperDeck Studio 4K 12G
Professional broadcast decks that use fast solid state disks
HyperDeck Studio disk recorders let you record the highest quality uncompressed or compressed ProRes and DNxHD video formats using fast 2.5" SSDs. Designed with familiar VTR controls, HyperDeck Studio includes innovative features that extend beyond the capabilities of traditional decks. Dual SSD slots let you record continuously, so when one disk is full recording automatically continues on the next SSD. You can mount an SSD recorded from HyperDeck Studio on any computer to access your files, so you can work with your media directly without copying the files! There are three great HyperDeck Studio models to choose from depending on your budget and what video formats you need to work with.
Replace Aging Decks
Record broadcast quality 10-bit video
HyperDeck Studio is a fantastic modern replacement for aging broadcast decks. You get the same functionality and control of a professional deck with the advantage of recording directly to uncompressed or industry standard ProRes and DNxHD video formats. Connect cameras, switchers or any other video feed to HyperDeck Studio and create files that are perfect for every production and post production workflow! With a slim 1 rack unit design, HyperDeck Studio is considerably smaller than a traditional VTR and fits easily into any equipment rack, OB vehicle or flyway kit!
High Frame Rate Ultra HD
Record incredible high frame rate 2160p60 video!
The advanced HyperDeck Studio 12G model includes 12G-SDI which allows Ultra HD at higher frames up to 60 fps. For years broadcasters have used high frame rate 720p and 1080p HD to cover sport and other fast action events. Now with 12G-SDI, HyperDeck Studio 12G can record the same high frame rates in Ultra HD. Now broadcasters can obtain the same production values of high frame rates, combined with the incredibly high resolution of Ultra HD, all down a single SDI BNC cable. 12G-SDI is multi rate so it also plugs into all your SD, HD-SDI, 3G-SDI and 6G-SDI equipment, and HyperDeck Studio 12G switches standards instantly, as it records whatever SDI signal is input and plays back whatever files you put on the SSD! Only 12G-SDI is the format of the future, that also connects to all the equipment you have today!
Full 10-bit Quality
Record 10-bit 4:2:2 broadcast quality video
HyperDeck Studio records SD/HD 10-bit 4:2:2 uncompressed video for perfect broadcast quality. With uncompressed video you can create the sharpest VFX plates for match moving, compositing and more. You get deep dynamic color range for color correction and perfect keying without jagged edges. You can also use industry standard compressed video formats that maintain incredible HD quality at reduced files sizes. With HyperDeck Studio 12G you can now push quality to new heights, with additional support for Ultra HD using multiple high quality ProRes file formats.
Industry Standard Formats
Record uncompressed, ProRes and DNxHD
HyperDeck Studio models gives you the choice of recording quality! You can record and play back incredible uncompressed 10-bit 4:2:2, or choose from high quality ProRes 422 (HQ) or DNxHD formats. HyperDeck Studio models have ProRes 422, ProRes 422 (LT) or ProRes 422 (Proxy)for longer recording. Using ProRes 422 (Proxy) you can record over 24 hours of 1080HD video on a single 480GB SSD drive! You could record for 2 days non stop before swapping SSD drives!
Unparalleled File Compatibility
Saves files that are ready to be used in production!
HyperDeck Studio records the widest compatible QuickTime files in 10-bit uncompressed or compressed formats. Depending on your format and frame rate, you can choose to record uncompressed QuickTime, ProRes or DNxHD files. That means you can instantly record files that will work with the most popular software packages such as DaVinci Resolve, Final Cut Pro X, Adobe Premiere Pro , After Effects , Media Composer and more. HyperDeck Studio gives you compatible files so you're free to choose the editing, color correction and finishing tools that are best for your clients and their jobs.
What's Included
ATEM Production Studio 4K Live Switcher
Software SD Card
Limited 1-Year Warranty
Blackmagic Design HyperDeck Studio 12G
Software CD
Kit Components
Product Specifications
HyperDeck Studio 4K 12G

Video Input
1 x 12G-SDI (SD/HD/3G/6G/12G switchable; supports single link 4:2:2, 10-bit)
1 x HDMI 2.0 (type A connector; supports up to UHD 4K at 60p; 10-bit, 4:2:2)
Video Output
2 x 12G-SDI (SD/HD/3G/6G/12G switchable; supports 10-bit)
1 x 12G-SDI loop-through (SD/HD/3G/6G/12G switchable; supports 10-bit)
1 x 12G-SDI monitor output (SD/HD/3G/6G/12G switchable; supports 10-bit)
1 x HDMI 2.0 (type A connector; supports up to UHD 4K at 60p; 10-bit, 4:2:2)
Audio Input
SDI:
16 channels embedded in SD, HD, and UHD in QuickTime files
2 channels embedded in HD in Avid DNxHD MXF files

HDMI
8 channels embedded in SD, HD, and UHD in QuickTime files
2 channels embedded in HD in Avid DNxHD MXF files
Audio Output
SDI:
16 channels embedded in SD, HD, and UHD in QuickTime files
2 channels embedded in HD in Avid DNxHD MXF files

HDMI
8 channels embedded in SD, HD, and UHD in QuickTime files
2 channels embedded in HD in Avid DNxHD MXF files
Sync Input
1 x Blackburst or tri-level sync (BNC)
Device Control
1 x RS-422 deck control port on DB9 female (Sony protocol)
Ethernet
1 x RJ-45 for remote operation
Computer Interface
1 x mini-USB 2.0 for software updates and HyperDeck Utility software control
SSD Interface
2 x 2.5" SATA 6 Gb/s
Standards
Supported Resolutions
SD
625/25 PAL and 525/29.97 NTSC
480p60 and 576p50 (via HDMI only)

HD
1280 x 720p: 50, 59.94, 60, 1920 x 1080i: 50, 59.94, 60
1920 x 1080PsF: 23.98, 24
1920 x 1080p: 23.98, 24, 25, 29.97, 30, 50, 59.94, 60

4K Playback
3840 x 2160p: 23.98, 24, 25, 29.97, 30, 50, 59.94, 60
SDI Compliance
SMPTE 259M, SMPTE 292M, SMPTE 296M, SMPTE 425M
SDI Metadata Support
HD RP188 and closed captioning (CEA-708)
Video Sampling
4:2:2
Color Depth
10-bit
Color Space
REC 601, REC 709
Audio Sampling
Television standard 24-bit, 48 kHz
Multiple Rate Support
SDI and HDMI switchable between SD, HD, and Ultra HD
SDI switches between 270 Mb/s standard definition SDI, 1.5G-SDI HD, 3G-SDI, 6G-SDI, and 12G-SDI
Copy Protection
HDMI input is unable to capture from copy protected HDMI sources
Supported Codecs
Supported Codecs
Uncompressed QuickTime
Apple ProRes 422 QuickTime
Apple ProRes 422 (LT)
Apple ProRes 422 (Proxy)
Avid DNxHD QuickTime (up to 1080i60)
Avid DNxHD MXF up to (up to 1080i60)
System Requirements
Operating System
OS X 10.9 (Mavericks), 10.10 (Yosemite), or later
Windows: 7 or 8
General
Display
Built-in LCD for video, audio, and timecode monitoring and menu settings
User Interface
12 buttons and jog wheel for local control
Rack Height
1RU
Power Supply
1 x built-in international AC power supply with IEC C14 inlet
110 to 240 VAC, 50 to 60 Hz
Operating Temperature
41 to 104°F / 5 to 40°C
Storage Temperature
-4 to 113°F / -20 to 45°C
Relative Humidity
0 to 90% non-condensing
Dimensions
19 x 1.75 x 6.7" / 48.3 x 4.4 x 17 cm
Blackmagic Design ATEM Production Studio 4K w/ HyperDeck Studio 4K 12G
Looking for a personal touch? Not sure if you are choosing the right product? Our staff is here to help.
We want to make sure you get the right product for your needs.
Our staff will help you understand the options available so you can be confident in your purchase.
As the country's leading Professional Imaging retailer, Vistek is in the perfect position to ensure you make the right choice.
Contact us today for a personal touch.