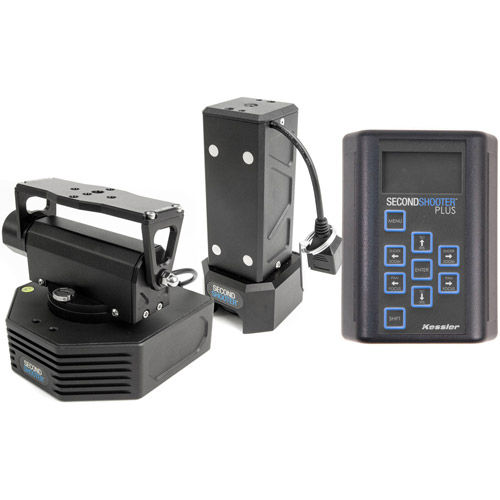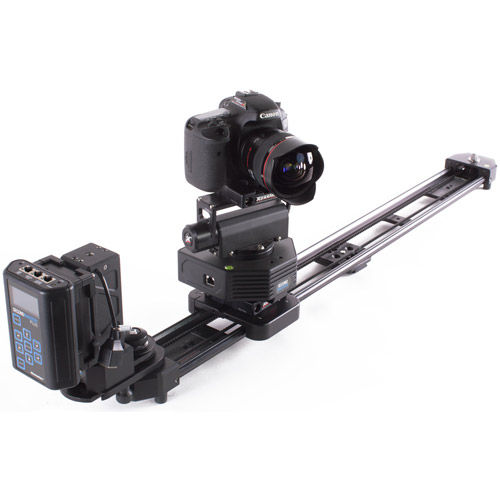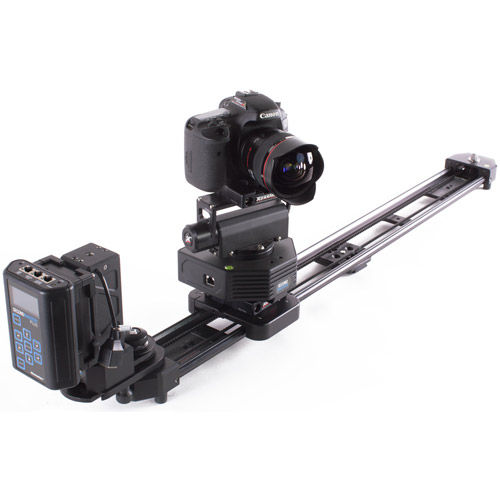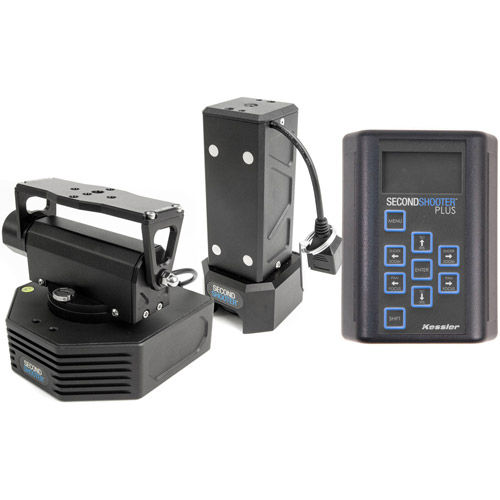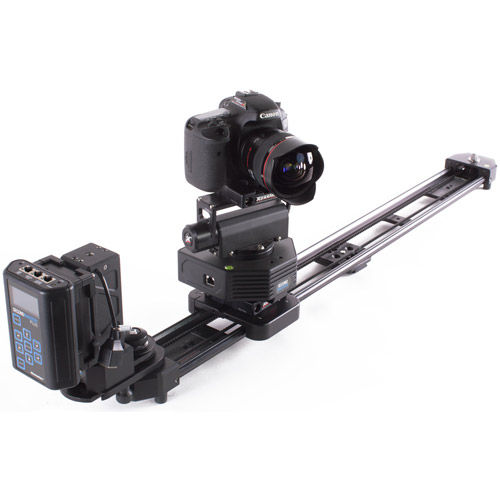 Webcode:

409723

• Mfr: SS2008
Product Highlights
A reimagined counterpart to its predecessor, featuring WiFi connectivity, Surgetech™, quiet mode, dedicated directional axis buttons, 2x expansion ports, I/O ports for external intervalometers and bulb ramping, set-up speed ramp & axis renaming.
This item is unavailable
This page is here for your reference.
The Best in Motion Control Just Got Better
After an incredibly positive response to Second Shooter from filmmakers around the world, Kessler immediately refocused and forged ahead with their continuous goal of innovating motion control gear that pushes the boundaries of what is possible. The result, is Second Shooter Plus. Second Shooter Plus is a reimagined counterpart to its predecessor and introduces features and upgrades that stem from thousands of hours in-the-field and requests from an enormous group of talented filmmakers looking to dig deeper into their craft. Kessler has always prided itself on listening and engaging their customers to design and manufacture the best products available and with Second Shooter Plus, and they believe they've done exactly that.
WIFI CONNECTIVITY

Integrated WiFi allows Second Shooter Plus to be operated with kOS via iPad, Mac & Windows as well as connect to motion control accessories such as the Digital Jog Control (coming soon)
SURGETECH™

With Second Shooter Plus' SurgeTech™ feature users can take a normal 12V input into the controller and output at 24V to each motor, dramatically increasing available speed and torque.
QUIET MODE

Quiet Mode is used to limit maximum motor speed, to ensure Second Shooter Plus remains silent in audio sensitive environments, such as weddings and live interviews
DEDICATED DIRECTIONAL AXIS BUTTONS

With dedicated directional axis buttons users can operate multiple axis simultaneously, such as pan and slide, for faster pre-programmed move setups and to operate multiple axis during manual moves.
TWO EXPANSION PORTS

Second Shooter Plus has two expansion ports giving users the ability to connect to various external accessories such as the Digital Control Center, while at the same time being able to connect two controllers together in Bridge Mode.
I/O PORTS FOR EXTERNAL INTERVALOMETERS AND BULB RAMPING

Used to connect external intervalometers and bulb-ramping devices, such as Ramper Pro
SET-UP SPEED RAMP

Time reducing speed ramp allows operators set up moves at an increased rate of speed to maximize time efficiency
AXIS RENAMING

To help users organize their controller per shoot and in different configurations, users can rename each axis on the Second Shooter Plus Controller as needed
Bridge Mode
Simultaneous 6-Axis Control
One of the biggest features continued with Second Shooter Plus from Second Shooter is Bridge Mode. By utilizing one of the available expansion ports, users can link two Second Shooter Plus controllers OR a Second Shooter Plus and first generation Second Shooter controller to have 6-axes available simultaneously. For current Second Shooter owners looking to upgrade to Second Shooter Plus, this is a fantastic way to incorporate their existing unit into a 6-axis advanced motion control rig where FIZ control can be combined with slide, pan and tilt for extraordinary motion control shots.
Additional Features:
BUILD QUALITY
You will instantly notice the build quality of Second Shooter Plus out of the box. Kessler understands that their users venture into extreme environments and Second Shooter Plus is built to withstand the harshest of conditions. Solid aluminum and quality craftsmanship are trademarks of Second Shooter
COMPACT DESIGN
Second Shooter Plus' small footprint allows it to fit nicely into existing camera bags and eliminates the need for additional cases. Separate the Pan from the Tilt axis to use independently or for easier travel. Every piece is modular.
KOS INTEGRATION
Bringing the power & features of CineDrive's kOS software to the smaller form factor of Second Shooter.
LIVE & LOOPING
From basic slider shots to unmanned, looping shots for an interview - Second Shooter Plus proves its place as an A cam or B cam.
TIME-LAPSE
Setting up a complex time-lapse has never been so easy. With basic and advanced features, the intricacy of the move is up to you.
STOP MOTION
Stop motion is made simple with Second Shooter Plus. Set up your key frames then simply advance through each position to achieve a flawless end product.
MANUAL MODE
Manual Mode is perfect for run-and-gun style shooting when precision still matters. It provides an easy interface that allows shooters to grab shots on-the-fly with non pre-programed motion control.
KEY FRAMES
Setup moves easily with two or three keyframes and let Second Shooter Plus do the rest. Need to edit? Tweak each key frame independently without having to redo the entire move.
MAGNALINK INTEGRATION
Second Shooter Plus utilizes the advantages of Kessler's Magnalink system, keeping the controller and accessories, such as the MagPak battery system, organized via magnetic connection.
REPEATABLE
Repeat moves easily and at different lengths of time to achieve basic visual effects shots.
RAMPER PRO
Compatible with the popular bulb ramping device, Ramper Pro.
QUIET MOVES
The low noise output of Second Shooter ensures that when users need to capture audio, they won't also be capturing motor noise.
BUILT-IN INTERVALOMETER
Never forget your intervalometer again. Second Shooter comes with a built-in intervalometer. Simply connect the camera cable from your camera to the Second Shooter controller.
TURNTABLE
The Second Shooter Turntable is an excellent feature for users seeking advanced panning shots, such as those used in product showcase videos.
LOW PROFILE
Incredible stability and a low profile are trademarks of Second Shooter, outclassing any imitators.
SPEED/TORQUE OPTIONS
Easily switch the motor speed/torque (power) for the Slider motor via the quick-change pulley system. (3 options for CineSlider, Philip Bloom and Stealth) (2 options for Pocket Dolly v2.0, Shuttle Pod & Shuttle Pod Mini)
FOCUS/IRIS/ZOOM CONTROL
Control CineDrive's focus/iris/zoom motors via Second Shooter Plus.
LEVEL
Ensure a perfect composition with the built-in bullseye level.
FLASHLIGHT
Second Shooter Plus' built-in flashlight allows you to save space in your pack.
Product Specifications
Detailed Specifications

Controller

Weight
0.5 lbs.
Dimensions (LxWxH)
5.20" x 3.80" x 1.51"
Power Input

Input Voltage
11.9 to 15 Volts

Input Current
3 Amps minimum - 5 Amps maximum

Operating Temperature
-4F to 122F (-20C to 50C)
WiFi
802.11 B/G/N

Slider Motor

Weight
1.8 lbs.
Dimensions (LxWxH)
6.49" x 2.75" x 2.63"
Load Capacity
15 lbs. (10 lbs. vertical)
Speed

Horizontal
14.11 Inches Per Second

Vertical
4.36 Inches Per Second

Operating Temperature
-4F to 122F (-20C to 50C)

Pan Axis

Weight
3.0 lbs.
Dimensions (LxWxH)
5.675" x 5.375" x 2.20"
Load Capacity
50 lbs. on center
Speed

50:1 Ratio
189.47 Degrees Per Second

200:1 Ratio
41.53 Degrees Per Second

Operating Temperature
-4F to 122F (-20C to 50C)

Tilt Axis

Weight
1.6 lbs.
Dimensions (LxWxH)
6.91" x 2.95" x 3.33"
Load Capacity
10 lbs. (at 3.5" center of gravity)
Speed
48.48 Degrees Per Second
Operating Temperature
-4F to 122F (-20C to 50C)
Kessler Second Shooter Plus Slide, Pan, Tilt System includes Slider Motor, Pan/Tilt Head, & Controller
Looking for a personal touch? Not sure if you are choosing the right product? Our staff is here to help.
We want to make sure you get the right product for your needs.
Our staff will help you understand the options available so you can be confident in your purchase.
As the country's leading Professional Imaging retailer, Vistek is in the perfect position to ensure you make the right choice.
Contact us today for a personal touch.