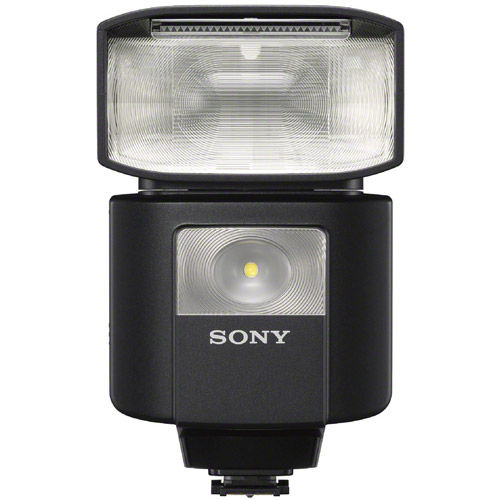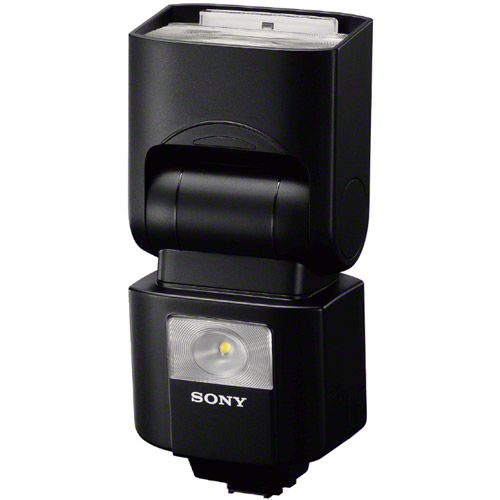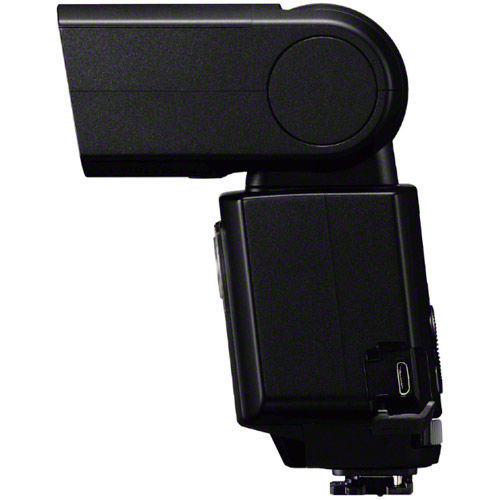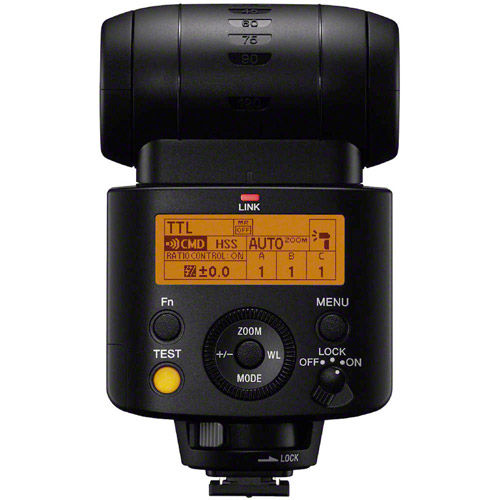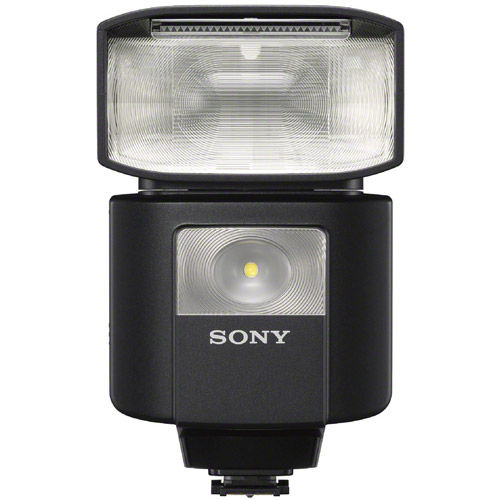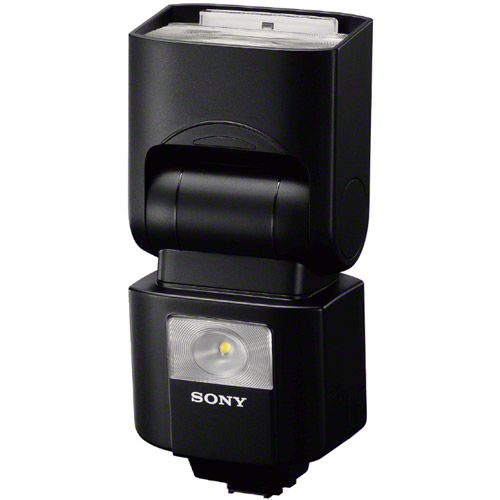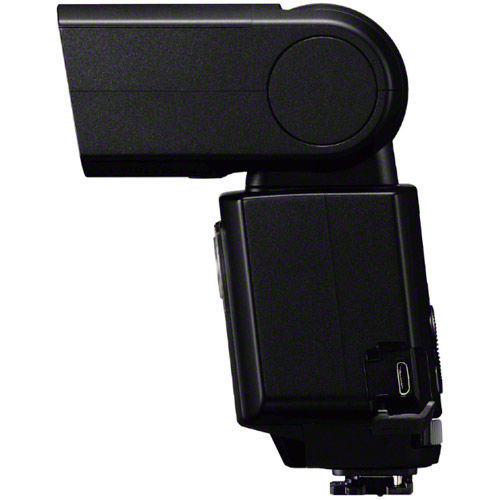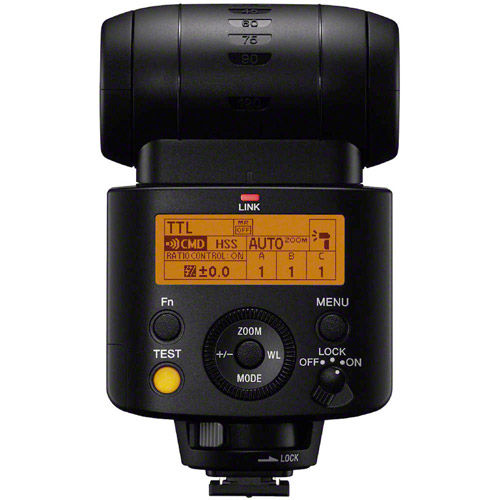 Webcode:

413886

• Mfr: HVLF45RM
Product Highlights
HSS

High Speed Sync

Up to 1.7 ms.

Flash Duration

Up to 210

Burst Mode

2.5s

Recycle Time

Through-the-Lens Wireless

45 at ISO 100 and 105mm

Guide Number
Vistek Locations
Toronto In Stock
Ottawa Available for Order
Mississauga Available for Order
Calgary Available for Order
Edmonton Available for Order
Please call and verify availability at the store as stock changes daily.
Compact Yet Powerful
With radio wireless communication to support multi-flash photography
Sony's new HVL-F45RM flash enhances the radio-controlled lighting system capabilities of their growing system, offering a compact professional shooting solution when combined with the currently available wireless remote controller FA-WRC1M and receiver FA-WRR1.
The new flash, which is designed to complement the compact bodies of Sony's E-mount camera lineup including full-frame α7 models, produces a maximum lighting output as expansive as GN45 4. This ensures sufficient illumination even when shooting with bounce lighting or high-speed-sync (HSS) flash. The radio capabilities of the HVL-F45RM allow it to be used as a transmitter or a receiver at up to 30m (approx. 98 feet5), making it an ideal fit for creative lighting with multiple flashes. Additionally, unlike optical flash systems, radio-control flashes do not require a direct line-of-sight between components to function properly, while also minimizing any impact that bright sunlight has on signal transmission and control.
The HVL-F45RM flash has an impressive battery life of up to 210 bursts, and can tilt up to 150o vertically, a complete 360o horizontally and up to 8o downward to maximize versatility. Usability has been maximized with a new large, bright and highly visible LCD display, an LED light, dust and moisture resistant design3 and a revamped menu system that mimics those of Sony's newest camera systems.
Key Features:
Powerful flash lighting at guide number (GN) of 45*1
Operates as on-camera flash, radio wireless commander or receiver
Wirelessly Supports 15 units in up to 5 groups2
Recycling time of approx. 2.5 sec. and up to 210 bursts3
High visibility dot-matrix LCD and tab-structure menu
Quick Navi control interface to change settings fast
Custom key settings to assign frequently used features
Compact, lightweight, reliable dust and moisture resistant design4
Flexible bounce head; 180° left/right, 150° up and 8° down
Powerful LED light for movies and stills
Memory settings (MR1/MR2) to recall presets
Multi-flash photography via radio wireless communication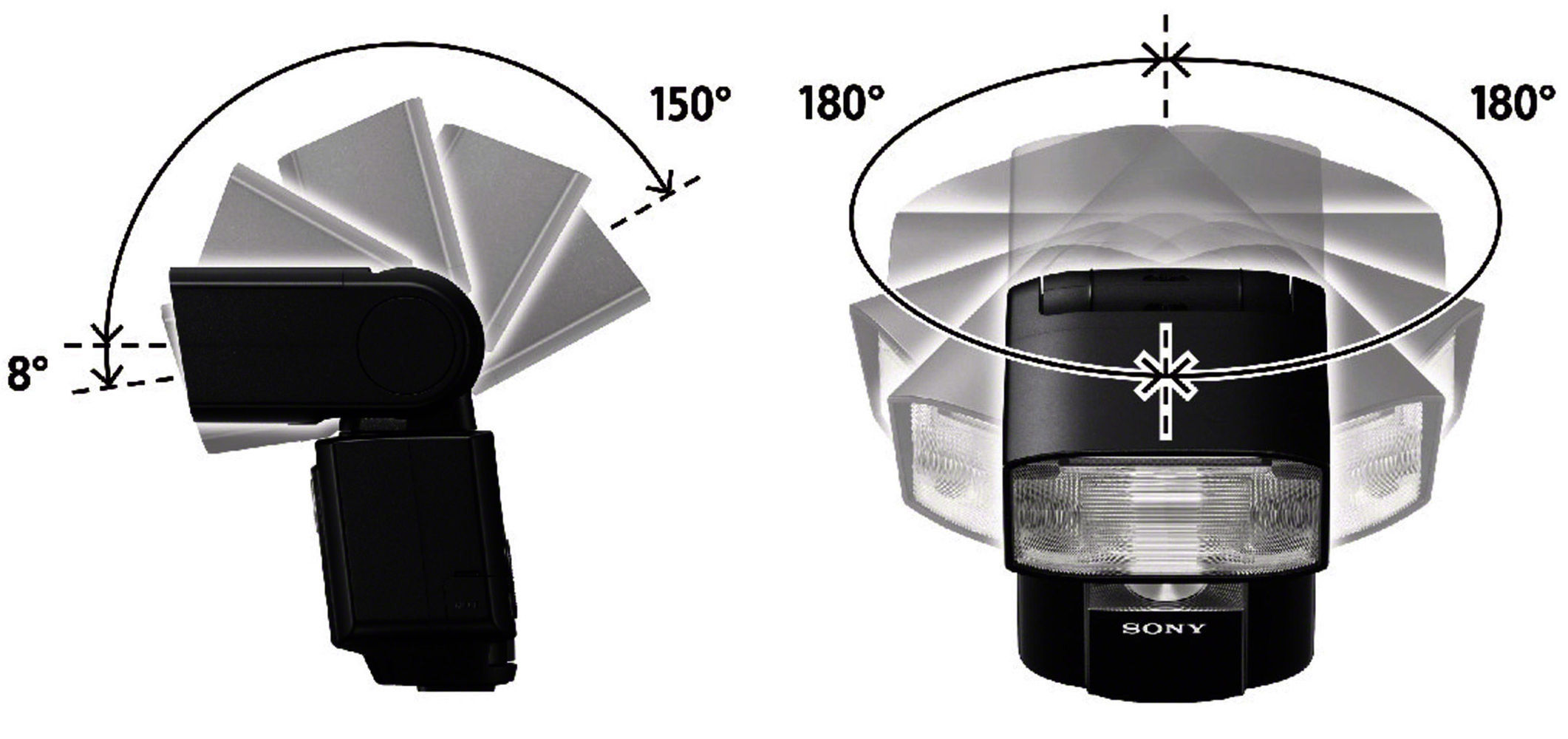 Master the light in your photography with the HVL-F45RM
This compact wireless flash packs a powerful guide number 45*1 and recycles in as little as about 2.5 sec. 3, supplies reliable stamina for as many as approx. 210 bursts1, and even delivers sufficient illumination for bounce lighting or high-speed-sync (HSS) flash. Whether you're professional or enthusiast, it's the versatile small flash for sophisticated output. It's ideally suited for use with Sony's mirrorless cameras.
Advanced abilities for the widest range of shooting situations
Wireless radio-controlled flash gives you the most consistent results without pairing errors. Control signals can reach receivers even in challenging conditions such as distant locations, strong sunlight, or when the flash is behind the subject, which can make optical flash sync difficult or even impossible. The compact clip-on HVL-F45RM flash can operates as an on-camera flash, radio wireless commander or receiver in multi-flash setups to meet your off camera creative lighting needs.
Multi-flash photography via radio wireless communication
Radio wireless communication is available in addition to conventional optical communication. Since this flash unit can be used as both commander (to send signals) and receiver (to accept signals), it supports a wide range of shooting conditions. As a commander, this flash can be paired with other HVL-F45RM units or combined with optional wireless radio commander (FA-WRC1M) and receiver (FA-WRR1) for use with other compatible flashes and studio lights. It can connect with up to 15 compatible off-camera flash units or receivers in up to 5 groups2. You can also take advantage of wireless firing and varied output flash level control for flashes up to 98ft. away.
Downsized with dust and moisture resistant design
Equip yourself for varied shooting conditions with this compact lightweight clip-on flash. Dramatically reduced in size and weight from the HVL-F43M, the new HVL-F45RM is ideally suited to the 7 series. Reliability built with a dust- and moisture-resistant design4 for confident outdoor shooting. It's a smaller, easier-to-carry flash for convenient use in field, studio, and wherever you need adaptable lighting support.
High visibility dot-matrix LCD and tab-structure menu
Usability has been maximized with a new large, bright LCD display. Enjoy intuitive operation with an easy-to-read dot-matrix LCD designed for enhanced visibility. It uses the same tab-menu structure as the camera to support quick setting changes in shooting situations.
Quick Navi and customizable to change settings fast
Speed up lighting setup and operation with Quick Navi and key customization function. One press of the function (Fn) button calls up the Quick Navi screen, letting you directly change shooting settings with ease. In addition, you can easily assign frequently used features to custom keys and the control wheel, enabling assignment of various settings including lighting compensation level and power level. The HVL-F45RM also provides a memory setting function (MR1/MR2) to register frequently used modes and combinations of adjustable values for easy recall.
Bounce head for flexible lighting
Rotate the flash bounce head up to 360° horizontally — 180° in both left and right directions — and tilt it 150° upward and 8° downward. You can freely position illumination to match changing shooting needs depending on shooting situations
Powerful LED light
The powerful built-in LED light supports shooting stills and movies in dimly lit venues.
Flash distribution setting
Types of flash distribution can be selected from standard (STD), GN priority (CENTER) or Wide-angle priority (EVEN).
High-speed(HSS) sync with wireless flash support
While conventional sync shooting requires the shutter speed to be the same or slower than synched flash speed, this narrows the aperture, making it difficult to capture background bokeh effects. However high-speed sync (HSS) flash can be used at any shutter speed — even up to the highest shutter speed provided by the camera. This allows aperture increases as needed to create a narrow depth of field, keeping the subject in perfect focus against a blurred background for beautiful portrait shots. Wireless high-speed sync is also possible with compatible cameras.
Through-the-Lens (TTL) wireless flash
Even when performing wireless flash shooting, flash output can be determined based on accurate measurement of the amount of light through the lens. Since the user can freely change position and direction of the flash unit exactly as desired, it's possible to soften intense shadows and suppress blown highlights when shooting a subject from right in front (of the subject), or add soft shadows that emphasize a sense of depth and presence. Wireless flash ratio control is available.
Lighting control with Advanced Distance Integration (ADI)
The HVL-F45RM works in conjunction with ADI-compatible camera and lenses with built-in distance encoder for high-precision ADI lighting control. By acquiring accurate distance information between the lens and subject, ADI delivers precise flash intensity control. ADI is virtually unaffected by the reflectance of subjects or backgrounds, achieving TTL lighting control for higher precision of flash level control on the basis of precise distance information.
Auto zoom control optimized for image sensor size
The HVL-F45RM automatically selects the appropriate flash coverage for the focal length of the lens on the attached camera within the range from 24mm to 105mm. This function also adjusts the flash zoom to match the camera's image sensor size. Since flash coverage differs significantly for cameras using 35mm full-frame and those with APS-C size image sensors for example, this intelligent function automatically provides the optimum light distribution depending on image sensor size.
Auto White Balance Adjustment
Color temperature at time of flash shooting is affected by the guide number and flash type in use. With Auto White Balance Adjustment, color temperature information is automatically transferred from the flash unit to the camera for correct white balance setting, thereby enabling more natural color reproduction.
Multi/Micro USB ports
The HVL-F45RM features a Multi/Micro USB port for supporting firmware update to the latest version via connected PC.
What's Included
Sony HVL-F45RM Wireless Radio Flash
Terminal Protector Cap
Mini-Stand
Carrying Case
Limited 1-Year Warranty
Product Specifications
HVL-F45RM

DIMENSIONS (W x H x D)
69.4 x 113.7 x 88.3 mm (2 3/4 x 4 1/2 x 3 1/2")
WEIGHT (APPROX.)
317 g / 11.2 oz (only main unit)

Type

TYPE
Auto electronic flash (clip-on type) with pre-flash metering
SHOE TYPE
Multi Interface Shoe.

Flash head
(light-emitting unit)

MAXIMUM GUIDE NUMBER
45 (flash coverage setting 105 mm, ISO100 m)
FLASH COVERAGE
AUTO/MANUAL (24 mm–105 mm) angle of view at 15 mm focal length is also covered with the wide panel
FLASH MODE
TTL/MANUAL/MULTI
FLASH DURATION
Approx. within 1.7 ms (1/1 MANUAL)
COLOR TEMPERATURE
Approx. 5,500 K
FREQUENCY
Approx. 0.1–2.5 seconds (alkaline battery) / Approx. 0.1–2.0 seconds (Ni-MH battery)
REPETITION
Approx. more than 210 times (alkaline battery)/Approx. more than 270 times (Ni-MH battery)
CONTINUOUS FLASH PERFORMANCE
40 flashes at 10 flashes per second
BOUNCE FLASH
Yes
BOUNCE ANGLE
UP 150°(0°/30°/45°/60°/75°/90°/120°/150°) DOWN 8°, Left and right
80°(0°/30°/45°/60°/75°/90°/120°/150°/180°)
TEST FLASH
Yes
FLASH CONTROL
Flash control using pre-flash (P-TTL/ADI)
FLASH COMPENSATION
Yes
POWER LEVEL SWITCHING
22 levels (1/1-1/128) 1/3 steps
HIGH-SPEED SYNC (HSS)
Yes
MODELING FLASH
Yes
BUILT-IN WIDE PANEL
Yes (15 mm)
BUILT-IN BOUNCE SHEET
Yes

Radio-controlled wireless function

RADIO-CONTROLLED WIRELESS FLASH
Yes (commander/receiver)
FREQUENCIES
2.4 GHz band
CHANNELS
14 channels (Auto/Manual)
COMMUNICATION DISTANCE
Approx. 98.43 ft
GROUPS
3 groups (TTL/MANUAL), 5 groups (group flash photography)
MAXIMUM FLASH UNITS
15 units
LIGHTING RATIO CONTROL
3 groups (TTL)

Optical control wireless function

OPTICAL CONTROL WIRELESS FLASH
Yes (controller/remote)
CHANNELS
4 channels
COMMUNICATION DISTANCE
Approx. 16.4 ft
GROUPS
3 groups
LIGHTING RATIO CONTROL
3 groups (TTL)

LED light function

CENTER LUMINANCE INTENSITY
Approx. 400 lx (1.64 ft)/Approx. 100 lx (3.28 ft)
LIGHTING DISTANCE
Approx. 3.28 ft (when recording movies, set to ISO 3200 & F5.6)
FOCAL LENGTH SUPPORTED
35 mm (35 mm-format angle of view)
CONTINUOUS LIGHTING TIME
Approx. 4 hours (with Sony AA-size alkaline battery)
COLOR TEMPERATURE
Approx. 5,500 K
POWER LEVEL SWITCHING
10 steps

Other functions

AUTO ZOOM CONTROL OPTIMIZED FOR IMAGE SENSOR SIZE
Yes
FLASH DISTRIBUTION SETTING
Yes
AUTO WB ADJUSTMENT WITH COLOR TEMPERATURE INFORMATION
Yes
CUSTOM KEY SETTINGS
Yes
MEMORY SETTINGS
Yes
LCD PANEL
Yes (Dot matrix)
MULTI/MICRO USB TERMINAL
Yes
POWER SOURCE
Four AA-size alkaline or Ni-MH batteries
DUST AND MOISTURE-RESISTANT DESIGN
Yes
Sony HVLF45RM Flash
Looking for a personal touch? Not sure if you are choosing the right product? Our staff is here to help.
We want to make sure you get the right product for your needs.
Our staff will help you understand the options available so you can be confident in your purchase.
As the country's leading Professional Imaging retailer, Vistek is in the perfect position to ensure you make the right choice.
Contact us today for a personal touch.