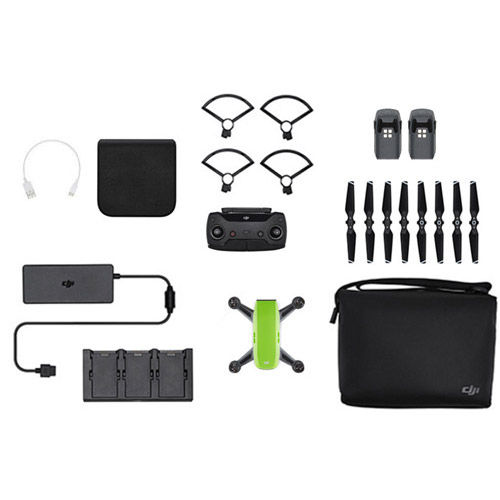 Webcode:

416752

• Mfr: SPARKFLYMORE
Product Highlights
Meet Spark, a mini drone that you can control with your phone or even with hand gestures. With its high-performance camera and 2-axis gimbal, you enjoy UltraSmooth footage.
This item is unavailable
This page is here for your reference.
The Latest SPARK from DJI
Picture a drone that fits in the palm of your hand.
Meet Spark, a mini drone that you can control with your phone or even with hand gestures. With its high-performance camera and 2-axis gimbal, you enjoy UltraSmooth footage. And because it's equipped with DJI's intelligent flight control technologies, it's a snap to fly.
Key Features:
16 min. Flight Time
2 km / 1.2 mile Transmission Distance
50 km/h / 35 mph Max. Speed
30 m VPS Range
2-Axis Gimbal
12 Million Effective Pixels
Quick Launch
With FaceAware, Spark lifts off from your hand by recognizing you. It takes off and hovers in place within seconds of powering on.
Simple Control
Take amazing aerial photos using only hand gestures, without a remote controller or mobile device.
Create with Ease
Intelligent Flight Modes and intuitive controls help you create cinematic aerial videos with just a few taps.
Edit and Share
The DJI GO 4 app features automatic editing templates and an array of filters. Quickly edit videos and share them straight to social media.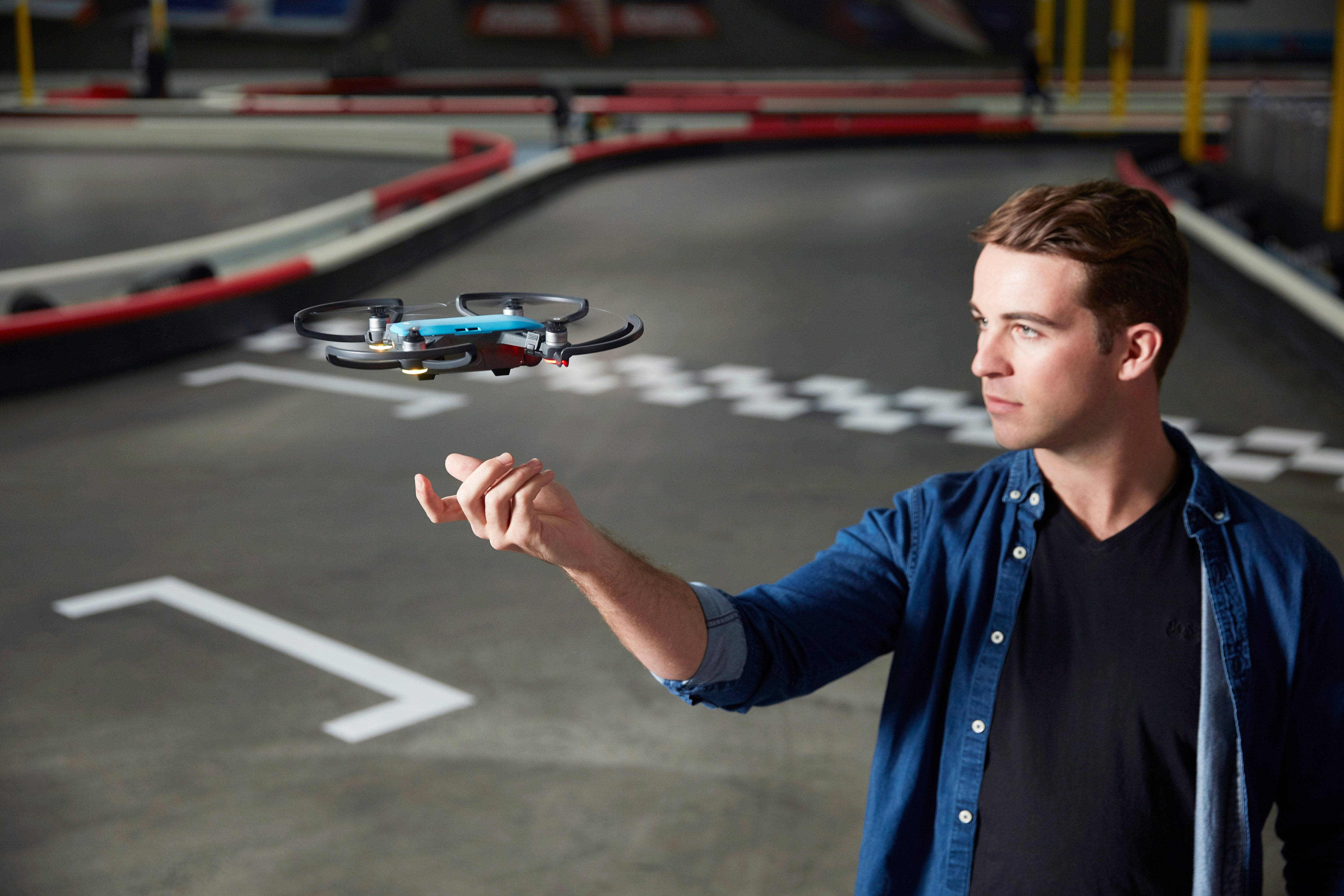 Smart, Reliable, and Incredibly Intuitive
QuickShot
Videos with a Tap
Let Spark take professional shots for you. QuickShots helps you shoot amazing footage with cinematic composition.
Rocket

Ascent with the camera pointing downward.
Dronie

Fly backward and upward, with the camera locked on your subject.
Circle

Circle around your target.
Helix

Fly upward, spiralling around your subject.
TapFly
Flight at Your Fingertips
In TapFly mode, just envision your shot and Spark captures it for you. Tap your phone screen and Spark, using vision technology, flies in the direction of your tap or exactly where you tapped while actively sensing obstacles. Capture shot after shot with just your fingertips.
Direction

Keep flying in the direction you tap on the screen.
Coordinate

Tap the screen and fly to that spot while maintaining altitude.
ActiveTrack
Stay on Target
With ActiveTrack, Spark automatically recognizes objects of different shapes and sizes then tracks them according to what they are and how fast they move. This makes tracking much easier and more reliable.
Trace

Track your target from in front or behind, or even circle around it.
Profile

Follow your subject from a fixed perspective.
Gesture
Your Moments, Captured.
Deep learning gesture recognition allows you to take selfies with simple hand motions. With PalmControl mode, control Spark's movement by hand. If you want, leave your remote controller and phone at home.
Selfies

Raise your arms, wave your hand, or make a frame with your fingers to maneuver Spark and shoot photos.
PalmControl

Spark can follow your hand movements or even take off and land on your palm.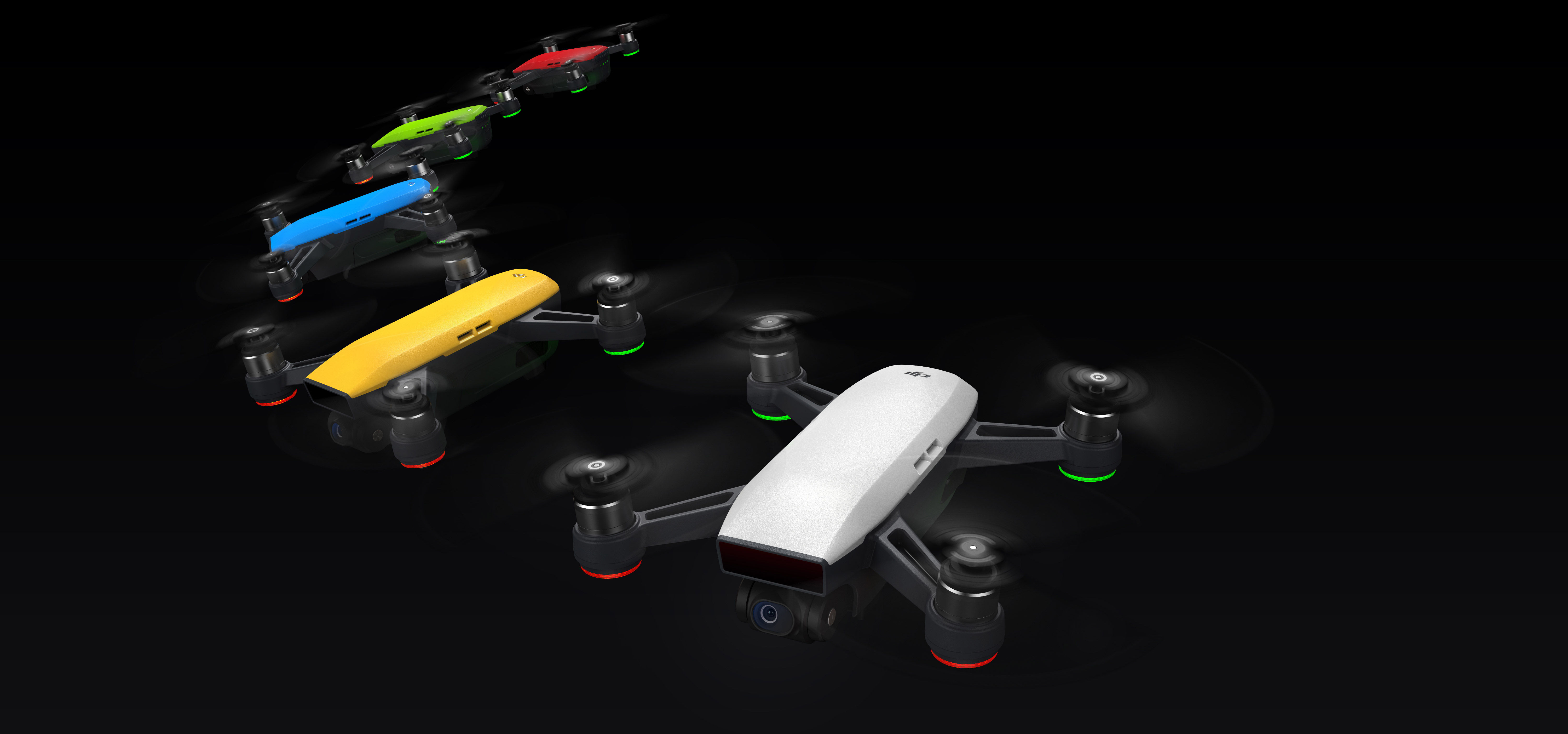 High Performance Camera
Amazing images and stabilized video
Mechanical Gimbal Stabilization
Shake-Free Shots
Spark's 2-axis mechanical gimbal and UltraSmooth technology dramatically reduces shake and rolling shutter effects, keeping shots stable and detailed.
Powerful Lens
Capture the World
All Spark images are consistently sharp and vivid with very little colour aberration or distortion. Spark's camera has a f/2.6 wide-angle lens with a 25mm equivalent focal length. Five elements are arranged into a single group that fits into a compressed frame.
1/2.3" Sensor
Record More Details
Small and compact, Spark's camera features a 1/2.3" CMOS sensor, allowing you to shoot stabilized video at 1080p and stills at 12MP. Larger pixels mean Spark is acutely sensitive to light and records colours precisely.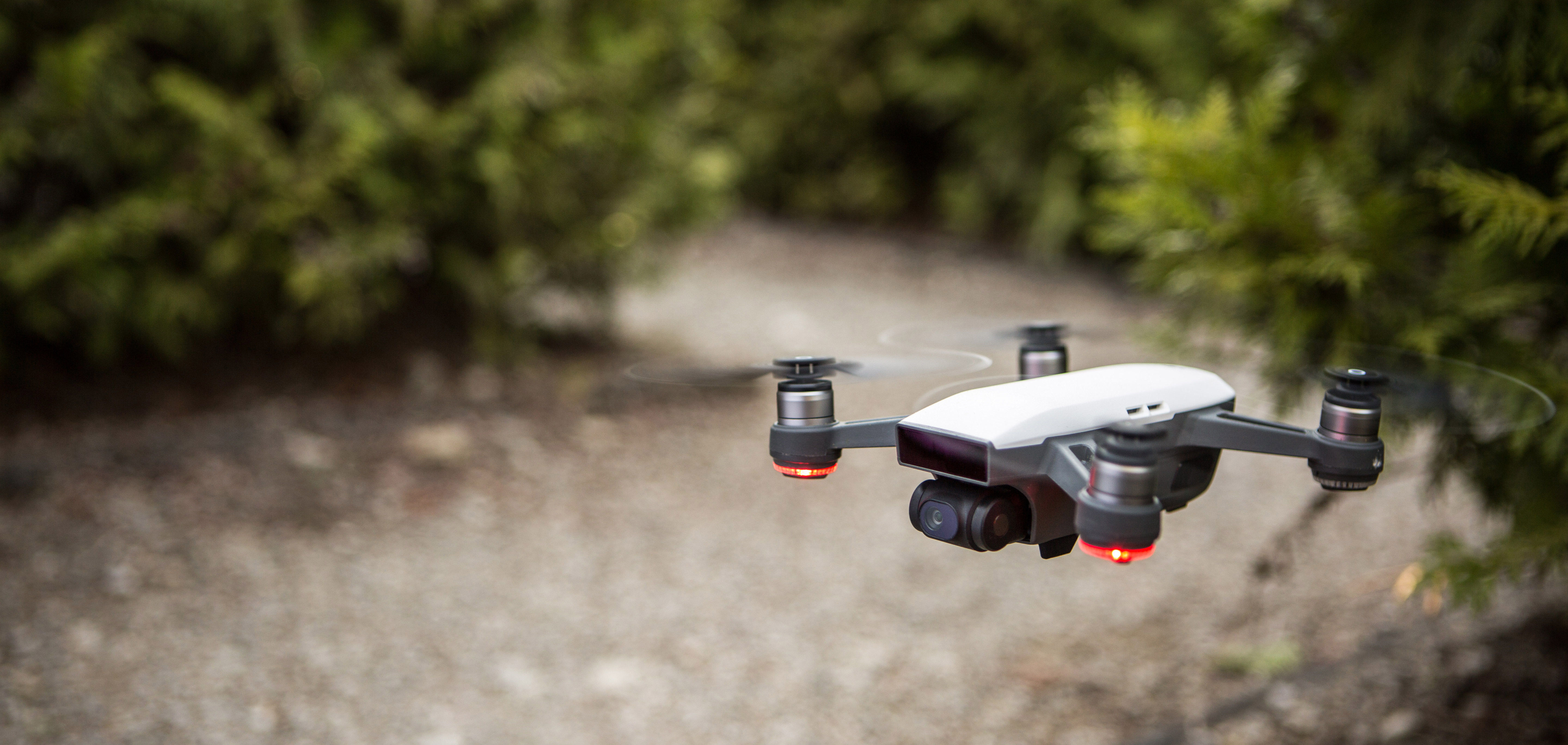 Flight Performance
Powerful Propulsion
Speed and Precision Control
With its aerodynamic, lightweight, and slick design, Spark soars through the air with minimal wind resistance. The gimbal and camera are flush with the aircraft, significantly increasing stability. Powerful propulsion offers steady flight in strong winds at up to 31 mph (50 kph) in Sport Mode.2 And an advanced flight control system means flying Spark is fun and intuitive.
HD Wi-Fi Video Transmission
Fly Farther, See More
Innovative HD Wi-Fi technology allows for 720p real-time video transmission from up to 1.2 mi (2 km) away.
Stay in the Air
Uncompromised Flight Time
Even with all of Spark's intelligent features, flight time isn't compromised. Fly for up to 16 minutes with a fully-charged battery, capturing more footage.
FPV Flight
Aerical Immersion
Switch to Sport Mode and unleash Spark's speed potential. Sport Mode sets the gimbal mode to FPV by default, so the camera moves with you as you fly. For an upgraded FPV experience, pick up a pair of DJI Goggles and see a different world.
Multiple Shooting Modes
Spark adopts all previous DJI drone shooting modes while adding two new modes: Pano and ShallowFocus
Pano

Spark shoots horizontal or vertical panoramas by automatically adjusting its gimbal and heading.
ShallowFocus

Spark uses its 3D vision technology to create photos with a shallow depth of field.
Flight Safety
Worry-free flight in the palm of your hand
FlightAutonomy

Spark's FlightAutonomy system includes the main camera, VPS (Vision Positioning System), 3D sensing system dual-band GPS, high-precision inertial measurement unit, and 24 powerful computing cores. This allows Spark to hover accurately anywhere with VPS assistance at up to 30m (98 ft), sense obstacles from up to 5m (16 ft) away, and land safely.
Return to Home

Like all recent DJI drones, Spark can return to its home point automatically with sufficient GPS signal. If the battery gets too low, connection is lost, or you hit the RTH (Reurn to Home) button, Spark flies back to the present home point while sensing obstacles in its path. Spark's downward-facing camera captures images of the area surrounding home point and references these images during RTH for a safe landing.
Flight Protection

DJI's GEO system lets you know where drone flights may raise safety or security concerns, such as near airports or stadiums. This provides the information needed to fly Spark safely and responsibly.
Intelligent Battery
Spark uses a high energy density LiPo battery for optimal performance. 12 intelligent protection functions help deliver safe flight. Additionally, Spark's battery estimates remaining flight time, letting you know when to land in real time.
What's Included
DJI Spark Aircraft (Meadow Green)
Remote Controller
2x Intelligent Flight Batteries
4x Propellers (Pair)
Propeller Guards (Set)
Micro USB Cable
Battery Charging Hub
Charger
Power Cable
Storage Box
Shoulder Bag
Product Specifications
Spark

AIRCRAFT

Max Ascent Speed
9.8 ft/s (3 m/s) in Sport Mode without wind
Max Descent Speed
9.8 ft/s (3 m/s) in Auto Landing Mode
Max Speed
31 mph (50 kph) in Sport Mode without wind
Max Service Ceiling Above Sea Level
13,123 feet (4,000 m)
Max Flight Time
16 minutes (no wind at a consistent 12.4 mph (20 kph))
Max Hovering Time
15 minutes (no wind)
Operating Temperature Range
32° to 104° F (0° to 40° C)
Satellite Positioning Systems
GPS/GLONASS
Hover Accuracy Range

Vertical:
+/- 0.1 m (when Vision Positioning is active) or +/-0.5 m

Horizontal:
+/- 0.3 m (when Vision Positioning is active) or +/-1.5 m

Transmitter Power (EIRP)

2.4 GHz
FCC: 25 dBm; CE: 18 dBm; SRRC: 18 dBm
5.8 GHz
FCC: 27 dBm; CE: 14 dBm; SRRC: 27 dBm

Operating Frequency
2.400 - 2.483 GHz; 5.725 - 5.825 GHz
Takeoff Weight
300 g
Dimensions
143×143×55 mm
Diagonal Distance
(propellers excluded)
170 mm

3D SENSING SYSTEM

Obstacle Sensing Range
1-16 ft (0.2 - 5 m)
Operating Environment
Surface should be larger than 20x20 cm and enable diffuse reflection, with reflection rate >20% (eg. wall, tree, people)

CAMERA

Sensor
1/2.3" CMOS
Effective pixels
12 MP
Lens
FOV 81.9° 25 mm (35 mm format equivalent) f/2.6
(shooting range: 2 m to ∞)
ISO Range
Video: 100-3200
Photo: 100-1600
Electronic Shutter Speed
2-1/8000 s
Image Size
3968×2976
Still Photography Modes
Single Shot
Burst Shooting: 3 frames
Auto Exposure Bracketing (AEB): 3 bracketed frames at 0.7 EV bias
Interval: 2/3/5/7/10/15/20/30/60 s
Video Resolution
FHD: 1920×1080 30p
Max Video Bitrate
24 Mbps
Supported File Systems
FAT32 (≤ 32 GB)
Photo Format
JPEG
Video Format
MP4 (MPEG-4 AVC/H.264)

REMOTE CONTROLLER

Operating Frequency

2.412-2.462 GHz; 5.745-5.825 GHz
2.412-2.462 GHz; 5.745-5.825 GHz
Max Transmission Distance
2.412 - 2.462 GHz (unobstructed, free of interference)
FCC: 1.2 mi (2 km); CE: 0.3 mi (500 m); SRRC: 0.3 mi (500 m)
5.745 - 5.825 GHz (unobstructed, free of interference)
FCC: 1.2 mi (2 km); CE: 0.18 mi (300 m); SRRC: 0.7 mi (1.2 km)
Operating Temperature Range
32° to 104° F (0° to 40° C)
Battery
2970 mAh
Transmitter Power (EIRP)
2.4 GHz
FCC: ≤26 dBm; CE: ≤18 dBm; SRCC: ≤18 dBm
5.8 GHz
FCC: ≤28 dBm; CE: ≤14 dBm; SRCC: ≤26 dBm
Operating Current/Voltage
950 mAh @3.7 V
Supported Mobile Device Size

Thickness range:
6.5-8.5 mm

Max length:
160 mm

INTELLIGENT FLIGHT BATTERY

Capacity
1480 mAh
Voltage
11.4 V
Max Charging Voltage
13.05 V
Battery Type
LiPo 3S
Energy
16.87 Wh
Net Weight
Approx. 0.2 lbs (95 g)
Charging Temperature Range
41° to 104° F (5° to 40° C)

GIMBAL

Controllable Range
Pitch: -85° to 0°
Stabilization
2-axis mechanical (pitch, roll)

VISION SYSTEM

Velocity Range
≤22.4 mph (36 kph) at 6.6 ft (2 m) above ground
Altitude Range
0-26 ft (0 - 8 m)
Operating Range
0-98 ft (0 - 30 m)
Operating Environment
Surface with clear patterns, enables diffuse reflection with >20% reflection rate
Adequate lighting (lux>15)

WI-FI

Operating Frequency
2.4 GHz/5.8 GHz
Max Transmission Distance
100 m(Distance), 50 m(Height) (Unobstructed, free of interference)

CHARGER

Input
100-240 V; 50/60 Hz; 0.5 A
Output
5 V/3 A; 9 V/2 A; 12 V/1.5 A

RECOMMENDED MICRO SD CARDS

Model
Sandisk 16/32 GB UHS-1 Micro SDHC
Kingston 16/32 GB UHS-1 Micro SDHC
Samsung 16/32 GB UHS-I Micro SDHC
Sandisk 64 GB UHS-1 Micro SDXC
Kingston 64 GB UHS-1 Micro SDXC
Samsung 64 GB UHS-I Micro SDXC
DJI Spark Fly More Combo Meadow Green
Looking for a personal touch? Not sure if you are choosing the right product? Our staff is here to help.
We want to make sure you get the right product for your needs.
Our staff will help you understand the options available so you can be confident in your purchase.
As the country's leading Professional Imaging retailer, Vistek is in the perfect position to ensure you make the right choice.
Contact us today for a personal touch.