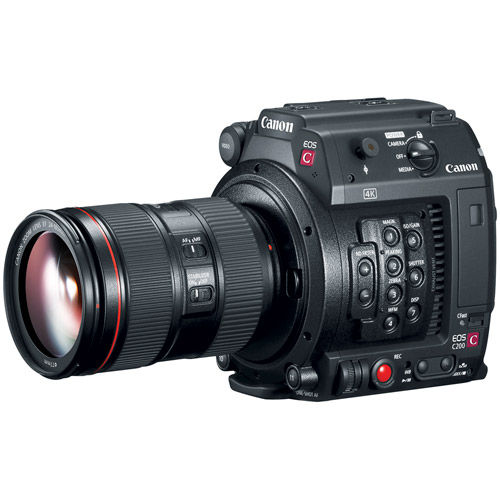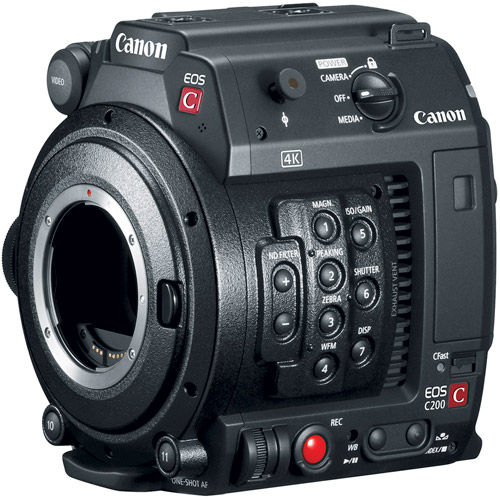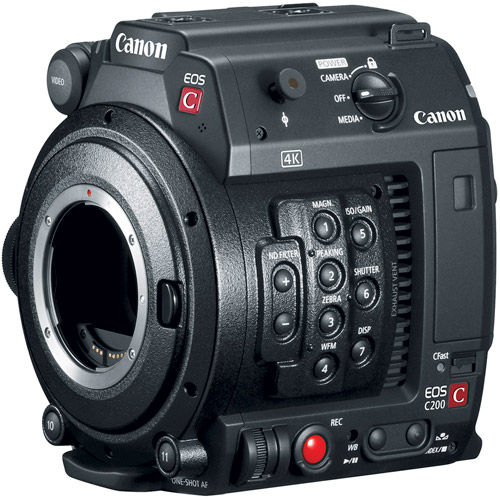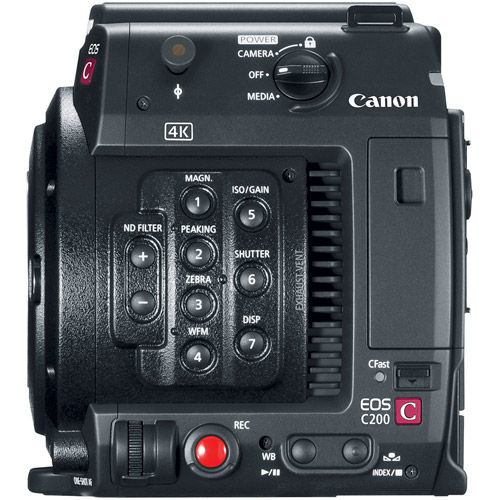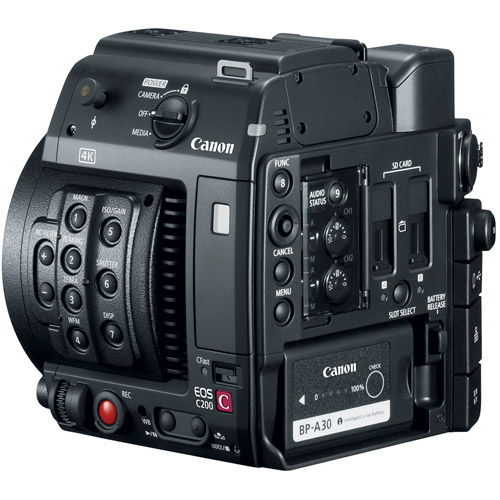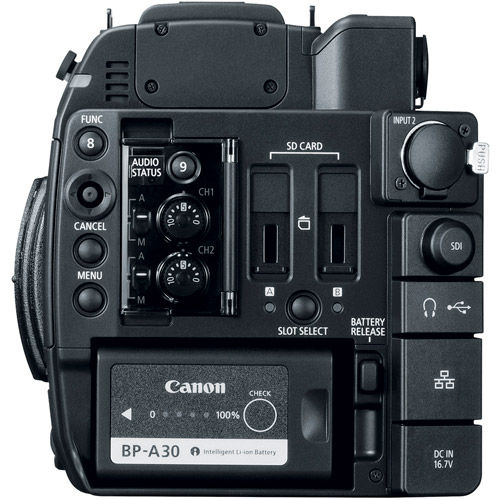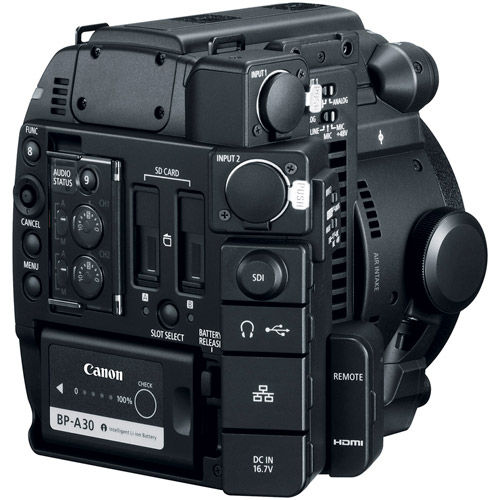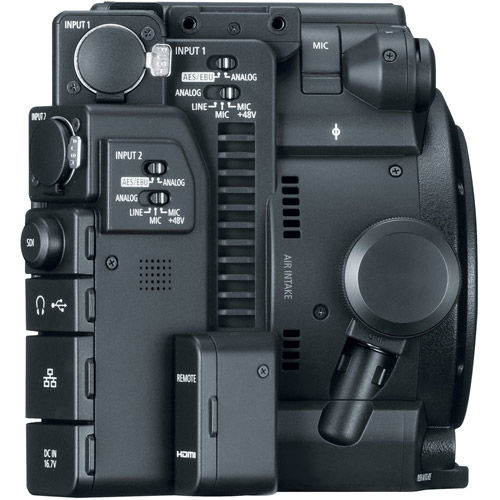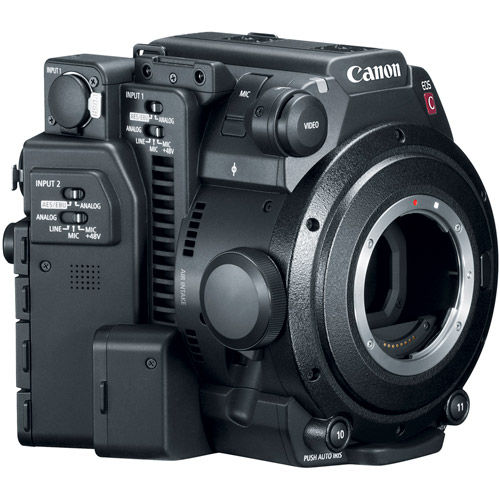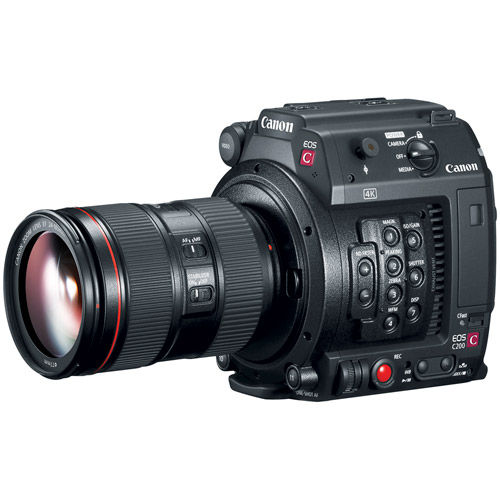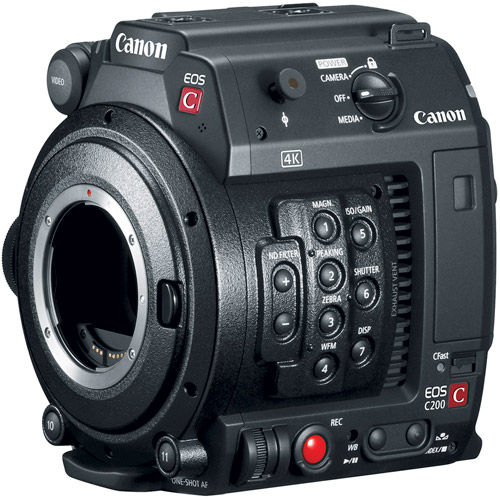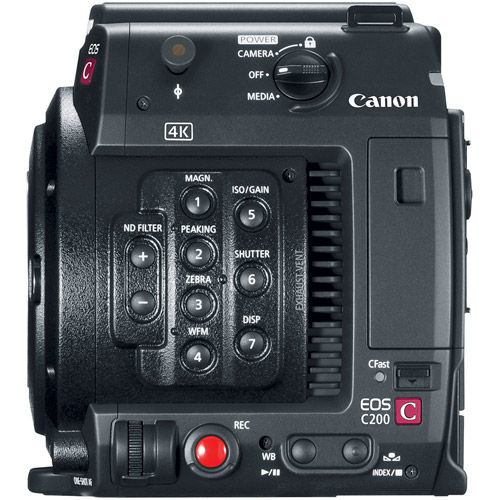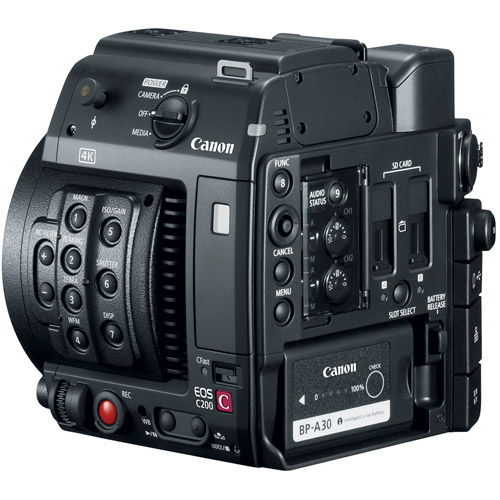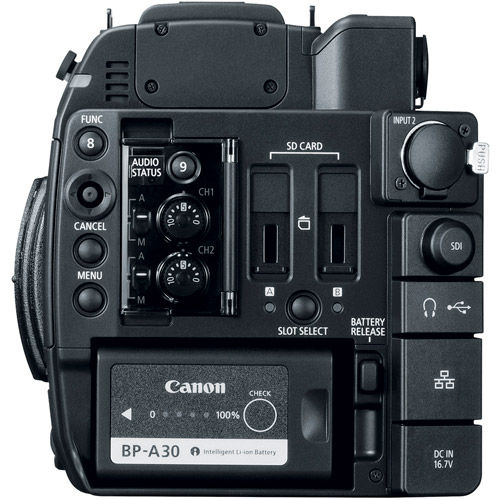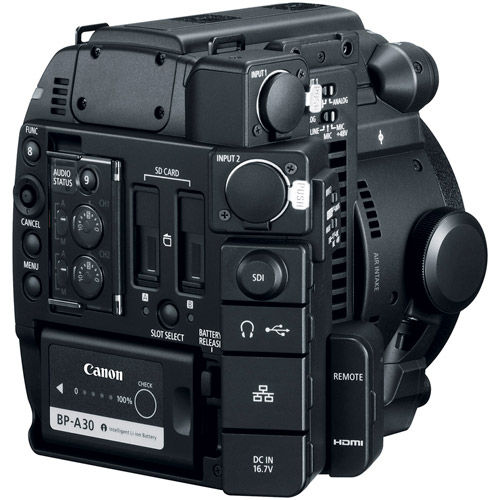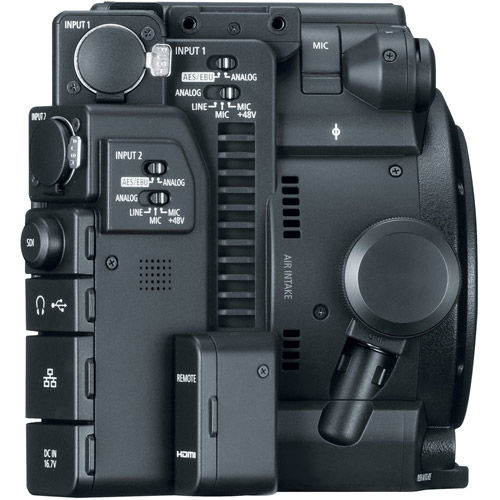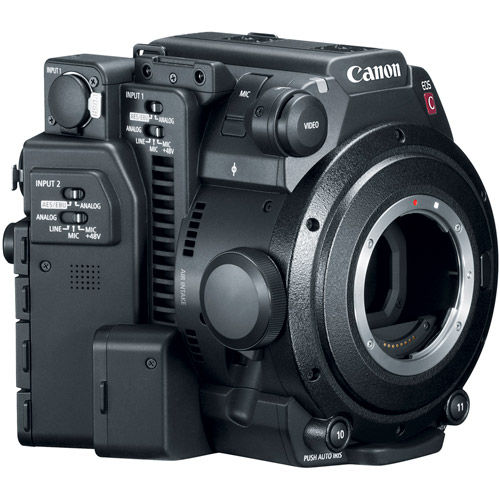 Product Highlights
8.85MP

Super 35mm CMOS Sensor

4K DCI

(4096x2160) Up to 59.94p

Full HD

(1920x1080) Up to 120p

Dual DIGIC DV 6

Image Processors

ISO 160-25,600

Expandable to 102,400
Model:
Web Availability:
Special Order
This product will be Special Ordered just for you from the manufacturer. We do not stock this item due to its uniqueness or import schedule. Special Order items are Final Sale, see our Return Policy for details.
Vistek Locations
Toronto Special Order
Ottawa Special Order
Mississauga Special Order
Calgary Special Order
Edmonton Special Order
Please call and verify availability at the store as stock changes daily.
* Lens pictured not included

The EOS C200B Digital Cinema Camera comes as a standalone camera body, excluding the built-in electronic viewfinder, LCD monitor, handle and handgrip accessories that come with the EOS C200. This allows the user the flexibility to customize the camera with a wide range of accessories to fit their specific needs. The camera's small form factor allows it to be used in tighter spaces, and more easily attached to a gimbal or drone.
The camera can record internal 4K RAW to a CFast™ 2.0 card in our new Cinema RAW Light format without compromising detail, as well as 4K UHD and Full HD in MP4 format to SD cards. The 8.85 Megapixel Super 35mm CMOS sensor, 13 stops of dynamic range, Dual Pixel CMOS AF, full compatibility with Canon EF-mount lenses, and HDR capability help make the EOS C200B ideal for film, documentary and television production, corporate and event videography, and newsgathering. The camera's multitude of features helps deliver outstanding image quality, performance and versatility.
Key Features:
8.85 Megapixel Super 35mm CMOS Sensor
Fully Compatible with New and Existing Canon EF-Mount Lenses
Dual DiG!C DV 6 Image Processors
Dual Pixel CMOS AF Technology
Internal 4K RAW Recording with New Cinema RAW Light
Internal 4K UHD and Full HD Recording in MP4
Full HD 120P / 100P Slow Motion Recording
Canon 8.85 Megapixel Super 35mm CMOS Sensor
The EOS C200 Digital Cinema Camera integrates an 8.85 Megapixel Super 35mm 16:9 CMOS sensor that supports 4K (DCI) recording with a maximum resolution of 4096 x 2160 pixels. The camera fully utilizes the image data delivered by this 4K CMOS sensor to also enable Over Sampling HD Processing for 2K (DCI) and Full HD 1080/60p recording.
Each pixel in this CMOS imaging sensor also maintains a wide pixel pitch that maximizes the amount of light that falls on to each photo site, thus enhancing the EOS C200 camera's sensitivity while also minimizing noise and supporting ISO speeds of up to 102,400 for extreme low-light imaging. This sensor also reduces data-readout time, resulting in a reduction in rolling-shutter artifacts.
Fully Compatible with New and Existing Canon EF-Mount Lenses
A major aspect of the creative filmmaking potential of the EOS C200 Digital Cinema Camera is its compatibility with the full range of more than 100 Canon EF and EF-S photographic lenses (including specialty tilt-shift and fisheye models) and Canon's 4K CN-E Cinema prime and zoom lenses, including the "ENG-style" Canon CINE-SERVO and COMPACT-SERVO zooms. Improved EF lens communication capabilities of the EOS C200 camera provide the display of CN-E Cinema lens T-values, compatibility with Dual-Pixel CMOS AF, lens metadata acquisition, and chromatic aberration correction.
For those users who are accustomed to seeing the T-value displayed when using EF lenses for digital cinema, it is possible to switch the camera to display either the F-value or the T-value. This is important for those that shoot on movie sets and prefer to know how much light is passing through the opening of the lens and actually making it to the sensor. T-values are the traditional measure of light reaching the sensor in video production, while F-stop is the measure of light in still photography. The ability to see the F-stop helps those transitioning from still to video shooting.
Dual DiG!C DV 6 Image Processors
The EOS C200 Digital Cinema Camera features our newly developed dual DiG!C DV 6 image processors, which powerfully process high-resolution image data.
The two on-board DiG!C DV 6 image processors allow for the recording of 1,800 horizontal TV lines in 4K. The DiG!C 6 is Canon's sixth-generation Image processor that uses proprietary technology, allowing users to achieve high performance and creative freedom when acquiring images.
Over Sampling HD Processing

The EOS C200 features Over Sampling HD Processing*, a high-image-quality signal processing system that satisfies a broad spectrum of video production needs by effectively utilizing the abundant powers of 4K image expression in 2K (2048 x 1080) / Full HD (1920 x 1080) recording.
ISO Range of 100 to 102,400 Supported

The EOS C200 supports an ISO range of between 160 and 25,600. That range expands to between 100 to 102,400 when the "Extended Sensitivity" is set on the camera. This range of ISO settings provide the user with more creative freedom. Low ISO values allow the user to use large iris settings and shallow depth of field, even in scenes of bright light. The higher ISO values provide the user with more flexibility in dimly lit situations. A 54db gain setting can also be set to achieve high sensitivity in dimly lit scenes.
Dual Pixel CMOS AF Technology
The EOS C200 Digital Cinema Camera features our Dual Pixel CMOS AF (DAF) Technology. DAF is a breakthrough AF technology that uses the CMOS sensor.
Each pixel in the camera's CMOS sensor is configured with two photodiodes. Two independent image signals can then be detected at each photosite. By implementing phase-difference AF, smooth focusing is accomplished using Canon EF lenses with much higher speed and accuracy than was possible with previous technologies- a major advantage during single-operator shooting.
Continuous AF and Face Detection AF with all Canon EF Lenses*

The EOS C200 has one-touch AF (with a push-button) and continuous AF within approximately 80% of the overall image area. Face Detection AF is another autofocus mode that can track a person's face in the frame and maintain focus on them. To further fine tune AF performance, the EOS C200 offers the ability to set the AF tracking speed (up to 10 steps) and sensitivity (up to 7 steps) to match the user's preference.

* Excluding manual focus lenses.
Dual Pixel CMOS AF with Touch Focus

Achieve faster focus with the included Touch Screen LCD Monitor (LM-V1), a new accessory with touch screen support. Tapping the area of the frame quickly brings the image into focus. This ability to choose the subject for focusing with the tap of the screen helps to make focusing intuitive.
Dual Pixel Focus Guide

The camera's Dual Pixel Focus Guide takes advantage of Dual Pixel CMOS AF data to display focus assist information on the screen. The innovative user interface applies Dual Pixel CMOS AF technology to provide the user focus feedback. This lowers the barrier for focusing, especially when shooting in 4K, which requires strict focus accuracy.

The Dual Pixel Focus Guide presents the user with a rectangle in which to focus the subject. The rectangle turns green when the subject is in focus. If the subject is out of focus the box will turn gray and the arrows will indicate which way to adjust the lens to regain focus.

The camera also has a focus pre-set feature. Separate predetermined focus points can be selected and when the SET button is pushed, the lens will move focus from one mark to the other. This is especially useful when focusing in scenes with multiple subjects.
AF Tuning

A newly developed menu function has been added for Auto-Focus tuning, allowing easy access to camera and lens settings. The AF Speed Tuning function allows users to set the lens drive speed to any of 10 steps. AF subject tracking characteristics can also be varied and set to any of 7 steps, allowing the user to select the appropriate responsiveness when changes have occurred in the subject.
Internal 4K RAW Recording with New Cinema RAW Light
The EOS C200 Digital Cinema Camera features Canon's newly developed Cinema RAW Light, a 4K RAW recording file format offering a smaller file size compared to our standard RAW*1 files, while maintaining the same high resolution, high color reproducibility, and wide dynamic range data to provide dramatically greater freedom in grading and compositing.
Cinema RAW Light files are about 1/3 to 1/5 the size of our standard RAW files. The smaller file size and reduced bit rate speeds up data transfer and allows internal recording to CFast™ cards.
The reduced file size also helps users extend storage capacity and transfer files on a network more easily. The high bit depth of Cinema RAW Light (10bit/12bit*2) maximizes retention of color and dynamic range information, which is especially critical in HDR production.
Cinema RAW Light files can be transcoded to other commonly used file formats, such as DPX or ProRes for later editing and online delivery using Canon's CRD software.
Simultaneous Recording
4K video can be recorded to a CFast™ 2.0 card while recording 2K proxy video to an SD card. The smaller size of the 2K proxy file allows for easier editing.
*1 Standard RAW: EOS C500/EOS C300 Mark II/EOS C700 camera RAW
*2 12bit for 4K/30p and under, 10bit for 4K/60p and 50p. Each bit is efficiency optimized in consideration of visual properties.
Internal 4K UHD and Full HD Recording in MP4
The EOS C200 Digital Cinema Camera offers 4K UHD and Full HD recording in MP4 format, up to 60fps. The compact size of the MP4 codec allows the EOS C200 to capture images directly to low cost SD cards.
Double Slot Recording
Mirror recording of 4K UHD/Full HD MP4 image files to the camera's two SD slots is possible, saving time and effort of having to make copies of the data after recording.
Full HD 120P / 100P Slow Motion Recording
The EOS C200 Digital Cinema Camera supports high-speed recording in Full HD at 120p/100p fps to enable additional creative freedom for slow motion replays and other special effects. It's capable of a maximum 120fps, realizing even greater emotion in visual expression.
Professional Workflow
The EOS C200 Digital Cinema Camera offers a variety of professional workflows. The camera's new Cinema RAW Light format provides professional shooters with the widest dynamic range and highest color fidelity for post production work. Using Canon's CRD software and Canon RAW Light codec with up to 15 stops of dynamic range is achievable.
MP4 recording is also possible on the camera for situations such as newsgathering, where capturing the image and speed through post are priority.
The EOS C200 supports both ACES 1.0 and HDR imaging through support for emerging HDR standards. Canon is working closely with 3rd party developers to help ensure maximum compatibility for these new formats with NLE and grading systems.
Canon Log and Canon Log 3

The EOS C200 supports both Canon Log and Canon Log 3 Gamma. Canon Log is designed to reproduce, in post production, the entire tonal range that the CMOS image sensor is capable of. Log workflow provides the user with higher dynamic range, more highlight and shadow retention, and more flexibility in grading.

Canon Log 3 is ideal for professional end users that want to get the most out of the camera system, and provides the most versatility for post production when recording in camera.

When using Canon RAW Light and Canon's RAW development software it is possible to additionally use Canon Log 2 allowing for a total of 15 stops of dynamic range out of the camera. Using this method requires additional post production time over other options, but gives the highest quality and flexibility for post.
Wide DR Gamma

The EOS C200 provides the Canon Wide Dynamic Range Gamma function that allows users to get many of the benefits of Canon Log Gamma while maintaining an 18% gray point similar to Rec. 709. By using this setting, users can maintain the full dynamic range of the sensor without the need for extensive post processing. Use of Wide DR Gamma can greatly reduce post production time while maintaining very high image quality.
Canon Cinema RAW Development 2.0

Canon has developed a mature workflow for the EOS C200, Cinema RAW Development 2.0, which supports the new Cinema RAW Light format and is provided as a free download. In addition to new development process support, it also brings features from the previous release including support for HDR monitoring, Canon Log Gammas, ACES 1.0 and more.
Canon RAW Plugin for Avid® Media Access

Canon RAW Plugin 2.0 for Avid® Media Access is provided as a free download, which allows users to directly import Canon Cinema RAW data into an Avid Media Composer® system. This helps streamline the workflow, while enabling stress-free real-time playback and reducing file ingest wait time.
HDR Viewing
The EOS C200 Digital Cinema Camera supports HDR recording in the ITU-R BT.2100 standard (PQ). HDR on-set monitoring is possible using HDR compatible reference displays, including all of our Canon 4K UHD Reference Displays. The Electronic Viewfinder can be used with a new View Assist feature, providing a reference view that's close to the PQ standard. Using this View Assist feature, the displayed dynamic range can be selected for 400% or 1600%, and linear display as well. This allows operators to shoot HDR footage while getting a preview of the finished product.
ACES 1.0 Support*
The EOS C200 Digital Cinema Camera supports the Academy Color Encoding System (ACES 1.0). Using Canon supplied IDTs, images captured on the EOS C200 can be imported directly into the ACES compatible systems. In addition, video output from the camera can be monitored by selecting the ACESproxy.
ACESproxy allows the camera to send a monitor output that simulates ACES space to a compatible monitor or device. Modifications made using the proxy output can be saved and later brought into the editing or grading suite to help insure changes and color choices made on set are accurately reproduced in post. ACES image display is supported in Canon's full line of 4K UHD Reference Displays.
Wide Range of Connectivity Options
The EOS C200 Digital Cinema Camera has a wide range of terminals that can be useful in a variety of production shooting and display situations.
Additional Features:
In-Camera ND Filter

The EOS C200 Digital Cinema Camera features in-camera ND filters to help save production time and help increase shooting versatility without the need to change filters. The internal ND filters are selected with the ND FILTER + and - buttons on the left side of the camera.

The camera uses an internal, motorized ND assembly consisting of two rotating disks with glass ND filters between the rear of the lens and the front of the sensor. This combination of ND filters allows 5 steps of neutral density. In normal mode 2, 4 and 6 stops are available. In extended mode, 8 and 10 stops are also available. Neutral density filters allow the operator more control of exposure in bright scenes, especially where shallow depth of field is desired.

RC-V100 Remote Control Support

Camera settings can be accessed and controlled from a distance using Canon's RC-V100 Remote Controller. The RC-V100 plugs into the EOS C200 through the remote terminal on the rear panel. This optional accessory allows image quality adjustments and camera operations to be set from a distance.

Focusing, aperture and zooming operations can also be performed remotely using the Link-up feature with Canon CINE-SERVO lenses.
Updated Browser Remote Functions Including Focus Support

Some applications require the camera to be located a distance away from the operator, such as on a crane or jib. The ability to perform remote operation of camera functions in these situations can be critical. Multiple camera operations can be performed on the EOS C200 from a connected device (such as a pc, tablet or smartphone) by accessing the Browser Remote with a general-purpose browser.

A wide range of auto focus functions can also be controlled using the Browser Remote, including the ability to move the focus area with just a touch when using a compatible tablet or smartphone.

Manual focus can also be controlled from the Browser Remote, helping to ensure accurate focus from remote locations where manual focusing is not possible.

A live feed from the camera can be displayed simultaneously from multiple connected devices accessing the Browser Remote. One device can be used to check focus, while the client or director can monitor the live action from another compatible device.
GPS Receiver (GP-E2)

The optional GPS Receiver GP-E2 is compatible with the EOS C200 and can be connected to the camera using a USB cable, providing location and time information that is recorded during shooting. The GPS Data helps support editing work and adds more useful information for archiving purposes.
What's Included
EOS C200B Cinema Camera Body (EF-Mount)
CA-A10 Compact Power Adapter
Single Battery Charger
Compact Power Adapter
BP-A30 Battery Pack
Tape Measure Hook
Thumb Rest
Body Cap
Product Specifications
C200

Image Sensing Device

Sensor
CMOS Sensor (single-panel) equivalent to Super 35mm
Total Pixels
Approx. 9.84 megapixels (4206 x 2340)
Number of Effective Pixels

Approx. 8.85 megapixels (4096 x 2160):
When 4096 x 2160 or 2048 x 1080 is selected as the resolution

Approx. 8.29 megapixels (3840 x 2160):
When 3840 x 2160 or 1920 x 1080 is selected as the resolution

Filter
RGB primary color filter (Bayer array)

Lens Mount

Lens Mount
Canon EF mount

Exposure

Exposure Modes
(1) Manual exposure based on shutter setting, iris setting, ISO/gain setting, and ND filter setting
(2) Push auto iris control, auto iris control (light metering system selection/AE shift possible)
Shutter Setting
Speed, Angle, Clear Scan, Slow, or Off mode selected
Either 1/3 or 1/4 steps selected as speed increment
Iris Setting

(1) Manual setting in 1/2-step increments, 1/3-step increments or fine possible
(2) Push auto IRIS control*
(3) Auto IRIS control*

* Lenses that support auto IRIS:

EF Lenses
EF-S 10-18mm f/4.5–5.6 IS STM
EF-S 18–55mm f/3.5-5.6 IS STM
EF-S 18–135mm f/3.5-5.6 IS STM
EF-S 55–250mm f/4-5.6 IS STM
EF-S 18–135mm f/3.5-5.6 IS USM
EF 24–105mm f/3.5-5.6 IS STM

Cinema Lenses
CN 7x17 KAS S/E1
CN 20x50 IAS H/E1
CN-E 18–80mm T4.4 L IS KAS S
CN-E 70–200mm T4.4 L IS KAS S

ISO Speed Setting
1 step, 1/3 step settings
[100* - 160 - 25600 - 102400*]
*When the sensitivity is expanded
Gain Setting
Normal [-6dB* - -2dB - 42dB - 54dB*]
Fine: Setting in 0.5 dB step increments possible
*When the sensitivity is expanded
ND Filter

5 density settings (2, 4, 6, 8*, 10* stops)
*When expansion is selected

Motorized drive

Focus Control / Assist

Focus Control
Dual Pixel CMOS AF Supported
Manual Focus, One-Shot AF, Continuous AF, AF-Boosted MF, Face Detection AF (only lenses that support AF functions can be used in any of these modes), Focus Guide

Built-in Viewfinder (C200)

Built-in Viewfinder
0.46" (1.18 cm on the diagonal), color wide-screen organic EL display
Approx. 1,770,000 dots (854 x RGB x 480), 100% field of view ratio

White Balance

White Balance
AWB, Kelvin setting
(setting range: 2000K to 15000K/-20CC to +20CC), Daylight, Tungsten, Set A, Set B)

System Frequency Selection

Frame Rate
(1) 59.94 Hz mode (59.94P/29.97P/23.98P)
(2) 50.00 Hz mode (50.00P/25.00P)
(3) 24.00 Hz mode (24.00P)
Dynamic Range
Canon Log 3: 1600% (ISO 800 or above)
Canon Log/Wide DR: 800% (ISO 400 or above)

Video Formats

RAW

Video:
Codec: Cinema RAW Light
Resolution: 4096 x 2160
Bit Depth: 10 bit (59.94P/50.00P), 12 bit (29.97P/23.98P/25.00P/24.00P)
Bit Rate: 1 Gbps

Audio:
Linear PCM: 16-bit / 48 kHz / 4 channels

MP4

Video:
Codec: MPEG-4 AVC/H.264
Resolution: 3840x2160 / 1920x1080
Bit Rate: 150 Mbps (3840x2160), 35 Mbps (1920x1080)
Color Sampling: YCC420 8 bit

Audio:
MPEG-4 AAC-LC (16-bit / 48 kHz / 2 channels)
Linear PCM (16-bit / 48 kHz / 4 channels)

MP4 (Proxy)
Video:
Resolution: 2048 x 1080
Bit Rate: 35 Mbps
Color Sampling: YCC420 8 bit

Recording Media

Recording Media
(1) CFast™ card (1 slot): RAW movies
(2) SD card (2 slots): Recording of MP4 movies, photos (JPEG), custom pictures, menus and other data possible
Time Code
Drop frame* or non-drop frame
Rec run, free run, regeneration
*In 59.94P/29.97P mode only
Rec Mode (MP4 Recording)
Slow motion recording, pre-recording, frame recording, interval recording
Other Recording Functions (MP4 Recording)
Relay recording, double slot recording
Others
Custom picture setting, black balance adjustments, color bars, peaking display, zebra display, My Menu setting, fan, waveform monitor display, assignable buttons (1-17), key lock, marker display, enlarged display, custom display, peripheral illumination correction, GPS support (GP-E2), monaural microphone, and other functions

Playback

Playback

Playback operations:
Normal playback, fast forward (at speeds of ×5, ×15, ×60), fast reverse (at speeds of ×5, ×15, ×60), frame forward, frame reverse, rec review

Clip Display
3x4 (clip) index screen (RAW/MP4/Photo)

Terminals

Terminals

Input only:
REMOTE terminal, MIC jack, INPUT terminals (2 sets)

Output only:
SDI terminal, HDMI OUT terminal, headphones jack, USB terminal, VIDEO terminal

Input/Output Control:
Ethernet terminal

Power Supply

Power Supply
14.4 V DC (battery pack), 16.7 V DC (DC-IN)

Image Processing

Image Processing Platform
Dual DIGIC DV 6

Physical Specs

Dimensions (W x H x D)

Approx. 144 x 153 x 179in. (5.7 x 6.0 x 7.0 mm)

Approx. 178 x 153 x 204in. (7.0 x 6.0 x 8.0 mm) [With camera grip attached]

Weight
Approx. 1430g (3.2 lb.)
Canon EOS C200B EF Cinema Camera
Looking for a personal touch? Not sure if you are choosing the right product? Our staff is here to help.
We want to make sure you get the right product for your needs.
Our staff will help you understand the options available so you can be confident in your purchase.
As the country's leading Professional Imaging retailer, Vistek is in the perfect position to ensure you make the right choice.
Contact us today for a personal touch.