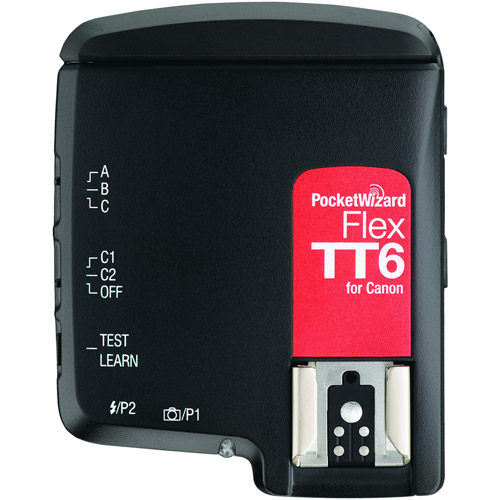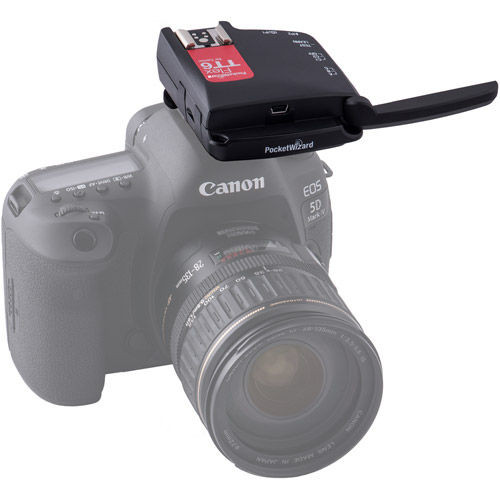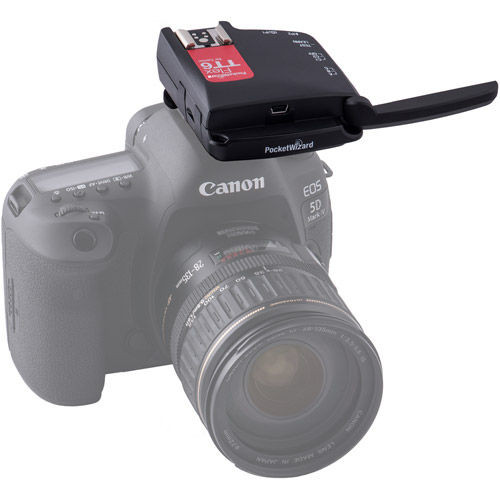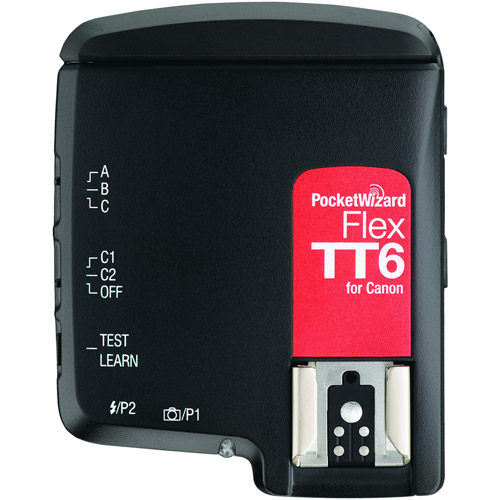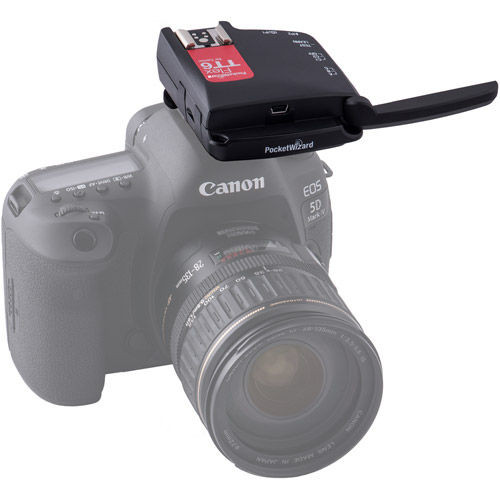 Product Highlights
Up to 243m (800')

Range

20

Channels (TTL)

32

Channels (Manual)

3

Groups

Up to 1/8000 Sec.

Hi-Sync Mode

Canon E-TTL / E-TTL II

Compatibility

High-Speed, Rear Curtain

Sync

USB

Ports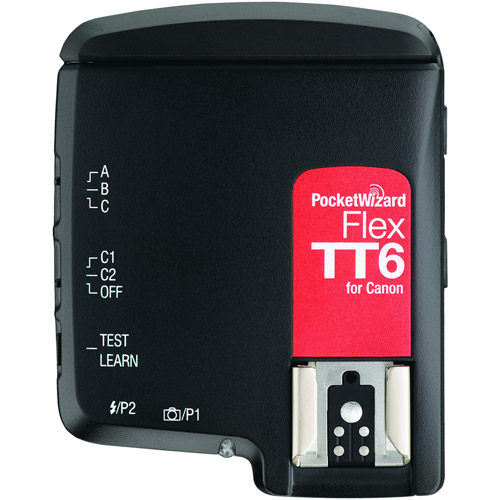 Pocket Wizard Flex TT6 Canon Transceiver
Pocket Wizard Flex TT6 Canon Transceiver
Web Availability:
Special Order
This product will be Special Ordered just for you from the manufacturer. We do not stock this item due to its uniqueness or import schedule. Special Order items are Final Sale, see our Return Policy for details.
Vistek Locations
Toronto Special Order
Ottawa Special Order
Mississauga Special Order
Calgary Special Order
Edmonton Special Order
Please call and verify availability at the store as stock changes daily.
The FlexTT6 for Canon is the latest of PocketWizard's flagship TTL radios.
With new under-the-hood technology, the FlexTT6 is compatible with the 5D Mark IV, 1D X Mark II, 80D, 77D and T7i, along with Canon's 600 EX II-RT and 430 EX III-RT flashes. The FlexTT6 transmits to ANY PocketWizard receiving radio including the FlexTT5 and has all the great features photographers have come to rely on with PoketWizard's other TTL products: HSS, Patented HyperSync and Interference Free Reliability.
ControlTL
PocketWizard's firmware platform taps into the camera's digital communications to enable an entirely new level of remote flash capability through our proven radio system. ControlTL allows remote TTL for Canon E-TTL II systems as well as Manual Power Control. ControlTL firmware is configurable and upgradeable for "future-proof" continuous improvement. Find more details on ControlTL here
Dedicated E-TTL II Triggering
Locking your FlexTT6 Transmitter into the hot shoe of a Canon DSLR camera and mounting E-TTL II flashes onto FlexTT6 or FlexTT5 Transceivers gives you full autoflash exposure control with the freedom and reliability of a PocketWizard radio. There are no special settings to make or modes to call up. Use the camera, on-camera flash or flash commander controls for flash compensation, zone and ratio control.
Manual Power Control
Adjust the manual power settings of your remote Canon Speedlites directly from an AC3 ZoneController mounted on your on-camera FlexTT6. You can now independently control the power output of up to three groups of lights (you can have as many lights in each group as you want) from full power down to the lowest setting simply using the dials on the AC3. Now you can work with total control with your remote lights, without leaving your shooting position
Zone Select
The FlexTT6 Transceiver has an A-B-C zone select switch to allow use with the remote groups/zones found on the PocketWizard AC3 ZoneController or Canon master flashes. Zones allow you to control single or groups of lights independently from other lights in different zones. These zones can also be used with a MuiltiMAX thus allowing you to pair a single MultiMAX radio on camera with FlexTT6's Transceivers on your remote flashes and utilize many of the MultiMAX's advance trigger functions.
HyperSync
Our patent pending HyperSync technology allows photographers to achieve faster X-sync speeds, sometimes up to 1/8000 of a second, with full power flash. Now you can cut the ambient light and use wide-open apertures, outdoors in bright sunlight. HyperSync automatically adjusts the timing of your flash trigger so that faster than X-sync speeds can be achieved. With certain Canon camera and flash combinations, you can achieve sync all the way to 1/8000th of a second. Just imagine what you can do using flash in bright sun with wide open apertures and fast shutter speeds. Since HyperSync is a trigger function you can use any PocketWizard Receiver including the FlexTT5, PlusX, Plus III, Plus II or MultiMAX. HyperSync works optimally with Studio flash. See Optimized HSS below for higher than XSync speeds with Speedlights,
HyperSync™ Automation
HyperSync Automation adjusts HyperSync timing in two separate places – on the transmitter and on the receiving ControlTL radio. The transmitting or on-camera FlexTT6 automatically adjusts HyperSync to compensate for changes made to shutter speed. Photographers can further refine HyperSync via the PocketWizard Utility. For more information on Configuring HyperSync Automation, visit the HyperSync section of the PocketWizard Wiki
Optimized High Speed Sync (HSS)
When HyperSync can't keep up, High Speed Sync takes over for Speedlite flash photography all the way to 1/8000. ControlTL optimizes this amazing feature and provides more light (which equals greater working distance), faster recycling times and more flashes per battery set when shooting in Canon's HSS/FP Flash mode. Use this feature to shoot wide open in bright sun for amazing results.
Optimized Rear Curtain Sync
Precise rear curtain sync capability is engaged automatically, no buttons to press. Set the shutter speed at which rear curtain sync is engaged with the PocketWizard Utility. Capture natural light trails with sharp exposures at the end – no "after trails!
Pre-Flash Boost
In some E-TTL situations, including shooting in full sun, over long distance or using diffusers or bounce flash, the normal pre-flash is simply not enough for the camera to see. With Pre-Flash Boost, the pre-flash is two stops brighter. This will approximately double the working distance of E-TTL II, compensating for the light loss when defusing or bouncing
Power Tracking
When working with the PowerST4, PowerMC2 and AC9/FlexTT6 paired with compatible manual flashes, you can change any of your settings on your camera and the system adjusts for those changes. Change your flash exposure compensation to adjust the exposure or make adjustments in aperture or ISO and the system balances your flash for proper exposure
Basic Trigger Mode
Allows the FlexTT6 to work as basic trigger on ANY camera it will fit.
PocketWizard Compatible
When used as an on-camera transmitter, the FlexTT6 works seamlessly with any other PocketWizard radio, including a FlexTT5, attached to a remote flash. The FlexTT6 is also compatible with the FlexTT5 .
PocketWizard Utility - Programmable and Upgradeable
Use the supplied PocketWizard Utility software with the on-board USB port to program the FlexTT6 to any PocketWizard channel and zone as well as many other custom settings. The FlexTT6 can be upgraded whenever updates and feature enhancements are available.
Auto-Sensing Transceiver Technology
PocketWizard's Auto-Sensing Transceiver Technology enables the FlexTT6 Transceiver to switch back and forth between Transmitter and Receiver modes as needed for greater flexibility on the job. All PocketWizard Transceivers default to Receiver mode. When a hot shoe or other trigger is detected, it automatically switches to Transmitter mode
Auto-Relay Mode
Easily trigger a remote camera in sync with distant remote flashes with Auto-Relay Mode. Put a camera where you can't be and have remote TTL or non-TTL lighting at the same time. Expand your coverage and increase your creativity
Channels / Learn Mode
The FlexTT6 has two channel configuration settings; C1 and C2. Each can be programmed as needed with up to 20 ControlTL channels* for TTL photography or Manual Power Control, or 32 standard channels** for manual flash photography. Channels can be configured with the PocketWizard utility or use the Learn function to quickly program channels, or the reset function to configure back to factory settings.
* - 20 ControlTL channels for FCC/IC 344 MHz radios and three ControlTL channels for CE 433 MHz radios.
** - 32 Standard channels for FCC/IC 344 MHz radios and 35 Standard channels for CE 433 MHz radios
ZoneControl
Add the AC3 ZoneController on top of your FlexTT6 and gain three zones of power control right from the camera's position. Works in both auto/CLS/i-TTL and manual. Shut down an entire zone with the flick of a switch.
AC3 ZoneController sold separately.
SpeedCycler with an AC3 ZoneController
Previously only seen with PocketWizard's MultiMAX radios, this new mode is designed to rapidly cycle through multiple flash units fired individually in sequence. This allows photographers to fire a camera in sync with flashes faster than a single flash unit can recycle. It can also be used for triggering remote cameras sequentially. SpeedCycler is engaged on a transmitting FlexTT6 via the PocketWizard Utility.
SpeedCycler mode requires an AC3 ZoneController in the top hot-shoe of the on-camera PocketWizard radio. Zones A, B, and C will be triggered sequentially and individual zones can be disabled by setting the AC3's Zone Switch to the off position. Both TTL and manual flash controls are supported.
Flash Power Control without a Camera
Photographers can now take their AC3 and transmitting radio off-camera and use it to set power levels for any flash with a ControlTL receiver, making it more convenient to use an optically triggered light meter, or control the power levels with just a FlexTT6 and AC3 in their hand while another photographer takes the pictures. When connected to a FlexTT6, manual power levels are transmitted to remote flashes when the TEST button is pressed even when the transmitter is off the camera. This affects both speedlights connected to receiving FlexTT6s and larger flashes like AlienBees and Elinchrom RX units with ControlTL receivers
Additional Features:
Camera/Flash Ports

The FlexTT6 Transceiver has two plug-in ports for use with remote E-TTL II cameras and other flash units, including studio strobes. With its auto-relay function, the Flex can trigger a remote camera and transmit to a remote strobe.
Continuous Fast FPS

Never before have you been able to shoot remote E-TTL non-stop in continuous high-speed mode. Fill the buffer! Nothing else comes close
Low-Profile Design

The FlexTT6 lies flat, stays out of the way and features a flip-up antenna for additional range when needed
High Speed Sync (HSS or FP Sync) Disable Mode

Select either HSS Sync or HyperSync™ at shutter speeds at or over 1/640. This allows you to use HyperSync and the benefit of full power flash all the way up to 1/8000 with certain flash systems.
Auto Trigger Select for ControlTL

The hot shoe on the Flex TT6 will trigger just about any hot shoe flash placed into it in addition to the Canon Speedlite's it is designed for. Yes, you can now fire just about any hot shoe flash including Vivatar, Nikon, etc., in manual mode only and not TTL mode. (max trigger voltage < 50V, use P2 port for up to 200V)
Built-in Hot Shoe

Lock your Canon flash into the FlexTT5's dedicated hot shoe and combine your remote flash with on-camera flash or use the on-camera flash for additional E-TTL II or Manual Power Control only. The metal and glass reinforced resin hot shoe assembly is a superstructure onto itself and incredibly durable. The best part; no more cords.
Continuous Remote Camera Triggering

This allows for triggering a continuous motor drive burst of a camera connected to the P1 port on a remote FlexTT6.
Transmit Only Mode

This prevents triggering of a flash mounted on a FlexTT6 to be used as a transmitter by other photographers in the area using PocketWizard radios.
Product Specifications
Pocket Wizard TTL Bonus Kit for Canon (inc 3x TT6, 1x AC3 & 1x G-Wiz Uber Bag)

Current Firmware
7.000
TTL Compatibility
Canon E-TTL II
Frequency
340.00-354.00 MHz US FCC / IC
433.42 - 434.42 MHz CE
Channels
52 Channels over 26 Frequencies (FCC/IC)
35 Channels over 5 Frequencies (CE)
Antenna
6.9 cm (2.7") rubberized with 180 degree swing
Transmit Output Power
Less than 0.001 watt (1/1000 of a watt or 1 milliwatt)
Mounting
Hot Shoe, 1/4-20, lanyard, velcro
Range Performance
Up to 10 to 240 meters (30 to 800 feet) for E-TTL II triggering. Up to 10 to 365 meters (30 to 1200 feet) for basic triggering. Range is dependnt on multiple factors including equipment, mode, environment, positioning, orientation and interference.
Mounting
Hot Shoe, 1/4-20, lanyard, velcro
Maximum Shooting Rate Frames per second (fps)
8 fps for E-TTL II and normal triggering
Power/Channel Switch
OFF - C.2 - C.1
Zone Select Switch
A-B-C (matches Canon slave groups)
Status Indicator
LED: Green, Amber, Red status indications
Camera/P1 Port
3.5 mm (1/8") stereo miniphone for 2-stage remote camera triggering. Port Voltage Handling: up to 50 Volts, 100 milliamp continuous
Tip = Trigger
Ring = Pre-Trigger
Sleeve = Ground
Flash / P2 Port
3.5 mm (1/8") mono miniphone. Port Voltage Handling: up to 200 Volts, 4 amps peaks, 250 milliamp continuous, non-polarized
Minimum Receive Contact Time
Camera / P1 Port = 80 milliseconds
Flash / P2 Port = 500us
Voltage Present
3.3 VDC (all pins) - safe for all cameras
Hot Shoe Voltage Protection
Hot Shoe: up to 50V
USB
USB Compliant 2.0, Mini-B Connector, 5VDC regulated, 100mA, Pin 1 Positive, Pin 4 Ground
Operating Temperature
Above -15° C (5° F) and below 50° C (120° F).
Storage Temperature (without battery)
Above -30° C (-22° F) and below 85° C (185° F)
Construction
High impact plastic, captive battery door
Hot Shoe made of glass reinforced resin
Power
Two (2) AA (IEC:LR6) Alkaline recommended, other chemistries (NiMH, NiCAD, Lithium) allowed, USB
Battery Life
60+ Hours
Dimensions (L x W x H)
9.2 x 7.3 x 3.6 cm (3.6 x 2.9 x 1.4"), antenna lowered
Weight
153 grams (5.4 oz) / 108 grams (3.8 oz) without batteries
Pocket Wizard Flex TT6 Canon Transceiver
Looking for a personal touch? Not sure if you are choosing the right product? Our staff is here to help.
We want to make sure you get the right product for your needs.
Our staff will help you understand the options available so you can be confident in your purchase.
As the country's leading Professional Imaging retailer, Vistek is in the perfect position to ensure you make the right choice.
Contact us today for a personal touch.