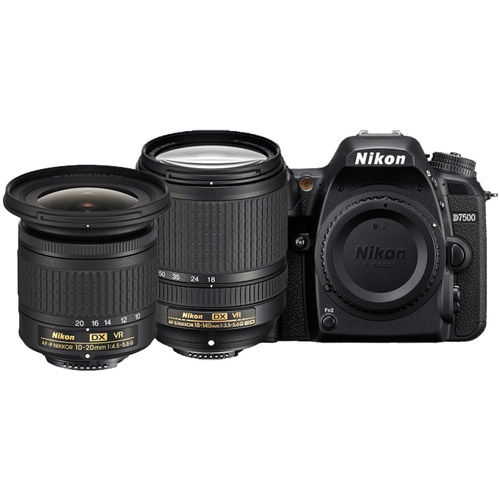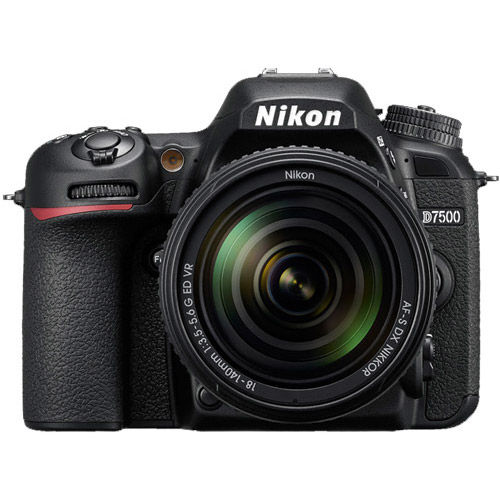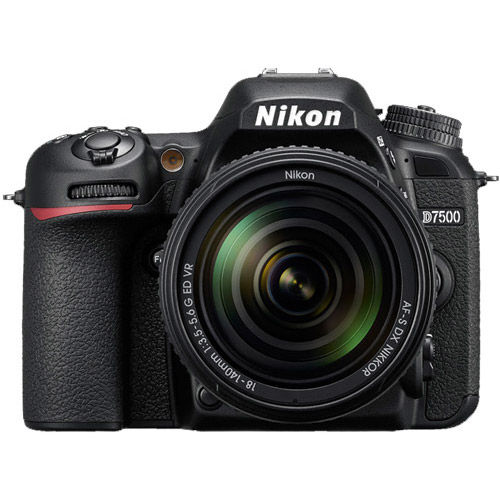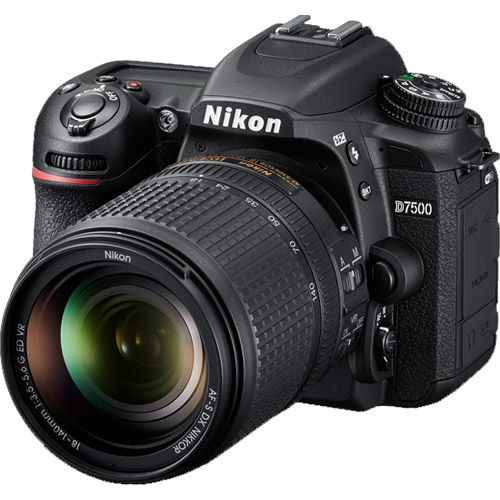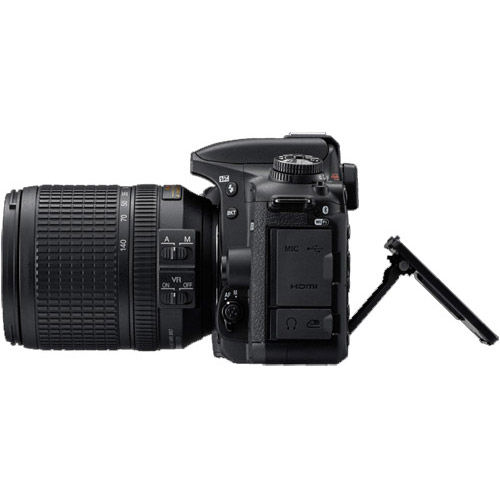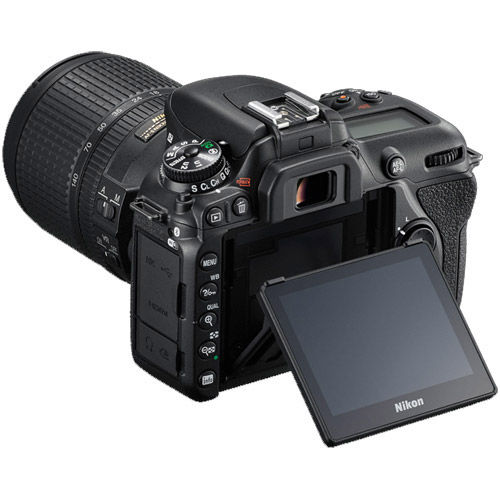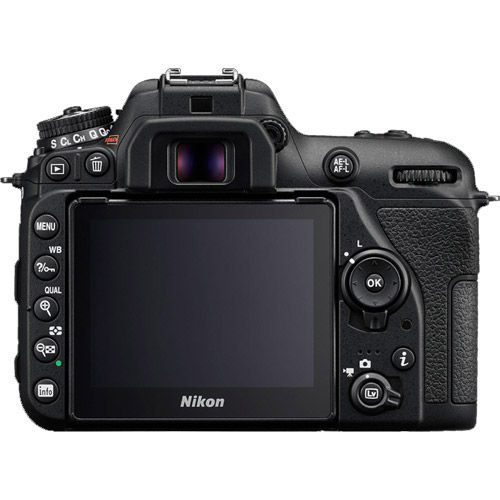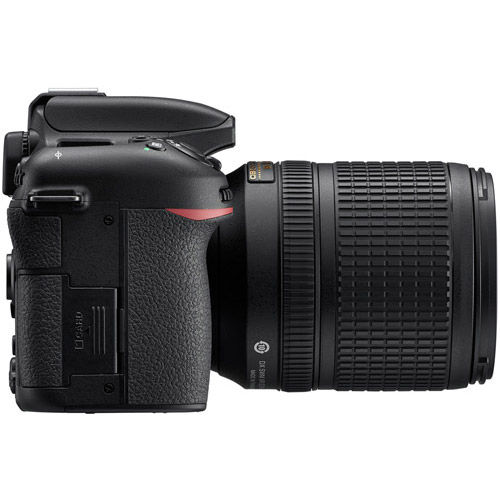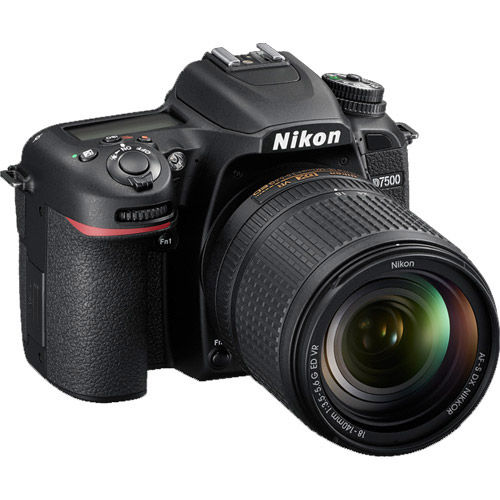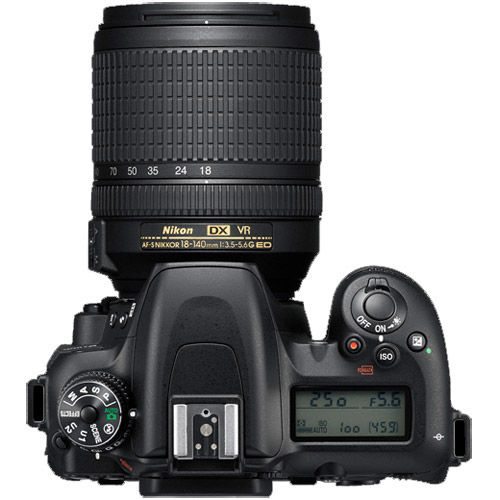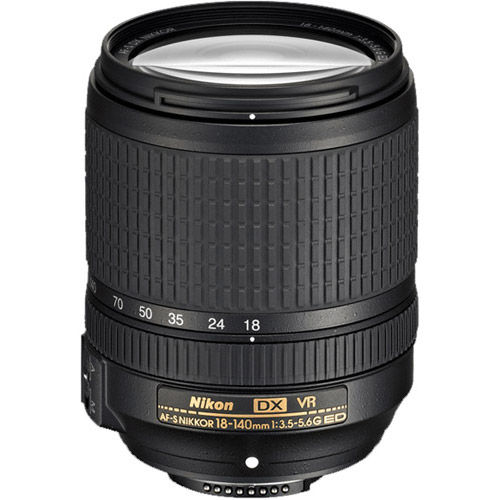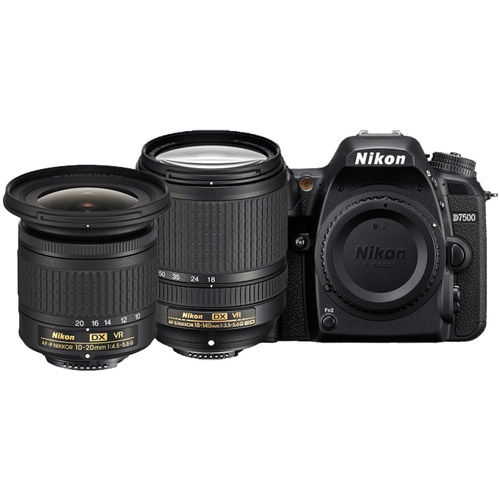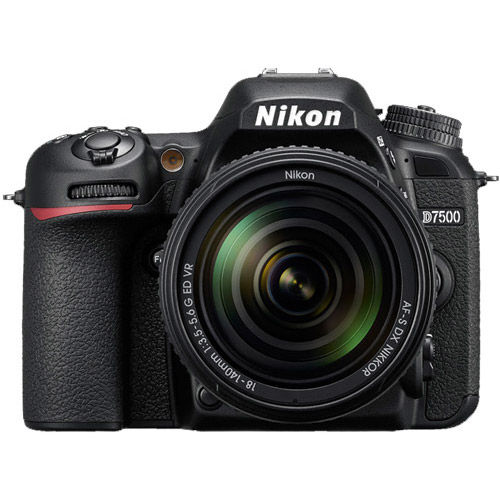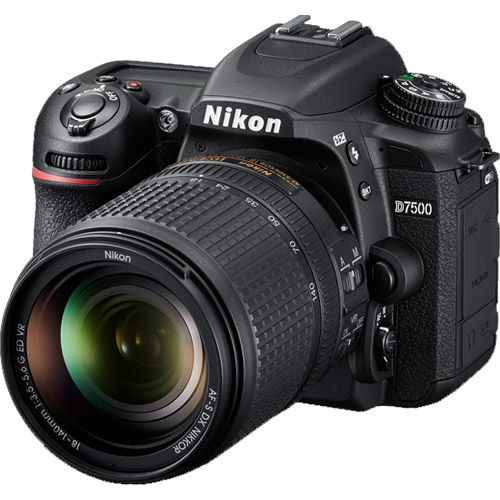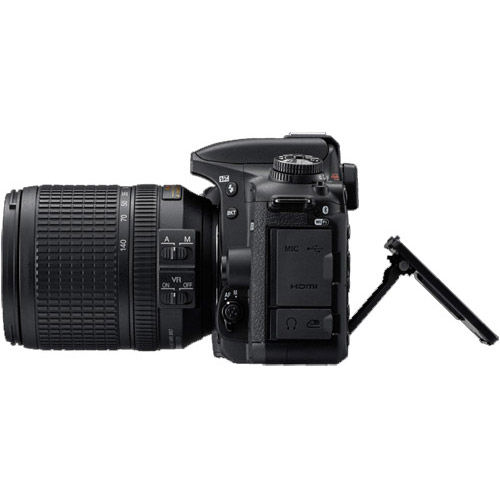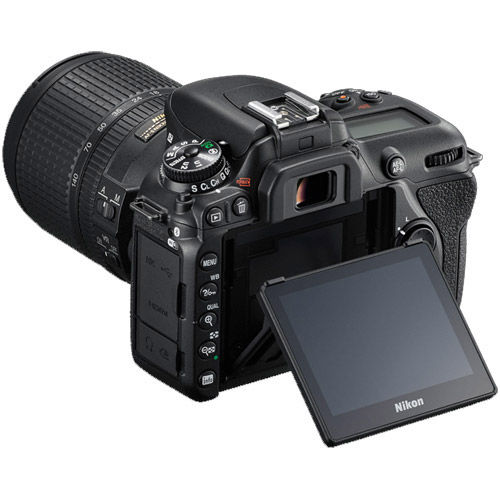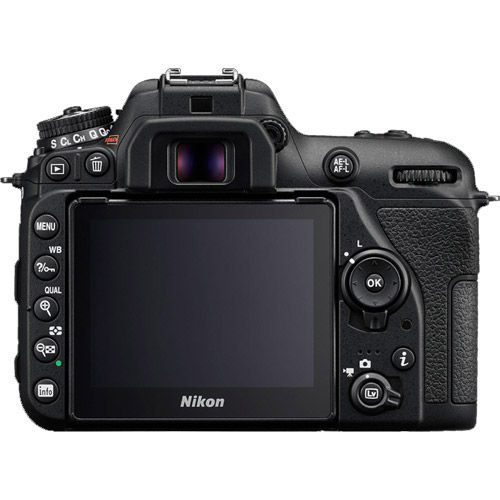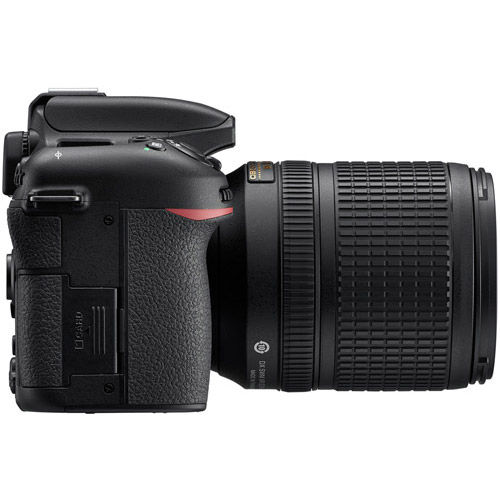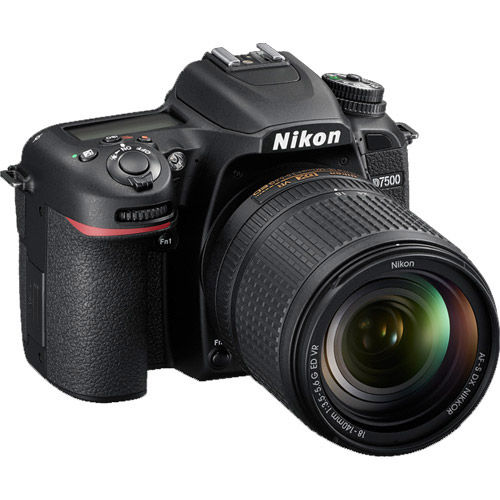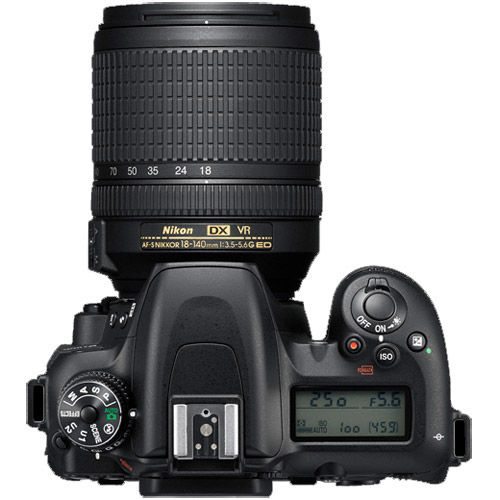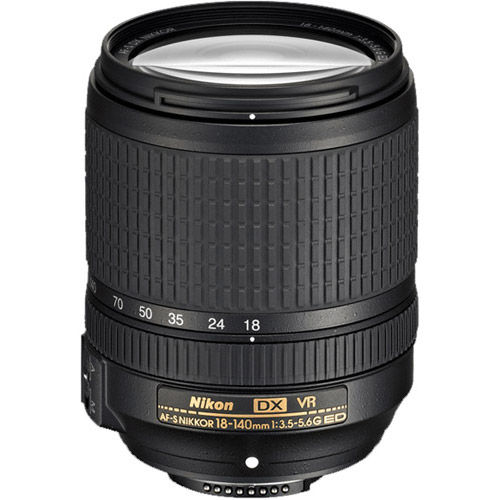 Product Highlights
The D7500 is built to outperform any camera in its class with top-tier image quality, blazing speed, flawless autofocus, 4K Ultra HD video and pro-grade creative tools—all in a comfortable, rugged design.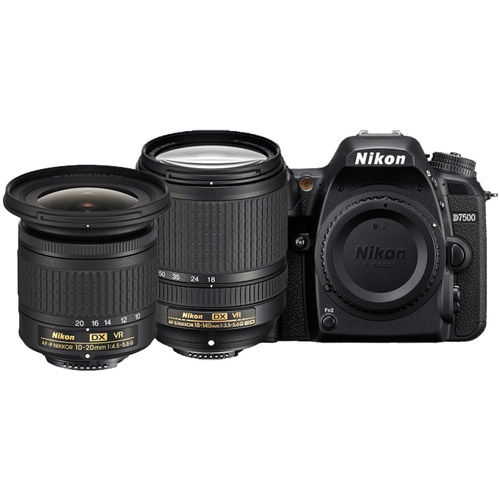 Nikon D7500 Kit w/ AF-S 18-140mm VR & AF-P 10-20mm G VR
Nikon D7500 Kit w/ AF-S 18-140mm VR ...
Web Availability:
Not In Stock
While not in stock right now, we can get more from our vendor for you.
Vistek Locations
Toronto Available for Order
Ottawa Available for Order
Mississauga Available for Order
Calgary Available for Order
Edmonton Available for Order
Please call and verify availability at the store as stock changes daily.
Follow your passion wherever it leads.
On this the year of their 100th Anniversary, Nikon is giving the world something special.
Something befitting a world leader in digital imaging and photo imaging technology. Nikon proudly unveils their new DX-Format DSLR, the D7500 – a gift from the heart. Speaking of the heart, the D7500 is, coincidentally, a camera every photo enthusiast will quickly fall in love with.
With the D7500, Nikon has produced a camera that incorporates an exceptional combination of stunning image quality, impressive speed, astounding lowlight ability and 4K UHD video capture. And, perhaps most amazing of all, the D7500 remains within reach for a diverse array of image makers and creators.
The Nikon D7500 was engineered to be as versatile as the photographer using it, and features Nikon's latest 20.9-megapixel DX-format imaging sensor and EXPEED 5 processing engine, the same high-performance heart of the Nikon D500. Needless to say, the D7500 excels whether shooting fast-action sports, stunning low-light landscapes, distant wildlife, glamorous portraits or multimedia content.
It also comes with a host of nice-to-have features, including a built-in flash, New Auto Picture Control function that analyzes the picture scene and automatically generates a tone curve within the camera, built-in Bluetooth and WiFi, and the ability to capture 4K UHD (3840 × 2160/30p) as well as awe-inspiring 4K UHD time-lapse movies in-camera.
Key Features:
Class leading image quality, ISO range, image processing and metering equivalent to the award-winning D500
Large 3.2" 922K dot, tilting LCD screen with touch functionality
51-point AF system with 15 cross-type sensors and group-area AF paired with up to 8 fps continuous shooting capability
4K Ultra HD and 1080p Full HD video with stereo sound, power aperture control, auto ISO, 4K UHD Time-Lapse and more
Built-in Wi-Fi and Bluetooth for easy connectivity through the Nikon SnapBridge App
Bring your vision to life
The D7500 uses the same 20.9 MP DX-format image sensor and EXPEED 5 image processing engine as the D500, taking your photos and videos to the next level. Capture with phenomenal sharpness and tonality, especially in low light situations like concerts, sporting events, parties and events.
Born from a desire for flagship performance and innovation in a more compact and streamlined connected camera, the D7500 delivers the game-changing resolution, ISO range, image processing and energy efficiency of the award-winning D500 in an enthusiast-level DSLR. Simply put, the D7500 is built to outperform any camera in its class with top-tier image quality, blazing speed, flawless autofocus, 4K Ultra HD video and pro-grade creative tools—all in a comfortable, rugged design. This is a camera for the new generation of creators.
Speed & performance
With a wide ISO range up to 51,200, remarkable noise reduction, rapid write speeds and virtually zero lag, the D7500 is ready for your next challenge.
8 fps continuous shooting

Improved buffer for shooting RAW
Capture 8 frames per second continuously, up to 100 JPEG Fine frames or up to 50 14-bit lossless compressed RAW frames. With up to 50 RAW shots captured, continue taking photos even while the previous RAW images are being written to the memory card.
Powerful focusing system

Lock on to fast subjects with 51 available focus points, 15 cross-type sensors and group-area AF for sharper, faster detection in low light.
Brilliant metering

The D7500 uses the same 180,000-pixel RGB sensor as the D500 to detect human faces and improve AF performance during high speed shooting.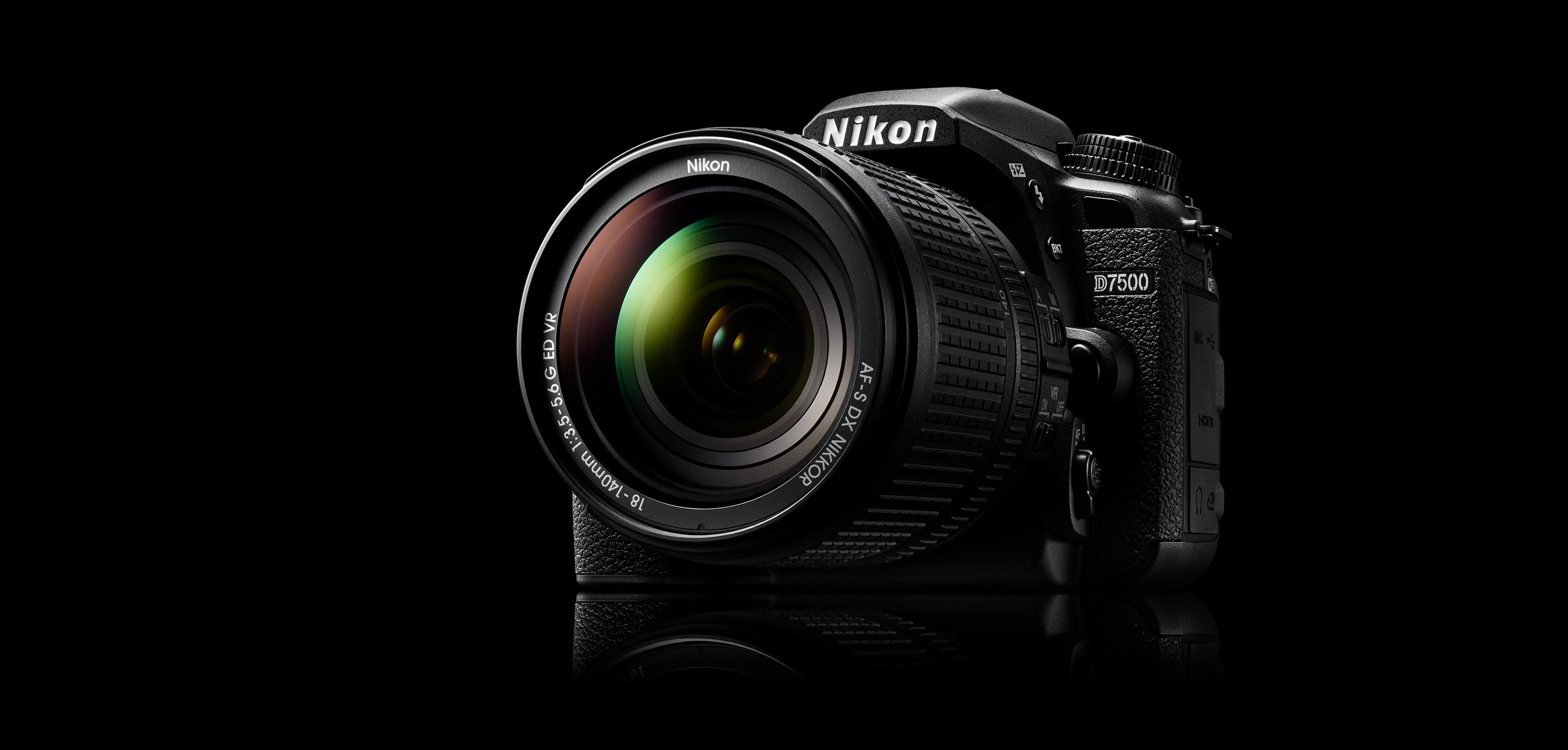 Follow your inspiration
The D7500 handles like a dream—and it handles the elements too—so you're free to follow your passion, wherever it leads.
Tilting 3.2-inch touchscreen

Tilt the large 3.2-in touchscreen up or down to shoot at high or low angles and simply touch where you want focus when using Live View. Quickly swipe through your shots, pinch to zoom and more.
Rugged design

The D7500 uses a Monocoque design and extensive weather sealing to withstand moisture, dust and some heavy use.
Comfortable performance

Slimmer ergonomics and a deeper grip improve stability for handheld shooting and comfort for all day shooting or using telephoto, tele-zoom or all-in-one NIKKOR lenses.
Up to 950 shots* on one battery

DSLRs excel at energy efficiency, and the D7500 is particularly efficient. Capture approximately 950 shots on a single battery charge.

* Per CIPA standards, with Bluetooth and Wi-Fi turned off
Master the light
Add balance, depth and drama to your images with the D7500's built-in flash, which uses detailed, in-camera scene analysis to add just the right amount of light to your subject. Ready to get even more creative with light? The D7500 has wireless commander capability with up to 2 groups (A/B) of line-of-sight Speedlights or 3 groups (C/D/E) of radio-controlled Speedlights*.
* With optional WR-R10 wireless remote controller and SB-5000 Speedlight(s)
4K ultra HD video
If you've been itching to enter the world of filmmaking, the D7500 is your gateway DSLR. Record rich and detailed 4K Ultra HD or Full HD videos up to 29 minutes 59 seconds through industry-leading NIKKOR lenses while using pro-level video features like power aperture control to adjust aperture while recording and touch focus control. Create beautiful 4K Ultra HD time-lapse movies. Movies can be recorded in MP4 or the conventional MOV format, allowing easy playback on smart devices. The D7500 adjusts to your creative workflow with the freedom to record to an external device, the camera's memory card or both simultaneously.
Creativity on demand
Beyond its outstanding image capture, the D7500 includes powerful performance enhancing features. In-camera batch processing improves handling of large numbers of RAW images. Auto AF fine-tune in Live View is also inherited from the D500 to simplify adjustment for minor variations between the camera and lens. Advanced Picture Control tools, including a new Auto option; Auto ISO in Manual Mode and Zebra stripes for detecting overblown highlights help you take full creative control. A new and improved multiple exposure feature gives you the choice of saving each individual frame in addition to the final composited image.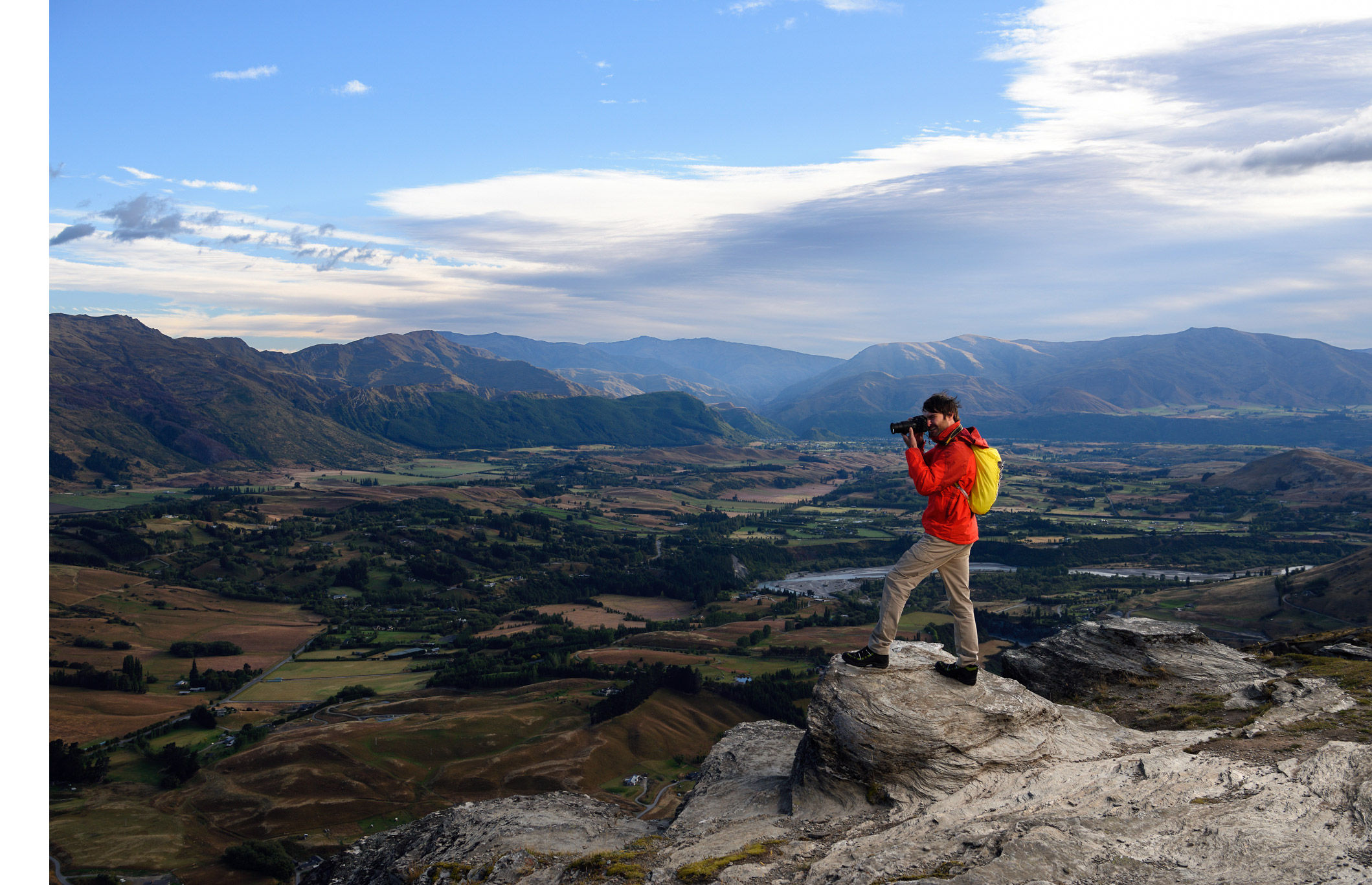 Connected to your world
Share your most impressive shots with the world the minute you take them. Install Nikon's SnapBridge app on a compatible phone or tablet and connect to the D7500 for instant photo sharing, automatic backups and even remote camera triggering—great for wildlife shooting, parties, self portraits and group shots with you in them.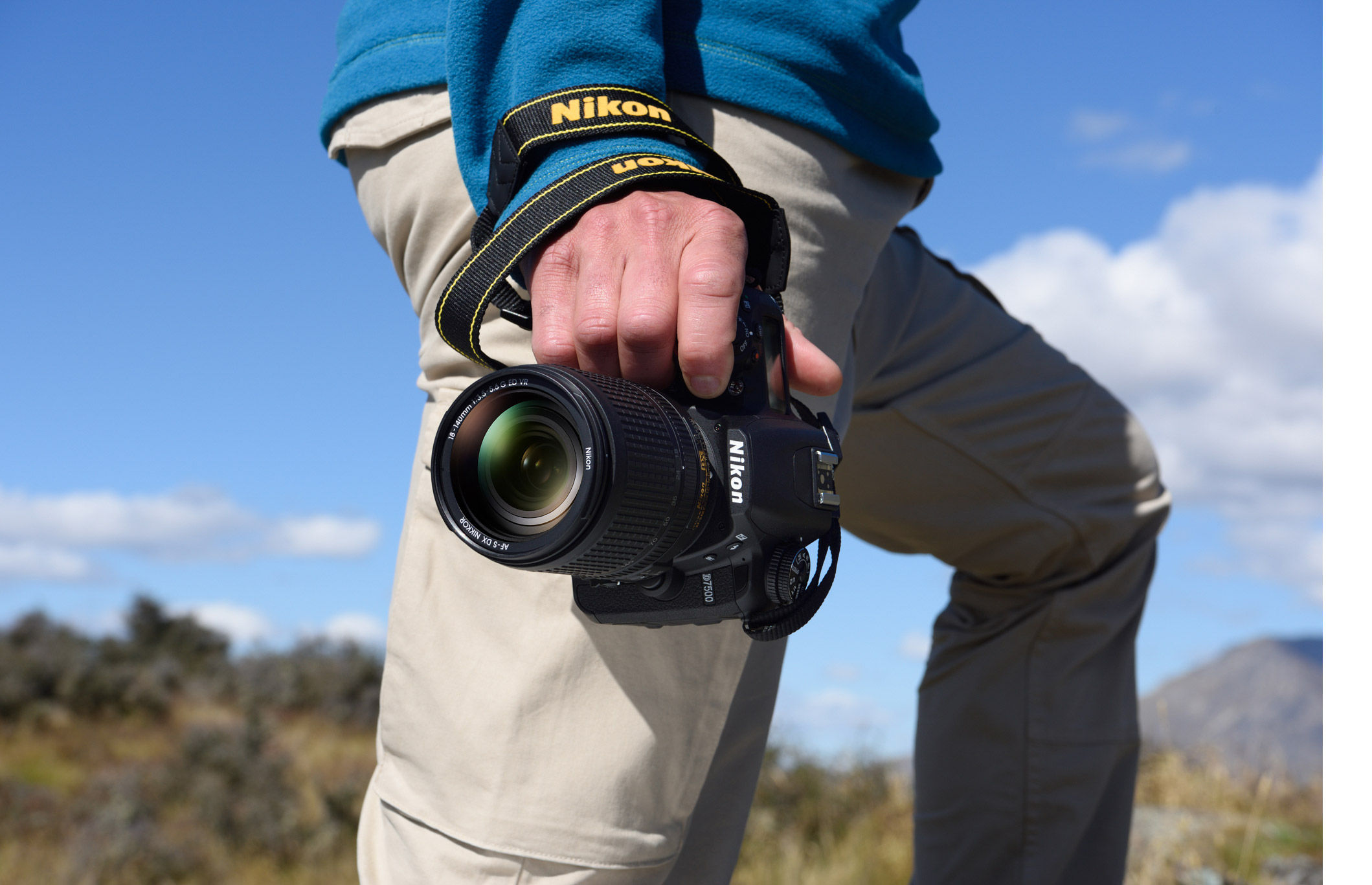 The centerpiece of your Nikon ecosystem
Grow your skills with Nikon's renowned imaging system. From your first cherished NIKKOR lens to the latest in your indispensable collection, NIKKOR optics truly bring out the full potential of the D7500. When you're ready to add new depth and dimension in your images, you'll find a full array of Nikon Speedlights and Speedlight accessories. Shoot without limitations with flexible remote accessories, spare batteries, microphones and so much more.



± WI-FI COMPATIBILITY
This camera's built-in Wi-Fi® capability can only be used with a compatible iPhone®, iPad®, and/or iPod touch® or smart devices running on the Android™ operating system. The Nikon SnapBridge application must be installed on the device before it can be used with this camera.
Using the SnapBridge App
System Requirements
Android 5.0 or later or 6.0.1 or later
iOS 8.4 or later, iOS 9.1 or later (latest version of iOS 8 or iOS 9 recommended) plus iOS 10.1 or iOS 10.2
A device with Bluetooth 4.0 or later (i.e., a device that supports Bluetooth Smart Ready/Low Energy) is required.
AF-P DX Nikkor 10-20mm f/4.5-5.6 G VR Lens
There's so much more to see.
To truly capture the feeling of a place, you need a lens wide enough to see the entire scene.
Enter the AF-P DX NIKKOR 10-20mm f/4.5-5.6G VR—an ultra-wide-angle zoom lens that's ideal for sprawling landscapes and cityscapes, architecture, interiors or just beautiful group photos. Its near-silent autofocusing and Vibration Reduction (VR) image stabilization make it a great choice for recording video, and its compact, lightweight design makes it a great travel companion. See what you've been missing with the AF-P DX NIKKOR 10-20mm f/4.5-5.6G VR.
Lens Features:
Ultra-wide-angle view that surpasses any kit lens and lets you get creative with composition
Compact, lightweight, durable design that's great for travel and outings
Outstanding optics deliver beautiful photos and videos, even in challenging situations
Near-silent autofocus stepping motor is ideal for recording video
Vibration Reduction (VR) image stabilization keeps handheld photos and videos sharp and helps with low-light shooting
Life from a new perspective
Ultra-wide-angle views and close focusing
With an ultra-wide-angle view that surpasses any kit lens, the AF-P DX NIKKOR 10-20mm f/4.5-5.6G VR lets you play with composition in a new way—foreground, middle ground, background, symmetry, patterns, lines, dramatic skies and more. Get as close as 0.8 feet from your subject to create photos and videos with dramatic leading lines or to capture tight interior spaces with ease.
Small in size, big in quality
Despite its super compact, lightweight design, the AF-P DX NIKKOR 10-20mm f/4.5-5.6G VR delivers huge performance. Vibration Reduction (VR) image stabilization ensures sharper handheld photos and videos and lets you use a slower shutter speed for brighter photos in low light. Three Aspherical (AS) Lens Elements nearly eliminates naturally occurring distortion and contributes to the lens' lightweight, compact design. Super Integrated Coating (SIC) cuts through ghosting and lens flare in backlit or cross-lit situations; retains maximum color and contrast. A 7-blade aperture design gives your photo and video backgrounds a beautifully soft, round blurring effect.
Do not disturb
Near-silent, fast autofocus stepping motor
The AF-P DX NIKKOR 10-20mm f/4.5-5.6G VR focuses like a dream. When shooting video, its smooth stepping motor keeps focusing noise to a minimum. If you need to make adjustments, you'll appreciate the silky smooth manual operation. To eliminate unintentional changes to the VR ON/OFF and AF/MF settings, those controls have been moved to the camera menu, and their status can be easily verified in your camera's information display.
A-M

A-M stands for Auto-Manual Mode. Thanks to a mechanism incorporated in the lens barrel, smooth focusing operation in Manual focus mode is realized in the same way as users have become accustomed to with conventional manual-focus lenses by adding an appropriate torque to the focus ring.
Aspherical Lens

A lens with a curved, non-spherical surface. Used to reduce aberrations and enable a more compact lens size. Aspherical lenses minimize coma and other types of lens aberrations, even when used at the widest aperture. They are particularly useful in correcting distortion in wide-angle lenses and help contribute to a lighter, more compact design by reducing the number of standard (spherical) elements necessary. Aspherical lens elements correct these distortions by continuously changing the refractive index from the center of the lens.
IF Lens

A NIKKOR lens in which only the internal lens group shifts during focusing. Thus, IF NIKKORS do not change in size during AF operation, allowing for compact, lightweight lenses capable of closer focusing distances. These lenses will be designated with the abbreviation IF on the lens barrel.
M/A

Select NIKKOR lenses have a focusing mode which allows switching from automatic to manual focusing with virtually no lag time by simply turning the focusing ring on the lens. This makes it possible to seamlessly switch to fine manual focusing while looking through the viewfinder.
Pulse Motor

Nikon's "P" series of NIKKOR lenses use a pulse motor (utilizing stepping motors) to focus smoother and quieter than previous drive systems. This quiet drive system makes the lenses ideal for use when shooting video.
Super Integrated Coating

Nikon Super Integrated Coating is Nikon's term for its multilayer coating of the optical elements in NIKKOR lenses.
Vibration Reduction

A Nikon in-lens technology that improves image stability by automatically compensating for camera shake. Lenses that offer VR will feature the abbreviation VR on the lens barrel.
What's Included
D7500 Camera Body
EN-EL15a Rechargeable Li-ion Battery
MH-25A Battery Charger
UC-E20 USB Cable
AN-DC3 Strap
DK-5 Eyepiece Cap
DK-28 Rubber Eyecup
BF-1B Body Cap
AF-S DX NIKKOR 18-140mm f/3.5-5.6G ED VR
LC-67 Snap-on Front Lens Cap 67mm
LF-4 Rear Lens Cap
AF-P DX NIKKOR 10-20mm f/4.5-5.6G VR
LC-72 Snap-On Front Lens Cap 72mm
LF-4 Rear Lens Cap
HB-81 Bayonet Lens Hood
CL-1015 Soft Lens Case


Product Specifications
D7500

Type

Type
Single-lens reflex digital camera
Lens Mount
Nikon F mount (with AF coupling and AF contacts)

Image Sensor

Picture Angle
Nikon DX format; focal length in 35 mm [135] format equivalent to approx. 1.5x that of lenses with FX format angle of view
Effective Pixels (Megapixels)
20.9 million
Sensor Size
23.5 mm x 15.6 mm
Image Sensor Format
DX
Image Sensor Type
CMOS
Total Pixels
21.51 million
Dust-reduction system
Image sensor cleaning
Image Dust Off reference data (optional Capture NX-D software required)
Dust-Off Reference Photo
Yes
Image Area (pixels)
DX-format
(L) 5,568 x 3,712
(M) 4,176 x 2,784
(S) 2,784 x 1,856
1.3x Crop Mode
(L) 4,272 x 2,848
(M) 3,200 x 2,136
(S) 2,128 x 1,424
Photographs taken during movie recording at a frame size of 3,840 x 2,160: 3,840 x 2,160
Photographs with image area of DX taken during movie recording:
(L) 5,568 x 3,128
(M) 4,176 x 2,344
(S) 2,784 x 1,560
Photographs with image area of 1.3x taken during movie recording:
(L) 4,272 x 2,400
(M) 3,200 x 1,800
(S) 2,128 x 1,192

File System

File Format Still Images

JPEG: JPEG-Baseline compliant with fine (approx 1:4), normal (approx 1:8), or basic (approx 1:16) compression (Size priority); Optimal quality compression available

NEF (RAW) + JPEG: Single photograph recorded in both NEF (RAW) and JPEG formats

NEF (RAW): Lossless compressed, compressed 12 or 14 bit

Storage Media
SD
SDHC
SDXC
Card Slot
1 Secure Digital (SD)
File System

Compliant with DCF (Design Rule for Camera File System) 2.0

EXIF 2.31 (Exchangeable Image File Format for Digital Still Cameras)

PictBridge

Viewfinder

Viewfinder
Eye-level pentaprism single-lens reflex viewfinder
Viewfinder Frame Coverage
DX (24x16): 100% Horizontal and 100% Vertical Approx.
1.3x (18x12): 97% Horizontal and 97% Vertical Approx.
Viewfinder Magnification
0.94x (50 mm f/1.4 lens at infinity, –1.0 m–1) Approx.
Viewfinder Eyepoint
18.5mm (-1.0 m¯¹)
Viewfinder Diopter Adjustment
-2.0 to +1.0m¯¹
Focusing Screen
Type B BriteView Clear Matte Mark II with AF area brackets (grid lines can be displayed)
Reflex Mirror
Quick-return type
Mirror Lock Up
Yes

Lens

Lens Aperture
Instant-return type
electronically controlled
Compatible Lenses
AF NIKKOR lenses, including type G, E, and D lenses (some restrictions apply to PC lenses) and AI-P NIKKOR lenses and non- CPU AI lenses (M mode only).
Electronic rangefinder can be used with lenses that have a maximum aperture of f/5.6 or faster (the electronic rangefinder supports the centre 1 focus point with lenses that have a maximum aperture of f/8 or faster).
IX NIKKOR lenses, lenses for the F3AF, and non-AI lenses cannot be used.

Shutter

Shutter Type
Electronically controlled vertical-travel focal-plane mechanical shutter
Electronic front-curtain shutter available in mirror up release mode
Shutter Speed
1/8000 to 30 sec. in steps of 1/3 or 1/2 EV Bulb, Time, X250
Fastest Shutter Speed
1/8000 sec.
Slowest Shutter Speed
30 sec.
Flash Sync Speed
Up to 1/250 sec.
Synchronizes with shutter at 1/320s or slower (flash range drops at speeds between 1/250 and 1/320s)
Bulb Shutter Setting
Yes
Shutter Release Modes
Continuous low-speed [CL] mode
Continuous high-speed [CH] mode
Mirror-up [Mup] mode
Quiet Shutter Release
Quiet Continuous Release
Self-timer mode
Single-frame [S] mode
Frame Advance Rate
High: Up to 8 fps
Frame rates assume continuous-servo AF, manual or shutter-priority auto exposure, a shutter speed of 1/250 sec or faster, Release selected for Custom Setting a1 (AF-C priority selection), and other settings at default values.
Continuous Shooting Options
DX-format
CH: Up to 8 frames per second
CL: Up to 1-7 frames per second
Top Continuous Shooting Speed at full resolution
8 frames per second
Self-timer
2, 5, 10, 20 sec.; 1 to 9 exposures at intervals of 0.5, 1, 2, or 3 sec.
Timer duration electronically controlled

Exposure

Exposure Metering System
TTL exposure metering using approximately 180K (180,000) pixels RGB sensor
Metering Method
Center-weighted: Weight of 75% given to 8 mm circle in center of frame. Diameter of circle can be changed to 6, 10, or 13 mm, or weighting can be based on average of entire frame (non-CPU lenses use 8-mm circle)
Matrix: 3D Colour Matrix Metering III (type G, E and D lenses); Colour Matrix Metering III (other CPU lenses)
Spot: Meters circle with diameter of about 3.5 mm (about 2.5% of frame) centered on selected focus point (on center focus point when non-CPU lens is used)
Highlight-weighted: Available with type G, E, and D lenses
Metering Range
0 to 20 EV (3D colour matrix or centre-weighted metering)
2 to 20 EV (Spot metering at ISO 100 equivalent, f/1.4 lens at 20°C/68°F)
Exposure Meter Coupling
CPU
Exposure Modes
Aperture-Priority (A)
Auto modes ( auto, auto [flash off])
Manual (M)
Programmed auto with flexible program (P)
Scene Modes (portrait; landscape; child; sports; close up; night portrait; night landscape; party/indoor; beach/snow; sunset; dusk/dawn; pet portrait; candlelight; blossom; autumn colors; food)
Shutter-Priority (S)
Special Effects Modes (night vision; super vivid; pop; photo illustration; toy camera effect; miniature effect; selective color; silhouette; high key; low key)
U1 (user setting 1)
U2 (user setting 2)
Scene Modes
Autumn Colours, Beach / Snow, Blossom, Candlelight, Child, Close-up, Dusk / Dawn, Food, Landscape, Night Landscape, Night Portrait, Party / Indoor, Pet Portrait, Portrait, Sports, Sunset
Exposure Compensation
±5 EV in increments of 1/3 EV or 1/2 EV in P, S, A, M, SCENE, and EFFECTS modes
Exposure Bracketing
9 frames in steps of 1/3 or 1/2 EV
Exposure Lock
Yes
Picture Control
Auto, Flat, Landscape, Monochrome, Neutral, Portrait, Standard, Vivid

Sensitivity

ISO Sensitivity
ISO 100 - 51,200
Lowest Expanded ISO Sensitivity
Lowest Expanded ISO Sensitivity Lo-1 (ISO 50 equivalent)
Highest Expanded ISO Sensitivity
Highest Expanded ISO Sensitivity Hi-5 (ISO 1,640,000 equivalent)
Expanded ISO Sensitivity Options
Can also be set to approx. 0.3, 0.5, 0.7, or 1 EV (ISO 50 equivalent) below ISO 100 or to approx. 0.3, 0.5, 0.7, 1, 2, 3, 4, or 5 EV (ISO 1,640,000 equivalent) above ISO 51,200; auto ISO sensitivity control available
Long Exposure Noise Reduction
Yes
High ISO Noise Reduction
Low, Normal, High, Off
Active D-Lighting
Auto, Extra High, High, Normal, Low, Off
D-Lighting Bracketing
2-3 frames
2 frames using selected value for one frame or 3 frames using preset values for all frames

Focus/Autofocus

Single-point AF Mode
Yes
Dynamic AF Mode
Single-point AF; 9, 21, or 51-point dynamic area AF, 3D-tracking, group-area AF, auto-area AF
Auto-area AF Mode
Yes
Autofocus System
51 focus points (including 15 cross-type sensors; f/8 supported by 1 sensors)
AF-assist illuminator (range approx. 0.5-3 m/1 ft. 8 in.-9 ft. 10 in.)
Finetuning
Nikon Advanced Multi-CAM 3500FX II autofocus sensor module with TTL phase detection
Detection Range
-3 to +19 EV (ISO 100, 68°F/20°C)
Lens Servo
Autofocus (AF): Single-servo AF (AF-S); continuous-servo AF (AF-C); auto AF-S/AF-C selection (AF-A); predictive focus tracking activated automatically according to subject status
Manual focus (MF): Electronic rangefinder can be used
AF-area Mode
9, 21 or 51 point Dynamic-area AF
Single-point AF
3D-tracking
Group-area AF
Focus Lock
Focus can be locked by pressing AE-L/AF-L button
Focus can be locked by pressing shutter-release button halfway (single-servo AF)
Focus Modes
Auto AF-S/AF-C selection (AF-A)
Continuous-servo (AF-C)
Face-Priority AF available in Live View only
Full-time Servo (AF-A) available in Live View only
Manual (M) with electronic rangefinder
Normal area
Single-servo AF (AF-S)
Wide area
Maximum Autofocus Areas/Points
51
Autofocus Sensitivity
-3 to +19 EV (ISO 100, 20°C/68°F)
Autofocus Fine Tune
Yes

Flash

Built-in Flash
Yes
Built-in Flash Distance
Approx. 12/39, 12/39 with manual flash (m/ft, ISO 100, 20 °C/68 °F)
Flash Sync Speed
Up to 1/250 sec.
Synchronizes with shutter at 1/320s or slower (flash range drops at speeds between 1/250 and 1/320s)
X-Sync Speed
1/250
Top FP High Speed Sync
Up to 1/8000
Flash Control
TTL: i-TTL flash control using RGB sensor with approximately 180K (180,000) pixels; i-TTL balanced fill-flash for digital SLR is used with matrix, center- weighted, and highlight-weighted metering, standard i-TTL fill-flash for digital SLR with spot metering
Flash Sync Modes
Auto
Auto FP High-Speed Sync supported
Auto with red-eye reduction
Auto slow sync
Auto slow sync with red-eye reduction
Fill-flash
Rear-curtain sync
Rear-curtain with slow sync
Red-Eye reduction
Red-Eye reduction with slow sync
Slow sync
Off
Flash Compensation
-3 to +1 EV in increments of 1/3 or 1/2 EV
Flash-ready Indicator
Lights when built-in flash or optional flash unit is fully charged; flashes after flash is fired at full output
Accessory Shoe
ISO 518 hot-shoe with sync and data contacts and safety lock
Nikon Creative Lighting System (CLS)
i-TTL flash control, radio-controlled Advanced Wireless Lighting, optical Advanced Wireless Lighting, modeling illumination, FV lock, Color Information Communication, Auto FP High-Speed Sync, AF-assist for multi-area AF
Flash Sync Terminal
Sync Terminal Adapter AS-15 (available separately)

White Balance

White Balance
Auto (2 types)
Choose colour temperature (2500K–10000K)
Cloudy
Direct Sunlight
Fine-tuning
Flash
Fluorescent (7 types)
Incandescent
Preset manual (up to 6 values can be stored, spot white balance measurement available during live view)
Shade
White Balance Bracketing
3 shots in steps of 1

Live View

Live View Shooting
Photography Live View Mode
Movie Live View Mode
Live View Lens servo
Autofocus (AF): Single-servo AF (AF-S); full-time-servo AF (AF-F)
Manual focus (MF)
Live View AF-area mode
Face-priority AF
Wide-area AF
Normal-area AF
Subject-tracking AF
Live View Autofocus
Contrast-detect AF anywhere in frame (camera selects focus point automatically when face-priority AF or subject-tracking AF is selected)

Movie

Movie Metering
TTL exposure metering using main image sensor
Matrix, center-weighted, or highlight-weighted
Movie Maximum recording time
29 minutes 59 seconds
Each movie will be recorded across up to 8 files of up to 4 GB each. The number of files and the length of each file vary with the options selected for Frame size/frame rate and Movie quality
Movie File Format
Selectable from MOV (Video: H.264, Audio: Linear PCM) and MP4 (Video: H.264, Audio: AAC)
Electronic VR, highlight display
Movie Video Compression
H.264/MPEG-4 Advanced Video Coding
Movie Audio recording format
Linear PCM
AAC
Movie
4K UHD 3,840x2,160 / 30 fps
4K UHD 3,840x2,160 / 25 fps
4K UHD 3,840x2,160 / 24 fps
Full HD 1,920x1,080 / 60 fps
Full HD 1,920x1,080 / 50 fps
Full HD 1,920x1,080 / 30 fps
Full HD 1,920x1,080 / 25 fps
Full HD 1,920x1,080 / 24 fps
HD 1,280x720 / 60 fps
HD 1,280x720 / 50 fps
Actual frame rates for 60p, 50p, 30p, 25p, and 24p are 59.94, 50, 29.97, 25, and 23.976 fps respectively
High quality available at all frame sizes, normal quality available at all sizes except 3,840 x 2,160
Movie Audio
Built-in microphone, stereo
External stereo microphone (optional - sold separately)
Microphone sensitivity can be adjusted
Audio output: Stereo mini-pin jack (3.5 mm diameter)

Monitor

Monitor Size
3.2 in. diagonal
Monitor Resolution
922,000 Dots
Monitor Type
(VGA) tilting TFT touch-sensitive LCD
Monitor Angle of View
170 -degree wide-viewing angle
Monitor Adjustments
Brightness adjustment and eye-sensor controlled on/off
Virtual Horizon Camera Indicator
Yes

Playback

Playback Functions
Auto Image Rotation
Full-Frame and Thumbnail (4, 9, or 72 images or calendar)
Highlights
Histogram Display
Location Display
Movie Playback
Movie Slideshow
Photo information
Picture Rating
Playback with Zoom
Playback Zoom Cropping
In-Camera Image Editing
Colour Balance
Colour Outline
Colour Sketch
D-Lighting
Distortion Control
Edit Movie
Filter Effects
Fisheye
Image Overlay
Miniature Effect
Monochrome
NEF (RAW) Processing
Painting
Perspective Control
Photo Illustration
Quick retouch
Red-Eye Correction
Resize
Selective Colour
Side-by-Side Comparison
Straighten
Trim
Image Comment
Yes

Interface

Interface

Accessory Terminal: Remote Cord: MC-DC2 (available separately); GPS unit: GP-1A (available separately)
Audio output: Stereo mini-pin jack (3.5 mm diameter)
HDMI Output: Type C mini-pin HDMI connector
Hi-speed USB
Stereo Microphone Input
WR-1 and WR-R10 wireless remote controller (sold separately)

Wi-Fi Functionality
Standards: IEEE 802.11b, IEEE 802.11g
Operating frequency: 2412–2462 MHz (channels 1–11)
Authentication: Open system, WPA2-PSK
Bluetooth
Yes
Communication protocols: Bluetooth Specification Version 4.1
GPS
GP-1 GPS unit (optional - sold separately)
GP-1A GPS unit (optional - sold separately)
Save/Load Camera settings
Yes

Menus

Total Custom Settings
41
My Menu
Yes
Recent Settings
Yes
Supported Languages
Arabic, Bengali, Brazilian Portuguese, Bulgarian, Chinese (Simplified and Traditional), Czech, Danish, Dutch, English, Finnish, French, German, Greek, Hindi, Hungarian, Indonesian, Italian, Japanese, Korean, Marathi, Norwegian, Persian, Polish, Portuguese, Romanian, Russian, Serbian, Spanish, Swedish, Tamil, Telugu, Thai, Turkish, Ukrainian, Vietnamese
Date, Time and Daylight Savings Time Settings
Yes
World Time Setting
Yes

Power

Battery
EN-EL15a Rechargeable Li-ion battery
Battery Life
(shots per charge)
950 shots (CIPA)
Movies: Approx. 80 minutes of HD footage
AC Adapter
EH-5c AC Adapter
Requires EP-5B Power Supply Connector
Battery Charger
MH-25a Quick Charger

Miscellaneous

Tripod Socket
0.64 cm
Approx. Dimensions
(Width x Height x Depth)
135.5 x 104 x 72.5 mm (5.3 x 4.1 x 2.9")
Approx. Weight
640 g (22.6 oz)
camera body only
Operating Environment
0–40 °C
Less than 85% (no condensation)
AF-S DX NIKKOR 18-140mm f/3.5-5.6G ED VR

Focal length
18-140 mm
Maximum aperture
f/3.5-5.6
Minimum aperture
f/22-38
Lens construction
17 elements in 12 groups (including one ED glass and one aspherical lens elements)
Angle of view
76° - 11°30'
Minimum focus distance
0.45 m/1.48 ft from focal plane
Maximum reproduction ratio
0.23x
No. of diaphragm blades
7 (rounded)
Filter-attachment size
67mm
Diameter x length
(distance from camera lens mount flange)
Approximately 78 x 97 mm/3.1 x 3.8 in
Weight
Approximately 490 g/17.3 oz
AF-P DX NIKKOR 10-20mm f/4.5-5.6G VR

Mount Type
Nikon F-Bayonet
Focal Length Range
10 - 20 mm
Zoom Ratio
2 x
Maximum Aperture
f/ 4.5
Minimum Aperture
f/ 29
Format
DX
Maximum Angle of View
(DX-format)
109°
Minimum Angle of View
(DX-format)
70°
Maximum Reproduction Ratio
0.17 x
Lens Elements
14
Lens Groups
11
Optical Conversion Factor
1.5x
Compatible Format(s)
DX
VR (Vibration Reduction) Image Stabilization
Yes
Lens shift using voice coil motors (VCMs)
Diaphragm Blades
7
Aspherical Elements
3
Super Integrated Coating
Yes
Autofocus
Yes
AF-P (Pulse Motor)
Yes
Internal Focusing
Yes
Minimum Focus Distance
0.8 ft. ( 0.22 m)
from focal plane at all zoom positions
Focus Mode
Auto
Manual
Manual/Auto
G-type
Yes
Filter Size
72 mm
Accepts Filter Type
Screw-on
Approx. Dimensions
(Diameter x Length)
3.0 in. (77 mm) x 2.8 in. (73 mm)
Distance from camera lens mount flange
Based on CIPA Guidelines
Approx. Weight
8.2 oz. (230 g)
Based on CIPA Guidelines
Nikon D7500 Kit w/ AF-S 18-140mm VR & AF-P 10-20mm G VR
Looking for a personal touch? Not sure if you are choosing the right product? Our staff is here to help.
We want to make sure you get the right product for your needs.
Our staff will help you understand the options available so you can be confident in your purchase.
As the country's leading Professional Imaging retailer, Vistek is in the perfect position to ensure you make the right choice.
Contact us today for a personal touch.