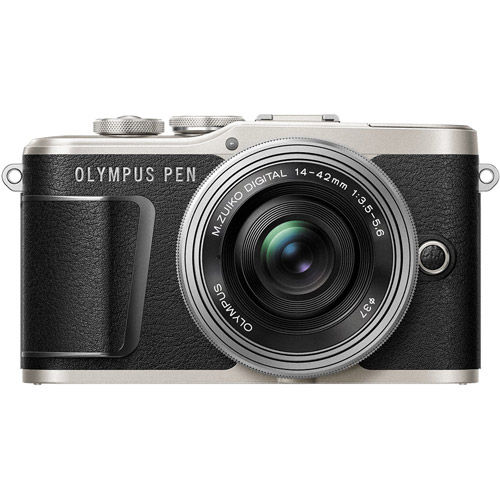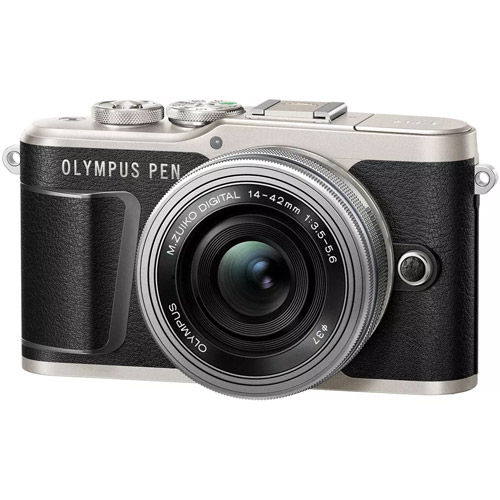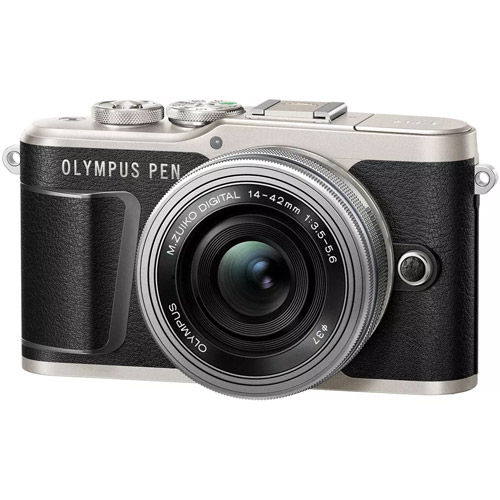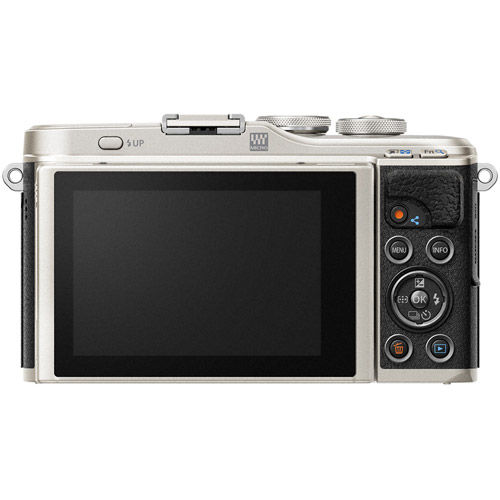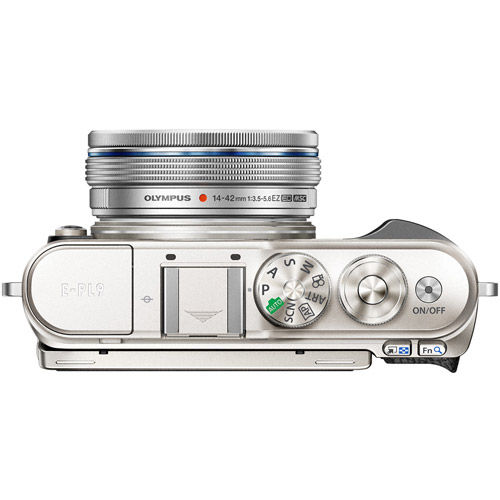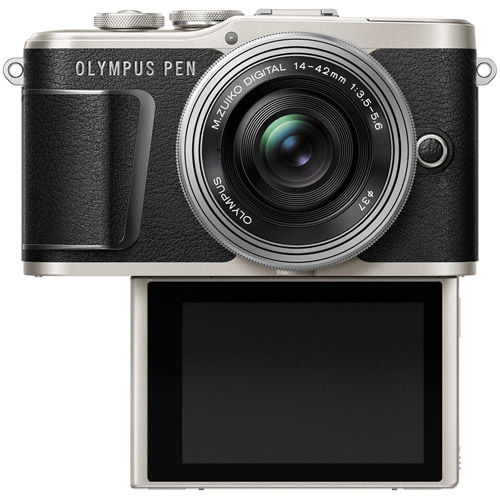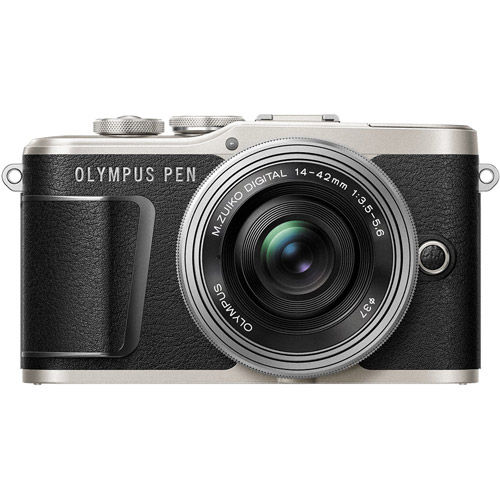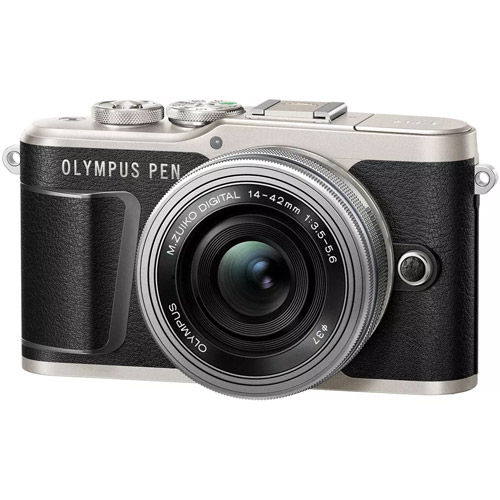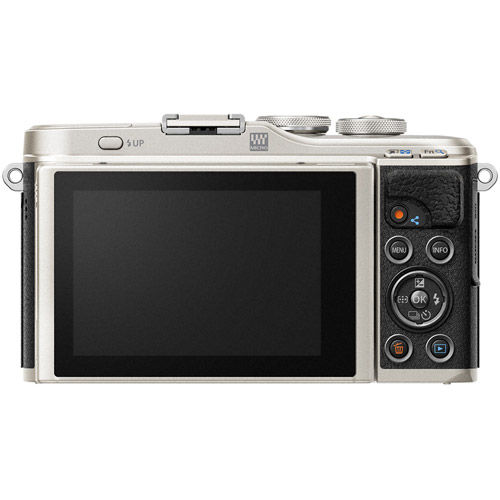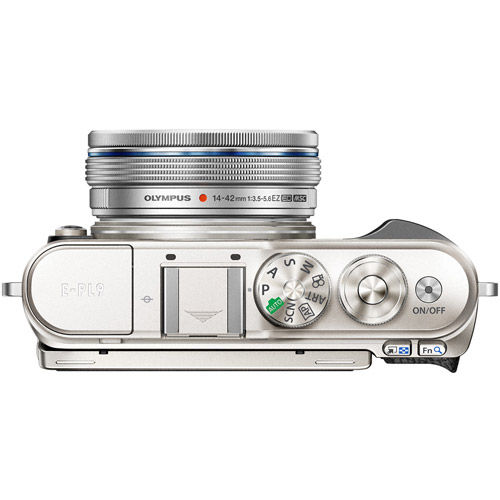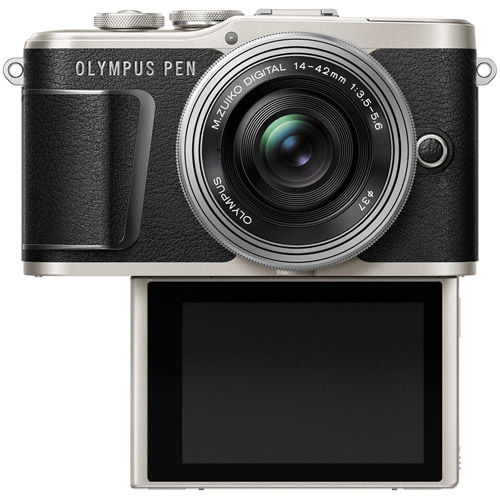 Webcode:

423817

• Mfr: V205092BU010
Product Highlights
The Olympus PEN E-PL9 features technology that lets you easily capture artistic photos, and has sophisticated exterior design that suits your stylish ensemble. You can easily import images taken with the E-PL9 to your smartphone for quick, easy sharing on
This item is unavailable
This page is here for your reference.
Share even better photos
With the sophisticated Olympus PEN E-PL9
The Olympus PEN E-PL9 features technology that lets you easily capture artistic photos, and has sophisticated exterior design that suits your stylish ensemble. You can easily import images taken with the E-PL9 to your smartphone for quick, easy sharing on social media.
Versatile Range of Expressions
Features such as Art Filter and Advanced Photo Mode deliver a versatile range of photographic expressions that are easy to create.
Easy Sharing
The PEN E-PL9 can communicate with your smartphone via Bluetooth® and Wi-Fi®. Importing images to your smartphone is now easier than ever before.
Refined Design with Excellent Operability
This model features sophisticated Olympus PEN design with a focus on operability. A variety of accessories are also available to make your PEN experience even more stylish.
Image Stabilisation and Other Advanced Features
The E-PL9 features in-body image stabilisation for capturing beautiful photos and movies with minimal blurring. It also has excellent basic features including autofocus and sequential shooting performance.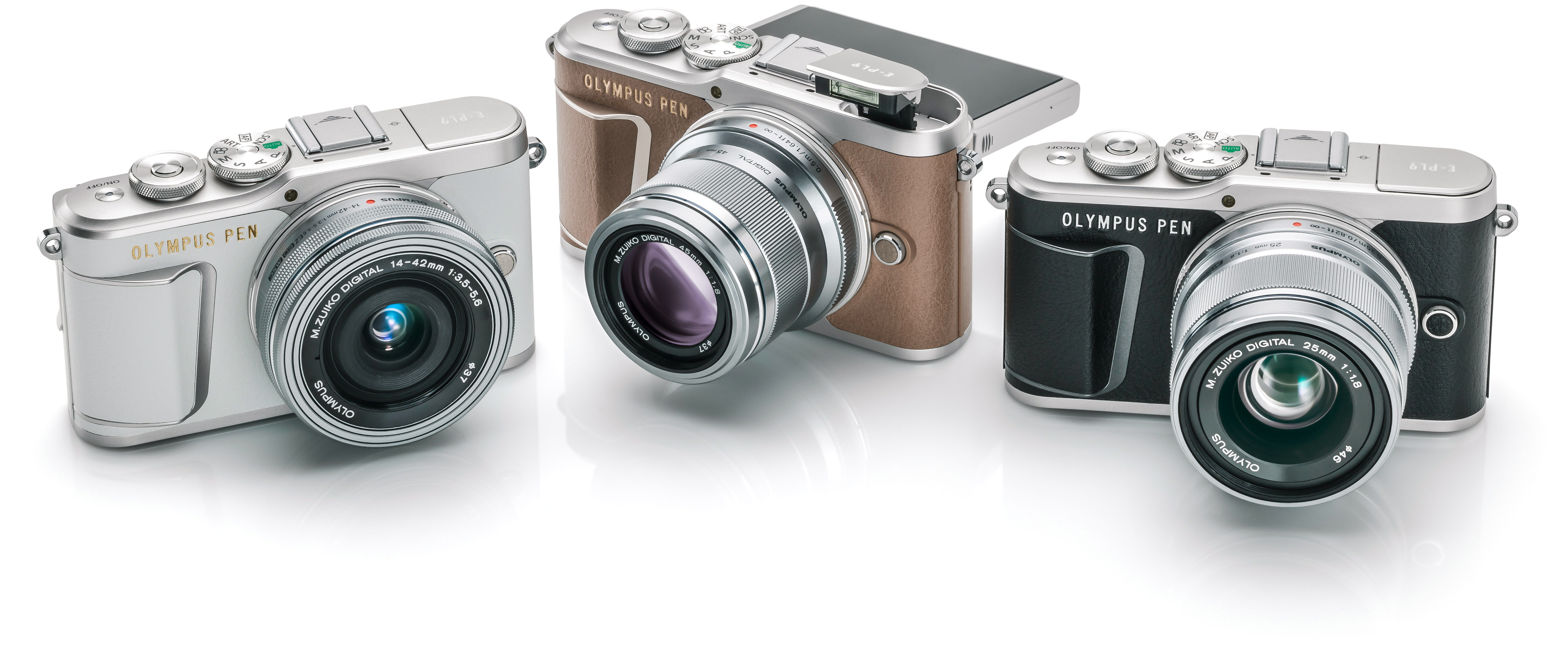 What's Included
PEN E-PL9 Body
M.Zuiko 14-42mm F3.5-5.6 EZ Lens
BLS-50 Lithium Ion Battery
BCS-5 Battery Charger
USB Cable
Shoulder Strap
Instruction Manual
Warranty Card
Product Specifications
PEN E-PL9

Sensor Effective Resolution / Type
16.1 Megapixel Live MOS
TruPic™ VIII
TruPic™ VIII
Focusing System
Contrast Detection with 121 Focus Points
Image Stabilization System
In-Body 3-Axis Image Stabilization
Rear Monitor
3.0" 180° Tilting Touch LCD
Creative Features
Live Composite, Selfie Mode, Selfie Video Mode, Video Clips Mode, Advanced Photo (AP) Mode
Sequential Shooting Speed
8.6 fps [H Mode], 4.8 fps [L Mode] Mechanical Shutter
Special Features
Easy image sharing via Bluetooth Low Energy, Wi-Fi and Olympus Image Share App; Built-in pop-up flash

Sensor / Dust Reduction

Sensor Type
4/3" Live MOS Sensor
Effective Pixels
16.1 million
Total Pixels
17.2 million
Filter Array
Primary color filter (RGB)
Aspect Ratio & Area
4:3 / 17.3 x 13.0mm
Dust Reduction
Super Sonic Wave Filter

Processor

Processor Type
Olympus TruePic™ VIII

Focusing System

AF System Type
High-speed imager AF (Contrast detection)
Focus Modes
Single AF (S-AF) / Continuous AF (C-AF) / Manual Focus (MF) / S-AF + MF / AF Tracking (C-AF + TR)
When a Four Thirds lens is attached, only S-AF (Single Target) or MF for video are available.
Full Time AF
Available
Magnified Frame
Enlarged view check by magnify button
Magnification 5x, 7x, 10x (Default), 14x
Face Detection AF / Eye Priority AF
Available / Available
Eye Detection AF mode: Off / Nearer-eye priority / Right-eye priority / Left-eye priority
Focusing Points / Focusing Points Selection Mode
121-point contrast detection AF
All target, group target (9-area), single target (standard target size / small target size)
AF Illuminator
Available
Manual Focus Assist
Focus ring rotation activates Live View image magnification and/or focus peaking when in S-AF+MF or MF mode
Peaking Function
Activate with Fn button or focus ring
Change peaking settings using the Info button
Color selection: white or black

Image Stabilization

System Type
Built-in 3-axis sensor-shift image stabilization for video and still photos
Stabilization Performance
3.5 EV Steps @ 42mm (35mm equivalent)

Shutter / Sequential Shooting

Shutter Type
Computerized focal-plane, high-speed, mechanical shutter
Shutter Speed
Electronic first curtain shutter: 1/320 – 60 sec.
1/4000 – 60 sec. (1/3, 1/2, or 1 EV steps selectable)
Bulb/Time: default setting 8 min. (1/2/4/8/15/20/25/30 min. selectable)
Sequential Shooting Maximum Speed
[Sequential shooting H mode] approx 8.6 fps
[Sequential shooting L mode] approx 4.8 fps
[Anti-shock sequential shooting L mode] approx 4.3 fps
[Silent sequential shooting H mode] approx 14.1 fps
[Silent sequential shooting L mode] approx 6.1fps

Actual sequential shooting speeds may vary depending on lens attached, camera settings, and external shooting conditions

Max Recordable Pictures in Sequential Shooting
[RAW] 14 frames. (in seq. shooting L) Max. 13 frames (in seq. shooting H)
[JPEG; LN] Max. ∞ frames (in seq. shooting L and in seq. shooting H)
Self Timer
Operation time: 12 sec., 2 sec., custom (Wait time: 1-30sec., Shot interval: 0.5/1/2/3sec., Number of shots: 1-10)
Anti-shock Mode
Electronic first curtain shutter / 1/320 - 60 sec
(For speeds over 1/320 sec., mechanical shutter will automatically be selected when shutter start delay is set to 0 sec.)

Shutter Start Delay 0, 1/8, 1/4, 1/2, 1, 2, 4, 8, 15, 30 sec

Monitor

Rear Monitor Type
3.0" tilting touch monitor
Approx 1037k dots (3:2) electrostatic capacitance touch screen
Rear Monitor Size
3.0" / 7.6 cm
Touch Control
Shutter release, magnification, AF area selection, AF area size adjustment, frame forward/backward, magnified playback, Live Guide, Super Control Panel, Art Filter mode selection, scene mode selection, Wi-Fi connection, clips, movie effect, movie teleconverter
When in Selfie Mode: Shutter release, e-Portrait, custom self-timer, movie, exposure compensation
Tilting Capability
Upward tilting angle: up to 80 degrees
Downward tilting angle*: up to 180 degrees
*mirror display when monitor is in selfie position
Brightness / Color Temp Control (Rear Monitor)
±7 levels / ±7 levels
Color Tone SelectVivid / Natural
Color Tone SelectVivid / Natural
Live View
Approx. 100% field of view,
Exposure compensation preview, WB adjustment preview,
Gradation auto preview, Face detection preview (up to 8 faces),
Grid line, Histogram, Magnification display (x5/x7/x10/x14), Normal, Highlight & Shadow, Level Gauge, Off
Preview
Preview with depth of field preview lock (must be assigned to button to activate)
Live View Boost
Yes (does not reflect ceratin adjustments such as exposure compensation)
Field of View
Approx. 100%
Display Mode
Normal Mode, Histogram Mode, Level gauge, Highlight and shadow, Off
Monitor Information
Aperture value, Shutter speed, Auto Bracket, AE Lock, AF mode, IS, Shooting Mode, Battery Check, Myset, Internal Temperature Warning, Face / Eye Detection, Histogram, Number of storable still pictures, Record mode, ISO, Sequential shooting, Self-timer, White Balance, Metering Mode, AF confirmation mark, Exposure Compensation Value, Spot metering Area Flash Mode, Flash Status, Flash intensity Control, Super FP, Focal length, Tone control, Eye-Fi condition, Digital teleconverter, Battery check
Display of Face Detection
Max. 8 frames of face detection can be displayed

Exposure Control / Flash

Metering System
Digital ESP metering (324-area multi pattern metering), Center weighted average metering, Spot metering, Spot metering with highlight control, Spot metering with shadow control (TTL Image sensor metering)
Metering Range
EV -2 - 20 (at normal temperature, 17mm f2.8, ISO 100)
Exposure Mode
Auto (Live Guide can be used), P: Program AE (program shift can be performed), A: Aperture Priority AE, S: Shutter Priority AE, M: Manual (Live Bulb, Live Time and Live Composite are available), Scene Select AE, Advanced Photo AE, Art Filter
Scene Select AE
[Advanced Photo]
Live Composite, Live Time, Multiple Exposure, HDR Backlight1, Silent, Panorama, Keystone Compensation, AE Bracketing, Focus Bracketing

[Scene]
Portrait, e-Portrait, Landscape + Portrait, Night + Portrait, Children, Night scene, Hand-held Starlight2, Fireworks, Light trails, Sport, Panning, Landscape, Sunset, Beach & Snow, Backlight HDR1, Panorama, Candlelight, Silent, Macro, Nature Macro, Documents, Multi Focus Shot

1. 4 images automatically shot and combined into a single image composite
2. 8 images automatically shot and combined into a single image composite

ISO Sensitivity
Auto: ISO Low approx. 100 – 25600 (customizable, default ISO Low – 1600)
Manual: ISO Low approx.. 100 – 25600 in 1/3 or 1 EV ISO steps
Exposure Compensation
Still photo ±5 EV, movie ± 3 EV in 1/3, 1/2, 1 EV steps selectable
*HDR shooting, monitor and EVF displays only up to ±3 EV
AE Lock
Locks with a half-press of the shutter button (can be set to Fn button as well)
Flash Intensity Control Method
TTL Auto, Auto*, Manual, Super FP*(FP-TTL AUTO, FP-MANUAL)
* Available on external flash
Built-in Flash
TTL Flash, GN=5.4 (ISO100•m) / GN= 7.6 (ISO200•m)
Flash Mode
Redeye, Slow Sync. (1st curtain), Slow Sync. (2nd curtain), Red-eye Slow Sync. (1st curtain), Fill-in, Manual (1/1 (FULL) ~ 1/64), Flash Off.
Flash Intensity Control
Up to ±3 EV in 1/3, 1/2, 1 EV steps selectable
Compatible External Flash
FL-50R, FL-36R, FL-20, FL-14, FL-300R, FL-600R, FL-900R, STF-8
Compatible Wireless External Flash
FL-50R, FL-36R, FL-300R, FL-600R, FL-900R
Wireless Flash Control Method
Olympus Wireless RC Flash system (light-triggered) Commander flash: FL-900R, FL-600R, STF-8

Memory /
Image Recording
(File Format)

Compatible Memory
SD Memory Card (SDHC, SDXC, UHS-I/II compatible, Eye-Fi Card compatible*)
*Not compatible with Endless Memory
Recording Format
DCF 2.0, Exif 2.3
File Format
RAW (12-bit lossless compression), JPEG, RAW+JPEG, MPO (3D still)
Recording Image Size
[RAW] 4608 x 3456 pixels
[JPEG] 4608 x 3456 pixels - 640 x 480 pixels

White Balance / Color Mode

White Balance Mode
Auto WB, 6 Preset WBs, 4 Capture WBs, Custom WB(Kelvin setting)
Code Modes
RGB, Adobe RGB

Brackting / HDR

Exposure Bracketing
Available as AE Bracketing in Advanced Photo mode.
3 frames in 1.0 EV steps, 5 frames in 0.7 EV steps.
Focus Bracketing
Available as Multi Focus Shot in Scene mode and Focus Bracketing in Advanced Photo mode. Shoots 8 frames.
When in Advanced Photo mode, focus steps can be adjusted in 5 or 10 levels.
Compatible with Micro Four Thirds lenses only.
HDR (Auto Composite)
Available as Backlight HDR in Scene mode and HDR in Advanced Photo mode. ISO sensitivity is fixed at 200, and maximum shutter speed setting is 4 seconds. HDR1 is available in both modes. HDR2 (painting-like) is available in Advanced Photo mode only. Exposure compensation can be performed in Advanced Photo mode only.

Creative Features

Picture Mode
i-Enhance, Vivid, Natural, Muted, Portrait, Monotone, Custom, e-Portrait, Color Creater, Art Filters
Gradation
Auto, Normal, High Key, Low Key (except Art Filters)
Adjustment Parameter
4 levels (Auto, Normal, High key, Low key)
Filter Effect (B&W Filter)
Neutral, Yellow, Orange, Red, Green for Monotone
Picture Tone
Neutral, Sepia, Blue, Purple, Green for Monotone
Art Filter
Sixteen in-camera Art Filters are enhanced by new filter variations, art effects and bracketing. You can use Art Filters in all shooting modes as well as filming 1080 HD movies.
Art Filter Modes
Pop Art, Soft Focus, Pale & Light Color, Light Tone, Grainy Film, Pin Hole, Diorama, Cross Process, Gentle Sepia, Dramatic Tone, Key Line, WaterColor, Vintage, Partial Color, Bleach Bypass, Instant Film
Color Ring (for partial color)
18 color selectable
Live Composite
Update Interval Time / composite method 0.5 sec – 60 sec / Lighten Mode (Bright area prioritization)
Interval Shooting
1-999 frames, Interval time 1 sec - 24 hours, Time lapse movies
Multiple Exposure (number of pictures / function)
2 frames / Auto gain, Exposing on Recorded picture (RAW)

Video / Audio Recording

Video Recording Format
MOV (MPEG-4AVC/H.264), AVI (Motion JPEG)
Movie Mode
[MOV]
3840 x 2160 (4K) / 30p,25p,24p / IPB (approx. 102 Mbps)
1920 x 1080 (FHD) / 30p, 25p, 24p / IPB (SF, F, N)
1920 x 1080 (FHD) / 60p, 50p / IPB (SF, F, N)
1280 x 720 (HD) / 30p, 25p, 24p / IPB (SF, F, N)

60p: 59.94 fps, 50p: 50.00 fps, 30p: 29.97 fps, 25p: 25.00 fps, 24p: 23.98 fps
FHD IPB (SF: SuperFine / approx. 52 Mbps, F: Fine / aprox. 30 Mbps, N: Normal / approx. 18 Mbps)
HD IPB(SF: SuperFine / approx. 26Mbps, F: Fine / approx. 14Mbps, N: Normal / approx. 10Mbps)

* Frame rates may drop when particular Art Filters and Movie Effects are used.
* Class 10 or higher SD card is recommended for shooting video.
* UHS-I U3 card is recommended for 4K shooting.

Maximum Video Recording Time
[MOV] Approx. 29min
Art Filter Movie
Yes (Frame rates may drop when certain Art Filters are used)
Movie Effect
One shot echo / Multi echo / Art fade / Old film
Movie Tele-converter
4x* Available on Movie effect mode
Timelapse Movie
[MOV]
3840x2160 (4K) / 5fps
1920x1080 (FHD) / 5fps, 10fps, 15fps
1280x720 (HD) / 5fps, 10fps, 15fps, 30fps
Clips
1, 2, 4, 8 sec.
(Further continued shooting possible up to 16 seconds by pressing video record button again)
IS for Movie
M-IS1* (Image sensor shift and electronic image stabilizer with multi motion IS), M-IS2 (Image sensor shift with multi motion IS), Off

*While using M-IS1, field of view may be affected.

AE Lock
Available
Video Exposure Control
Program AE, aperture priority AE, shutter priority AE, manual
Video File Size
.MOV Format: Max 4GB
Audio Recording Format
Wave Format (Stereo linear PCM/16-bit, Sampling frequency 48kHz)
Microphone / Speaker
Stereo / Mono
Microphone Function
Wind noise reduction, recording volume (audio quality may be affected)
Audio dubbing possible for still pictures (up to 30 sec.)

Operability

WiFi
GPS Info Function via Smartphone GPS data
Olympus Image Share
File Type: JPEG1, MOV
Connect to up to 4 devices simultaneously. Marking function for image share.

Easy Connection
QR Code Setting
Wireless Shooting
Live View
Rec View
Wireless Touch AF Shutter2
Power Off

1 Excluding MPO file
2 Selectable from iAuto / ART / PASM (Live Bulb, Live Time)
Control settings for aperture, shutter speed, exposure, ISO sensitivity, white balance and Drive Mode.

Live Guide
Saturation, Color, Brightness, Background Blur, Expressing Motion, Shooting Tips
(Multiple effects can be used simultaneously)
Playback Mode
Single-frame, information display, index display (4/9/25/100 frames), Clips, calendar, enlargement (2x -14x), video (with sound, FF/REW/Pause,Touch operation), picture rotation (auto), slideshow (with sound and music), alternate music options, dubbed audio playback
Information Display
Histogram (independent luminance / RGB available), Highlight/Shadow point warning, AF frame, Photographic information, OFF
Editing Function
RAW data edit, Gradation auto, Monochrome, Sepia, Red-eye fix, Saturation, Resize (1280x960, 640x480, 320x240), Trimming, Aspect, e-Portrait, Image Overlay, Post recording
RAW Image Editing Functions
RAW data edit based on settings of the camera (including e-Portrait, Color Creator, Art Filter, ART-BKT).
Preview capability.
Menu Languages
(34 selectable)
English, French, German, Spanish, Italian, Japanese, Korean, Traditional Chinese, Simplified Chinese, Russian, Czech, Dutch, Danish, Polish, Portuguese, Swedish, Norwegian, Finnish, Croat, Slovenian, Hungarian, Greek, Slovakian, Turkish, Latvian, Estonian, Lithuanian, Ukrainian, Serbian, Bulgarian, Rumanian, Indonesian, Malay, Thai

Connectivity / Power Requirements

USB / AV / Remote Controller Connector
USB Micro-B
HDMI Connector
Micro HDMI (Type-D)
Flash Attachment
Hot shoe
Wireless LAN
Built-in (IEEE 8.02.1b/g/n)
Bluetooth
Built-in (Bluetooth Ver. 4.0)
Battery
BLS-50 Li-ion battery (included)
Number of Recordable Pictures
Approx. 350 shots
Battery Life for Movie Shooting
Approx. 80 minutes* (under standard JEITA testing)
Approx. 140 minutes* (when zoom and other operational functions are not used)

*When repeatedly recording at the maximum time of 29 minutes, 4K video shooting.

Physical Specs

Weight
Approx. 380g (with BLS-50 battery and Memory card, based on CIPA standards) Approx. 332g (body only)
Dimensions (WxHxD)
117.1 x 68 x 39 mm
[CIPA guideline compliant, excluding protrusions]
Operating Temperature Range

Operation
0 ~ +40°C (+32 ~ +104°F)
Storage
-20 ~ +60°C (-4 ~ +140°F)

Operating Humidity Range

Operation
30 - 90%
Storage
10 - 90%
Olympus PEN E-PL9 Black Kit w/ 14-42mm EZ Lens (inc. Bag, 16GB Class 10 SD Card, Camera Strap)
Looking for a personal touch? Not sure if you are choosing the right product? Our staff is here to help.
We want to make sure you get the right product for your needs.
Our staff will help you understand the options available so you can be confident in your purchase.
As the country's leading Professional Imaging retailer, Vistek is in the perfect position to ensure you make the right choice.
Contact us today for a personal touch.