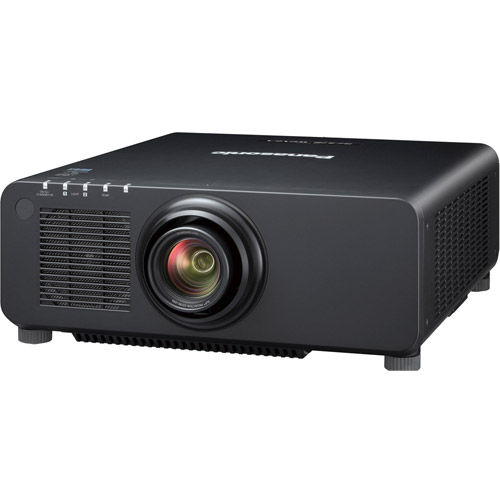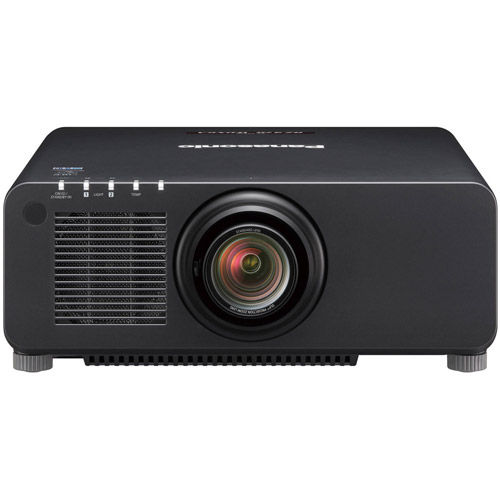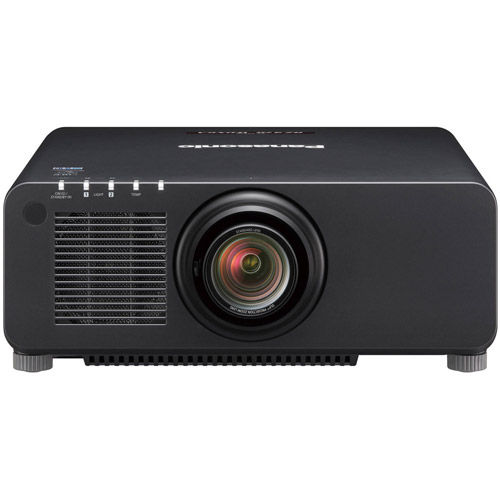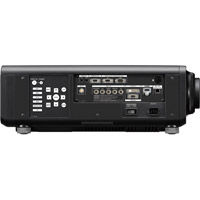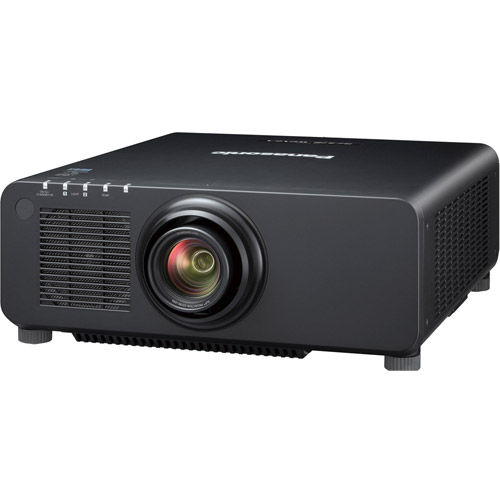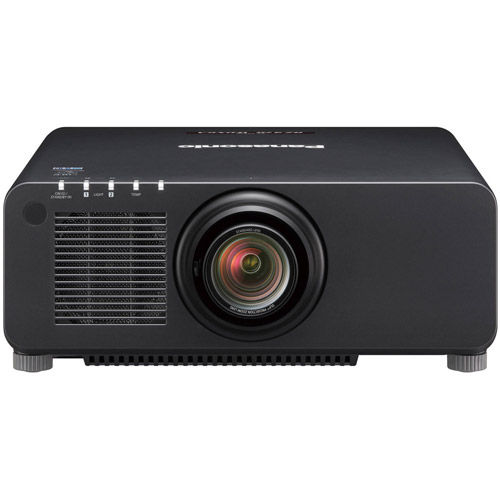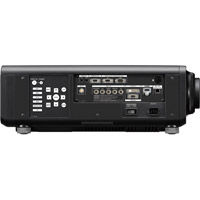 Product Highlights
1 Chip DLP

Display

1920 x 1200

Max. Resolution

10,000 Lumens

Light Output

1.02-12.7 m (40-500")

Screen Size

0.74-20.9 m (2.5-68.5')

Projection Distance

8000:1 with Auto Iris

Contrast Ratio

370W AC

Lamp

Up to 5000 hrs

Lamp Life

Split Screen

Simultaneous Projection

Stream Content from Smartphone or Tablet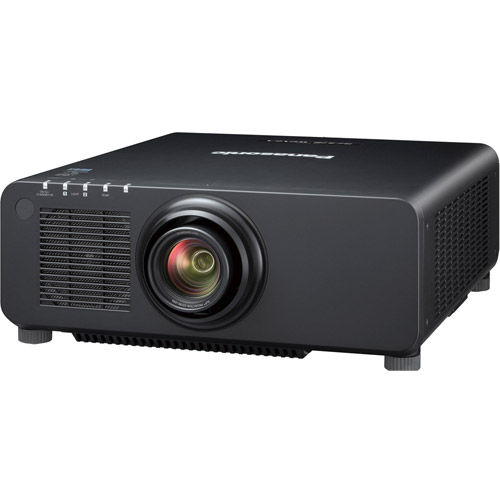 Panasonic WUXGA Lamp Free 1chip DLP Projector (10,000 lm) w/Digital Link, Edge Blending, Portrait - Black
Panasonic WUXGA Lamp Free 1chip DLP Proj...
Web Availability:
Special Order
This product will be Special Ordered just for you from the manufacturer. We do not stock this item due to its uniqueness or import schedule. Special Order items are Final Sale, see our Return Policy for details.
Vistek Locations
Toronto Special Order
Ottawa Special Order
Mississauga Special Order
Calgary Special Order
Edmonton Special Order
Please call and verify availability at the store as stock changes daily.
With immersive picture quality and practical features, potential application for Panasonic's PT-RZ970 Series projectors extends from permanent installation in museums, theaters, and control rooms through roles in exhibition/rental and staging. Power by the acclaimed SOLID SHINE Laser drive and latest 1-Chip DLP technology, these projectors exceed expecations with low-maintenance stability and vivid colour performance maintained for longer than competitive products over years of dependable 24/7 operation. The PT-RZ970 Series: made by professionals, for professionals.
Key Features:
High picture quality
Quick start and quick off
Dust-resistant optics
20,000 hours maintenance free
SOLID SHINE Laser and DLP Projection Balances Image Quality with 20,000-hour Maintenance-free Endurance
Hardnessing Full-Spectrum Colour with up to 10,400 lm (Center) Brightness
With next-generation DLOP technology delivering high-resolution detail and dual laser modules outputting up to 10,400 lm (Center) of brightness, Quartet Colour Harmonizer to reduce energy loss from the light source, and robust heat-resistant phosphor wheel, the Panasonic SOLID SHINE Laser system produces scintillating images with unfailing reliability.
Superior White Balance and Colour Reproduction
The Quartet Colour Harmonizer wheel mechanism captures a wider colour space than comparable projectors, which allows white to be reproduced realistically on screen. Some conventional projectors an't achieve an accurate white balance, so images can appear with a distracting greenish tint. Not the case with Panasonic SOLID SHINE laser projectors.
SOLID SHINE Laser Maintains Picture Quality for Longer
Thanks to the long-lasting dual solid-state laser modules, there are no lamps to replace, and image colour/brightness degrades very gradually in consistent, linear fashion. As well as reducing maintenance hassle, out-of-the-box picture quality is preserved longer.
Powerful Brightness, Excellent Picture Quality, Lasting Reliability
Dynamic Contrast Function for High Contrast
The PT-RZ970 Series directly modulates laser power output to achieve high contrast with low power consumption. Digitally controlled frame-by-frame scene-linking modulation ensures highly precise output adjustment, while accurate 10,000:1 contrast is delivered even when bright and dark scenes frequently interchange.
Detail Clarity Processor 3 Sharpens the Finest Details
This unique Panasonic circuit optimizes the sharpness of each image based on the super high, high, medium, and low frequency components of the extracted image information. The resulting images are expressed with natural, convincing realism.
System Daylight View 3 for Sharp and Vivid Images in Bright Environments
Panasonic's premium System Daylight View 3 prevents images from washing out in a well-lit environments and enhances brightness perception in multi-projector mapping applications by adjusting sharpness and gamma curves and correcting olours. The result is greater visual impact even in challenging conditions.
Consistent, Stable Performance
Stable 24/7 Operation with Light-source Failover Protection
Dual Drive Laser Optical Engine groups laser diodes into two discrete modules. A failsafe redundancy circuit works to minimize brightness - and colour-uniformity loss should a laser diode fail, making the PT-RZ970 Series ideal for mission-critical applications. Further, brightness decreases more gradually and consistently than lamp-based projectors over a 20,000 hour maintenance-free projection period.
Dual-Resistant Airtight Optical Block
The PT-RZ970 Series' optical block is airtight, ensuring consistent, long-lasting image quality for up to 20,000 hours without maintenance. The optical block design passed stringent testing to assure utmost reliability in environments with up to 0.15 mg of particulate matter per cubic meter (based on the American Society of HEating, Refrigerating and Air-Conditioning Engineers [ASHRAE] and Japanese Building Maintenance Association guidelines). The structure prevents brightness degradation from dust intrusion.
Selectable Operational Mode Maintains Image Quality Longer
Approx. 20,000 Hours of Continuous Operation
In Normal Mode, the PT-RZ970 Series can operate continuously for about 20,000 hours. In Eco Mode, this is extended to around 24,000 hours of continuous operation. These modes enhance suitability for education and signage applications.
Up to 10 Years Operation with Constant Brightness Modes
In environments where full brightness is not necessary, such as surveillance, control, and simulation rooms, constant operation modes extend light-source replacement to up to 87,600 hours in Long Life 3 Mode - about 10 years of 24/7 projection - with consistent brightness and colour.
User Operating Mode
In addition to preset operating modes, the PT-RZ970 Series can be customized to achieve your preferred balance of brightness performance or extended life.
Versatile Installation Flexibility
Unique Contrast Sync and Shutter Sync Function
The PT-RZ970 Series is among the world's first to feature Contrast Sync and Shutter Sync functions (Patent Pending) for multi-screen and mapping applications. Contrast Sync allows the projectors' digitally modulated contrast function to be synchronized over the network for consistent picture quality across screens, while Shutter Sync incorporates a master/slave principle to synchronize shutter on/off timing between all networked projectors. It includes sumulatenous, fade-in and fade-out functions.
Multi-Screen Support System Seamlessly Connects Multiple Screens
Edge Blending
Edges of adjacent screens can be blended and their luminance controlled.
Colour Matching
Corrects for slight variations in the colour reproduction range of individual projectors. PC software assures easy, accurate control.
Multi-Unit Brightness and Colour Control
This function automatically corrects a brightness and colour fluctuations that occur over time in individual projectors in a multi-screen system. Control up to eight projectors in a multi-screen system. ontrol up to eight projectors connected via hub increasing to a maximum of 2048 projectors with Multi Monitoring & Control Software.
Geometric Adjustment for Custom Screen Surfaces
Geo Adjustment adapts the image for projection onto spherical, cylindrical, and other specially shaped screens. Fine-tuning is performed with the remote control, with no external equipment needed. Paired with Multi-Screen Support System, highly creative mapping presentations are possible in variety of event and staging applications.
Geometry Manager Pro Software
Geometry Manger Pro software expands built-in functionality and makes complex adjustments easy. The free software package includes enhanced colour matching and edge blending for multi-screen projection and adjustment of multiple sreens over the network.
Reduce Inventory Costs with Share
The PT-RZ970 Series shares optional lenses with the Panasonic 1-Chip DLP projector range, including the ET-DLE30 Ultra-Short-Throw Lens and ET-DLE085 Zoom Lens for long throw distances, reducing TCO for staging and event companies with large projector inventories. Lenses attach and detach with one-touch ease.
Easy System Flexibility
Single-Cable DIGITAL LINK Control and Video Connection
Upward HDBaseT compatible DIGITAL LINK supports transmission of uncompressed Full HD video and control commands through a single CAT 5e or higher STP cable for distances of up to 150 m (492'). Add an optional DIGITAL LINK Switcher or Digital Interface Boz to further simplify installation in large venues while reducing cost and improving reliability at the same time.
First 360-Degree Rotation
Projection is possible in any direction vertically and horizontally, and the unit can be rotated 360 degrees for installation at any angle.
Supports Art-Net DMX, Crestron Connected and PJLink
The PT-RZ970 Series is compatible with Art-Net DMX protocol for lighting management. This allows the projector to be connected to a lighting console, opening the door to a range of added functionality and control options. The included LAN/DIGITAL LINK terminal also supports Crestron Connected and PJLink (Class 1) for easy integration of these projectors into an existing AV network utilizing multiple device brands.
Quick Start and Quick Off
The laser-light source doesn't require any warm-up, so images appear almost instantly (in about 1 second) with PT-RZ970 Series projectors. There's also no cool-down period needed when turning the power off at the mains - the projector can be turned on and off any time as necessary.
Backup Input Setting Optimizes Performance
This feature allows smooth switching to a backup input signal should the primary signal be disrupted, guranteeing reliability for mission-critical control rooms, projection mapping, staging, and in other applications where image display must be maintained.
Web Browser Control
These Panasonic SOLID SHINE Laser projectors can be easily operated remotely over a LAN network via a computer's web browser. Projectors can be configured to alert the operator via email if an error has occured.
What's Included
PT-RZ970 WUXFAProjector
Power Cord
Wireless/Wired Remote Control Unit
2x Batteries (R03/AAA)
Software CD-ROM
Lens Protection Cover
Product Specifications
Panasonic WUXGA Lamp Free 1Chip DLP Projector (10,000 lm) w/ Digital Link, Edge Blending, Portrait w/o Lens
Main Unit
Power Supply
AC100/240V 10.4-5.0A 50Hz/60Hz
Power Consumption

1050W
Normal: 742W
Eco: 617W
Long Life 1: 410-588W
Long Life 2: 375-588W
Long Life 3: 349-588W
Standby Mode [ECO]: 0.2W
Standby Mode [NORMAL]: 3W

Operating Temperature
25 °C (77 °F)
Altitude
700m (2,297')
BTU value
Max. 3,584 BTU
Panel size
17.0 mm (0.67") diagonal (16:10 aspect ratio)
Display method
DLP chip x 1, DLP system
Pixels
2,304,00 (1920 x 1200) x 1, total of 1,024,000 pixels
Light Source
Laser Diode Laser class
Illumination life of set
Varies depending on operation mode setting.
20,000 hours at half luminance (NORMAL/QUIET1/QUIET2)
24,000 hours at half luminance (ECO)
Screen Size
1.27-15.24 m (50-600 inches) (16:10 aspect ratio)
Brightness

9,400 lumens/10,000 lumens (CENTER)
9,400 lumens (Half luminance) (NORMAL)
7,500 lumens (Half luminance) (ECO)
8,000 lumens (Half luminance) (QUIET1)
6,000 lumens (Half luminance) (QUIET2)
3,700 lumens (Constant luminance) (LONG LIFE1)
3,100 lumens (Constant luminance) (LONG LIFE 2)
2,500 lumens (Constant luminance) (LONG LIFE 3)

Center-to-corner uniformity
90%
Contrast
10,000:1 (All White/All Black) (Dynamic Contrast)
Resolution
1920 x 1200 pixels
Scanning frequency
3G-SDI signal (RGB 4:4:4 12-bit/10-bit):
SMPTE ST 424 compliant: 1125(1080)/60i, 1125(1080)/50i, 1125(1080)/25p, 1125(1080)/24p, 1125(1080)/24sF, 1125(1080)/30p, [2K/24p], [2K/25p], [2K/30p]
3G-SDI signal (YPBPR4:2:2 10-bit): SMPTE ST 424 compliant: 1125(1080)/60p, 1125(1080)/50p, [2K/48p], [2K/50p], [2K/60p]
HD-SDI signal (YPBPR4:2:2 10-bit): SMPTE ST 292 compliant: 750(720)/60p, 750(720)/50p, 1125(1080)/60i, 1125(1080)/50i, 1125(1080)/25p, 1125(1080)/24p, 1125(1080)/24sF, 1125(1080)/30p, SD-SDI signal (YCBCR4:2:2 10-bit): SMPTE ST 259 compliant: 525i(480i), 625i(576i)
fH: 15- 100kHz, fV: 24 - 120Hz, dot clock: 25 - 162 MHz 525i (480i)*4
, 625i (576i)*4, 525p (480p), 625p (576p), 750 (720)/60p, 750 (720)/50p, 1125 (1080)/60i, 1125 (1080)/50i, 1125 (1080)/25p, 1125 (1080)/24p, 1125 (1080)/24sF, 1125 (1080)/30p, 1125 (1080)/60p, 1125 (1080)/50p, VGA (640 x 480) - WUXGA (1920 x 1200) compatible with non-interlaced signals only SMPTE ST 259 compliant: 525i(480i), 625i(576i)
Optical axis shift

Vertical: +50%, -16%(powered)
Horizontal: +30%, -10%

Installation
Ceiling/floor, front/rear, 360 degree free installation
Terminals
SDI IN
3G-SDI signal: SMPTE ST 424 compliant
HD-SDI signal: SMPTE ST 292 compliant
SD-SDI signal: SMPTE ST 259 compliant
HDMI IN
HDMI 19-pin x 1, DVI 1.0 compliant, compatible with HDCP for single link only
RGB 1 IN
BNC x 5
RGB 2 IN
D-sub HD 15-pin (female) x 1
Projector Sync In
D-sub 9-pin (female) x 1 for external control (RS-232C compliant)
Projector Sync Out
D-sub 9-pin (male) x 1 for link control
Remote 1 In
M3 jack x 1 for wired remoted
Remote 1 Out
M3 jack x 1 for link control (for wired remote control)
Remote 2 In
D-sub 9-pin (female) x1 for external control (parallel)
LAN/Digital Link
RJ-45 x 1 for network and DIGITAL LINK (video/network/serial control) connection, 100Base-TX, compliant with PJLink (Class 1) Deep Colour, HDCP
Power Cord Length
3.0 m (9' 10")
Cabinet Materials
Molded plastic
Dimensions
498 x 200 x 581 mm (19-19/32" x 7-7/8" x 22-7/8")
Weight
23.2 (51.1 lbs)
Operation Noise
41dB (37dB[QUIET1] / 35dB[QUIET2])
Operating Temperature
0 –45 °C (32 –113 °F)
Operating Humidity
10%–80% (no condensation)
Remote Control Unit
Power Supply
3 V DC (R03/AAA type battery x 2)
Operation Range
Approx. 30 m (98' 5") when operated from directly in front of the signal receptor
Panasonic WUXGA Lamp Free 1chip DLP Projector (10,000 lm) w/Digital Link, Edge Blending, Portrait - Black
Looking for a personal touch? Not sure if you are choosing the right product? Our staff is here to help.
We want to make sure you get the right product for your needs.
Our staff will help you understand the options available so you can be confident in your purchase.
As the country's leading Professional Imaging retailer, Vistek is in the perfect position to ensure you make the right choice.
Contact us today for a personal touch.