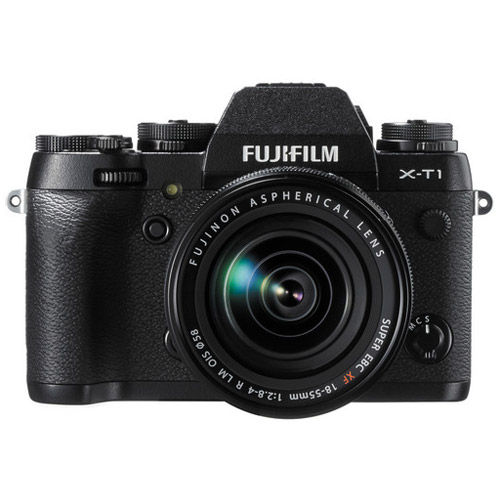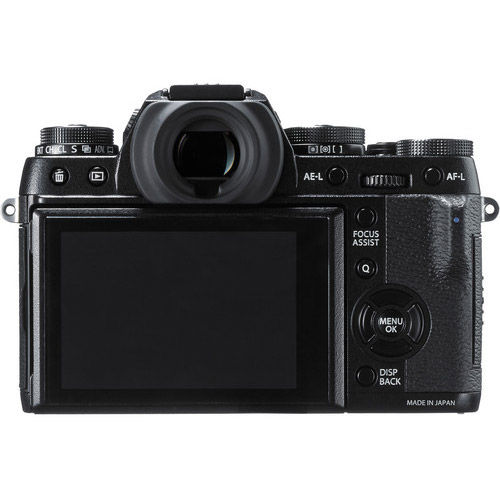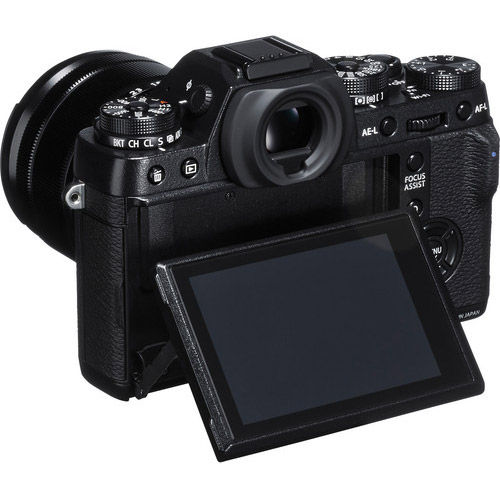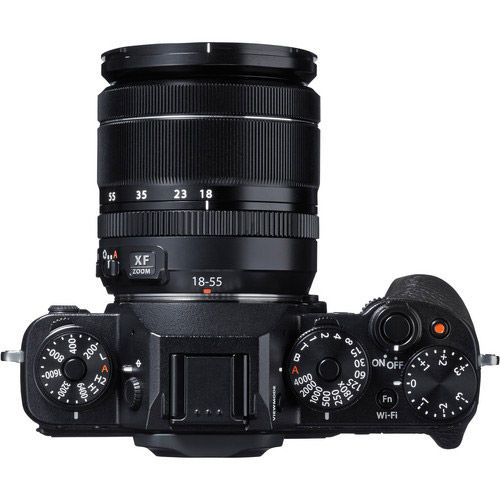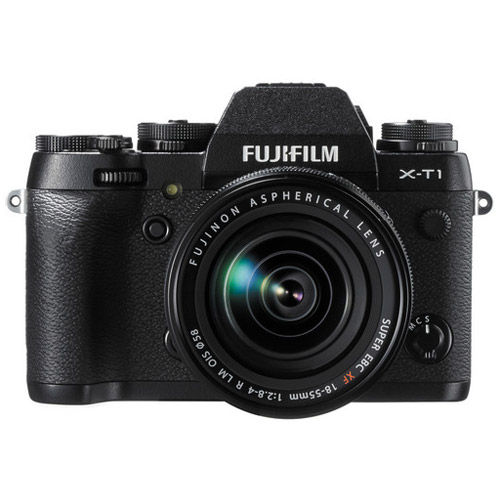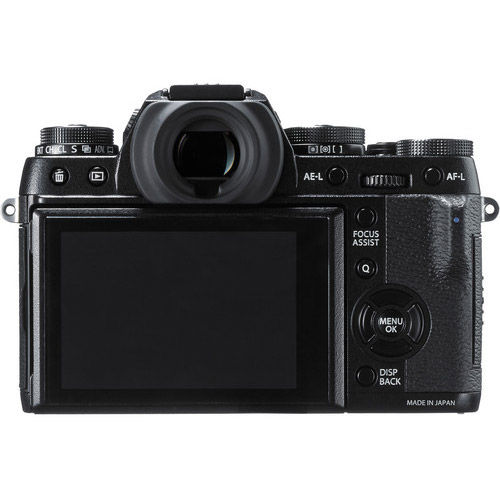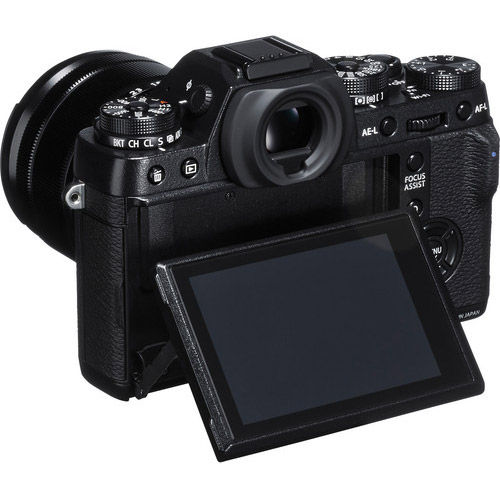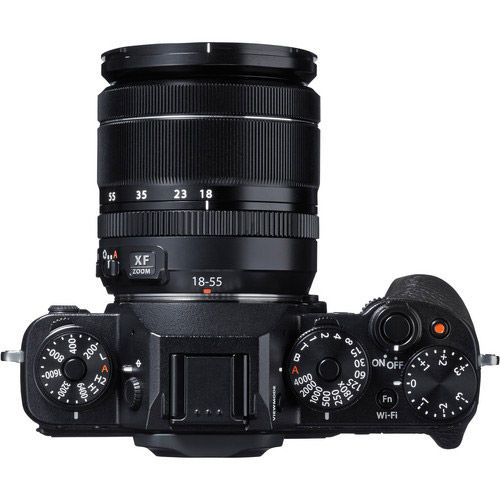 Used Details
Item Condition: in excellent working condition, shows a little wear
Warranty: 90 day Vistek warranty.
Accessories: battery,charger,strap,flash,manuals & box
Used item may not be exactly as shown.
Check Used Details for more information.
Product Highlights
16.3MP APS-C X-Trans CMOS II Sensor, EXR Processor II, 0.5" 2.360k-Dot 0.77x OLED Viewfinder, 3.0" 1,040k-Dot Tilting LCD Monitor, Full HD 1080p Video Recording at 60 fps, Built-In Wi-Fi Connectivity, Weather-Resistant Body Construction
Vistek Locations
Please call and verify availability at the store as stock changes daily.
Demo available: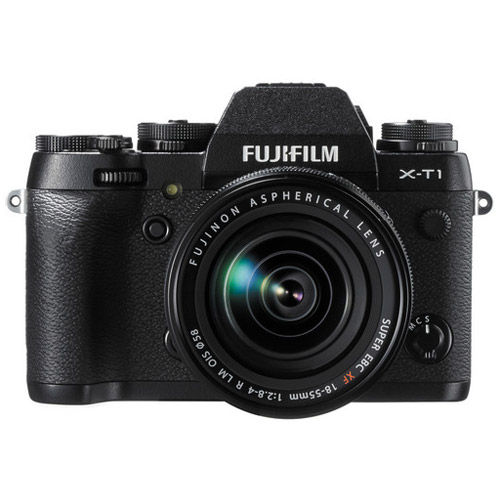 *Lens not included.
"Multi Mode Viewfinder" The world's highest viewfinder magnification ratio of 0.77x The world's fastest display with a lag-time of just 0.005 sec.
With its high-resolution 2.36million dot OLED display, and the world's highest magnification ratio of 0.77x, the FUJIFILM X-T1's Real Time Viewfinder allows a true connection to your subject and a purely immersive shooting experience. The viewfinder achieves a wide angle of view of 31°, and with the display's lag time of just 0.005 sec — less that a tenth of conventional cameras — you'll immediately see any changes to your composition, keeping you in touch with whatever you're shooting.
The viewfinder's newly designed Graphic User Interface provides a fresh shooting experience with clear details and a comfortable at-a-glance view of your settings.
"FULL" mode takes full advantage of the high magnification ratio of the FUJIFILM X-T1's viewfinder to give an unrivalled view of the scene. "NORMAL" provides an optimum view, including shooting settings and "DUAL" is specially designed for manual focusing with a clever split view.

In the "NORMAL" and "FULL" modes, the view automatically rotates for a vertical orientation when the camera is held vertically.
FULL
Taking full advantage of the high magnification ratio of the FUJIFILM X-T1's viewfinder, "FULL" mode gives you the full field of vision available. Any obstruction of the view is avoided by placing shooting information at the top and bottom of the display screen. Ideal for composing expansive landscapes, Wide is also great when manually focusing portraits and other subjects, allowing you to easily determine the perfect focus.

NORMAL
When shooting with Autofocus, the "NORMAL" mode lets you concentrate on framing the shot while keeping you aware of how the shooting conditions are changing, making it the perfect setting for sports and action photography.

VERTICAL
Hold the camera vertically and the information display automatically and smoothly rotates so it's ideally positioned for easy reading. Without taking your eye from the viewfinder, you can also check your images in vertical orientation for a truly seamless shooting experience.

DUAL
In the viewfinder's "DUAL" mode, you can enjoy a view of the subject unlike anything seen through a traditional optical viewfinder. In Manual Focus, Dual cleverly displays a split screen that lets you see both a regular view of the scene, as well as the Focus Assist view (Focus Peaking and Digital Split Image Focus) at the same time, so focusing is easy and precise.
Manual Focusing
Digital Split Image™, manual focus system to exploit the power of phase detection pixels.
Tapping the power of the phase detection pixels integrated in the X-Trans CMOS II sensor, Digital Split Image helps you manually focus your shot with greater precision. While checking the split image displayed in the LCD monitor or EVF, you can manually adjust for pinpoint focus, especially helpful when working with an open aperture or macro shooting.
Focus Peak Highlight For pinpoint manual focusing
When manually adjusting focus, this function highlights high contrast areas of your subject for smoother and more accurate focusing. You can select 3 types colors(White / Red / Blue).
Maximizing the power of APS-C-sized X-Trans CMOS II sensor
Capture each strand of hair in crisp detail.
Due to the X-Trans CMOS II sensor architecture that eliminates the need for an optical low-pass filter (OLPF) and integrates FUJFILM's originally developed color filter array, the FUJIFILM X-T1 reproduces scenes with resolution and clarity rivaling a larger sensor.

X-Trans CMOS II sensor incorporates an original color filter array with a highly random pattern, eliminating the need for an optical low-pass filter (OLPF). These filters are used in conventional systems to inhibit moiré at the expense of resolution. The X-Trans CMOS II sensor array lets the sensor capture unfiltered light from the lens, achieving an unprecedented level of resolution.
Lens Modulation Optimizer technology brings out the full potential of the XF lens.
The advanced Lens Modulation Optimizer (LMO) technology in the FUJIFILM X-T1 was made possible by the integrated development of the lens, sensor and processor. For each mounted lens, LMO high-precision processing of the lens focal length and aperture, as well as data from the screen center to the edges, corrects diffraction blur when shooting with a stopped down aperture and compensates for the slight blurring in the lens periphery. The result is edge-to-edge image quality with incredible sharpness and a sense of dimensional reality.
Intelligent Hybrid Auto Focus
World's fastest AF speed of 0.08 sec. achieved via the integration of phase detection pixels into the advanced sensor.
High-speed responses from the on-sensor phase detection AF system. Accurate focusing in dark scenes that only contrast AF can deliver. The FUJIFILM X-T1 has both, plus Intelligent Hybrid AF for automatic switching to the optimal focusing system for the scene and conditions. A newly developed algorithm improves AF accuracy when shooting low-contrast subjects and dark scenes. The evolved AF system of the FUJIFILM X-T1 brings your subject into sharp focus so quickly that priceless moments will never escape your lens.
A remarkable leap in high sensitivity — maximum ISO of 51,200
To broaden photographic opportunities in low-light scenes, you'll find an expanded sensitivity range, which now extends to an impressive ISO 51200. To combat noise at these ultra-high sensitivity settings, the arrangement of components and circuits around the sensor has been redesigned, keeping blacks black, with minimal grain and no color casts.
EXR Processor II — Double the processing speed of the previous generation.
Faster together — the X-Trans CMOS II sensor and EXR Processor II.
The adoption of the dual CPU and improved computational performance has doubled the processing speed when compared with the previous generation processor, the start-up time has also improved to only approx. 0.5 sec. Working in tandem with the high-speed signal readout of the X-Trans CMOS II sensor, the processor reduces the shooting interval to 0.5 sec.4 and shutter time lag to 0.05 sec.

Capture the thrill of motion with predictive AF and AF tracking high-speed 8.0 fps continuous shooting.
Faster response means more confidence in capturing the moment, and the FUJIFILM X-T1 delivers it. Using phase-detection autofocus, combined with high-speed subject predictive, the AF accurately follows your subject through the frame, even at the highest continuous shooting speed of 8.0 frames/sec.
The World's first compatibility with UHS-II format SD memory cards
With an UHS-II SD memory card installed, the data writing speed in continuous mode increases to about twice that of a conventional card.
Time-lapse photography - Interval timer function
Set the starting time, the shooting interval (1 sec. to 24 hr.) and finally the number of frames (1 - 999), and the FUJIFILM X-T1 does the rest, allowing you to discover the unique world of time-lapse photography.
80 years of photo film research adds up to color reproduction that's second to none.
Over decades of film manufacture Fujifilm has perfected the skill of color reproduction and it lives on in the FUJIFILM X-T1. Pleasing skin tones, natural blues and greens, and the ability to perfectly record the diversity of white balance conditions throughout the day are all taken in the camera's stride, and it also boasts a wide dynamic range for better reproduction of detail.
Film Simulation — adding impact and depth to photos.
With Film Simulation, you can choose from classic Fujifilm photo styles, and give your pictures varied color and tone to suit the subject, just like pros did with film. There's standard PROVIA, vivid Velvia, and ASTIA with its true-to-life skin tones; PRO Neg.Std and PRO Neg.Hi, which are portrait modes based on professional color negative film; and Monochrome expression with three different filter effects as well as Sepia.
Wide selection of Auto Bracketing functions
With a choice of 5 different auto bracketing functions (AE, ISO Sensitivity, Dynamic Range, Film Simulation and White Balance), you are ready to explore a whole world of photographic effects with just one press of the shutter.

White Balance Bracketing
Just fire the shutter once and capture the same scene at your selected white balance setting plus one frame at a warmer and another at a cooler color temperature. White Balance bracketing can be set in ±1, ±2 and ±3 steps.

Dynamic Range Bracketing
Capture 3 exposures of the same scene with high-speed continuous shooting, each at a different dynamic range setting (100%, 200% & 400%).

Film Simulation Bracketing
Just press the shutter once and get three images of the scene based on a single exposure, each image with a different Film Simulation effect that you have selected.

AE Bracketing
One press of the shutter captures 3 shots of the same scene at different exposures. AE bracketing can be set in ±1/3, ±2/3 or ±1 EV steps.

ISO Sensitivity Bracketing
Based on a single exposure, the scene is automatically reproduced as three images, each with a different ISO sensitivity, but without altering the shutter speed and aperture. This lets you capture the moment with varying degrees of brightness, but leaves depth-of-field and shutter effects unchanged. ISO Sensitivity Bracketing is possible in ±1/3, ±2/3 or ±1 EV steps.
Weather Resistant - dust-resistant, water-resistant and -10°C low-temperature operation.
The weather resistant structure is sealed in approximately 80 places and is both dust and water resistant. Additionally it is designed to cope in temperatures as low as -10°C allowing field photography without the typical worries about the weather, season or general shooting environment.

When used in conjunction with the XF18-135mm and Vertical Battery Grip VG-XT1, which have the same sealing structure as the camera body, the camera offers a reliable system for your field photography in damp conditions.
Durable full magnesium body, milled aluminum dials and reinforced LCD screen
Strong doesn't have to mean heavy and with its body made from die-cast magnesium, the FUJIFILM X-T1's chassis is not only sturdy and durable, but also compact and lightweight. The exposure compensation, shutter speed and ISO sensitivity dials are all precision milled from aluminum and deliver a reassuring click at every notched setting, while reinforced glass is used for added protection of the LCD screen. In every detail, the high-performance FUJIFILM X-T1 is designed to be tough and reliable.
Each engraved marking on the dials reminds you of the essential appeal of using a precision photographic tool.
The FUJIFILM X-T1 brings you back to the very essence of photography — the control of light — and it comes via the manual shutter speed, exposure compensation, ISO sensitivity and metering dials. Including the drive dial, all five dials are intuitively arranged on the camera's top-plate and the use of double-deck dials both simplifies operation and streamlines the elegant design.
3.0-inch, 1.04 million-dot high-resolution LCD Monitor with a tilting screen.
The FUJIFILM X-T1's big, bright LCD screen is clear to see under all conditions whether you're inside or out, thanks to its improved refresh rate. Composing and reviewing images has never been easier, while in tough shooting conditions, the reinforced glass screen enhances durability.

Easy-to-find controls mean you never need to take your eye from the viewfinder.
With the Diopter adjustment control to the left of the viewfinder, and the Viewfinder Mode switch on the right, you can completely immerse yourself in composing the shot by never taking your eye off the subject.

The functional excellence and reliability of metal analog dials — the hallmarks of a precision instrument.
The frequently used shutter speed and exposure compensation (±3EV) dials are on the right of the camera's top-plate, and the ISO sensitivity is on the left. In each case, the tactile quality of the milled aluminum dials enhances operational comfort and gives a high-quality feel.

Every click of the double-deck dials is a statement of X-series quality
The metering dial sits neatly below the shutter speed dial, and the drive dial is below the ISO sensitivity.

"Made in Japan" - the seal of quality you can rely on.
Everything within the FUJIFILM X-T1's design and production process has been aimed at creating a precision instrument, so you can be sure of quality and performance that's worthy of the "X" name. And with an eye on its use in challenging environments it's a tough companion, too.

Customizable for shooting the way you like it.
A total of six function buttons are arranged on the top, front and rear, including the four-way selector, and together with the Q button, you can instantly access any settings you need.
Product Specifications
Model Name
FUJIFILM X-T1
Number of effective pixels
16.3 million pixels
Image sensor
23.6mm x 15.6mm (APS-C) X-Trans CMOS II with primary color filter
Total number of pixels: 16.7 million pixels

Sensor Cleaning system

Ultra Sonic Vibration

Storage media
SD memory card / SDHC memory card / SDXC (UHS-II) memory card*1
File format

Still image

JPEG (Exif Ver 2.3)*2, RAW (RAF format), RAW+JPEG (Design rule for Camera File system compliant / DPOF-compatible)

Movie

Movie File Format: MOV
Movie Video Compression: H.264
Audio: Linear PCM Stereo

Number of recorded pixels

L: (3:2) 4896 x 3264 / (16:9) 4896 x 2760 / (1:1) 3264 x 3264
M: (3:2) 3456 x 2304 / (16:9) 3456 x 1944 / (1:1) 2304 x 2304
S: (3:2) 2496 x 1664 / (16:9) 2496 x 1408 / (1:1) 1664 x 1664

<Motion Panorama>
L: Vertical: 2160 x 9600 / Horizontal: 9600 x 1440
M: Vertical: 2160 x 6400 / Horizontal: 6400 x 1440

Lens mount
FUJIFILM X mount
Sensitivity
AUTO (Control available up to ISO 6400)
Equivalent to ISO 200 - 6400 (Standard Output Sensitivity)
Extended output sensitivity : Equivalent ISO 100, 12800, 25600 and 51200
Exposure control
TTL 256-zone metering, Multi / Spot / Average
Exposure mode
Programmed AE / Shutter Speed priority AE / Aperture priority AE / Manual exposure
Exposure compensation
-3.0EV - +3.0EV, 1/3EV step
(movie recording : -2.0EV - +2.0EV)
Image Stabilizer
Supported with OIS type lenses
Face Detection
Yes
Shutter type
Focal Plane Shutter
Shutter speed
(P mode) 1/4 sec. to 1/4000 sec.,
(All other modes) 30 sec. to 1/4000 sec.
Bulb (max. 60 min.)
Time 1/2 to 30 sec.
Synchronized shutter speed for flash : 1/180 sec. or slower
Continuous shooting
Approx. 8.0 fps (JPEG : max. approx. 47 frames)
Approx. 3.0 fps (JPEG : up to the capacity of the card)

* Recordable frame number may vary depending on the type of memory card used.
* The frame rate varies with shooting condition and the number of images recorded.

Auto bracketing
AE Bracketing (±1/3EV, ±2/3EV, ±1EV)
Film Simulation Bracketing (Any 3 types of film simulation selectable)
Dynamic Range Bracketing (100% · 200% · 400%)
ISO sensitivity Bracketing (±1/3EV, ±2/3EV, ±1EV)
White Balance Bracketing (±1, ±2, ±3)
Focus

mode

Single AF / Continuous AF / MF Distance Indicator

type

Intelligent Hybrid AF (TTL contrast AF / TTL phase detection AF), AF assist illuminator available

AF frame selection

Area (EVF / LCD : 49 areas with 7 x 7) / Multi

* Changeable size of AF frame among 5 types

White balance
Automatic scene recognition
Custom / Color temperature selection (K)
Preset : Fine / Shade / Fluorescent light (Daylight) / Fluorescent light (Warm White) / Fluorescent light (Cool White) / Incandescent light / Underwater
Self-timer
10 sec. / 2 sec. Delay
Interval timer shooting
Yes (Setting : Interval, Number of shots, Startinng time)
Flash
External flash EF-X8 (included) (Super Intelligent Flash)
Guide number : approx. 8 (ISO100 · m) / approx. 11 (ISO200 · m)
Flash modes
Activated when external flash is connected


Red-eye removal OFF

Auto / Forced Flash / Slow Synchro / Suppressed Flash / Rear-curtain Synchro / Commander

Red-eye removal ON

Red-eye Reduction Auto / Red-eye Reduction & Forced Flash / Red-eye Reduction & Slow Synchro / Suppressed Flash / Red-eye Reduction & Rear-curtain Synchro / Commander

* Red-eye removal is active when Face Detection is set to ON.

Hot shoe
Yes (Dedicated TTL Flash compatible)
Viewfinder
0.5-in., approx. 2.360K-dot OLED color viewfinder
Coverage of viewing area vs. capturing area : approx. 100%
Eye point : approx. 23mm (from the rear end of the camera's eyepiece)
Diopter adjustment : -4m-1 to +2m-1
Magnification : 0.77x with 50mm lens (35mm format equivalent) at infinity and diopter set to - 1.0m-1
Diagonal angle of view : approx. 38° (Horizontal angle of view : approx. 31°)
Built-in eye sensor
LCD monitor
3.0-inch, aspect ratio 3:2, approx. 1,040K-dot, Tilt type color LCD monitor (approx. 100% coverage)
Movie recording
Full HD 1920 x 1080 60p / 30p, Continuous recording : up to approx. 14 min.
HD 1280 x 720 60p / 30p, Continuous recording : up to approx. 27 min.

* Use a card with SD Speed Class with or higher

Film Simulation mode
10 type (PROVIA/STANDARD, Velvia/VIVID, ASTIA/SOFT, PRO Neg Hi, PRO Neg. Std, MONOCHROME, MONOCHROME+Ye FILTER, MONOCHROME+R FILTER, MONOCHROME+G FILTER, SEPIA)
Dynamic range setting
AUTO (100-400%), 100%, 200%, 400%
Advanced filter
Toy camera / Miniature / Pop color / High-key / Low-key / Dynamic tone / Soft focus / Partial color (Red / Orange / Yellow / Green / Blue / Purple)
Other photography functions
Auto Red-eye Removal, Setting (Color, Sharpness, D-range, Gradation), Select custom setting, Motion panorama, Color space, Framing guideline, Frame No. memory, Histogram display, Preview depth of focus, Lens Modulatioon Optimizer, Pre-AF, Focus check, Focus Peak Highlight, Digital Split Image™*3, Electronic level, Multiple exposure, Release priority / Focus priority selection, Fn button setting (RAW, Movie, etc.), ISO AUTO control, Instant AF setting (AF-S / AF-C)
Playback functions
RAW conversion, Image rotate, Red-eye reduction, Photobook assist, Erase selected frames, Image search, Multi-frame playback (with micro thumbnail), Slide show, Mark for upload, Protect, Crop, Resize, Panorama, Favorites
Wireless transmitter

Standard

IEEE 802.11b / g / n (standard wireless protocol)

Access mode

Infrastructure

Wireless function
Geotagging, Wireless communication (Image transfer), View & Obtain Images, Remote camera shooting, PC Autosave
Other functions
PictBridge, Exif Print, Language selection, Time difference, High Performance mode, Silent mode
Terminal

Video output

-

Digital interface

USB 2.0 High-Speed / micro USB terminal

* connectable with Remote Release RR-90 (sold separately)

HDMI output

HDMI mini connector (Type C)

Others

Microphone / shutter release input: ø2.5mm, stereo mini connector

Power supply
NP-W126 Li-ion battery (included)
Dimensions
129.0mm (W) x 89.8mm (H) x 46.7mm (D) / 5.0 in. (W) x 3.5 in. (H) x 1.8 in. (D)
(Minimum depth: 33.4mm / 1.3 in.)
Weight
Approx. 440g / 15.4 oz. (including battery and memory card)
Approx. 390g / 13.7 oz. (excluding accessories, battery and memory card)
Operating Temperature
-10°C - +40°C
Operating Humidity
10 - 80% (no condensation)
Battery life for still images*4
Approx. 350 frames (When XF35mmF1.4 R is set, LCD monitor / viewfinder on, and supplied flash EF-X8 not attached)
Battery life for movies*4
Consecutive movie recording : approx. 103 min. (Face detection is set to OFF)

* Individual movies cannot exceed approx. 14 min. on Full HD mode, and approx. 27 min. on HD mode in length.

Starting up period
Approx. 0.5 sec., when High Performance mode set to ON
Approx. 1.0 sec., when High Performance mode set to OFF
Fujifilm X-T1 Black Body
Looking for a personal touch? Not sure if you are choosing the right product? Our staff is here to help.
We want to make sure you get the right product for your needs.
Our staff will help you understand the options available so you can be confident in your purchase.
As the country's leading Professional Imaging retailer, Vistek is in the perfect position to ensure you make the right choice.
Contact us today for a personal touch.