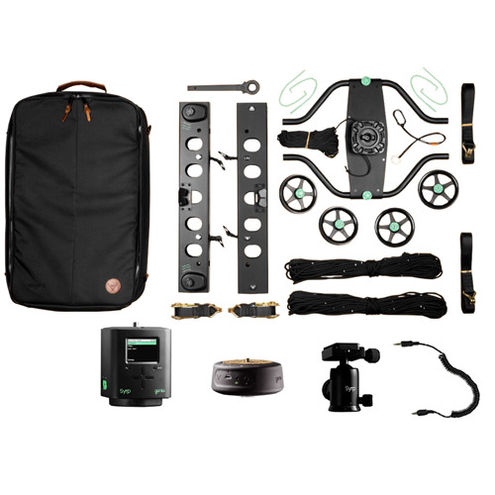 Product Highlights
15 kg (33 lbs)

Max. Payload Capacity

360°

Pan Angle Range

Up to 24 hr

Battery Life

Kit includes Genie, Genie Mini, ballhead, Slingshot kit & sync cable
Syrp Slingshot Pan Track Cable Cam - Starter Kit (25m), Includes Slingshot, Genie, Genie Mini, Ballhead
Syrp Slingshot Pan Track Cable Cam ...
Vistek Locations
Toronto Available for Order
Ottawa Available for Order
Mississauga Available for Order
Calgary Available for Order
Edmonton Available for Order
Please call and verify availability at the store as stock changes daily.
Genie Motion Control Device
Simple portable Genie
The Genie is a simple, portable solution for motion control Time-lapse + Real-time video. Designed to be part of your regular camera kit, with no external wires, batteries or controllers there's no need to ever go without the option of motion control again.
The key to the Genie lies in its compact size, easy-to-use menu and extreme versatility. Rather than limiting yourself to a fixed length rail system or slider, simply attach the Genie to your existing professional gear or DIY equipment for smooth Motion Control Time-lapse + Real-time video control. For all you need to know about the Genie, watch the overview above.
Key Features:
Flexible
Versatile
Works with DIY
Portable

Flexible
The Genie gives you the flexibility of using two axis in one device. Either Use the Genie on a tripod for panning motion or on a slider for tracking shots.

Versatile
Rather than creating an integrated motion control system that requires a specific camera slider we designed the Genie to work with all types of existing sliders. With just one click you can add amazing production value to your films. Once attached, program the Genie to perform motion control time-lapse or perfectly smooth real-time video moves.
Works with DIY
Imagine time-lapsing 100 metres between buildings in downtown New York or between mountain tops in the Himalayas. The Genie opens up endless possibilities for unlimited length time-lapse moves using its unique rope system. Build your own cable cam rig or attach the Genie to your old skateboard, dream up any shot you can imagine and add motion control with one click.

Portable
Compared to other motion controllers the Genie is incredibly portable allowing you to never have to go without the option of motion control again. With no external batteries, complicated wires or third party controllers, the entire unit takes up just one slot in your typical camera bag.
Real-Time Video
The Genie can be programmed to shoot motion control time-lapse or smooth real-time video. Video mode enables perfectly smooth tracking or panning shots eliminating human error and allowing repeatability so you can operate as a one-man crew for interviews or cutaway shots.
Ease In / Ease Out
Ramp the in and out points of your movement in both time-lapse and video mode to achieve smooth eased movement control.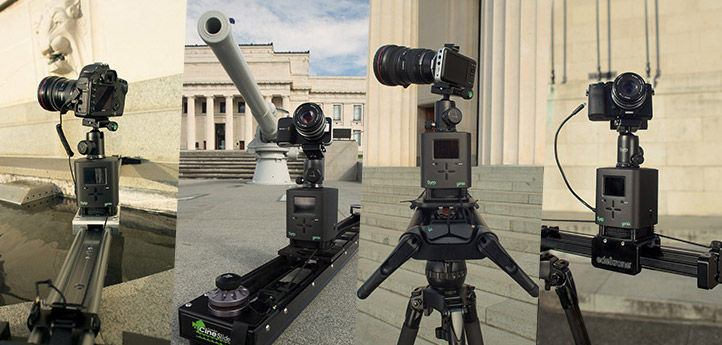 Presets
Shoot amazing stars, people or clouds time-lapses straight out of the box! With the click of a few buttons you can start some simple time-lapses with literally no setup time using the Syrp preset menu. Alternatively create your own settings and save them down as custom presets to save you valuable on-location time.
HDR Time-Lapse
Use the advance setup menu to create amazing HDR time-lapse. Set your camera to your desired bracketed exposures and let the Genie take care of the rest.
Bulb Ramping
Shoot sunsets and sunrises using the bulb ramping feature which allows you to hold an exposed image throughout the entire time-lapse even when light is changing drastically.
Auto-Start
In auto start mode you can set a countdown timer to begin a recording or alternatively set a time and date you wish to begin your shot.
Genie Mini Motion Control device
Motion control in your pocket
The Genie mini is an extremely easy-to-use device to create smooth panning motion time-lapse or real-time video. Wirelessly connect to the Genie Mini using the Syrp Genie App for quick setup and simple control.
Genie Mini Features:
Time Lapse
Real-time video
Panorama
Portable
Simple
Time Lapse
Simply attach the Genie Mini to a tripod and shoot smooth panning time-lapse moves using the Syrp Genie App.

Real-Time Video
In video mode the Genie Mini moves at a perfectly smooth continuous speed for accurate panning moves.

Panorama
Shoot stunning Panoramas and 360 photos. Setup is simple and easy with the Syrp App, specify the amount of overlap, number of photos and movement right up to 360 degrees.

Portable
The Genie Mini packs a lot of punch and is designed to be extremely portable, easily slotting into the smallest of carry bags or even straight in your pocket.

Simple
The Genie Mini is designed to be incredibly simple and is beginner time-lapse friendly. The Syrp App is equip with factory pre-sets so you can start shooting straight out of the box with no technical expertise required. Just connect and shoot!

Compatible
The Genie Mini is compatible with a huge range of cameras and works with GoPro, mirror-less camera or DSLR. Syrp Genie App is compatible with iOS and Android devices. (Not all devices are compatible, see compatibility chart at the bottom of this page for details)
Additional Genie Mini Features:
2-Axis Add-On
The Genie Mini is designed to play nicely with the Genie. Shoot next level 2-axis time-lapse or motion control video and add production value to your films by syncing the two together. *Note the Sync cable for connecting Genie + Genie mini sold separately and can be found in the accessories section.
Ease In / Ease Out
The ease in, ease out feature allows you to ramp your movement at the beginning and end of your time-lapse or video move. Once set, the movement will slowly rise up to your desired speed at the start of your shot and gradually dampen down at the end before coming to a complete stop.
HDR
The Genie mini enables beautiful HDR time-lapse, giving your footage a stand-out effect by allowing for greater dynamic range in your final video. Available in both Time-lapse and Panorama modes
Pan & Tilt Control
The Genie Minis can also be paired together via bluetooth for Pan + Tilt control using the Pan + Tilt bracket. Once linked full control is possible from the Syrp Genie App.
Ballhead for Genie
A perfect match for DSLRs and mirror-less cameras, the Syrp Ballhead is a lightweight solution designed to be used with the Genie as well as most tripods and monopods. It's sleek design, quick release knobs and levelling features makes camera positioning a breeze.
Genie Compatible
The Syrp Ballhead is specifically designed to work with the Genie and is a perfect match to hold your DSLR or mirror-less camera. It also enables your camera to be housed in a tilt position on the Genie allowing for tilting motion control movements.
Slingshot Kit
The Slingshot is a unique production tool for creating motion control time-lapses over extended distances. Use the Genie for motorizing the Slingshot and fully customize your movement and timing parameters. Shoot 1, 2 or 3 Axis time-lapse and add production value to your films with this unique motion control tool. The Slingshot is a 'Genie' Compatible motion control kit for shooting time-lapses over long distances of up to 300ft (100m) in length.
Slingshot Kit Features:
Quick & easy setup
Extended time lapse motion
Mobile App Control
Multi Axis Motion Control
Portable
Quick and Easy Setup
Simple setup with all the necessary fastening equipment provided. Find two fixed anchor points and simply tighten the rope at both ends. Our quick-release design means you will be setup in minutes not hours.

Extended Time Lapse Motion
The Slingshot can go much further than other motion control devices making your shots stand out from the rest. Shoot incredible Time Lapses spanning up to 100 meters long!

Mobile App Control
When using the Slingshot with the addition of a Genie Mini, full app control is possible for both iOS and Android.

Multi Axis Motion Control
Add even greater motion to your Time Lapses by combining the Genie with the Genie Mini for Pan Track motion or capture full 3-Axis motion control with the addition of two Genie Mini's for Tracking, Panning and Tilting.

Portable
The Slingshot comes as a complete kit that packs down into its own portable backpack ready to take into any location.
Sync Cable
Sync cable for connecting Genie + Genie Mini for dual axis timelapse and motion control.
What's Included
Genie Motion Control Device
Panning Mount
Linear Mount
3 m High Performance Rope
International Wall Charger
2x Slider Mounts
Link Cable
Genie Mini Motion Control Device
Micro USB charging cable
1/4" to 3/8" thread adapter
Lens cloth
Genie Ballhead
Slingshot Kit
Slingshot Carriage
4x Wheels
Slingshot Linear Accessory
Ratchet Bar
Fixed Bar
82ft (25m) Genie Rope
2x 82ft (25m) Slingshot Rope
2x 19.7ft (6m) Tie Down Straps
Camera Safety Lanyard
4x Wheel Safety Hooks
Ratchet Wrench
Slingshot Carry Bag
Sync Cable
Product Specifications
Genie Motion Control Device

Maximum Speed
Linear (Siders) - 100cm / 25 sec
Panning (Tripods) - 360 degrees / 6 sec
Power Supply
Input : 240/110 50/60hz AC
Output : 15V 1.5A DC
Battery

Lithium ION internal battery 11.1V
Charge Time: 4 Hours
Battery Life: More than 24 hours in time lapse mode* & more than 6 hours in video mode**
* Based on 360 degrees movement with photos taken at 10 second intervals.
** Based on full speed continuous rotation.

Note: Firmware version 2.4 (or above) must be installed to achieve the above battery life targets. Battery life will vary according to other factors, such as how much weight is used on the device, whether it's used in time-lapse or video mode and whether the Genie is being used for moves on an incline.

Payload

33lbs (15Kg).
Based off operation on a slider along a horizontal surface.

Note: Payload limits vary according to how what kind of slider is being used and how much weight you are putting on the Genie. Smooth roller bearing sliders such as the Magic Carpet work more effectively in vertical mode that other friction-based systems. It is not recommended to lift more than 3lbs (1.4Kg) in a fully vertical position.

Interface
USB Port (Firmware updating)
2.5mm camera remote port (link cable)
3.5mm Sensor port (IR emitter)
15 DC input (charging port)
Firmware
Firmware is user up-dateable.
Genie Mini Motion Control device

Speed Limitations
Max Speed - 360° in 33s
Minimum Resolution - 0.005°
Payload/Weight

Panning Load - 4kg (8.8lb)
Tilting Load - 3kg centered (6.6 lb)

Weight - 230g (8.1 oz)

Battery

Timelapse - 48+ hours
Video - 5+ hours
Charge Time - 3 Hours

Included Li-Ion Rechargeable battery

Compatibility
The Genie Mini is compatible with 100s of different cameras including DSLRs, Mirror-less cameras and video cameras.
Interface
Bluetooth 4.0 Low Energy - to Syrp App (iOS, Android)
USB - Charging
Camera Port - 2.5mm
Accessory Port - 3.5mm (Dual Genie mode + IR cable)
Power Supply
USB - Charging 5V 0.5A DC
Mount Type
1/4-20 On top
3/8-20 On bottom
Included 1/4" to 3/8" adapter
Ballhead for Genie

Payload
Load capacity of 26.5lb (12kg)
Mounting Options
The top plate is an arca-type quick release plate with a 1/4 UNC thread to attach to the camera. On the underside of the Genie there is a 3/8 UNC thread to attach to the Genie, a tripod or monopod.
Dimensions
Height: 3.8" (96mm) Base Diameter: 1.9" (47mm)
Weight
12 oz (340g)
Slingshot Kit

Maximum Distance
100 m (330')
Payload
8 kg (17.6 lbs) on carriage
Maximum Torque Rating
20 ft / 26 Nm
Weight
8 kg (17.6 lbs)
Syrp Slingshot Pan Track Cable Cam - Starter Kit (25m), Includes Slingshot, Genie, Genie Mini, Ballhead
Looking for a personal touch? Not sure if you are choosing the right product? Our staff is here to help.
We want to make sure you get the right product for your needs.
Our staff will help you understand the options available so you can be confident in your purchase.
As the country's leading Professional Imaging retailer, Vistek is in the perfect position to ensure you make the right choice.
Contact us today for a personal touch.