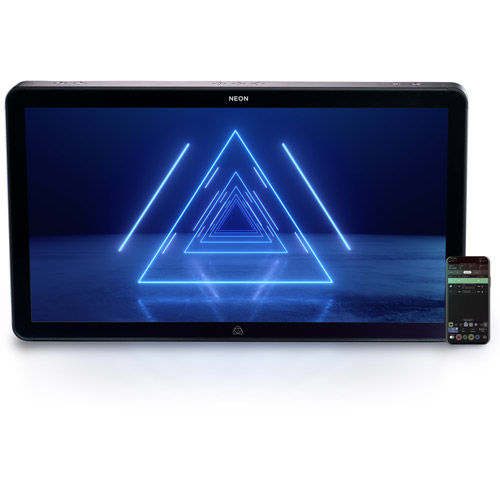 Product Highlights
24"

Monitor

4096 x 2160

Resolution

1000 nits

Brightness

HDMI/SDI/Signal

Input

HDMI/SDI/Signal

Output

Master Caddy II SSD

Storage
Size: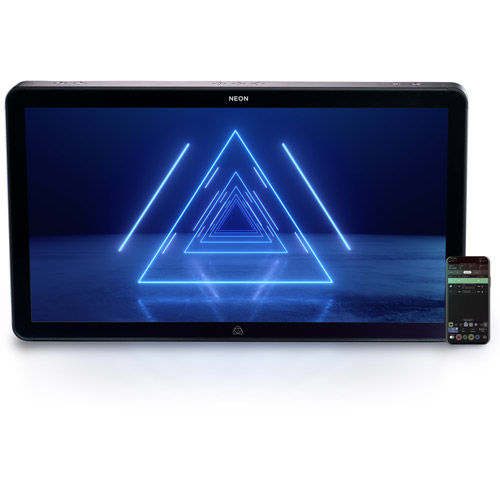 Atomos Neon 24 24" Monitor, 4096x2160 Resolution, 193 ppi, 512 Backlights,17:9 Aspect Ratio
Atomos Neon 24 24" Monitor, 4096x2160...
Web Availability:
Special Order
This product will be Special Ordered just for you from the manufacturer. We do not stock this item due to its uniqueness or import schedule. Special Order items are Final Sale, see our Return Policy for details.
Vistek Locations
Toronto Special Order
Ottawa Special Order
Mississauga Special Order
Calgary Special Order
Edmonton Special Order
Please call and verify availability at the store as stock changes daily.
NEON 24 | HDR Cinema Monitor-Recorder
For on-set and in-studio
Welcome to the dawn of a new age in digital filmmaking. Say hello to Neon, Atomos' new ecosystem of 4K HDR cinema monitor recorders designed to enhance your creative journey from shooting to post. Available in 17", 24", 31" and 55". Your video village has never looked so good.
Key Features:
24" Monitor
4096 x 2160 Resolution
193 ppi
512 Backlights
17:9 Aspect Ratio
Four sizes for flexibility in any production
The Neon comes in 17", 24", 31" and 55" screen sizes, and complements other Atomos products such as the Shinobi SDI, Ninja V, Shogun 7 and Sumo 19 to provide a flexible ecosystem of field reference monitors. Neon allows you the flexibility of utilizing your Atomos on low budget productions with HDMI 10-bit uncompressed video cameras, right up to 12G-SDI 12-Bit, 4Kp60 RAW from the best cinema cameras in the world.
Digital filmmaking re-imagined for today's creator
The Atomos Neon series is the beginning of a new journey for filmmakers by bringing together traditional filmmaking roles and pairing it with Atomos innovation and technology. We do this by combining RAW recording with cinema display technology for monitoring, on-screen production checking and review of creative intent, story flow and matching continuity between scenes. Neon streamlines the creative workflow from lens to viewing. We have adopted industry standard formats like ProRes RAW from major camera makers enabling the performance of ProRes and the flexibility of RAW into cinema productions and built for computer finishing. Neon performs real-time Dolby Vision processing to enable down-stream viewing on any Dolby Vision capable TV or monitor. The upshot is an on-set computer replacement merged with an ecosystem of field monitors that saves the creator time by allowing them to make more decisions in the moment of recording, playback, monitoring and editing.
Certainty of image for the entire crew
Neon is a series of precision on-set and in-studio 4K HDR monitor-recorder production workhorses where reliable and trustworthy monitoring is essential. The Neon comes in four sizes (17", 24", 31" and 55") that can be synced together to provide an ecosystem of field monitors where accuracy of image representation and consistency of image is critical between crew members...all controlled by the Atomos App. The Neons' best-in-class 512 zoned dynamic backlight displays provide a calibrated 4KDCI 180-degree perfect viewing, 10-bit DCI-P3 100% colour coverage, and 1,000,000:1 HDR-ready contrast for cinematographers to maintain exposure and creative look. Directors can make more creative on-set decisions, viewing perfect images in TV and Cinema standards at all times. Camera assistants and focus pullers can trust the ultra-sharpness of an actor's eyes. Editors and colour graders can lock down the director's creative intent from shot to shot, frame by frame and review it across varying displays from SDR to HDR – accurately in real-time. With the built-in 4Kp60/HDp240 Apple ProRes RAW recorder capturing each take, Neon enables quick review and real-time playout with Dolby Vision to reality test content on domestic TVs. With Neon, Atomos has reimagined the role of the reference monitor to meet the HDR challenges of modern TV and film production.

The Atomos field monitor ecosystem is an online powerhouse and offline workhorse to speed up the time from idea to final exhibition. Directors and cinematographers can record online quality of ProRes RAW recording at the same time integrating into the ARRI workflows. This brings cinema production at the fraction of the cost of current approaches where HDR monitoring varies from crew member to crew member. Atomos brings certainty of the recorded image from camera operators, focus pullers, to make up and sound recordists, to editors and colour graders. Directors can tag takes while reviewing footage on-set which the Editor can pick up after importing into an NLE, and can be confident that what they saw on-set will look the same when they get to the edit suite. A Dolby Vision compatible monitor can be also reviewed when output from a Neon to allow directors and producers to see a shot as it would be viewed in the living room of their audience.

Alternatively, directors can record at a lower bitrate offline quality on a Neon to record over 20hrs of footage in Prores/DNx/H.265 on an SSD (while the ARRI is recording online quality). This gives the Director to enough integrity to check shots at after each take, or to do quick test edits on-set which avoids expensive re-shoots.
Atomos App or remote control for simple operation
Neon deliberately does away with touchscreen operation and is Bluetooth controlled by the Atomos iOS App or a physical remote control. Neon has the simple-to-use AtomOS built into it so that you can use the App to access real-time production tools including focus peaking, exposure, calibration, zoom, waveform monitor, RGB monitor, vector scope and LUT selection.

Neon shortens the gap between capture and final edit with real-time recording and playback of your captured shots at up to 4Kp60 in formats including ProRes, ProRes RAW, Cinema DNG, Avid DNx. When you've got the take you like, tag it on-set with the App for easy identification during editing. The App unlocks the ability to insert project specific meta-data frame-by-frame, allowing project management of a complex production to be simplified and automated so that the creator can focus on their artistic storytelling enhancements.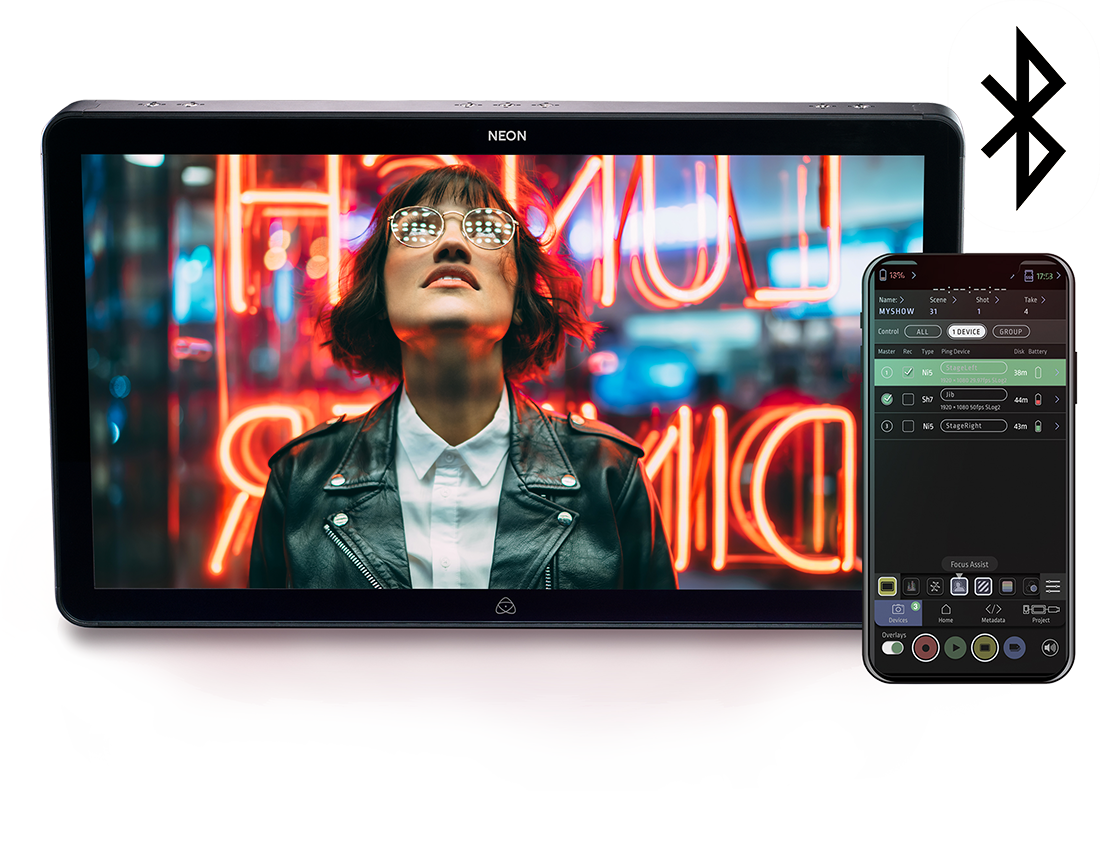 Record 12-Bit RAW
View & deliver accurate Dolby Vision HDR
The challenge with HDR production is maintaining the creative intent of the production at the time of shooting vs the finished product that is viewed on devices and TVs. Atomos and Dolby have teamed up to give you Dolby Vision live HDMI out, in real-time, from any SDI or HDMI HDR camera. All courtesy of AtomOS. Simply connect your Dolby Vision capable TV or monitor to your Neon and magically, automatically, the AtomOS analyses the image, queries the TV, and applies the right colour and brightness profiles for the best posisble HDR image on the display or TV. This ensures HDR footage always looks – as it was intended by the creator. This is a valuable on-set reference check for the creative director and client.
Precision HDR field monitor for the on-set digital darkroom
Atomos brings dynamic zone backlight technology to the entire range of Neons powered by our proprietary Dynamic AtomHDR innovations. This yields a contrast ratio from one to a million gradations on discreet parts of the image on Neon's daylight viewable anti-reflection display. With the Neon series, blacks and colours are rich and deep. Images appear to 'pop' with added dimensionality and detail. The precision Atomos display uses a unique combination of advanced LED and LCD technologies which together offer deeper, better blacks than rival OLED screens, but with the much higher brightness and vivid colour performance of top-end LCDs. Objects appear more lifelike than ever, with complex textures and gradations beautifully revealed. In short, the Neons offer the most detailed window into your image, truly changing the way you create visually
Sync all your Neons together
If you have more than one Neon in your production, you can perfectly sync them asynchronously together using the Atomos iOS App.
Simply pair the Neons through the App and select all the monitors you wish to sync. You can also sync the Neons to any Atomos Ninja V using an AtomX Sync Module attached.
This means that recording control has never been easier for any production with a multicamera setup.
Meta-data is captured for the entire production in every file recorded, avoiding the need for a sidecar file.
At the end of filming, take each Neon's SSD with the captured footage and meta-data, and import into your editing suite ready to go.


Bluetooth
Wireless Connectivity
Up to 512 Zones
Backlights Neon
1,000,000:1
Contrast ratio
1000nits
Display Brightness
4K or 8K
Master Control Unit
HDMI, SDI
Video Connectivity
Line in/Mic in
Audio Connectivity
Capture 4K or 8K now, future-proofed for later
Capture technology moves fast, so your investment shouldn't be locked into older formats and functionality. We've future-proofed Neon by designing it with the Master Control Unit, a replaceable brain that allows for upgradability as newer functionality and technology becomes mainstream.
The Master Control Unit comes in two sizes, one for 4K capture and another for 8K.
Expand Neon with AtomX Expansion Modules
The Master Control Unit is also compatible with the AtomX expansion modules that provide SDI and NDI connectivity on top of the standard HDMI connectivity that comes with NEON. This provides total flexibility when it comes to the production environment you are operating in.
ProRes RAW
The best of RAW and ProRes combined
Capturing ProRes RAW video with the Neon unlocks the true potential of your RAW cinema camera and provides complete control of your video image at the highest quality possible. ProRes RAW combines the flexibility of RAW video with the incredible performance of ProRes. Import, edit and grade pristine video with RAW data straight from your camera sensor without slowing down your edit. These RAW files provide maximum flexibility for adjusting the look of your video, while extending brightness & shadow detail. The ideal combination for HDR workflows.

Neon preserves your content's maximum dynamic range, colour accuracy and detail. Colours can be easily matched and the extra information means footage can be quickly manipulated in post-production, which is especially useful for grading and VFX shots. In addition to ProRes RAW, Neon supports ProRes, CinemaDNG, Avid DNx via HDMI and SDI. Capture from any HDMI or SDI source including cameras from Nikon, Canon, Panasonic, Sony, RED and ARRI.
Built for the toughest production
The Neon can withstand the most extreme production conditions with its durable aluminium chassis and polycarbonate back plate affording protection from rough handling. Neon 17, 24 and 31 additionally come in their own road case providing peace of mind that the next time you need it, it's ready for action.
Mount anywhere
Whatever way you like to view your images, the Neon comes with flexible mounting options for any production including Arri standard edge mounting points, VESA mount and feet for floor or desk viewing. The Neon 17 and Neon 24 are also designed to be rack ready and will fit seamlessly into any rack environment.
What's Included
Neon 24 Monitor
Master Control Unit
IR Remote
Master Caddy II
12V-3A AC Power Supply
AtomX SDI Expansion Module
Feet
Quick Start Guide
Road Case
Product Specifications
Atomos NEON

Weight

Neon 17: 4.5 kg (9.92 lbs)
Neon 24: 8.6 kg (18.95 lbs)
Neon 31: TBC
Neon 55: TBC
Master Control Unit: 300 g (0.66 lbs)

Dimensions (WxHxD)
Neon 17: 413 x 253 x 71.4 mm
Neon 24: 594 x 339.7 x 72.5 mm
Neon 31: TBC
Neon 55: TBC
Master Control Unit: 151 x 91.5 x 31 mm
Construction
Aluminium alloy chassis with ABS Polycarbonate back plate
Mounting points
Full ARRI compatible, 3 Left, 3 Right, 7 Top, 7 Bottom VESA Mount.

Power

Operating power
10-22W TBC
Power Adaptor
TBC

Display

Size
Neon 17: 17"
Neon 24: 24"
Neon 31: 31"
Neon 55: 55"
Resolution/PPI
Neon 17: 2048 x 1080 / 142ppi
Neon 24: 4096 x 2160 / 193ppi
Neon 31: 4096 x 2160 / 147ppi
Neon 55: 3840 x 2160 / 84ppi
Aspect Ratio
Neon 17: 17:9
Neon 24: 17:9
Neon 31: 17:9
Neon 55: 16:9
Colour Gamut
DCI-P3 100% Coverage, D65 or D93 White Point, Calibrated
Look up table (LUT) support
1D/3D LUTs (.cube format)
Anamorphic de-squeeze
2x, 1.5x, 1.33x, Panasonic 4:3
Calibration
Calibration to DCI-P3 with optional calibration unit
User Interface
iOS App via Bluetooth, IR Remote control of focus peaking, exposure, calibration, zoom, waveform monitor, RGB monitor, vector scope

Dynamic AtomHDR Technology

Backlight
Direct LED
Zones
Neon 17: 128 direct backlight individual LEDs
Neon 24: 512 direct backlight individual LEDs
Neon 31: 512 direct backlight individual LEDs
Neon 55: 512 direct backlight individual LEDs
LEDs
Wide Colour Calibrated D65 or D95
Bit depth
True 10-bit
Colour
DCI-P3 100% coverage
Brightness
1000nit (+/- 10%)
Control
Dynamic backlight control
HDR Conversion
Log/RAW to HLG or PQ

HDR Monitoring Technology

HDR Monitoring
Log/RAW to HLG or PQ
SDR Monitoring
Native Rec.709, Log/RAW to Rec.709
Supported input Log/Gamma
Sony SLog / SLog2 / SLog3
Canon CLog / CLog2 / Clog3
ARRI Log CEI160 / LogCEI200 / LogCEI250 /
LogCEI320 /
LogCEI400 / LogCEI500 / LogCEI640 / LogCEI800 / LogCEI1000 / LogCEI1280 / LogCEI1600
Panasonic Vlog
JVC JLog1
RED Log3G10 / RED LogFilm
FujiFilm F-log
PQ1000 up to PQ10,000
HLG
Supported input Log/Gamut
Sony SGamut / SGamut3 / SGamut3.cine
Canon Cinema / DCI P3 / DCI P3+
Nikon NLog
Panasonic V Gamut
Arri Alexa Wide Gamut
Rec709 / BT.2020
JVC
RED WideGamut / RED DragonColour / DragonColour2 /
RED Colour2 / RED Colour3 / RED Colour4 /
Supported input RAW/Gamma
Sony SLog / SLog2 / SLog3
Canon CLog / CLog2 / Clog3
Panasonic Vlog
Supported input RAW/Gamut
Sony SGamut / SGamut3 / SGamut3.cine
Canon Cinema / DCI P3 / DCI P3+
Nikon NLog
Panasonic V Gamut
Video Output
Rec.709, HLG, PQ, LUT

Video Input/Loop Out

HDMI
1 x HDMI 2.0b
SDI
SDI Expansion Module required
2 x configurable BNC
Signal
Up to uncompressed true 10-bit

Video Output (Play Out)

HDMI
1 x HDMI 2.0b
SDI
SDI Expansion Module required
2 x configurable BNC
Signal
Up to uncompressed true 10-bit

Video Signal Conversion

HDMI to HDMI
720p 50/60, 1080i 50/60, 1080p 24/25/30/50/60/100/120, 4kUHD/4kDCI 24/25/30/50/60
SDI to SDI
SDI Expansion Module required
720p 50/60, 1080i 50/60, 1080p 24/25/30/50/60/100/120, 4kUHD/4kDCI 24/25/30/50/60
HDMI to SDI
Note: No simultaneous HDMI out possible
720p 50/60, 1080i 50/60, 1080p 24/25/30/50/60/100/120, 4kUHD/4kDCI 24/25/30/50/60
Dolby Vision Tunnelling
Selectable on HDMI

Supported Codecs & Frame Rates (Record & Playback)

Video to ProRes / DNxHR
Apple ProRes RAW, ProRes HQ, 422, LT AVID DNx, HQX, HQ, SQ, LB, Cinema DNG RAW
Resolution / Frame rate
4K DCI / UHD 24/25/30/50/60p 2K 24/25/30/50/60/100/120p 1080p 24/25/30/50/60/100/120/200/240p 1080i 50/60i, 720p 50/60p

Onboard Processing

Pulldown removal
24/25/30pSF > 24/25/30p (2:2 pulldown) 60i > 24p (3:2 pulldown)
4K DCI > UHD
Yes - Loop-out and playback
4K UHD downscaling
Yes - Loop-out and playback
HDMI
2 or 8ch 24-bit, camera dependent
SDI
SDI Expansion Module required
12ch 48kHz 24-bit
Audio
Line in / Mic in
Headphone out
3.5mm Headphone out 2ch 48kHz 24-bit
Built-in speakers
No

Remote Start/Stop

HDMI
Auto HDMI Trigger
Supported Protocols - Canon, Sony
Atomos Open Standard - Panasonic, Nikon, Olympus, Fuji, Leica
SDI
SDI trigger camera selectable
Genlock / LTC
Yes – Bluetooth / iOS App
Serial Control
LANC control - Slave RS232

Playback

Playback Features
Jog control, slow motion, scheduled, tag-based scheduling

Recording

Pre-roll record
HD 8s, 4K 2s
Project Metadata
AtomOS on unit and iOS App input
Supported media
Support for AtomX SSDmini and MasterCaddy II with 2.5" SSD/HDD. Please see approved drives here.
Master caddy dock
2.5" SATA to USB 2.0/3.0/USB-C 3.1
Supported applications
All popular NLE applications, 3D applications
XML support
FCPX XML native, FCPX/Adobe limited supported with 3rd party conversion tools
Atomos Neon 24 24" Monitor, 4096x2160 Resolution, 193 ppi, 512 Backlights,17:9 Aspect Ratio
Looking for a personal touch? Not sure if you are choosing the right product? Our staff is here to help.
We want to make sure you get the right product for your needs.
Our staff will help you understand the options available so you can be confident in your purchase.
As the country's leading Professional Imaging retailer, Vistek is in the perfect position to ensure you make the right choice.
Contact us today for a personal touch.