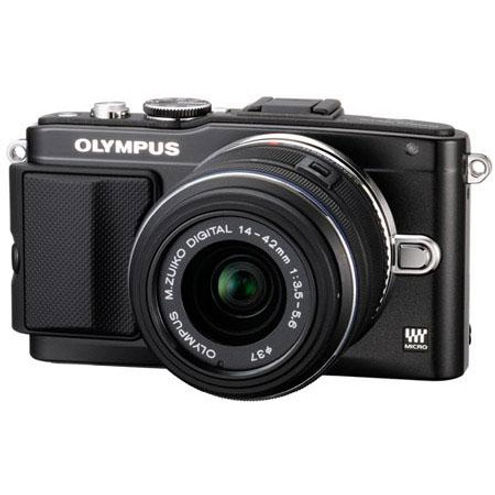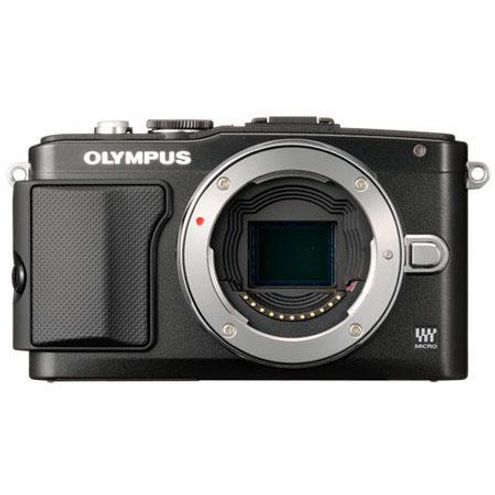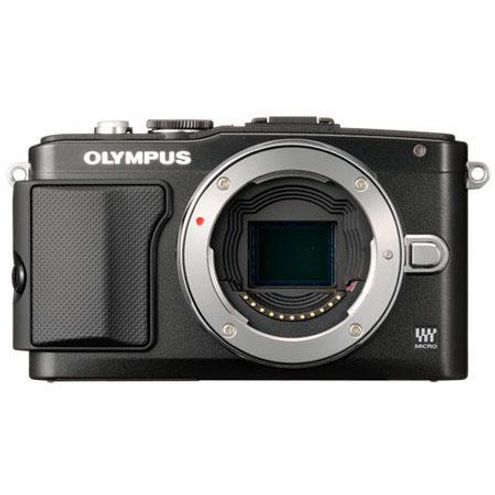 Used Details
Item Condition: In good working condition, shows little wear
Warranty: 15 day Vistek warranty.
Accessories: With battery, charger, small flash & strap
Used item may not be exactly as shown.
Check Used Details for more information.
Product Highlights
16MP Live MOS Sensor; TruePic VI Processor; 3.0" Flip Portrait LCD Touchscreen; Full 1080i HD Video; F.A.S.T. Auto Focus; In-Body Image Stabilization; ISO Range to 25600; 12 In-camera Art Filters; Includes FL-LM1 Flash Unit
Vistek Locations
Please call and verify availability at the store as stock changes daily.
Please Note: Attached lens not included.
Pro Quality You Fit In Your Pocket.
You love being creative. But you also demand superior image quality and uncompromising performance. The PEN E-PL5 is perfect. Shoot images with stunning detail and vivid colour thanks to a powerful tandem of a sizeable 16 MP Live MOS Sensor and our TruePic VI image processing engine. Technology like an AF Illuminator and an ISO with speeds that hit 25,600 capture crisp, clear shots in low light. Everything is fast on the PEN E-PL5 from the exceedingly responsive touch screen to 8 fps sequential shooting. Nourish your artistic side with Full HD Video 1080i and 12 Art Filters and Effects. Take full control of your settings with features such as My Set, and a customizable self timer. Unleash your creativity, apply new monochrome Art Filters Effects or edit RAW images right in the camera. The PEN E-PL5. All the professional features you need to take you to the next creative level.
Key Features
Removable Grip - For form, fit and feel. The removable grip allows for secure and comfortable handling of the E-PL5. Or, if you don't want to use the grip and prefer the simpler design, simply remove it.
My Set - Not only do you have the flexibility of the Function Buttons (Fn), but you can utilize "My Set" to customize program modes on your dial such as Aperture Priority, Manual and Scene Select Modes.
Olympus Image Share Technology - Share images to your Smart Device. Olympus allows for the usage of PENPAL BlueTooth Device, Eye-Fi Card or the new Flash Air Media Card. Not only is the new E-PL5 compatible, but the menu structure is designed for easy uploading from your selected device. Be sure to check out the Olympus Smartphone apps PENPic and iPhone app.
Bracketing: Exposure, ISO, White Balance, Flash, Art Filter, HDR post-process - 6 Bracketing functions allow you the flexibility to focus on the type of shot you want and view it in different ways so you can choose the best shot. Now featuring High Dynamic Range post-processing.
Small Target AF - New "small AF target" achieves the pinpoint focus. Focus on an AF point, within an AF point.
Image Rotation in Playback - When the image is shot at portrait position, image is automatically rotated in playback.
Downloadable Background Music Selection - Variety is the spice of life. Now, not only are there 4 background music tracks included in the camera, but you can also download music from the OLYMPUS web site, and replaced it instead of default music in the camera. Making Slideshow playback on your HDTV more fun!
Customizable Self Timer - Self-timer customizing function can be utilized in various situations, the best is for self portraits. Control start times and shooting intervals. Start time(1-30sec) / shooting interval (0.5sec, 1sec, 2sec, 3sec) and number of shots (2~10).
RAW Edit in Camera - Like your shot but want a few revisions. Edit jpegs and now RAW files right in the camera. Can edit the raw image in camera body, fix Red-Eye, crop your image, change to black and white and more.
Bulb Shooting to 30 Minutes - With the E-PL5, it is possible to decide the exposure time by previewing the effect on the backside monitor. Image during bulb shooting is updated at regular intervals (ex. by 0.5 sec.). The shutter opens by fully pressing the release button and the shutter closes by fully re-pressing the release button.
23 Scene Modes - From portraits to sunset shots, the E-PL5 is equipped with 23 Scene-Select modes for effortless picture taking, including Fireworks, Sunset, Children, Macro and Panorama, to name a few. Capturing beautiful portraits is easy with the ePortrait Mode that enables you to smooth your subject's complexion. There are even three scene modes that are specific to shooting with the new conversion lenses to optimize the performance of those lenses.
HDMI Output - For easy photo and video playback on your HDTV. The E-PL5 makes sharing your content easier than ever. Using the HDMI output, just connect the E-PL5 to your HDTV with an HDMI cable (not included) and navigate the camera's menus from the comfort of your couch. This is perfect for sharing your pictures and movies with an audience.
3D Shooting - Add a new dimension to your photographs in any shooting situation from macro to landscape with Olympus' 3D technology. By simply selecting the 3D Photo Mode, releasing the shutter, and slowly panning, the camera will automatically take a second image from a slightly different perspective. The 3D data is processed in-camera resulting in an .MPO file, the universal industry 3D format, for easy display on 3D televisions or laptops.
Fine Detail Processing - Captures exceptional detail from shadow to highlight.
AF Tracking - AF Tracking locks your subject into focus right on the LCD, and constantly adjusts focus and brightness whether you or your subject is moving. With this mode, a simple push of the AF button and shutter release enables you to keep fast-moving and unpredictable subjects in focus.
Manual Focus Assist - The E-PL5 provides two optional methods to help the user focus: a Magnified Focus (MF) Assist Function and Magnification Display. When using manual focus, the MF Assist feature aids with critical focus by allowing you to zoom in on part of the image by simply turning the focusing ring on the front of the lens. The Magnification Display enables you to selectively enlarge the image on the LCD at the touch of a button. This mode works for both autofocus and manual focus. Both MF Assist methods provide up to a 10x magnification of a single point of the image for critical focus; perfect for macro or still-life photography.
Wireless Flash Compatible - Compatibility with wireless flash allows you to maximize the performance of your E-PL5 in a studio setting. Use the newly introduced FL-600R or the existing FL-300R and FL-50R.
Multiple Exposure Shooting - The Multiple Exposure function enables you to be creative right in the camera. Multiple images can be captured and combined to create one unique image. The creative possibilities are endless!
Multiple Aspect Ratio Shooting - The E-PL5 lets you select one of four Aspect Ratios (4:3(Default) / 3:2 / 16:9 / 1:1 / 3:4) that help frame your images to whatever proportions you'd like. Aspect ratios are available for still photo and HD movie capture, for everything from conventional enlargements to viewing on widescreen monitors.
Fully Expandable System - A range of interchangeable lenses, accessories and strobes are compatible with the E-PL5 to support all different types of photography needs.
Accessory Port - The E-PL5 incorporates a port for connecting accessories including flashes, PENPAL, MAL-1 Macro Light, SEMA-1 Microphone adapter and the VF-2/VF-3 viewfinders.
Multi-Motion Image Stabilization for Movie - Corrects blur for slow and large movement caused by physically moving while shooting movies.
ePortrait - Capturing beautiful portraits is easy with the ePortrait Mode that enables you to soften shadows and smooth your subject's complexion either before image capture or during post-capture edits.
7 Picture Modes - iEnhance, Vivid, Natural, Muted, Portrait, Monotone, Custom, Art Filters.
Advanced SHADOW ADJUSTMENT TECHNOLOGY - You no longer need to worry about the extreme contrast between dark and bright areas in your images. The E-PL5's Shadow Adjustment Technology corrects for extreme light variations with high-tech efficiency either before image capture or during post-capture edits.
Blazing Speed
Immediate Response ONE-Touch Shutter and Control
The E-PL5's Touchscreen reacts quickly with the slightest touch and can focus by touch even if the subject is not in the center. Touch Screen display makes it easy to choose AF points, capture a picture, change camera settings, release the shutter or navigate controls, simply by touching the screen.

8fps Sequential Shooting
With the E-PL5 you can take up to eight photos a second, allowing you to easily capture that perfect shot, especially when your subject is moving.

FAST AF with Face and Eye Detect
The FAST (Frequency Acceleration Sensor Technology) AF System is able to focus at an incredible speed and offers 35 separate focus points that are spread over nearly the entire sensor, which makes it possible for pin-point accurate focusing on small subjects wherever they appear in the frame. Selectable 3x3 groups within the 35-point area are especially effective when shooting active subjects.
Professional Image Quality
16MP Live MOS Image Sensor
Featuring the 16 megapixel Live MOS sensor of the OM-D E-M5, the Olympus Micro Four Thirds flagship, the PEN E-PL5, is optimized to maximize the performance of all mZuiko digital lenses in any shooting condition. Improvements to the sensitivity and read-out speed of the existing sensor makes shooting and Full HD movie recording possible.

TruePic VI Image Processor
TruePic VI Image Processor, designed specifically for the Olympus PEN, features Real Colour Technology for improved colour reproduction (especially colours such as emerald green, yellow, and gold) and colour gradation. The faster processor also allows for a shorter recovery time between shots.

Proven Dust Reduction System
Olympus' Dust Reduction System assures spot-free images, even if you change lenses. Every time you turn on the camera, the patented Supersonic Wave Filter silently vibrates, flinging and collecting dust so that it doesn't interfere with the picture imaging at any time.

In-Body Image Stabilization
Say goodbye to blurry images. Olympus' in-body image stabilization technology makes it possible to use any Micro Four Thirds lenses (or Four Thirds lens), from wide-angle to telephoto, for perfectly clear, crisp photos no matter what the shooting situation, even in low light!
Creative Freedom
12 Art Filters and 7 Art Filter Effects
Twelve in-camera Art Filters are enhanced by new filter variations, art effects and bracketing. Photographers can use Art Filters in all shooting modes as well as filming HD movies. The Twelve in-camera Art Filters (Pop Art, Soft Focus, Pale and Light Colour, Light Tone, Grainy Film, Pin Hole, Diorama, Gentle Sepia, Cross Process, Key Line, Dramatic Tone and NEW Watercolor) are enhanced by new filter variations, art effects and bracketing. Also, the E-PL5 now features the Monochrome Art Filter Effect, where the Picture Tone effect can change the colour from normal monotone to sepia, blue, purple, and green.

Full 1080i HD Movie – with Art Filter Movie and Effects
Shoot up to 29 minutes of 1080 60i HD video and stereo sound in either .MOV or .AVI formats. A Direct HD Movie Button switches you from still to movie mode with just the press of a button. Shoot movies with Art Filters, and new to the E-PL5, change your Art Filter while shooting your movie and see the transition right on the LCD, without missing a beat.

4x Digital Touch Zoom in Movie
One-touch 4x digital converter for movie. You can zoom easily with the touch LCD.
Low Light Performance
AF Illuminator
The addition of this super luminosity LED beam allows the camera to focus faster in low light up to almost 10 feet

ISO 25,600
Stunning low light photos are a click away with an increased ISO sensitivity to 25,600.

Bundled Flash
Attachable flash included. This camera provides the flexibility to attach a flash to your camera via the accessory port, or leave it at home for maximum portability.
Ease of Use
Flip Self Portrait 3" LCD screen
The E-PL5 features a flip touch screen that rotates 170 degrees and allows you to take self portraits. The E-PL5 is designed to optimize the touch screen LCD and was introduced to operate the MENU display with a new simple operation instead of a mode dial. The E-PL5's Touchscreen reacts quickly with the slightest touch and can focus by touch, also choose what you want to focus on by touch, even if the subject is not in the center.

Live Guide
The E-PL5's Live Guide system allows you to preview effects as you adjust them – before the image is even captured. Simply select Live Guide and turn the wheel on the back of the camera to slide through numerous photographic effects, such as brightness, colour saturation, tone, etc. Operating the camera is more intuitive with the newly designed user interface. The on-screen graphics have also been updated with a sleeker font design and an automatic pop-up guide in the menu screen.

iAuto
A convenient, fully automated feature that detects the scene and applies the best of six situations just by aiming the camera toward the subject. Backlight adjustment are automatically applied for Portrait and Landscape modes. iAuto is also available for shooting videos.

In-Camera slideshow with Background Music
Slideshows have never been easier or more fun to create. The E-PL5's enhanced playback functions allow you to employ effective fade-in/fade-out techniques, control the movie/still mix and speed, and add captivating musical soundtracks.
Product Specifications
Detailed Specifications
Product type
Micro Four Thirds interchangeable lens system camera
Memory
SD Memory Card* (SDHC, SDXC, UHS-I compatible, Eye-Fi Card compatible**)
* Class 6 is recommended for Movie shooting.
** Not compatible with endless mode. Release time lag may be generated in actual use.
Screen size
17.3 mm (H) x 13.0 mm (V)
Lens mount
Micro Four Thirds Mount
SENSOR
Sensor Type
4/3 Live MOS Sensor
Number of pixels / Aspect ratio
Number of effective pixels : 16.1 million pixels
Total number of pixels : Approx. 16.9 million pixels
Aspect ratio : 1.33 (4:3)
Dust reduction
Supersonic Wave Filter (dust reduction system for image sensor)
Filter array
Primary colour filter (RGB)
RECORDING FORMATS
Recording format
DCF, DPOF compatible / EXIF, PRINT Image Matching III, MPO compatible
File format
RAW (12-bit lossless compression), JPEG, RAW+JPEG, MPO(3D still)
Recording image size
[RAW] 4608 x 3456 pixels
[JPEG] 4608 x 3456 pixels - 640 x 480 pixels
File sizes
RAW: 4608(H)x3456(V) (approx. 1/1.5 lossless compressed) Approx. 17MB
Set1(LF): 4608(H)x3456(V) (1/4 compressed) Approx. 7.5MB
Set2(LN): 4608(H)x3456(V) (1/8 compressed) Approx. 3.5MB
Set3(MN): 2560(H)x1920(V) (1/8 compressed) Approx. 1.1MB
Set4(SN): 1024(H)x768(V) (1/8 compressed) Approx. 0.3MB
IS SYSTEM
Type
Built-in (Image sensor shift type for movie & still, 5-axis* image stabilization)
* yaw/pitch/vertical shift/horizontal shift/rolling
Modes
3 modes (IS1, IS2, IS3), OFF
Focal length setting
Available
Manual Function
Input focal length 8, 10, 12, 16, 18, 24, 28, 30, 35, 40, 48, 50, 55, 65, 70, 75, 80, 85, 90, 100, 105, 120, 135, 150, 180, 200, 210, 250, 300, 350, 400, 500, 600, 800, 1000
Effective compensation range
maximum 3 EV steps
Shutter speed range
2 - 1/4000 sec. (Not available when Bulb is selected.)
LCD MONITOR
Live view
Approx. 100% field of view, Exposure compensation preview, WB adjustment preview, Gradation auto preview, Face detection preview (up to 8 faces), Grid line, Histogram, Magnification display (x5/x7/x10/x14), Highlight and shadow, Off
Display of Face Detection
Max 8 frames of face detection can be displayed.
Monitor Specs
3.0-inch tilting OLED monitor
Approx. 460k dots(16:9), Touch control in electrostatic capacitance Type
Touch control
Touch shutter release, Touch enlargement, Touch Live Guide, AF area selection, AF area enlargement, Frame forward/backward, Enlargement playback, Touch Super Control Panel, Touch Art Filter selection, Touch scene mode selection
Tilting angle
Upward tilting angle: up to 170 degrees
Downward tilting angle : up to 65 degrees
Brightness / Colour temperature control
±7 levels / ±7 levels
Colour tone select
Vivid / Natural
FOCUSING
AF System
High-speed imager AF
Focus modes
Single AF (S-AF) / Continuous AF (C-AF)*9 / Manual Focus (MF) / S-AF + MF / AF tracking (C-AF + TR) *
*C-AF and AF tracking are not available with non-mFTs lenses. It works as S-AF in C-AF mode.
Full-time AF
Available
Magnified frame AF
Selectable from over 800 AF points
Enlarged view check by magnify button (available with old lenses*)
Magnification x5, x7, x10 (Default), x14 selectable
* old lenses without data communication
Face detection AF / Eye detection AF
Available / Available
Eye Detection AF mode : OFF / Nearer-eye priority / Right-eye priority / Left-eye priority
Focusing point / Focusing point selection
35-area multiple AF / All target, Group target area (9-area), Single target
AF illuminator
Yes
Manual focus assist
Live view image is magnified when the focus ring is rotated. (at S-AF+MF or MF mode)
EXPOSURE CONTROL
Metering System (TTL Image sensor metering)
Digital ESP metering (324-area multi pattern metering), Center weighted average metering, Spot metering, Spot metering with highlight control, Spot metering with shadow control
Metering range
EV 0 - 20 (at normal temperature, 17mm f2.8, ISO 100)
Exposure modes
i Auto, P: Program AE (Program shift can be performed), A: Aperture priority AE,
S: Shutter priority AE, M: Manual, Bulb, Time, Scene select AE, Art Filter,
Underwater wide / macro*
* Selectable from menu as a function on Fn-1/Rec button
Scene Select AE Modes
Portrait, e-Portrait, Landscape, Landscape + Portrait, Sport, Night, Night + Portrait, Children, High Key, Low Key, DIS mode, Macro, Nature Macro, Candle, Sunset, Documents, Panorama, Fireworks, Beach & Snow, Fisheye Conv., Wide Conv., Macro Conv., 3D*
*Using 3D lens (H-FT012), Still image only
ISO sensitivity
AUTO: ISO 200 - 25600 (customizable, Default 200-1600) / Manual ISO 200 - 25600, 1/3 or 1 EV steps selectable
Exposure compensation
±3 EV in 1/3, 1/2, 1 EV steps selectable
AE lock
Locked at 1st release of shutter button (can be set to Fn1/Rec button)
SHUTTER SYSTEM
Type
Computerized focal-plane shutter
Shutter speed
1/4000 - 60 sec. (1/3, 1/2, or 1EV steps selectable.)
Bulb: default setting 8min. (1/2/4/8/15/20/25/30 min. selectable.)
FLASH SYSTEM
Flash intensity control method
TTL Auto, Auto*, Manual, FP-TTL AUTO*, FP-MANUAL*
* Available on the external flash
Bundled flash (FL-LM1)
TTL flash, GN=7(ISO100·m) / GN=10 (ISO200·m)
Flash mode
Flash Auto, Red eye, Fill-in, Flash Off, Red-eye Slow sync.(1st curtain), Slow sync.(1st curtain), Slow sync.(2nd curtain), Manual(1/1(FULL)~1/64)
Synchronization speed
1/250sec. or less* (using the bundled flash)
* It depends on flash models or flash mode
FL-50R: 1/180 sec., Exept FL-50R: 1/200 sec., Super FP: 1/125-1/4000 sec.
Flash intensity control
Up to ±3 EV in 0.3, 0.5, 1 EV steps selectable
Compatible external flash
FL-50/FL-50R, FL-36/FL-36R, FL-20, FL-14, FL-300R, FL-600R
WIRELESS FLASH CONTROL
Compatible wireless external flash
FL-50R, FL-36R, FL-300R, FL600R
Control method
Triggered and controlled by bundled flash (FL-LM2)
** Available on FL-LM1/ FL-600R.
(Olympus Wireless RC Flash system compatible)
External Flash intensity type
TTL Auto, Auto, Manual, FP-TTL-AUTO, FP-MANUAL
Channel No.
4 channels
Group Number
4 groups (External flash 3 groups + a bundled flash)
DRIVE
Drive mode
Single-frame shooting, Sequential shooting, Self-timer
Sequential shooting maximum speed

[Sequential shooting H mode]* 8.0 fps
*in case of "I.S. Off" *18: Focus and exposure are fixed at the values for the first shot.

[Sequential shooting L mode] *
3.6 fps* in case of "I.S. Off" (in 3.5 seq. shooting L)
3.0 fps* in case of "I.S. On" (in 3 seq. shooting L)
*When using the M.ZUIKO DIGITAL 14-42mm?R f3.5-5.6

Max. recordable pictures
on sequential shooting
[RAW] Max. 17 frames (in seq. shooting L), Max. 11 frames (in seq. shooting H)
[JPEG] Up to full extent of data storage capacity (in seq. shooting L),
Max. 17 frames ( in seq. shooting H)
(with TOSHIBA SDHC UHS-I card R95-W80 8GB model, under Olympus test standard)
Self-timer
Operation time: 12 sec., 2 sec., custom (Waiting time 1-30sec.,Shooting interval 0.5/1/2/3sec.,Number of shots 1-10)
BRACKETING
Exposure bracketing
2, 3 or 5 frames in 0.3/0.7/1.0EV steps selectable, 7 frames in 0.3/0.7EV steps selectable
ISO bracketing
3 frames in 0.3/0.7/1.0EV steps selectable
White balance bracketing
3 frames in 2, 4, 6 steps selectable in each A-B/G-M axis.
Flash bracketing
3 frames in 0.3/0.7/1.0EV step selectable
Art Filter bracketing
i-Enhance, Vivid, Natural, Muted, Portrait, Monotone, Custom, Art Filters selectable
Bracketing for HDR post process
3 or 5 frames in 2.0/3.0EV steps selectable, 7 frames in 2.0EV steps selectable.
*HDR picture can not be made by this function.
ART FILTER
Mode (Variation / Effect)
Pop Art (I, II / a.b.c.d.e.)
Soft Focus ( - / c.e.)
Pale & Light Colour (I, II / a.b.c.d.)
Light Tone ( - / d.)
Grainy Film (I, II / b.c.d.)
Pin Hole (I, II, III / d.)
Diorama ( - / d.)
Cross Process (I, II / b.c.d.)
Gentle Sepia ( - / a.b.c.d.)
Dramatic Tone (I, II / b.c.d.e.)
Key Line (I, II / a.b.c.d.e.)
Watercolour (I, II / a.c.d.)
Art Effect
a. Soft Focus Effect
b. Pin-Hole Effect
c. White Edge Effect
d. Frame Effect
e. Star Light Effect
f. B&W Effect (Yellow, Orange, Red, Green)
g. Pict. Tone (Sepia, Blue, Purple, Green)
MOVIE
Recording format
MOV (MPEG-4AVC/H.264) , AVI (Motion JPEG)
Movie Mode

MOV (MPEG-4AVC/H.264), AVI (Motion JPEG)

[MOV]
Full HD: 1920(H)x1080(V), 59.94i Recording*
20Mbps (Fine)** / 17Mbps (Normal)** : Aspect 16:9
HD: 1280(H)x720(V), 59.94i Recording *,
13Mbps (Fine)** / 10Mbps (Normal)** : Aspect 16:9
* Sensor output 30fps
** bitrate

[AVI Motion JPEG]
HD: 1280 (H) x 720 (V), 30fps *, Aspect 16:9
SD: 640 (H) x 480 (V), 30fps *, Aspect 4:3
*: Except for some of the Art Filters

Maximum Recording Times
Full HD : Approx. 29min (Fine) / Approx. 22min (Normal) HD : Approx. 29min (Fine) / Approx. 29min (Normal)
Effects
Movie Effect : One shot echo / Multi echo
Art Filter Movie, Aperture priority Movie, Shutter Priority Movie, Manual Shooting Movie
IS for Movie
Built in (Electronic image stabilizer)
2mode (M-IS1,M-IS2), off, Panasonic OIS lens priority
AE Lock
Avalable
Exposure control (Movie)
P: Program AE, A: Aperture priority AE, S: Shutter speed priority AE, M: Manual, Art Filter
* S mode and M mode : Shutter speed is limited in less than 1/30 sec.
Compression ratio
Motion-JPEG Format : 1/12 (HD), 1/8(SD)
File size
MOV Format : Max 4GB
Motion-JPEG Format : Max 2GB
Recording format
Wave Format (Stereo linear PCM/16-bit, Sampling frequency 48kHz)
Micophone/Speaker
Stereo/Mono
Microphone function
Wind Noise Reduction, Recording Volume
Audio dubbing possible for still pictures (up to 30 sec.)
WHITE BALANCE
White balance mode
Auto WB, 7 Preset WBs, 2 Capture WBs, Custom WB (Kelvin setting)
White balance compensation
±7 steps in each A-B/G-M axis * Except for Custom WB
Preset white balance
7 preset WBs (3000K - 7500K)
Sunny (5300K), Shadow (7500K), Cloudy (6000K), Incandescent (3000K), Fluorescent (4000K), Underwater, WB Flash (5500K)
COLOUR MODE
Colour matrix
sRGB, Adobe RGB
PICTURE MODE
Mode
i-Enhance, Vivid, Natural, Muted, Portrait, Monotone, Custom, Art Filters
Gradation
Auto, Normal, High Key, LowKey [except for Art Flters]
MULTIPLE EXPOSURE
Number of picture / Function
2 frames / Auto gain, Exposing on Recorded picture (RAW)
MULTI ASPECT
Aspect Ratio
4:3 (Default) / 3:2 / 16:9 / 1:1 / 3:4
DIGITAL TELE-CONVERTER
Magnification
x 2
PLAYBACK FUNCTIONS
Playback mode
Single-frame, Information display, Index display (4/9/25/100 frames), Calendar, Enlargement (2x - 14x), Movie (with sound, FF/REW/Pause), Picture rotation (auto), Slideshow *(with BGM/BGM+Sound/Sound)
* Slideshow : Still/Movie/Still+Movie, When a camera is connected to HDTV with HDMI cable, 3 new slideshow effect can be selectable.(Still)
Information display
Histogram (independent luminance / RGB available), Highlight/Shadow point warning, AF frame, Photographic information, OFF
MENUS
Languages
34 languages selectable :
English, French, German, Spanish, Italian, Japanese, Korean, Traditional Chinese, Simplified Chinese, Russian, Czech, Dutch, Danish, Polish, Portuguese, Swedish, Norwegian, Finnish, Croat, Slovenian, Hungarian, Greek, Slovakian, Turkish, Latvian, Estonian, Lithuanian, Ukrainian, Serbian, Bulgarian, Rumanian, Indonesian, Malay, Thai
Reset and custom settings (My mode)
4 settings recordable / Available to set to mode dial
IMAGE EDITING
Editing function
RAW development, Gradation auto, Monochrome, Sepia, Red-eye fix, Saturation, Resize (1280x960, 640x480, 320x240), Trimming, Aspect, e-Portrait, Image Overlay, Post recording
RAW picture editing
RAW development based on settings of the camera(including Art Filter)
Detail edit acceptable.(Preview, Memory of 2 setting, re-development)
PRINTING
Print function
Print reservation (DPOF), Direct print (PictBridge compatible)
INPUT / OUTPUT
USB/AV/Remote controller connector
Dedicated multi-connector [USB: USB2.0 High Speed, Video: NTSC/PAL selectable, Optional Remote cable RM-UC1 can be used.]
HDMI connector
Micro HDMI (Type-D)
Flash attachment
Hot shoe
Accessory Port 2
Dedicated multi-connector [Available for VF-2/VF-3, SEMA-1, MAL-1 and PP-1.]
PC interface
USB 2.0 High Speed
TV interface
HDMI (HD/Stereo Sound), VIDEO-OUT(SD/Mono Sound)
POWER REQUIREMENTS
Battery
BLS-5 Li-ion battery (included)
Sleep mode
Available (1/3/5 min. off selectable)
Number of recordable pictures
Approx. 360 shots [IS ON, CIPA test standard]
(with BLS-5 and TOSHIBA super high-speed Class 6 SDHC 4GB card)
OPERATING ENVIRONMENT
Temperature
0 ~ +40 deg. (operation) / -20 ~ +60 deg. (storage)
Humidity
30 - 90% (operation) / 10 - 90% (storage)
DIMENSIONS / WEIGHT
Dimensions
110.5 mm (W) x 63.7mm (H) x 38.2mm (D)
[CIPA guideline compliant, excluding protrusions]
Weight
Approx. 325g [CIPA guideline compliant, with BLS-5 battery and Memory card]
Approx. 279g [body only]
Olympus E-PL5 Black Body
Looking for a personal touch? Not sure if you are choosing the right product? Our staff is here to help.
We want to make sure you get the right product for your needs.
Our staff will help you understand the options available so you can be confident in your purchase.
As the country's leading Professional Imaging retailer, Vistek is in the perfect position to ensure you make the right choice.
Contact us today for a personal touch.