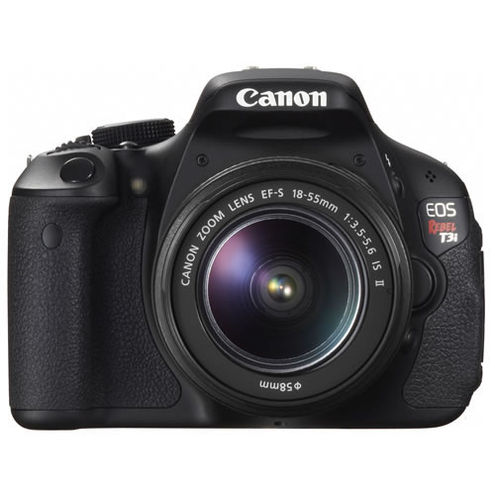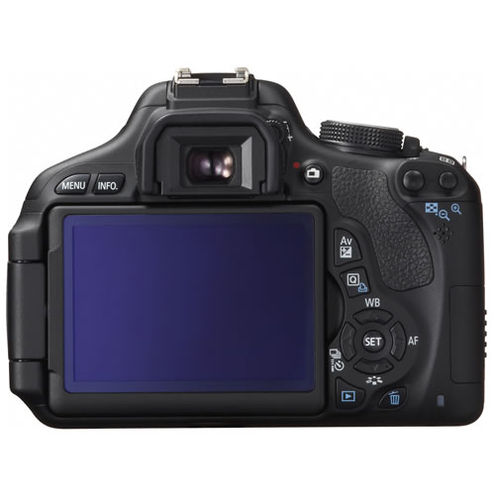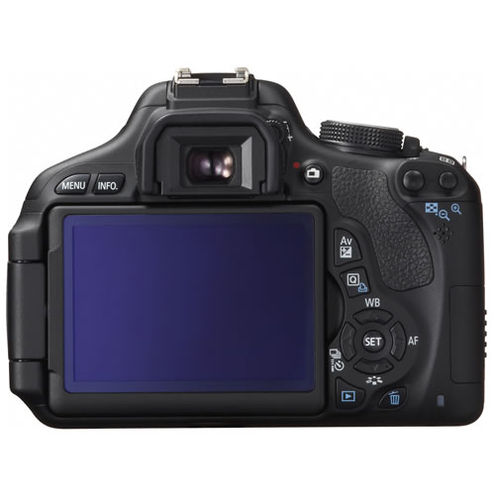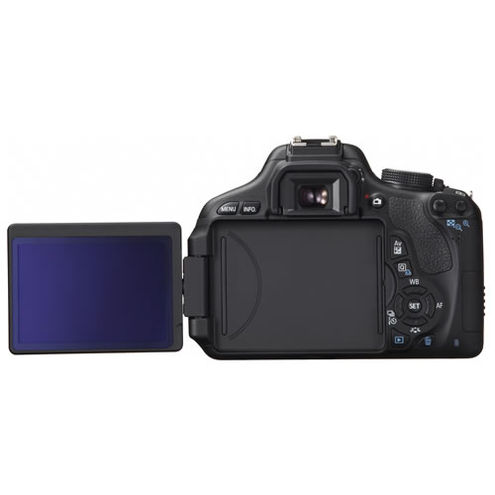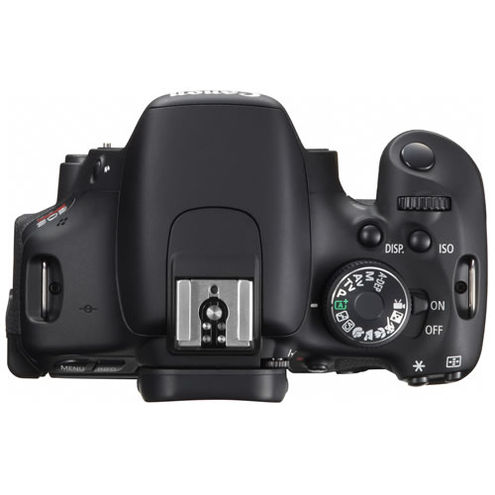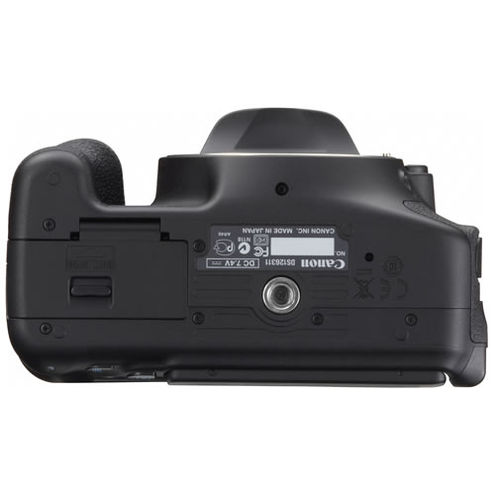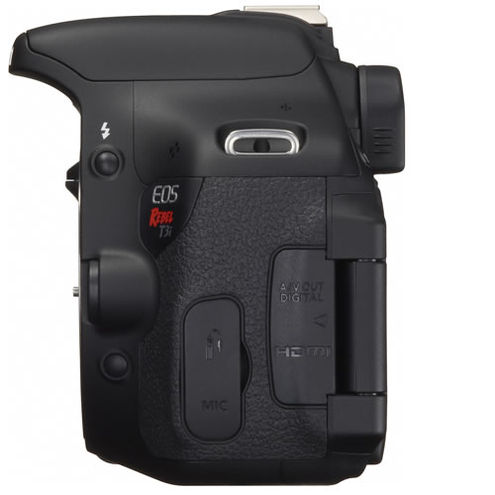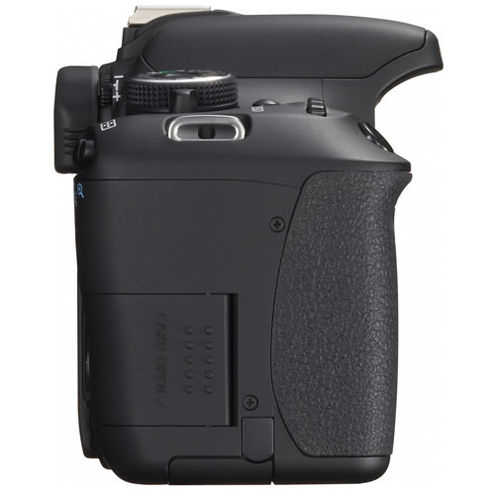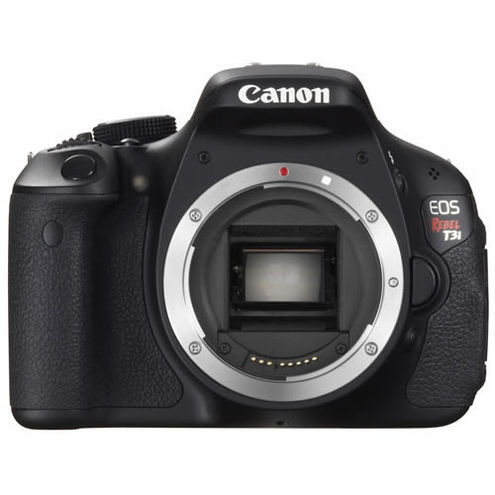 Used Details
Item Condition: Shutter count 14,940, only minor signs of cosmetic wear, fully fu
Warranty: 90 day Vistek warranty.
Accessories: 2x batteries, charger, strap, body cap, av cables
Used item may not be exactly as shown.
Check Used Details for more information.
Product Highlights
Featuring an 18MP APS-C CMOS Sensor, DIGIC 4 Image Processor, 3.0" Vari-Angle LCD, 100-6400 ISO, Full HD Movie Mode w/ Manual Exposure, 3.7 FPS Continuous Shooting, 63 Zone Dual-Layer Metering / 9-Point AF and Intelligent Auto Mode.
Vistek Locations
Please call and verify availability at the store as stock changes daily.

The REBEL on the Move.
Photographers looking for an easy-to-use camera that will help them create their next masterpiece need look no further than the Canon EOS Rebel T3i. The next in a long line of phenomenal compact DSLRs, the EOS Rebel T3i continues the Rebel tradition of easy operation, compact design and no-compromise performance. Featuring Canon's newest DIGIC 4 Image Processor and an 18.0 Megapixel CMOS Image Sensor - plus cutting-edge technologies like Full HD video recording, Live View shooting, Wireless flash photography and even a Vari-angle 3.0-inch LCD monitor - the EOS Rebel T3i offers the best of EOS photography in a compact package.
Key Features
18.0 Megapixel CMOS (APS-C) sensor and DIGIC 4 Image Processor for high image quality and speed.
ISO 100 - 6400 (expandable to 12800) for shooting from bright to dim light.
Improved EOS Full HD Movie mode with manual exposure control, expanded recording [1920 x 1080 Full HD video at frame rates of 30 (29.97), 24 (23.976) and 25.0 frames per second] with new Movie Digital zoom and Video Snapshot features for enhanced movie shooting options.
Vari-angle 3.0-inch Clear View LCD monitor (3:2) for shooting at high or low angles and 1,040,000-dot VGA with reflection reduction using multi coating and high-transparency materials for bright and clear viewing.
New Scene Intelligent Auto mode and Picture Style Auto incorporating the new EOS Scene Detection System to capture beautiful scenes with ease.
Express your creativity with advanced imaging features like Basic+ function, Multi-Aspect function and Creative Filters.
Enhanced metering with a 63-zone, Dual-layer metering system for accurate metering between exposures, and 9-point AF system utilizing a high precision, f/2.8 cross-type center point.
3.7 fps continuous shooting up to approximately 34 JPEGs or approximately 6 RAW.
New Feature Guide offers short descriptions of each function and Quick Control screen for easy operation.
Compatibility with SD/SDHC/SDXC memory cards.
Compatible with the full line of Canon EF and EF-S lenses.
High Resolution Still Capture.
The EOS Rebel T3i has an 18.0 Megapixel CMOS (Complementary Metal Oxide Semiconductor) sensor that captures images with exceptional clarity and tonal range and offers more than enough resolution for big enlargements or crops. This first-class sensor features many of the same new technologies as used by professional Canon cameras to maximize each pixel's light-gathering efficiency. Its APS-C size sensor creates an effective 1.6x field of view (compared to 35mm format).
DIGIC 4 Image Processor.
The Canon DIGIC 4 Image Processor dramatically speeds up the entire EOS Rebel T3i DSLR's camera operations for intuitive operation and offers improvements in both fine detail and natural colour reproduction. It works in concert with the EOS Rebel T3i DSLR's CMOS Image Sensor to achieve phenomenal levels of performance in nearly any situation.
Amazing Results, No Matter the Light.
The EOS Rebel T3i features an expanded ISO range that makes shooting possible in situations previously unthinkable without flash. With an ISO rating up to 6400 (expandable to ISO 12800), along with the DIGIC 4 Image Processor's improved noise-reduction technology, creative possibilities abound. Combine the EOS Rebel T3i with one of Canon's EF or EF-S lenses with Optical Image Stabilizer and the shooting possibilities for both movies and stills expand even further.
HD Dreams Come True.
The EOS Rebel T3i does not just shoot video clips, it offers the enhanced ease-of-use, image quality, smooth frame rates and adaptive exposure compensation necessary in a professional video-making tool by boasting the most advanced EOS video capturing features to date: When Full HD (1920 x 1080) is set, you can use Movie Digital Zoom to magnify the center of the image by 3-10x while at the same time maintaining gorgeous Canon Full HD image quality. With the Video Snapshot feature, the EOS Rebel T3i DSLR will capture short video clips (of 2, 4 or 8 seconds) then combine them automatically into one video file as a snapshot or highlights "album." With no editing needed after shooting, the compiled video is perfect for sharing online or displaying directly on an HDTV via the camera's HDMI port.

In addition to a number of different recording size and frame rate modes, the EOS Rebel T3i enables easy manual control of exposure, focus and Live View features and even allows for in-camera editing. The large CMOS sensor and compatibility with over 60 lenses provide a wealth of depth-of-field options. And it's all as easy as the press of a button — the EOS Rebel T3i has a dedicated Live View/Movie Recording start/stop button that gets the shooting started fast.
Three Recording Sizes.
Full HD Video is captured at 1920 x 1080 resolution at 30p (29.97), 24p (23.976) or 25p frames per second, for up to 4GB per clip. Videos are saved as .MOV files and can be viewed in Full HD with HDMI output. Other recording sizes include HD at 1280 x 720 (50p/60p (59.94) fps) or SD/VGA at 640 x 480 (30p (29.97) and 25p fps).
Low Angles or High, a Big Vari-angle LCD Captures All the Details.
The EOS Rebel T3i features a bright, high resolution, flip-out Vari-angle 3.0-inch Clear View LCD monitor for shooting at a variety of angles. By simply rotating the monitor, you can hold the camera directly overhead for above-the-crowd shots at concerts, or hold the camera at a low angle for kids and pets. By rotating the LCD monitor fully, the EOS Rebel T3i becomes the ideal camera for self-portraits. The EOS Rebel T3i freely enables easy angle adjustments even if the camera is mounted on a tripod or has a battery grip attached.

With 1,040,000 (dots/VGA) pixels for spectacular detail, the advanced, smudge-resistant monitor includes high transparency materials plus anti-reflective and water-repellant coatings to provide clear and bright viewing. Superb for reviewing, editing and deleting photos or composing new images in Live View function, the Vari-angle Clear View LCD monitor is also the perfect means for accessing camera settings like ISO, metering modes, AF Point selection, the horizontal Electronic Level and flash options.
Automatic Scene Analysis for Standout Colour.
The EOS Rebel T3i DSLR's new Scene Intelligent Auto mode unites five Canon digital camera technologies – the new Picture Style Auto, plus Automatic Lighting Optimizer, Automatic White Balance, Autofocus, and Automatic Exposure –into a powerful new feature for photographers. Using the advanced EOS Scene Detection System, the camera automatically analyzes the image, taking into account faces, colours, brightness, movement and contrast. Scene Intelligent Auto then chooses the enhancing features to deliver maximum impact. Blues and greens are more vivid, "hot" colours are more fiery, and skin tones are smooth and truer to life.
Make Your Images As You See Them.
Basic+ is a new creative imaging feature that makes it easy to create the image effects you want. It can be set with the Quick Control screen in Basic Zone modes. Basic+ provides two options:
Shoot by ambience selection.
Based on the Picture Style and its parameters (sharpness, contrast, saturation, and colour tone), the exposure compensation and white balance correction are adjusted to attain the selected ambience. You can also can also select the strength of the ambience effect.
Shoot by lighting or scene type.
Although the actual parameter set is the white balance, the settings are expressed in more understandable terms. The Multi-Aspect Function of the EOS Rebel T3i lets you express an image in one of three ways by matching the aspect ratio to each scene. In addition to the camera's standard 3:2 ration, the Multi-Aspect Function includes a 1:1 ratio that creates the sensation that the viewer's gaze is focusing upon the center of the image. At the 4:3 ratio, you get nearly the same aspect ratio as a regular TV or a 4:3 computer display. The 16:9 aspect ratio provides a wide look, much the same as HDTV.

The EOS Rebel T3i incorporates five in-camera Creative Filters so you can artistically manipulate scenes without the aid of an outside computer. Soft Focus lends a dreamy, romantic aspect, while Grainy Black and White gives a dramatically gritty, hard-bitten look. Miniature Effect creates an illusion in which expansive subjects are seemingly reduced to doll-house-like proportions, and Toy Camera Effect recreates the colours and softness rendered by cameras with a plastic lens, an effect often sought after by art photographers. Fish Eye Effect mimics the "Fisheye" lenses that are favorites of professional photographers for their quirky, convex perspective.
Intelligent Scene Analysis for Superb Exposure.
The EOS Rebel T3i features a sophisticated, 63-zone Dual-layer sensor designed to complement the 9-point AF system. By taking into account the colour and luminosity surrounding chosen AF points, this system delivers an advanced level of accuracy for better results even in difficult lighting situations. Since the metering sensor has a colour measurement function, exposure errors and focus errors caused by different light sources are minimized; the EOS Rebel T3i gives stable exposure from shot to shot in situations where light changes, such as in a theater or concert hall. This makes the EOS Rebel T3i ideal for scenes with extreme difference in brightness such as brightly lit scenes or backlit scenes; the camera balances exposure of the main subject at the background, and exposures are not overly influenced by bright areas in the shot. Since the EOS Rebel T3i provides high-speed X-sync ("X-sync" means the fastest shutter speed that can synchronize with a flash burst at the moment the shutter is fully released) up to 1/200 sec., the range of photographic expression is dramatically increased, allowing the EOS Rebel T3i to be used with confidence in bright scenes or dim.

Never Miss a Moment.
The EOS Rebel T3i can shoot up to 3.7 frames per second (fps) for up to approximately 6 consecutive RAW files or approximately 34 full-resolution JPEGs. Shooting at speeds of up to 1/4000 sec., the EOS Rebel T3i can capture even rapidly-unfolding scenes with ease.
Photography Made Truly Easy.
The Canon EOS Rebel T3i DSLR demystifies great photography by including an in-camera Feature Guide. Appearing on the camera's LCD, the Feature Guide displays a simple description or advice for the respective function. It is displayed in each shooting mode, during Mode Dial operations, and for Quick Control screen functions (during normal shooting, Live View shooting, movie shooting, and playback). The Feature Guide appears automatically during Mode Dial operations and when a function is selected on the Quick Control screen.
Flexible Storage with Memory Cards.
The EOS Rebel T3i uses popular SD, SDHC and SDXC memory cards. Compact, inexpensive and available in increasingly large capacities, SD, SDHC and SDXC memory cards are a perfect complement to the EOS Rebel T3i DSLR's compact and lightweight body design.

Additionally, the EOS Rebel T3i is compatible with Eye-Fi* SD cards, which are outfitted with a Wi-Fi transmitter (IEEE 802.11b/g) and an internal antenna for wireless, high-speed transfer of images. With an Eye-Fi card installed, the EOS Rebel EOS Rebel T3i can display the Eye-Fi's connection status and error notes with ease, for fully functional wireless uploading of images directly from the camera.

*Canon cameras are not guaranteed to support Eye-Fi card functions, including wireless transfer. In case of an issue with the Eye-Fi card, please consult with the card manufacturer. The use of Eye-Fi cards may not be available outside the United States and Canada; please contact the card manufacturer for territory availability.
The Best Optics for the Best Images: EF Lenses.
The EOS Rebel T3i is compatible with all Canon lenses in the EF lineup, including compact and lightweight EF-S lenses, ranging from ultra-wide angle to super telephoto lenses. Canon lenses employ advanced optical expertise and micron-precision engineering to deliver outstanding performance and deliver beautiful results. Special technologies like the Canon Image Stabilizer technology in select lenses helps to minimize the effect of camera shake, effectively adding up to four stops of light. With a dizzying array of lenses perfect for travel, sports, still life and everything in between, photographers can truly maximize the quality and performance of their EOS Rebel T3i with superlative Canon optics.
Flash Photography
With a flash sync speed of 1/200 of a second, the EOS Rebel T3i also features the acclaimed E-TTL II flash metering system. With any of the flashes in the EX Speedlite line, E-TTL II provides reliable flash output whether shooting fill-in flash pictures in sunlight, or using flash in total darkness. With E-TTL II, the exact same 35-zone metering sensor used for measuring ambient light is also used for flash metering — giving even finer metering command of the image area. If you prefer a broader area for flash metering, there's a menu setting to change to "Average" flash metering — where the entire 35-zone area is measured evenly for flash exposure. Additionally, the EOS Rebel T3i has a Speedlite transmitter built-in for convenient, full-featured wireless control of EX-series Speedlite flashes set as slave units.


The Canon Speedlite 430EX II is the ideal step-up accessory for powerful flash shooting with the EOS Rebel T3i. It has excellent flash power (maximum guide number of 141 ft./43m at ISO 100), and is the perfect way to get great flash pictures when you can't get right up to the subject. The 430EX II is also great for bounce flash, with its tilting and swiveling flash head. It automatically zooms the flash head to cover lenses ranging from 16mm up to 105mm or longer with the EOS Rebel T3i. Of course, it works with the camera to provide full E-TTL II automatic flash exposure. And the 430EX II has a powerful AF-assist beam, which allows the camera to autofocus even in total darkness on subjects as far as 32 ft. from the camera.
Product Specifications
Detailed Specifications
Camera Type
Digital, AF/AE single-lens reflex, camera with built-in flash
Recording Media

SD/SDHC/SDXC card, via external media (USB v.2.0 hard drive, or via Wireless LAN (Eye-Fi card*))

*Canon cameras are not guaranteed to support Eye-Fi card functions, including wireless transfer. In case of an issue with the Eye-Fi card, please consult with the card manufacturer. The use of Eye-Fi cards may not be approved in all regions, or from one region to another; please contact the card manufacturer for status of approval in the country/region of use.

Image Format
22.3 x 14.9 mm (APS-C size)
Compatible Lenses
Canon EF lenses including EF-S lenses
(35mm-equivalent focal length is approx.1.6x the lens focal length)
Lens Mount
Canon EF mount
Sensor Type
High-sensitivity, high-resolution, large single-plate CMOS sensor
Effective Pixels
Approx. 18.0 megapixels
Total Pixels
Approx. 18.70 megapixels
Aspect Ratio
3:2 (Horizontal : Vertical)
Colour Filter System
RGB primary colour filters
Low Pass Filter
Fixed position in front of the CMOS sensor
Dust Deletion Feature
(1) Automatic Sensor Cleaning
Removes dust adhering to the low-pass filter.
Self-cleaning executed automatically (taking 2 sec.) when power is turned on or off. Manual execution also possible (taking 5 sec.). Low-pass filter has a fluorine coating.

(2) Dust Delete Data appended to the captured image
The coordinates of the dust adhering to the low-pass filter are detected by a test shot and appended to subsequent images.
The dust coordinate data appended to the image is used by the provided software to automatically erase the dust spots.

(3) Manual cleaning of sensor
Recording Format
Design rule for Camera File System 2.0 and 2.30
File Size
(1) Large: Approx. 17.90 Megapixels (5,184 x 3,456)
(2) Medium: Approx. 8.00 Megapixels (3,456 x 2,304)
(3) Small: Approx. 4.50 Megapixels (2,592 x 1,728)
(4) S2: Approx. 2.50 Megapixels (1,920 x 1,280)
(5) S3: Approx. 0.35 Megapixels (720 x 480)
(6) RAW: Approx. 17.90 Megapixels (5,184 x 3,456)
Exact file sizes depend on the subject, ISO speed, Picture Style, etc.
Recording Functions
Images record directly to the memory card.
File Numbering
Consecutive numbering, auto reset, manual reset.
RAW + JPEG Simultaneous Recording
RAW and Large JPEG images are recorded simultaneously
Colour Space
sRGB, Adobe RGB
Picture Style
Auto, Standard, Portrait, Landscape, Neutral, Faithful, Monochrome, User Defined 1-3
Settings
Auto, Daylight, Shade, Cloudy, Tungsten Light, White Fluorescent Light, Flash, Custom
Auto White Balance
Auto white balance with the image sensor
Colour Temperature Compensation
White balance correction:
Blue/amber bias: ±9 levels
Magenta/green bias: ±9 levels
White balance bracketing:
±3 levels, in single-level increments
Viewfinder Type
Eye-level SLR (with fixed pentamirror)
Coverage
Vertical/Horizontal approx. 95% (TD)
Magnification
Approx. 0.85x / 23.8° (with 50mm lens at infinity, -1 m-1 (dpt))
Eye Point
Approx. 19 mm (At -1m-1 from the eyepiece lens center)
Dioptric Adjustment Correction
Adjustable from approx. -3.0 to +1.0 m-1 (dpt)
Focusing Screen
Fixed
Mirror
Quick-return half mirror (transmittance: reflectance ratio of 40:60)
Viewfinder Information
1) AF information (AF points, focus confirmation light)
2) Exposure information (Shutter speed, aperture, ISO speed, AE lock, exposure level, spot metering circle, exposure warning)
3) Flash information (Flash ready, flash exposure compensation, high-speed sync, FE lock, red-eye reduction light)
4) Image information (Highlight tone priority, Monochrome shooting, maximum burst, white balance correction, SD card information)
5) Composition information (Grid, electronic level)
6) Battery check
Depth Of Field Preview
Enabled with depth-of-field preview button
AF Type
TTL-CT-SIR AF-dedicated CMOS sensor
AF Points
9 points (Center AF point is cross-type, vertical-line sensitive at f/2.8.)
AF Working Range
EV -0.5 - 18 (at 23°C/73°F and ISO 100, based on Canon's testing standards)
Focusing Modes
(1) Autofocus
One-Shot AF
Predictive AI Servo AF
AI Focus AF
(2) Manual focus (MF)
AF Point Selection
(1) Manual selection
(2) Auto selection
* Automatically set (2) in Basic Zone modes and A-DEP mode.
Selected AF Point Display
Indicated by superimposed display in the viewfinder and on the LCD monitor
AF Assist Beam
(1) Intermittent firing of built-in flash
(2) Effective range: Approx. 4 m/13.1 ft at center, approx. 3.5 m/11.5 ft at periphery
* With an EOS-dedicated Speedlite attached, the Speedlite's AF-assist beam is emitted instead.
* Compatible with assist-beam (intermittent firing) of 320EX, 270EX II and 270EX flashes.
Metering Modes
TTL maximum aperture metering with 63-zone metering sensor
Evaluative metering (linkable to all AF points)
Partial metering (center, approx. 9% of viewfinder at center)
Spot metering (center, approx. 4% of viewfinder at center)
Center-weighted average metering
Metering Range
EV 1.0 - EV 20.0 (at 73°F/23°C with EF50mm f/1.4 USM lens, ISO 100)
Exposure Control Systems
Program AE (Shiftable), Shutter-priority AE, Aperture-priority AE, Manual exposure, Automatic depth-of-field, Scene Intelligent Auto, Flash Off, Creative Auto, Programmed Image Control modes, E-TTL II autoflash program AE
ISO Speed Range
Auto, ISO 100 - 6400 (in whole-stop increments), H: 12800
Exposure Compensation
Manual: ±5 stops in 1/3- or 1/2-stop increments (AEB ±2 stops)
* Indicated up to ±3 stops in the viewfinder.
AE Lock
Auto: Applied in One-Shot AF mode with evaluative metering when focus is achieved
Manual: By AE lock button
Shutter

Vertical-travel, mechanical, focal-plane shutter with all speeds electronically controlled.
1/4000 to 1/60 sec., X-sync at 1/200 sec.
1/4000 to 30 sec., Bulb (Total shutter speed range. Available range varies by shooting mode.)
Settable in 1/3- or 1/2-stop increments.

Soft-touch electromagnetic release 10-sec. or 2-sec. delay
(1) The EOS Rebel T3i has a remote control terminal for Remote Switch RS-60E3.
(2) Compatible with Remote Controller RC-6, RC-1 and RC-5.

Shutter Type
Vertical-travel, mechanical, focal-plane shutter with all speeds electronically controlled.
Shutter Speeds
1/4000 to 1/60 sec., X-sync at 1/200 sec.
1/4000 to 30 sec., Bulb (Total shutter speed range. Available range varies by shooting mode.)
Settable in 1/3- or 1/2-stop increments.
Shutter Release
Soft-touch electromagnetic release
Self Timer
10-sec. or 2-sec. delay
Remote Control
(1) The EOS Rebel T3i has a remote control terminal for Remote Switch RS-60E3.
(2) Compatible with Remote Controller RC-6, RC-1 and RC-5.
Built-In Flash Type
Auto pop-up, retractable, built-in flash in the pentaprism
Guide Number

Approx. 13/43 (at ISO 100 in meters/feet)
Recycling Time Approx. 3 sec.

Flash Ready Indicator
Flash-ready icon lights in viewfinder
Flash Coverage
Up to 17mm focal length (equivalent to approx. 28mm in 135 format)
FE Lock
Provided
Flash Exposure Compensation
Up to ±2 stops in 1/3- or 1/2-stop increments
Flash exposure compensation for built-in flash and Speedlite can be set with the camera.
Flash Metering
E-TTL II autoflash
Drive Modes
Single, Continuous, 10-sec. self-timer/Remote control, 2-sec. self-timer, Continuous shooting after 10-sec. self-timer
Continuous Shooting Speed
Max. approx. 3.7 fps [TD] (with One-Shot AF or AI SERVO AF)
* Same as with Battery Grip BG-E8 loaded with size-AA/LR6 alkaline batteries.
Maximum Burst

JPEG (Large/Fine): approx. 34
RAW: approx. 6
RAW+JPEG (Large/Fine): approx. 3

* The number of possible shots and maximum burst apply to a 4GB card based on Canon's testing standards.
* The image file size, number of possible shots, and maximum burst will vary depending on the shooting conditions (3:2 aspect ratio, subject, memory card brand, ISO speed, Picture Style, Custom Functions, etc.).
* "F" indicates that continuous shooting is possible until the card becomes full.

Shooting Modes
Still photo shooting and video shooting
Focusing

(1) Autofocus (Same as focusing with Live View shooting)

Before shooting a movie, 1, 2, and 3 below are possible.
AF during movie shooting is possible with [AF w/ shutter button during video]. When this is set to [Enable], 1 and 2 below are possible:

A. Live mode
B. Face detection Live mode
C. Quick mode
* If 3 has been set when you start shooting a movie, it will switch to 1 automatically.

(2) Manual focusing
* Magnify the image by about 5x or 10x and focus manually.
* Magnified view not possible with digital zoom nor during movie shooting.

Metering Modes
(1) AF point-linked evaluative metering
* Used when the AF mode is Face detection Live mode and a face has been detected.

(2) Center-weighted average metering
* Used during manual focus, when the AF mode is Face detection Live mode and a face has not been detected. Also used in the Live mode and Quick mode.
* Metering range: EV 0 to EV 20 (At 23°C/73°F and ISO 100, with 50mm f/1.4 lens)
Metering Range
EV 0 to EV 20 (At 23°C/73°F and ISO 100, with 50mm f/1.4 lens)
Grid Display
Two grids provided (not displayed during movie shooting):

(1) Grid 1: Pair of vertical and horizontal lines
(2) Grid 2: 5 vertical and 3 horizontal lines
Exposure Simulation
Provided
Silent Shooting
Not provided
Display Type
TFT colour, liquid-crystal monitor
Monitor Size
3.0 in. (Screen aspect ratio of 3:2)
Pixels
Approx. 1,040,000 dots
Coverage
Approx. 100%
Viewing Angle: 170°
Brightness Control
Adjustable to one of seven brightness levels
Interface Languages
25 (English, German, French, Dutch, Danish, Portuguese, Finnish, Italian, Norwegian, Swedish, Spanish, Greek, Russian, Polish, Hungarian, Czech, Romanian, Ukraine, Turkish, Arabic, Thai, Simplified Chinese, Traditional Chinese, Korean and Japanese)
Display Format
(1) Single image display
Single image, basic information, detailed information, histogram display
(2) Index display
4-image index and 9-image index.
(3) Jump display (Image jump w/ Main Dial)
1/10/100 images, shooting date, by folder, movies, stills, rating
Highlight Alert
On the detailed information and histogram displays, highlight areas with no image data will blink.
Protection
Erase protection can be applied/canceled for a single image, all images in a folder, or all images in the card.
Erase
Erase single image, erase selected images, erase all images on folder, erase all images in a card, or erase only unprotected images.
Compatible Printers
PictBridge-compatible printers
Printable Images
JPEG images complying to Design rule for Camera File System
RAW images printable.
Movies cannot be printed.
DPOF
Version 1.1 compatible
Custom Functions
11 Custom Functions with 34 settings settable with the camera
Camera User Settings
Not provided
Battery
Battery Pack LP-E8 x 1
* With the AC Adapter Kit ACK-E8, AC power is possible.
* With BG-E8, two battery packs (LP-E8) can be used. Or six size-AA/LR6 batteries can be used.
Battery Life
1) Camera body only:


Shooting Method
Temperature
Shooting Conditions
AE 100%
AE 50%, FA 50%
Viewfinder Shooting
At 73°F/23°C
Approx. 550
Approx. 440
At 32°F/0°C
Approx. 470
Approx. 400
Live View Shooting
At 73°F/23°C
Approx. 200
Approx. 180
At 32°F/0°C
Approx. 170
Approx. 150


2) With Battery Grip BG-E8:


Shooting Method
Battery
Temperature
Shooting Conditions
AE 100%
AE 50%, FA 50%
Viewfinder Shooting
LP-E8 x 1
Same as (1)
LP-E8 x 2
At 73°F/23°C
Approx. 1100
Approx. 880
At 32°F/0°C
Approx. 940
Approx. 800
Size-AA/LR6
alkaline batteries
At 73°F/23°C
Approx. 470
Approx. 270
At 32°F/0°C
Approx. 130
Approx. 80
Live View Shooting
LP-E8 x 1
Same as (1)
LP-E8 x 2
At 73°F/23°C
Approx. 400
Approx. 360
At 32°F/0°C
Approx. 340
Approx. 300
Size-AA/LR6
alkaline batteries
At 73°F/23°C
-
-
At 32°F/0°C
-
-



The figures above are based on CIPA (Camera & Imaging Products Association) testing standards

Battery Check
Automatic battery level check when power is turned ON.
Battery level indicated in one of four levels on LCD monitor.
Power Saving
Power turns off after the set time of non-operation elapses
* [Auto power off] settable to 30 sec., 1 min., 2 min., 4 min., 8 min., or 15 min.
Date/Time Battery
Built-in secondary battery. When fully-charged, the date/time can be maintained for about three months.
Start-up Time
Approx. 0.1 sec. (Based on CIPA testing standards)
Working Temperature Range
32-104°F/0-40°C
Working Humidity Range
85% or less
Dimensions (W x H x D)
Approx. 5.2 x 3.9 x 3.1 in./133.1 x 99.5 x 79.7mm
Weight
Approx. 18.2 oz. / 515g (body only)
Canon EOS 1100D (Rebel T3) Body
Looking for a personal touch? Not sure if you are choosing the right product? Our staff is here to help.
We want to make sure you get the right product for your needs.
Our staff will help you understand the options available so you can be confident in your purchase.
As the country's leading Professional Imaging retailer, Vistek is in the perfect position to ensure you make the right choice.
Contact us today for a personal touch.