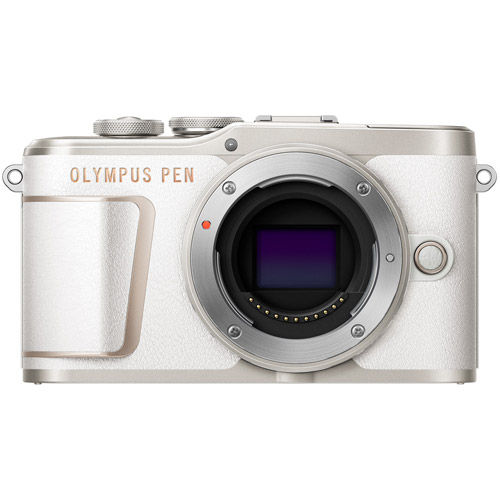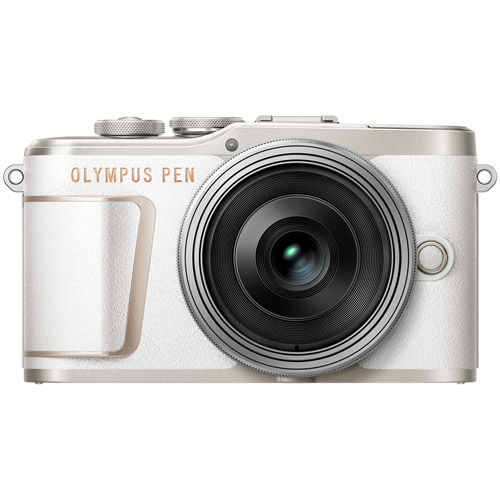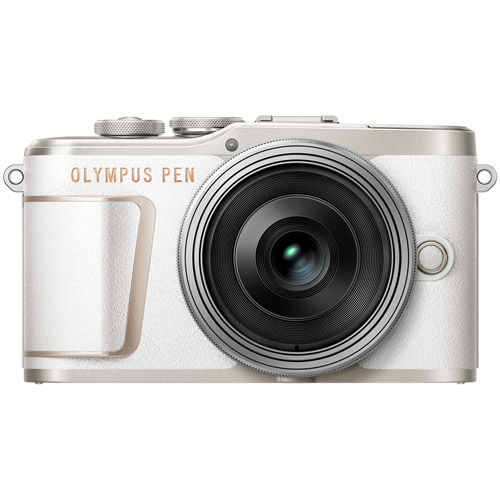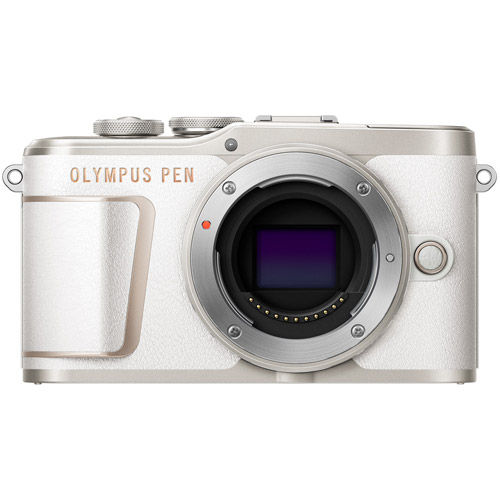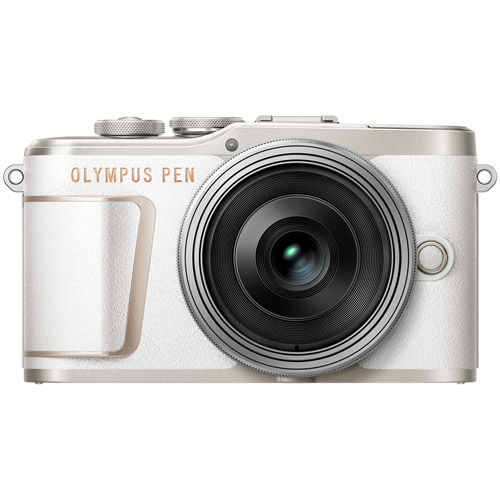 Webcode:

438770

• Mfr: V205100WU000
Product Highlights
This item is unavailble
This page is here for your reference.
PEN E-PL10
The newest Micro Four Thirds System standard interchangeable lens camera
This model features a simple, sophisticated design packed with a wide array of expressive shooting functions. The compact, lightweight body is equipped with in-body image stabilization and a flip-down LCD monitor along with Wi-Fi and Bluetooth connectivity, making it easy even for beginner interchangeable lens camera users to enjoy capturing and sharing creative, expressive photographs.
Key Features:
Blur-free high image quality in various scenes, such as night scenes, telephoto shooting, and video recording
Flip-down LCD monitor for shooting at any angle and useful Wi-Fi and Bluetooth connectivity to wirelessly transfer photos from the camera to a smartphone
Enjoy a wealth of creative expressions using Art Filters and interchangeable lenses
A compact, lightweight body with a simple sophisticated design that matches your style
Passion requires quality.
Say goodbye to boundaries for your creative vision.
If you are looking to take your photography to the next level and never want to compromise design or quality, the PEN E-PL10 has a lot to offer.
This PEN model comes with features you will not want to live without: beautiful and timeless design, high image quality, powerful image stabilization for brilliant 4K videos even on the go, numerous art filters to help you express your creativity, integrated Wi-Fi for easy sharing and an intuitive design that makes the PEN E-PL10 a perfect companion.
16MP
Live MOS Sensor
TruePic™ VIII
Image Processor
3 Inch 180° Flip Down
Touch Screen
In-Body 3-Axis
Image Stabilization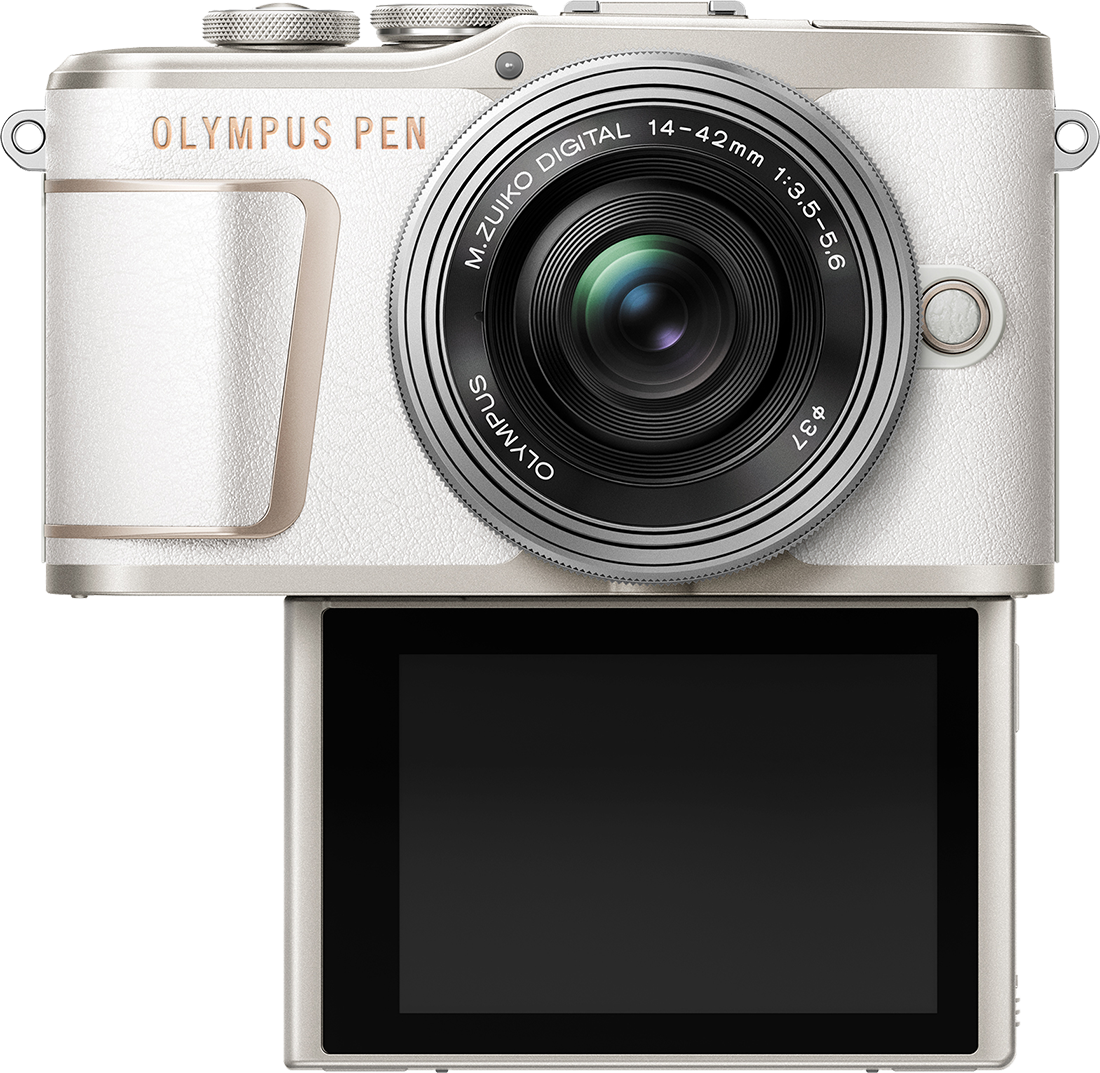 The Olympus PEN E-PL10 is equipped with in-body image stabilization and offers blur-free high image quality with a simple touch operation. It is packed with features that expand creative expressions, such as selfie, Art Filter for impressive, artistic finishes, and compatibility with various interchangeable lenses. By using the built-in Wi-Fi or Bluetooth® in conjunction with the Olympus Image Share (OI.Share) smartphone app, the camera easily connects to a smartphone to transfer images and share them on social media. Tutorial videos are also available to learn shooting techniques using OI.Share, making it the perfect interchangeable lens camera for the beginner photographer. Packing versatile features for a rich array of photographic expressions in a simple, sophisticated, compact design, this is a model that you can take everywhere.

Olympus interchangeable lens camera systems' biggest advantage is their amazing mobility thanks to the compact, lightweight camera system, including lenses. The combination of a high-resolution, high-performance lens lineup and powerful image stabilization results in sharp, high- quality photos and videos in a variety of scenes.
Blur-free high image quality
In various scenes, such as night scenes, telephoto shooting, and video recording
This model is equipped with in-body image stabilization, powerfully suppressing camera shake, which tends to occur when shooting at night, in dim indoor scenes, while shooting video and when using a telephoto lens. It also features TruePic VIII, the same image processor found in Olympus' professional models, for clear images with minimal noise, even in low-light scenes. The combination of in-body image stabilization and TruePic VIII provides blur-free images.
Useful Wi-Fi and Bluetooth Connectivity
To wirelessly transfer photos from the camera to a smartphone
Easy connection to a smartphone

Use the built-in Wi-Fi or Bluetooth® and the Olympus Image Share (OI.Share) app to easily connect the camera and smartphone to import images and share on social media. By using the Share Order function, selected photos or videos on the camera will be automatically transferred to your smartphone once the camera is turned off. OI.Share also provides a Camera How To guide, containing tutorial videos of shooting techniques and a Digital Guidebook packed with other useful shooting tips.
Flip-Down Monitor
For shooting at any angle
Flip-down LCD monitor

Simply touch the subject shown on the LCD monitor to simultaneously focus and activate the shutter (Touch AF Shutter). When the monitor is flipped down, it automatically switches the camera to Selfie mode for easy self-portrait shooting. You can also select e-Portrait for brighter, smoother skin, or switch to movie recording3 with a simple touch operation. Changing the angle of the LCD monitor also makes it possible to shoot from various perspectives.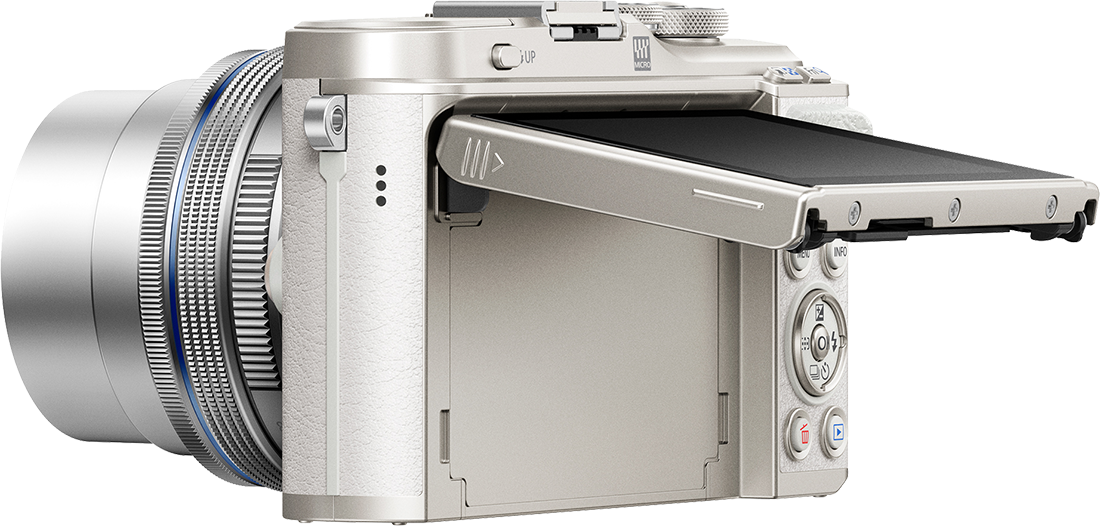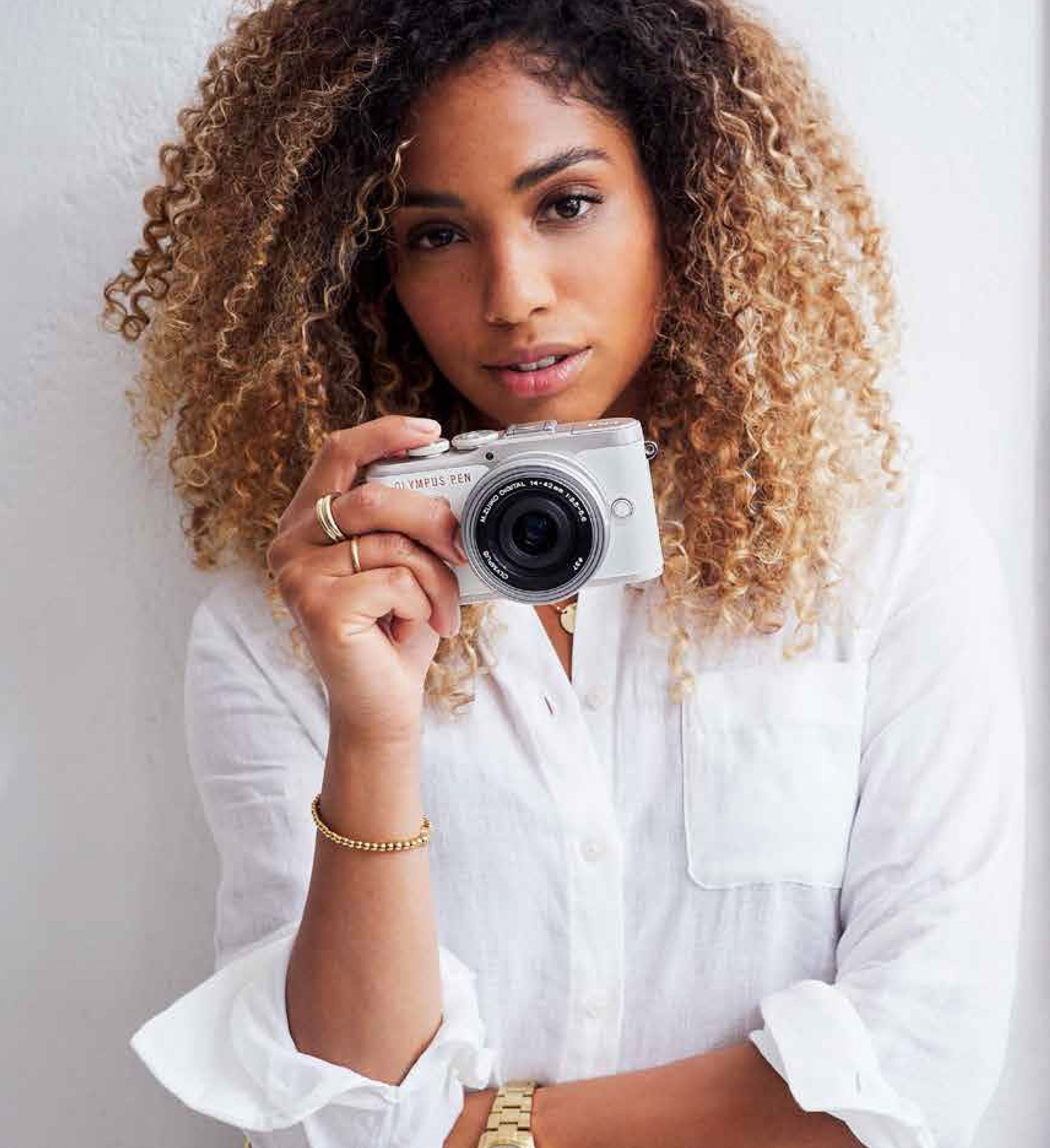 Enjoy a Wealth of Creative Expressions
Using Art Filters and interchangeable lenses
Art Filter

With 16 Art Filter options you can capture creative photos with simple controls. Use the new Fine Tune option to adjust the level of Art Filter effects while checking the results on the screen to create a photo as you wish.


AP (Advanced Photo) mode

AP mode provides shooting functions that generally require advanced photography techniques with simple operations. Anyone can easily shoot a multi-exposure photo by just overlapping two images in Multi Exposure, and shoot light trails of stars or automobile lamps without the risk of overexposure in Live Composite. Silent mode, which mutes shutter and operation sounds, is now possible in P, A, S and M modes as well as AP mode.
Versatile interchangeable lenses
A versatile lineup of compact, lightweight, high-performance interchangeable lenses are available, including bright, single-focal-length lenses as well as macro lenses to achieve beautiful defocusing effects. You can choose the perfect lens depending on the subject to dramatically expand the possibilities of photographic expression.
A compact, lightweight body with a simple sophisticated design that matches your style
The E-PL10 is available in white, black, and brown. Each details of the colors of leather-feel materials and surface finish are carefully selected for exquisite texturing. This model is designed for a simple, harmonious look that is easy to match with any style. When paired with the M.Zuiko Digital ED 14-42mm F3.5-5.6 EZ standard kit lens, it is highly portable, and is lighter than a 500 ml bottle of water.
Additional Features:
Simple, chic design with a clean, sophisticated look and leather texture finish
Supports high image quality 4K video and the ability to extract still images from videos
Maximum 8.6 fps high-speed sequential shooting so you never miss a photo opportunity
SCN (Scene) mode lets you capture images exactly as you imagine simply by choosing a shooting theme
AUTO mode for capturing beautiful photos simply by pressing the shutter release button, and leaving all the necessary adjustment to the camera.
Intuitive Touch AF Shutter focuses and shoots with a single touch of the screen. Camera automatically switches to Selfie Mode when screen is flipped down for both stills and video.
Built-In Flash
Graphical User Interface includes Intuitive Scene Modes
16 Art Filters with Instant Film Filter
New fine tuning function within Art Filter Mode provides a slide adjustment feature for easy adjustment while viewing the restults on the LCD.
AP Mode: Choose from 9 different Advanced Photo Modes (Live Composite, Live Time, Multiple Exposure, HDR, Silent, Sweep Panorama, Digital Shift, AE Bracket, AF Bracket).
Silent Mode available in P, A, M and Art Modes as well as AP Mode.
High-Speed 8.6 frames/second Sequential Shooting
4K 30p Video & Still Image Capture from 4K Video
Built-In Wi-Fi & Bluetooth for remote shooting and transferring photos to smartphone wirelessly. Photos can be shared as soon as they are taken using OI Share Version 4.3.
"Camera How To" accessible through OI. Share app provides easy to follow instructional videos for your PEN E-PL10
What's Included
PEN E-PL10 Mirrorless Camera Body
BLS-50 Li-Ion Battery
BCS-5 Battery Charger
Micro-B USB Cable
Camera Strap
Instruction Manual
Warranty Card
Product Specifications
PEN E-PL10

Lens mount
Micro Four Thirds
Engine

TruePic VIII
Dust reduction filter
Supersonic Wave Filter

IMAGE SENSOR

Type
4/3'' Live MOS sensor
Effective pixels
16.1 Megapixels
Full resolution
17.2 Megapixels
Filter array
Primary colour filter (RGB)
Aspect ratio & area
4:3 / 17.3 x 13.0mm

LIVE VIEW

Displayed information
Face detection preview

* Up to 8 faces
Field of view
Approx. 100%
Magnification levels
3 / 5 / 7 / 10 / 14x

IMAGE STABILIZER

Type
Sensor shift
Modes
Three‑dimensional, vertical or horizontal activation, automatic
Live View stabilization
Available
Effective Compensation Range
Up to 3.5 EV steps (CIPA)

FOCUSING SYSTEM

Method
Contrast Detection AF system
Focus areas
121 points / All target, Group target (9‑areas), Single target (normal), Single target (small)
Modes
AF Tracking
Single AF + MF
Manual focus
Continuous AF
Single AF
AF illuminator
Equipped
Manual focus
Available; With enlarged focusing area or focus peaking
Face Detection AF
Available
Face Detection extension
Eye Detect AF: Off
Near side priority
Predictive AF
Available
AF tracking
Available; Available in continuous AF mode

* C‑AF and AF tracking only with Micro Four Thirds lenses!

EXPOSURE SYSTEM

Modes
Shutter priority
Auto
Programme automatic
Aperture priority
Manual
Scene Modes
Advanced Photo Modes
Art Filter
Exposure compensation
+/‑ 5 EV (1, 1/2, 1/3 steps)

Note: Movie shooting, monitor and EVF displays only up to ±3 EV.
AE lock
Available

MODES

Advanced Photo Modes
Live Time
Multiple Exposure
HDR Backlight*
AE bracketing
AE bracketing
Keystone Compensation
Silent
Live Composite
Panorama
Scene Modes
Number of scene modes: 23

Sunset
Landscape with Portrait
Landscape
Panning
Macro
Sports
Light trails
Fireworks
Hand-held Starlight
Night Scene
Indoor
Night Scene with portrait
e-Portrait
Children
Silent mode
Candle
Panorama
Backlight HDR
Multi Focus
Documents
Beach and Snow
Portrait
Nature Macro
Art Filter
Partial Colour*
Bleach Bypass
Pin Hole
Instant Film
Diorama
Cross Process
Gentle Sepia
Dramatic Tone
Key Line
Water colour
Vintage
Pale & Light Colour
Grainy Film
Light Tone
Pop Art
Soft Focus

* 18 colours selectable
Variation / Effect
Available

LIGHT METERING

Method
TTL open aperture light metering
Zones
324 zones Multi‑pattern Sensing System
Detection range
‑2 ‑ 20 EV (f2.8, ISO 100)
Modes
ESP light metering
Spot metering
Centre weighted metering
Highlight
Shadow

SENSITIVITY

Auto
ISO LOW* ‑ 6400 (customizable upper limit 200 ‑ 25600)

* Approx. 100
Manual
ISO LOW ‑ 25600 in 1/3 or 1 EV ISO steps

SHUTTER

Shutter type
Electronically controlled focal plane shutter
Self timer
2s / 12s / Custom
Custom (delay 1‑30sec.,shooting interval 0.5/1/2/3sec.,number of shots 1‑10)
Modes
Single frame
Sequential shooting
Self timer
Bracketing

SHUTTER SPEEDS

Operation
Standard operation
Shutter speed range
1/4000 ‑ 60s (in 1/3, 1/2, 1 EV steps)
Bulb mode
Up to 30 minutes (selectable longest time in the menu, default: 8 minutes)
Silent mode
Yes
Shutter type
Electronic shutter
Shutter speed
1/16000 ‑ 60s
Anti shock mode
Yes
Shutter type
Electronic first curtain shutter
Shutter speed
1/320* ‑ 60s

* For speeds over 1/320 sec., mechanical shutter will automatically be selected.

WHITE BALANCE

AUTO WB system
Advanced detection system with Live MOS sensor
Manual White balance (One-Touch)
Available
Custom WB
1 setting can be registered at Kelvin temperature (2000K ‑ 14000K)
Auto Flash adjustment
Off / Auto WB / Flash
Keep warm colour
On / Off

SEQUENCE SHOOTING

Speed (H)
Approx. 8.6fps
Speed (L)
4.8fps
Max. number of frames
14 frames (RAW)
220 frames (JPG / Large Fine mode)
Conditions
Memory card: TOSHIBA SDHC UHS‑II R95 W90 EXCERIA™
Sequential shooting L mode: 12‑40mm F2.8 Pro when in C‑AF mode

* Note: Depending on shooting conditions, the sequential shooting speed may reduce speed during shooting.
Silent mode
Yes
Speed (H)
Approx. 14.1fps
Speed (L)
Approx. 6.1fps

INTERNAL FLASH

Modes
AUTO
Manual (Full, 1/4, 1/16, 1/64)
Red-eye reduction
Slow synchronization with red-eye reduction
Slow synchronization
Fill-in
Off
TTL-Auto
Slow synchronization 2nd curtain
Type
Built‑in
Flash compensation
+/‑ 3 EV / 1/3, 1/2, 1 EV steps
Guide number
7.6 (ISO 200)
X-sync speed
1/250s / 1/4000s (Super FP Mode)

WIRELESS FLASH CONTROL

Wireless Flash Control
Available when used together with flashes from the Olympus wireless RC flash system.
Optical control
Yes
Control method
Triggered and controlled (Olympus Wireless RC Flash system)
Commander flash: FL‑900R, FL‑700WR, FL‑600R, STF‑8 Built‑in flash
Number of channels
4 channels
Group setting
4 groups
Compatible external flash
FL‑36R, FL‑50R, FL‑300R, FL‑600R, FL‑700WR, FL‑900R, STF‑8
Radio control
Yes
Radio wireless control
Available when attaching optional flash commander.
Compatible commander
FC‑WR, FL‑700WR

* For more details see specifications of commander units.
Compatible receiver
FL‑700WR, FR‑WR + wireless RC system flash

MONITOR

Monitor type
Tiltable LCD ‑ Touch Panel
Tilt angle
80° (up) 180° (down)
Monitor size
7.6cm / 3.0'' (3:2)
Resolution
1040K dots
Brightness adjustment
+/‑ 7 levels
Colour balance
+/‑ 7 levels Vivid (default) / Natural
Touch Control fucntions
Frame forward/backward
Movie teleconverter
Movie Controls
Movie effects
Shutter release
Live Guide
AF area selection
AF area enlargement
Enlargement playback
Super Control Panel
Art Filter
Scene Modes
Wifi connection

When in Selfie Mode:
Movie
Shutter release
e-Portrait
Self-timer
Exposure compensation
Preview

LEVEL GAUGE

Detection
2‑axis
Display
Rear LCD monitor

RECORDING FORMATS

RAW
12bit
RAW & JPEG
Applied parallel recording
JPEG
Applied

IMAGE SIZE

RAW
4608 x 3456
4608 x 3456 Fine (compression: 1/4)
Middle
3200 x 2400
Small
1280 x 960

STILL IMAGE RECORDING

EXIF
2.3
DCF
Applied

MOVIE RECORDING SYSTEM

Recording format
MOV (H.264)
Image Stabilization Mode
Applied Sensor shift (3‑axis)
M‑IS1* (Image sensor shift and electronic image stabilizer with multi motion IS)
M‑IS2 (Image sensor shift with multi motion IS)

* While using M‑IS1, field of view may be affected.
4K Movie quality
3840 x 2160 (4k) / 30p, 25p, 24p / IPB (approx. 102Mbps)
HD Movie quality
Full HD 1920 x 1080 (16:9) / 30p, 25p, 24p / IPB (SF, F, N)
HD 1280 x 720 (16:9) / 30p, 25p, 24p
Maximum Recording Time
29min
Max. file size
4GB (AVCHD)

MOVIE SPECIALTIES

Movie clips
1, 2, 4, 8s

(Extension up to 16s by pressing record button before clip ends.)
High-Speed Recording
720P / 120fps
Movie effects
Multi shot echo
Art fade
Old Film
One shot echo
HDMI Live View
Available
(Camera display is turned off when HDMi connection is made. Video and info screen is displayed on external monitor)
Time lapse
4k, 1080p, 720p (MOV)

SOUND RECORDING SYSTEM

Internal microphone
Stereo
Recording format
Stereo PCM/16bit, 48kHz, Wave Format Base
Speaker
Equipped

VIEW IMAGES

Modes
Zoom
Slide show
Movie
Single
Index
Calendar
Light box
Available
Histogram in playback mode
Available
Shooting information
Off / On
Highlight/Shadow point warning
Available
Auto rotation
Available

ERASE / PROTECT / COPY FUNCTION

Erase modes
Single, All, Selected
Image protect mode
Single frame, Selected frames, All Frames, Release protect (Single/All selected)

MENU

Menu languages in camera
English, French, German, Spanish, Italian, Russian, Czech, Dutch, Danish, Polish, Portuguese, Swedish, Norwegian, Finnish, Croatian, Slovenian, Hungarian, Greek, Slovak, Turkish, Latvian, Estonian, Lithuanian, Ukrainian, Serbian

CUSTOMIZATION OPTIONS

Dial customization
Dial function is cutomizable for both dials
Dial customization
Dial function is cutomizable for both dials
Programmable button
Can select from 12 functions to assign to buttons
Programmable button
Can select from 12 functions to assign to buttons

INTERFACE

USB
microB
HDMI™
Applied Micro connector (Type D) *
Hot shoe
Equipped
Media
SD Memory Card (SDHC, SDXC, UHS‑I compatible) Class 10 is recommended for Movie shooting UHS‑I U3 card is recommended for 4K
Wireless connectivity
Bluetooth®
WiFi

* "HDMI", the HDMI logo and "High‑Definition Multimedia Interface" are trademarks or registered trademarks of HDMI Licensing LLC.

WI-FI FUNCTIONS

Easy Connection
QR code setting
Wireless Shooting
Shutter priority
Aperture priority
P/A/S/M exposure modes
Movie recording
Rec View
Self timer
Live View
ISO
Sequential shooting
Touch AF & Shutter
Exposure
White balance
Image Share
Automatic transfer is possible via Share Order
On Android devices, 4K videos will be resized and saved as Full HD videos.
On iPhone 5(iPhone 5C) or earlier iOS devices, 4K videos cannot be imported.

POWER SUPPLY

Battery
BLS‑50 Lithium‑Ion Battery (included)
Live View shooting
Approx. 350images (100% with Live View)
Movie recording
80min (standard JEITA conditions) 140min (when zoom and other operational functions are not used)
Image shooting
350 shots

ENVIRONMENTAL

Temperature
0 ‑ 40°C Operating temperature
‑20 ‑ 60°C storage temperature
Humidity
30 ‑ 90% operation humidity
10 ‑ 90% storage humidity

PHYSICAL SPECS

Dimensions (WxHxD)
117.1 x 68 x 39 mm (4.6 x 2.7 x 1.5")
Weight
380 g (13.4 oz.)
* Including battery and memory card

332 g (11.7 oz.)
* Body only
Olympus PEN E-PL10 Mirrorless Body White
Looking for a personal touch? Not sure if you are choosing the right product? Our staff is here to help.
We want to make sure you get the right product for your needs.
Our staff will help you understand the options available so you can be confident in your purchase.
As the country's leading Professional Imaging retailer, Vistek is in the perfect position to ensure you make the right choice.
Contact us today for a personal touch.