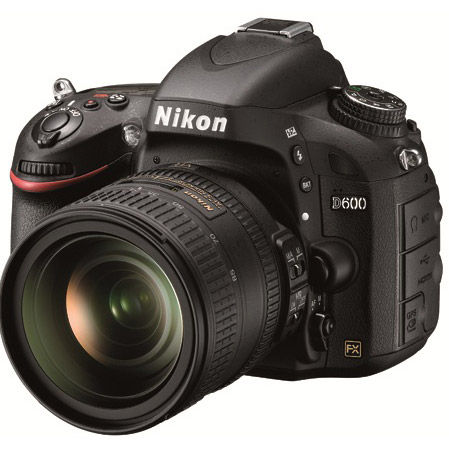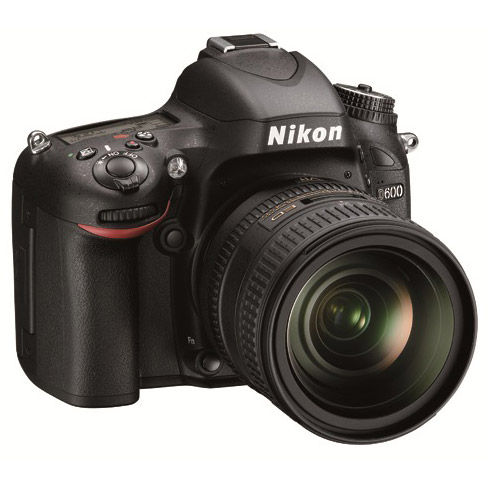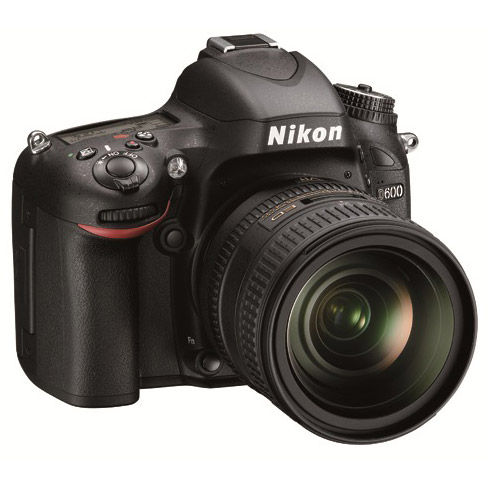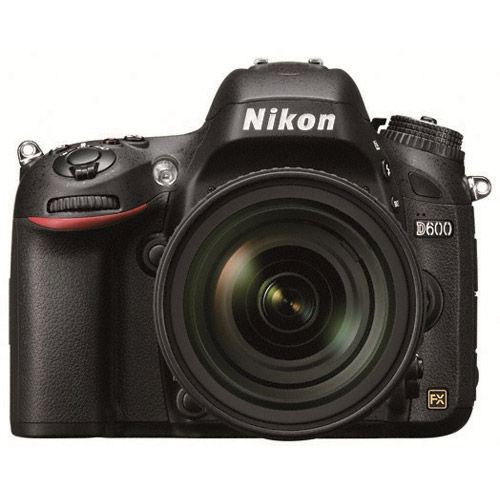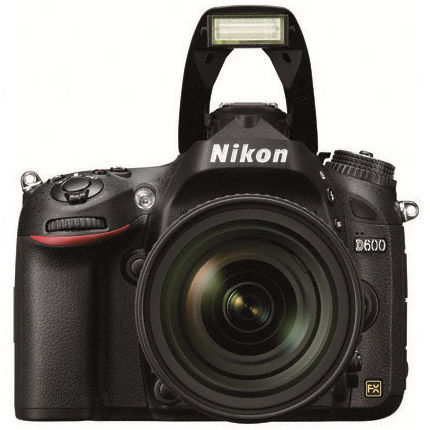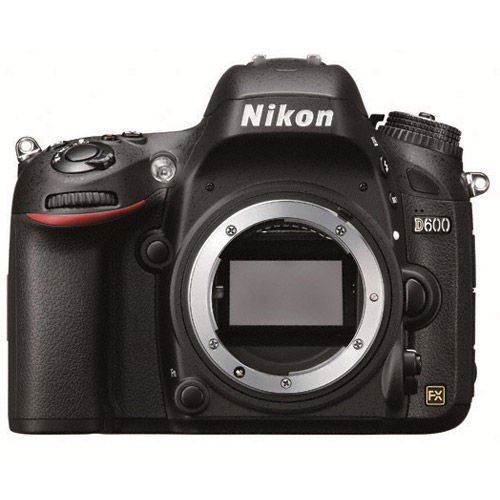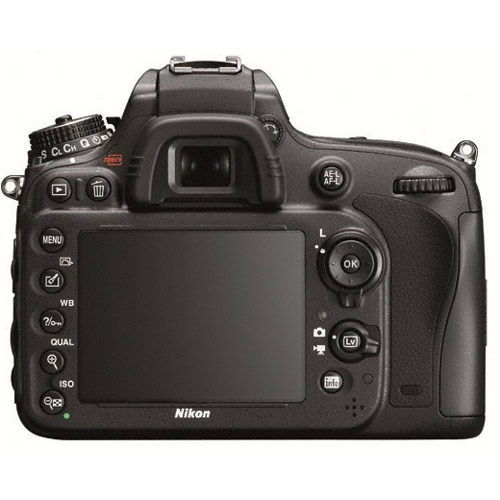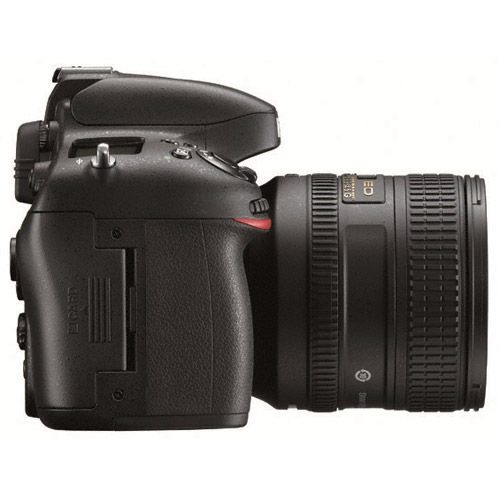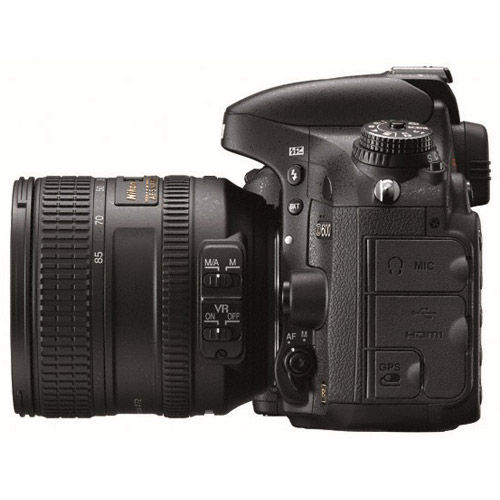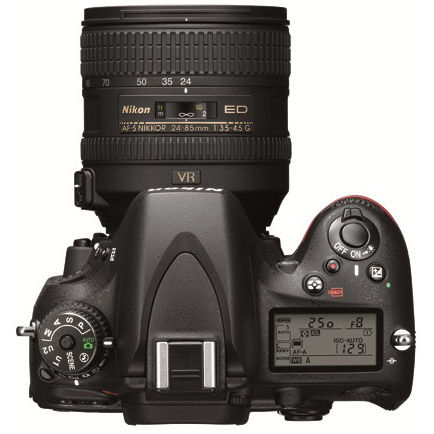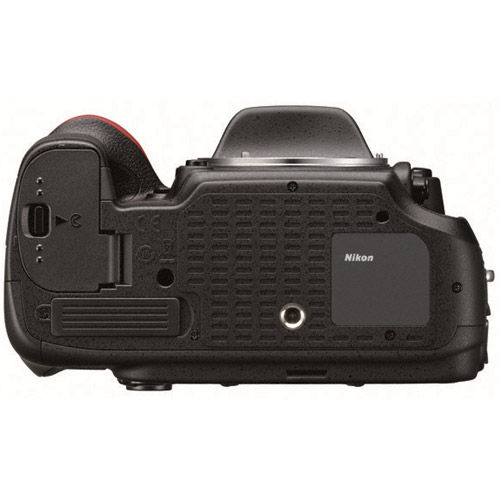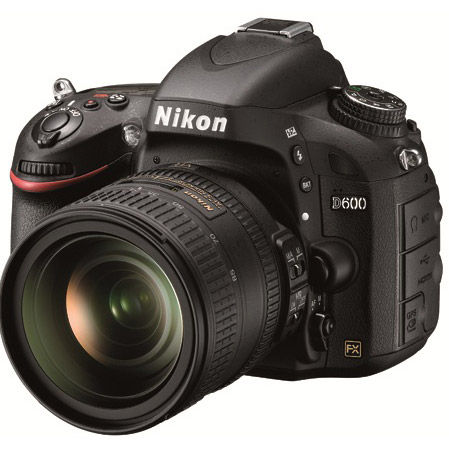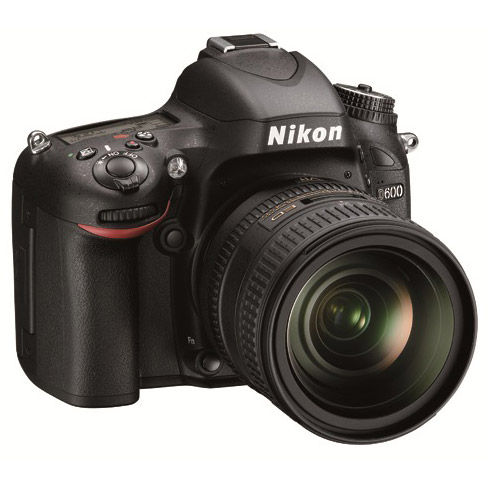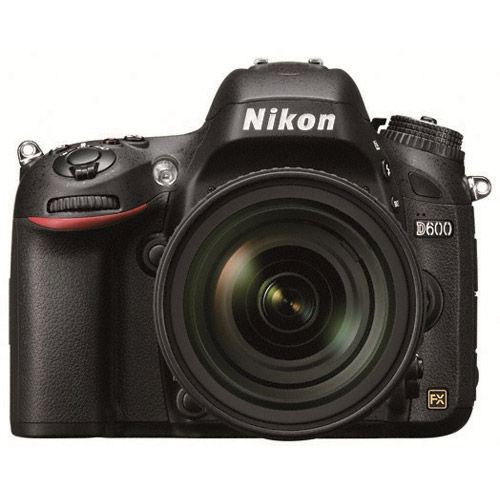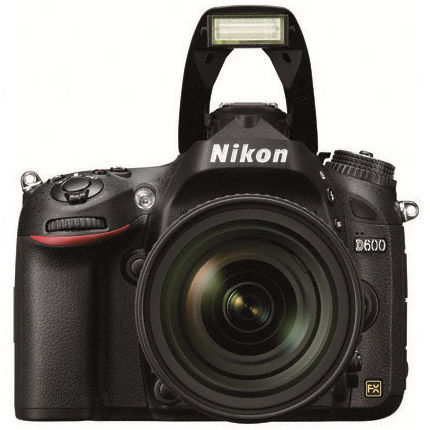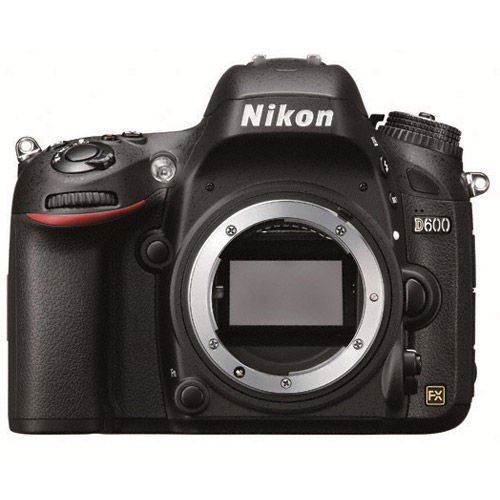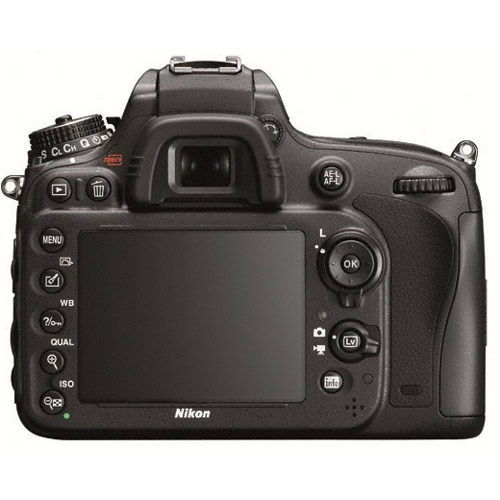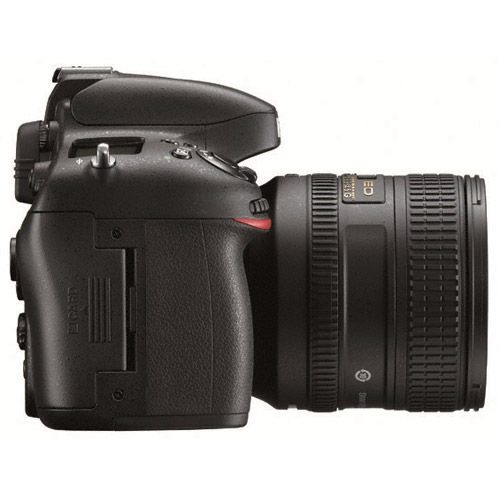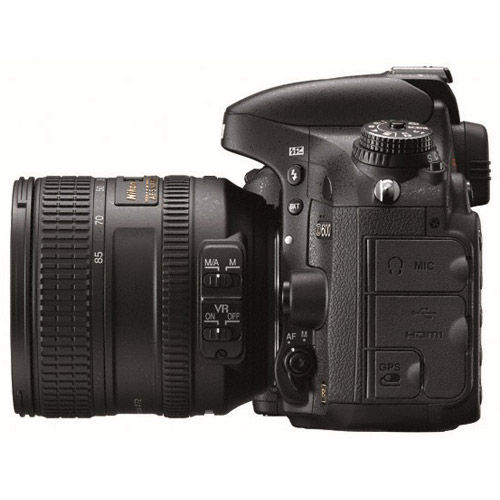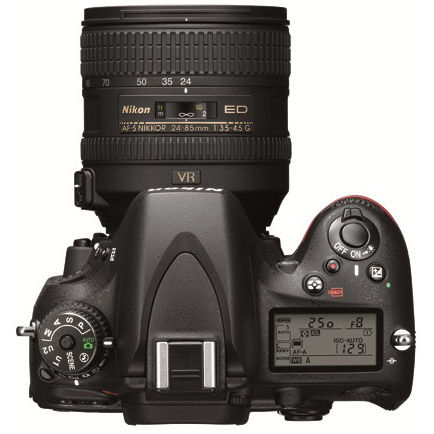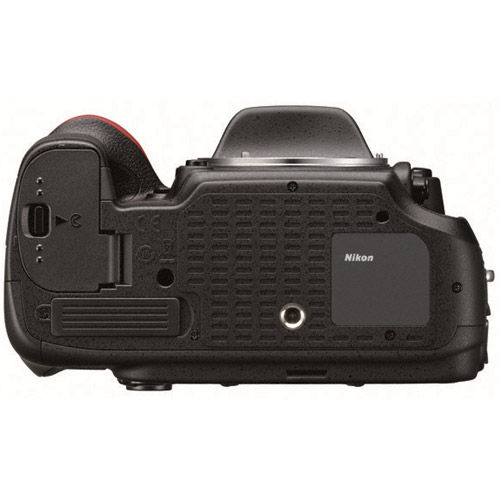 Used Details
Item Condition: excellent working condition. 20691 Actuations
Warranty: 90 day Vistek warranty.
Accessories: With battery, charger, strap USB cable & box.
Used item may not be exactly as shown.
Check Used Details for more information.
Product Highlights
24.3MP FX CMOS Sensor; EXPEED 3 Processor; 3.2" LCD; 1080p HD Video; 100-6400 ISO - Expandable to 50-25600; 5.5 fps Burst Shooting; 39 Wide-Area AF Focus Points; Stereo Mic & Headphone Inputs; i-TTL Flash, and more.
Vistek Locations
Please call and verify availability at the store as stock changes daily.
Used available: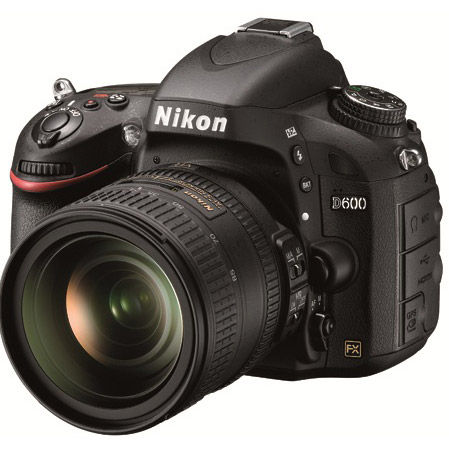 Please Note: Attached lens not included.
A full-frame Nikon for your full-time passion.
If you've been looking to take your passion to the next level with full-frame HD-SLR performance, your wait is over. Now the power of a pro-level Nikon FX-format camera—stunning full-frame images, cinema-quality 1080p videos, superior low-light performance, blazing fast framing and burst rates, built-in HDR, wireless photo sharing and much more—is attainable in a compact, lightweight HD-SLR. Optimized for full-frame shooting and versatility, streamlined for compactness and value, the D600 will fuel your passion like never before.
Key Features
24.3MP FX-Format CMOS Sensor
EXPEED 3 Processor
3.2" LCD Monitor
1080p HD Video Capture
100-6400 ISO - Expandable to 50-25600
5.5 fps Continuous Shooting
39 Wide-Area AF Focus Points
Stereo Mic & Headphone Inputs
i-TTL Flash
Wi-Fi Connectivity with Optional Adapter
FX-quality images and HD videos: Nikon's most compact full-frame HDSLR ever
Passionate photographers who seek exceptional full-frame, high-resolution performance rely on Nikon FX-format HDSLRs. For the first time ever, that level of performance is available in a compact, affordable HDSLR. The D600's 24.3 megapixel FX-format CMOS sensor captures every detail with lifelike sharpness. Its EXPEED 3 processing system manages all that data with remarkable speed and accuracy, enabling up to 5.5 frames-per-second (fps) continuous shooting at full resolution. And the low-light performance synonymous with Nikon is again proven deserved—shoot crystal clear images from ISO 100 to 6400, expandable down to 50 and up to 25,600 for extreme situations.
The beauty is in the details: Highly accurate AF System for superior sharpness
One of the keys to capturing razor-sharp images and HD videos—whether shooting through the viewfinder or with the LCD monitor—is a fast, precise autofocus system, and the D600 has one of the best. 39 focus points with wide-area AF coverage offer endless compositional possibilities. Nine cross-type sensors and seven centre focus points work all the way down to f/8 for extended AF functionality with teleconverters and long-reach lenses. When shooting photos or HD video in Live View, Nikon's responsive contrast-detect AF activates for accurate full-time autofocusing. Every moment you capture will be razor sharp.
Unwavering exceptional performance: Flawless metering and on-board intelligence
The D600 delivers consistently beautiful images and HD videos, thanks to Nikon's intelligent Scene Recognition System with 3D Colour Matrix Metering II. Its 2,016 pixel RGB sensor evaluates every scene, taking into account brightness, contrast, subject distance and the scene colours, all within the time it takes to press the shutter release button. That data is then referenced against an on-board image database for consistently accurate exposures, auto white balance, i-TTL flash and subject-tracking autofocus performance.
Cinema-quality HD video projects: Pro-level 1080p HD video recording features
Nikon is committed to developing HDSLRs that empower and inspire filmmakers and video enthusiasts, and the D600 is proof of that commitment. Shoot 1080p HD videos with selectable frame rates of 30p, 25p or 24p and MPEG-4 AVC/H.264 compression. Bend time with 720p HD at 60p, 50p or 30p for ultra-smooth video playback of fast moving subjects, or create slow-motion footage during post processing. Maintain your creative vision with manual exposure control, full-time AF with face-priority and subject tracking, dedicated inputs for a stereo mic and headphones, still image exporting, and much more. Enhance all that with the dramatic perspectives and depth-of-field control of Nikkor interchangeable lenses, and you'll dazzle with every video project.
Wi-Fi camera control and mobile photo sharing: Optional WU-1b wireless mobile adapter
With Wi-Fi compatibility, the D600 makes sharing photos even easier. Connect the optional WU-1b Wireless Adapter and wirelessly transfer photos to your smartphone, tablet or any compatible Wi-Fi enabled device. Use your smartphone to instantly upload your shots to the web or email them to a friend. Install Nikon's free Wireless Mobile Adapter Utility and remotely control the D600—see what the camera sees from your smartphone or tablet and fire off shots!
Lighting studio optional
The D600's built-in pop-up flash opens up new shooting possibilities—and not just in low-light situations. Even well lit subjects can benefit from a balanced fill flash for extra depth and dimension. And since the D600's flash integrates with Nikon's i-TTL system, it can act as a Commander and communicate crucial exposure information to two groups of remote flashes across three channels for accurate lighting and exceptional results.
Product Specifications
Detailed Specifications
Type
Single-lens reflex digital camera
Lens Mount
Nikon F bayonet mount
Picture Angle
Nikon FX format
Effective Pixels
24.3 million
Sensor Size
35.9mm x 24.0mm
Image Sensor Format
FX
Image Sensor Type
CMOS
Total Pixels
24.7 million
Dust-reduction system
Image sensor cleaning
Dust-Off Reference Photo
Yes
Image Area (pixels)

FX-format
(L) 6,016 x 4,016
(M) 4,512 x 3,008
(S) 3,008 x 2,008

DX-format
(L) 3,936 x 2,624
(M) 2,944 x 1,968
(S) 1,968 x 1,312

File Format Still Images
JPEG: JPEG-baseline-compliant; can be selected from Size Priority and Optimal Quality
JPEG: JPEG-Baseline compliant with fine (approx 1:4), normal (approx 1:8), or basic (approx 1:16) compression
NEF (RAW): lossless compressed, compressed or uncompressed 12 or 14 bit
TIFF (RGB)
Picture Control
Landscape
Monochrome
Neutral
Portrait
Standard
User-customizable Settings
Vivid
Storage Media
SD
SDHC
SDXC
Card Slot
2 Secure Digital (SD)
File System
Compliant with DCF (Design Rule for Camera File System) 2.0
DPOF (Digital Print Order Format)
EXIF 2.3 (Exchangeable Image File Format for Digital Still Cameras
PictBridge
Viewfinder
Eye-level pentaprism single-lens reflex viewfinder
Viewfinder Frame Coverage
FX (36x24): 100% Horizontal and 100% Vertical Approx.
DX (24x16): 97% Horizontal and 97% Vertical Approx.
Viewfinder Magnification
0.70x Approx.
Viewfinder Eyepoint
20.6mm (-1.0m¯¹)
Viewfinder Diopter Adjustment
Built-in diopter adjustment (-3 to +1 m?¹)
Focusing Screen
Type B BriteView Clear Matte Mark VIII with AF area brackets (grid lines can be displayed)
Reflex Mirror
Quick-return type
Lens Aperture
Instant-return type
Depth-of-field Control
Yes
Lens Compatibility at a Glance***

AF-S or AF lenses fully compatible




Metering with AI lenses

Compatible Lenses
AF NIKKOR lenses, including type G and D lenses (some restrictions apply to PC lenses) and DX lenses (using DX 24 × 16 1.5x image area), AI-P NIKKOR lenses, and non-CPU AI lenses (A and M modes only).
IX NIKKOR lenses, lenses for the F3AF, and non-AI lenses cannot be used.
Shutter type
Electronically controlled vertical-travel focal-plane
Shutter Speed
1/4000 to 30 sec.
Bulb
Fastest Shutter Speed
1/4000 sec.
Slowest Shutter Speed
30 sec.
Flash Sync Speed
Up to 1/200 sec.
Synchronizes with shutter at 1/250s or slower
Bulb Shutter Setting
Yes
Shutter Release Modes
Continuous low-speed [CL] mode; 1-5 frames per second
Continuous high-speed [CH] mode; 5.5 frames per second
Mirror-up [Mup] mode
Quiet Shutter Release
Self-timer mode
Single-frame [S] mode
Continuous Shooting Options
FX-format
CH: Up to 5.5 frames per second
CL: Up to 1-5 frames per second
Top Continuous Shooting Speed at full resolution
5.5 frames per second
Self-timer
2, 5, 10, 20 sec. Timer duration electronically controlled
Exposure Metering System
TTL exposure metering using 2,016-pixel RGB sensor
Metering Method
Centre-weighted: Weight of 75% given to 8mm circle in centre of frame
Matrix: 3D colour matrix metering II (type G and D lenses); colour matrix metering II (other CPU lenses)
Spot: Meters 4mm circle (about 1.5% of frame) centered on selected focus point
Metering Range
0 to 20 EV (3D colour matrix or centre-weighted metering)
0 to 20 EV (spot metering)
Exposure Meter Coupling
CPU
AI
Exposure Modes
Aperture-Priority (A)
Manual (M)
Programmed auto with flexible program (P)
Shutter-Priority (S)
Exposure Compensation
±5 EV in increments of 1/3, 1/2 or 1 EV
Exposure Bracketing
2 or 3 frames in steps of 1/3, 1/2, 2/3, 1 or 2 EV
Exposure Lock
Yes
Mirror Lock Up
Yes
ISO Sensitivity
ISO 100 - 6400
Lo-1 (ISO 50)
Hi-1 (ISO 12,800)
Hi-2 (ISO 25,600)
Lowest Standard ISO Sensitivity
100
Highest Standard ISO Sensitivity
6400
Lowest Expanded ISO Sensitivity
Lo-1 (ISO 50 equivalent)
Highest Expanded ISO Sensitivity
HI-2 (ISO 25,600 equivalent)
Expanded ISO Sensitivity Options
Hi-1 (ISO-12,800 equivalent) in 1/3, 1/2 or 1 EV
Hi-2, (ISO-25,600 equivalent) 1 EV
Long Exposure Noise Reduction
Yes
High ISO Noise Reduction
Low
Normal
High
Off
Active D-Lighting
Auto
Extra High
High
Normal
Low
Off
D-Lighting Bracketing
2 frames using selected value for one frame
3–5 frames using preset values for all frames
Single-point AF Mode
Yes
Dynamic AF Mode
Number of AF points: 9, 21, 39 and 39 (3D-tracking)
Auto-area AF Mode
Yes
Autofocus System
Nikon Multi-CAM 4800 autofocus sensor module with TTL phase detection
Detection Range
-1 to 19 EV (ISO 100, 68°F/20°C)
Lens Servo
Autofocus (AF): Single-servo AF (AF-S); continuous-servo AF (AF-C); auto AF-S/AF-C selection (AF-A); predictive focus trackinga ctivated automatically according to subject status
Manual focus (MF): Electronic rangefinder can be used
AF-area mode
9, 21 or 39 point Dynamic-area AF
Auto-area AF
Single-point AF
3D-tracking (39 points)
Focus Lock
Focus can be locked by pressing AE-L/AF-L button
Focus can be locked by pressing shutter-release button halfway (single-servo AF)
Focus Modes
Auto AF-S/AF-C selection (AF-A)
Continuous-servo (AF-C)
Face-Priority AF available in Live View only and D-Movie only
Manual (M) with electronic rangefinder
Normal area
Single-servo AF (AF-S)
Wide area
Maximum Autofocus Areas/Points
39
Autofocus Sensitivity
-1 to +19 EV (ISO 100, 20°C/68°F)
Autofocus Fine Tune
Yes
Built-in Flash
Yes
Flash Bracketing
2 to 3 frames in steps of 1/3, 1/2, 2/3, 1 or 2 EV
Built-in Flash Distance
12m (ISO 100)
X-Sync Speed
1/200
Top FP High Speed Sync
Up to 1/4000
Flash Control
TTL: i-TTL flash control using 2,016-pixel RGB sensor are available with built-in flash and SB-910, SB-900, SB-700, or SB-400; i-TTL balanced fill-flash for digital SLR is used with matrix and centre-weighting metering, standard i-TTL flash for digital SLR with spot metering
Flash Sync Modes
Front-curtain sync (normal)
Rear-curtain sync
Red-Eye reduction
Red-Eye reduction with slow sync
Slow sync
Flash Compensation
-3 to +1 EV in increments of 1/3, 1/2 or 1 EV
Flash-ready indicator
Lights when built-in flash or optional flash unit such as SB-910, SB-900, SB-400, SB-80DX, SB-28DX or SB-50DX is fully charged
Accessory Shoe
Yes
Nikon Creative Lighting System (CLS)
CLS Supported
White Balance
Auto
Choose colour temperature (2500K–10000K)
Cloudy
Direct Sunlight
Flash
Fluorescent (7 types)
Incandescent
Preset manual (up to 4 values can be stored)
Shade
White Balance Bracketing
2 or 3 exposures
Live View Shooting
Photography Live View Mode
Movie Live View Mode
Live View Lens servo
Autofocus (AF): Single-servo AF (AF-S); full-time-servo AF (AF-F)
Manual focus (MF)
Live View AF-area mode
Face-priority AF
Wide-area AF
Normal-area AF
Subject-tracking AF
Live View Autofocus
Contrast-detect AF anywhere in frame (camera selects focus point automatically when face-priority AF or subject-tracking AF is selected
Live View Scene Auto Selector
Auto mode
Auto (flash off) mode
Movie Metering
TTL exposure metering using main image sensor
Movie Maximum recording time
20 minutes at highest quality
29 minutes 59 seconds at normal quality
Movie File Format
.MOV
Movie Video Compression
H.264/MPEG-4 Advanced Video Coding
Movie Audio recording format
Linear PCM
Movie
HD 1,920x1,080 / 30 fps
HD 1,920x1,080 / 25 fps
HD 1,920x1,080 / 24 fps
HD 1,280x720 / 60 fps
HD 1,280x720 / 50 fps
HD 1,280x720 / 30 fps
HD 1,280x720 / 25 fps
Movie Audio
Built-in microphone, monaural
External stereo microphone (optional)
Monitor Size
3.2 in. diagonal
Monitor Resolution
921,000 Dots
Monitor Type
Wide Viewing Angle TFT-LCD
Monitor Angle of View
170-degree wide-viewing angle
Monitor Adjustments
Brightness, 5 levels
Brightness control using ambient brightness sensor
Virtual Horizon Camera Indicator
Yes
Playback Functions
Auto Iimage Rotation
Full-Frame and Thumbnail (4, 9, or 72 images or calendar)
Highlights
Histogram Display
Image Comment
Movie Playback
Movie Slideshow
playback with Zoom
Slideshow
In-Camera Image Editing
Colour Balance
Colour Outline
Colour Sketch
D-Lighting
Distortion Control
Edit Movie
Filter Effects
Fisheye
Image Overlay
Miniature Effect
Monochrome
NEF (RAW) Processing
Perspective Control
Quick retouch
Red-Eye Correction
Resize
Selective Colour
Side-by-Side Comparison
Straighten
Trim
Image Comment
Yes
Interface
Accessory Terminal: Remote Cord: MC-DC2 (available separately); GPS unit: GP-1 (available separately)
HDMI Output: Type C mini-pin HDMI connector
Headphone Connector
Hi-speed USB
Stereo Microphone Input
Wi-Fi Functionality
Eye-Fi Compatible
WU-1b Wireless Mobile Adapter
GPS
GP-1 GPS unit
GP-1A GPS unit
Save/Load Camera settings
Yes
Total custom Settings
50
My Menu
Yes with customization
Recent Settings
Yes
Supported Languages
Arabic
Brazilian Portuguese
Chinese (Simplified and Traditional)
Czech
Danish
Dutch
English
Finnish
French
German
Greek
Hindi
Hungarian
Indonesian
Italian
Japanese
Korean
Norweigan
Polish
Portuguese
Romanian
Russian
Spanish
Swedish
Thai
Turkish
Ukrainian
Date, Time and Daylight Savings Time Settings
Yes
World Time Setting
Yes
Battery / Batteries
EN-EL15 Lithium-ion Battery
Battery Life (shots per charge)
900 Battery Life (shots per charge) (CIPA)
AC Adapter
EH-5b AC Adapter
Requires EP-5B Power Supply Connector
Battery Charger
MH-25 Quick Charger
Tripod Socket
1/4 in.
Operating Environment
0–40 °C (+32–104 °F)
Dimensions
Approx.
Width: 5.6 in. (141mm)
Height: 4.4 in. (113mm)
Depth: 3.2 in. (82mm)
Weight
Approx.
42 oz. (760g) camera body only
Nikon D600 Body
Looking for a personal touch? Not sure if you are choosing the right product? Our staff is here to help.
We want to make sure you get the right product for your needs.
Our staff will help you understand the options available so you can be confident in your purchase.
As the country's leading Professional Imaging retailer, Vistek is in the perfect position to ensure you make the right choice.
Contact us today for a personal touch.